Zontes Distribution Sdn Bhd, part of Eurotech Wheel Distribution Sdn Bhd, the official importer and distributor of Zontes motorcycles in Malaysia, is shaking up the scooter market in Malaysia with the launch of the new Zontes 350 Series scooter.
The new 350 Series scooter is packed with the latest technology and a host of premium features normally found on higher capacity motorcycles and yet comes with very attractive and affordable price tags.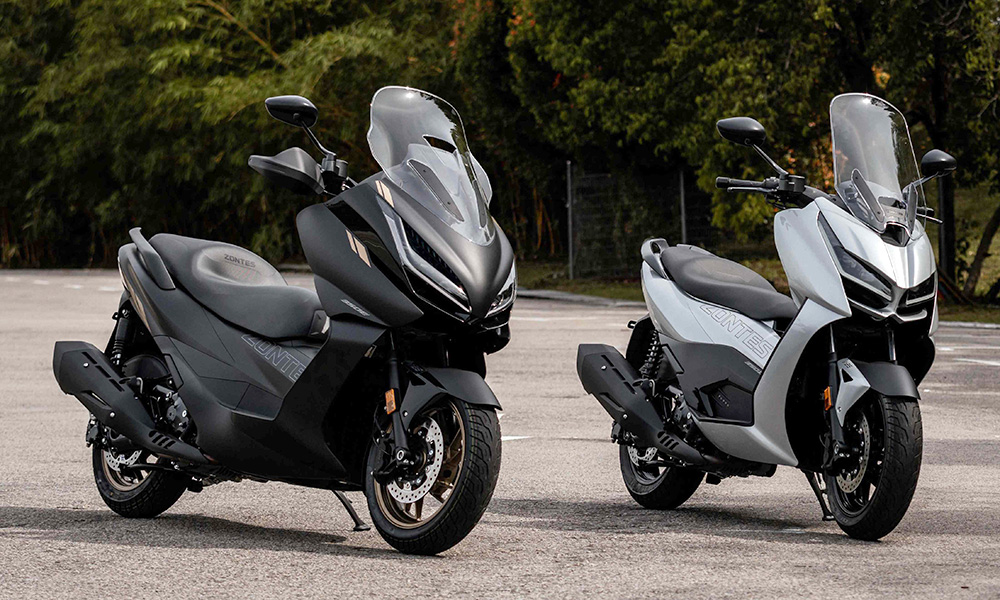 "We are delighted to present the first scooter model from Zontes, the premium 350 Series that has been launched to wide acclaim in Europe and other Asian markets. We believe that scooter enthusiasts here would also agree that this is perhaps the most value for money scooter in the market as the two variants for the Malaysian market feature stunning designs, top-of-the-range specifications and high build quality and finishing," said Zontes Distribution Marketing Manager Joey Chia.
In Malaysia, the Zontes 350 Series scooter is available in two variants – the 350D (RRP: RM23,800) and 350E (RRP: RM25,800). Both are powered by the same 349cc liquid-cooled, fuel-injected, single cylinder engine with 36hp and 38Nm of torque matched to an automatic CVT gearbox. The scooters come with a two-year or 20,000km general warranty and up to three-year or 30,000km warranty for engine parts, terms and conditions apply.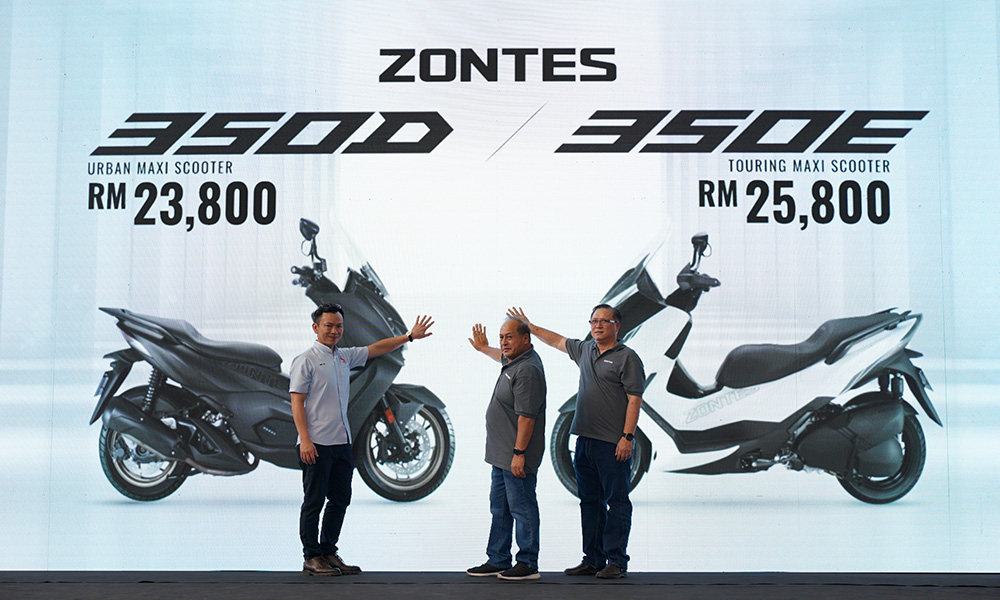 Designed for urban mobility, the slimmer and lighter 350D weighs in at 190kg and has one of the highest power to weight ratios in its class. Equipped with a 12-litre fuel tank with a projected range of 400km in ECO mode, this variant's nimble handling, comfortable suspension, good pick-up and fuel economy make it perfect for daily commutes in the city. Available in either silver or black, the 350D is a smart choice for intermediate riders between 31 to 40 years old, especially those who are looking for a second bike.
The 350E, with a longer 1,565mm wheelbase (compared to the 350D's 1,405mm), a larger 16-litre fuel tank (full tank range of 457km) and heavier at 203kg, is best suited for long distance touring. Its seat storage space of 50 litres can accommodate two full-face helmets while two large water-resistant storage areas at the front can easily fit four 500ml water bottles plus a bit more.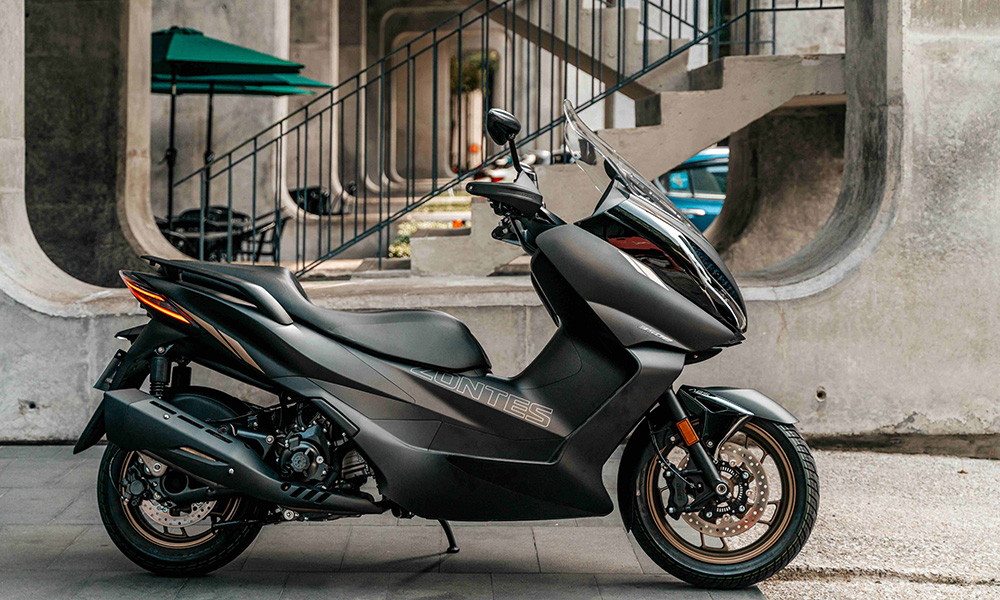 The 350E's integrated aluminium alloy steering handles can be adjusted in two gears (front and rear), allowing the rider to choose a more comfortable handle position while the heated handle grips keep the hands and fingers warm during chilly weather. The 350E is targeted at the 31- to 40-year-old age group of either intermediate or big bike riders, who can choose either a white or black paint job.
Functional and convenience features found in both the 350D and 350E variants include 3.0 keyless control system for easy starting, a full-colour 6.7" TFT screen with mobile phone mirroring capability, an electronically adjustable windshield and 18W dual fast charging port with Type A and C interfaces.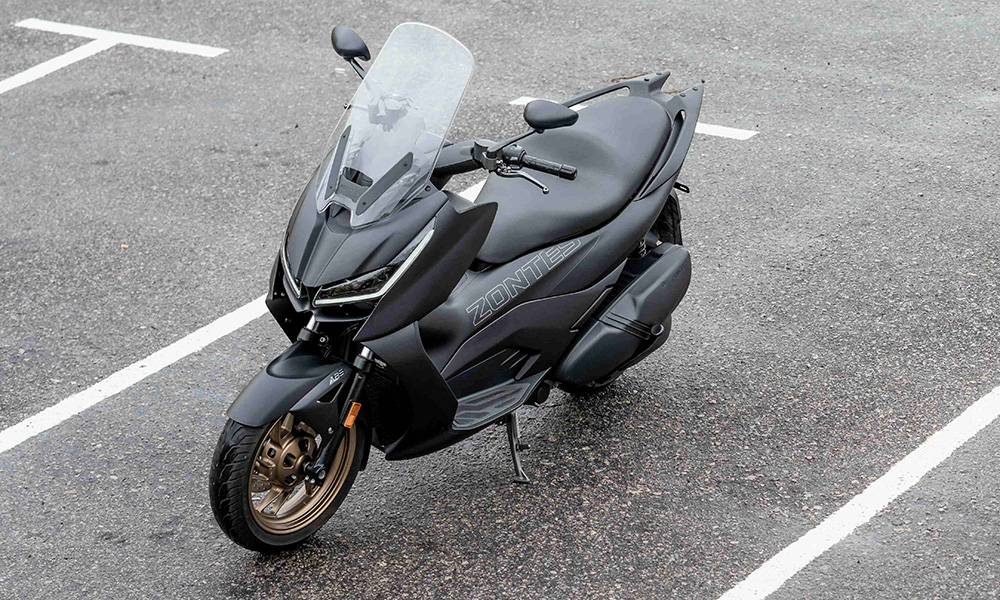 Common safety features found in both variants include front and rear disc brakes with J Juan radial type four-piston callipers, dual-channel ABS, Traction Control System (TCS), Tyre Pressure Monitoring System (TPMS) and ultra-bright OSRAM LED lights all-round.
With the introduction of the new 350 Series scooter, Zontes now has a strong portfolio of nine motorcycle models in Malaysia to cater to different needs of Malaysian bikers.
Ms Chia added, "We believe that the new Zontes 350 Series scooter can help us win a significant share of the growing scooter market here. On our part, we plan to expand the Zontes sales and aftersales service network and have a presence in every state so that more Malaysians can enjoy premium riding experiences without breaking the bank. We are also in close contact with the current owners' group to activate riding activities to build a community of passionate Zontes scooter owners."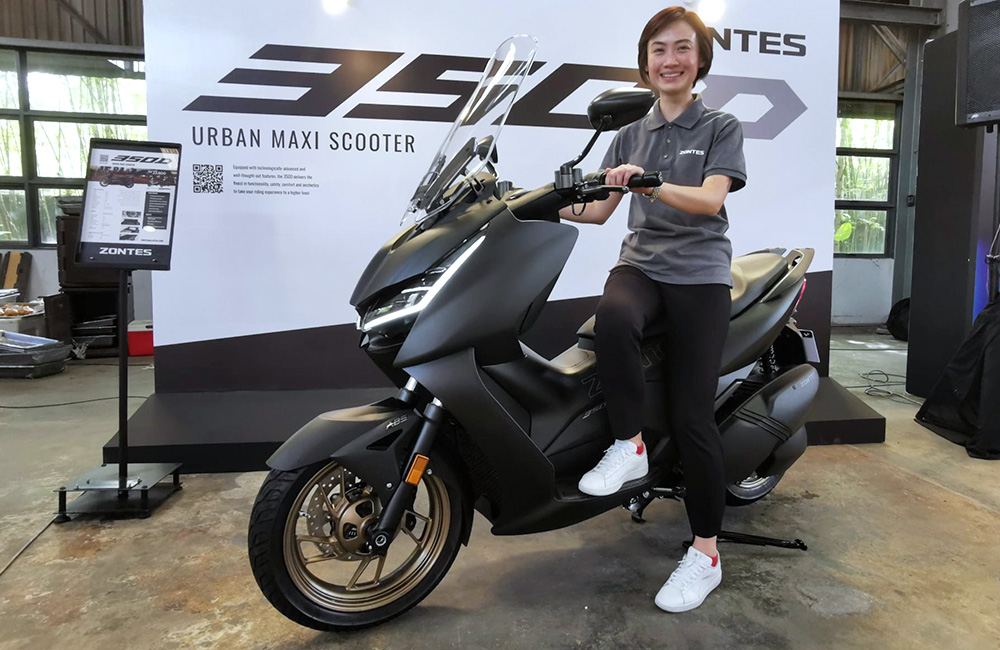 In conjunction with the launch, Zontes is organising the "Memorable Memories Together" Contest from 15 August till 17 September 2023 for those who wish to know more about the 350 Series scooter. Simply go to the link provided, complete the required details and then log into the Zontes Malaysia Facebook page (https://www.facebook.com/ZontesMy) at 3.00 pm on 18 September 2023 to find out if you are the winner!
For more information about Zontes motorcycles in Malaysia, please go to www.zontesmalaysia.com.