DJI, the global leader in civilian drones and innovative camera technology, today announced the launch of Osmo Action 4. Designed as the ultimate companion for adventure enthusiasts, the Osmo Action 4 sets a new standard for capturing and sharing the most thrilling moments. With its exceptional image quality, unparalleled flexibility, and remarkable low-light capabilities, this cutting-edge action camera is now available nationwide for only RM1,899.
"The Osmo Action 4 is a testament to our commitment to high-quality imagery, reliability, and user-centric design. We can't wait to see how our users harness the power of this exceptional camera to create breathtaking content that pushes their limits and inspires others to embark on their own remarkable journeys," said Paul Pan, Senior Product Line Manager at DJI.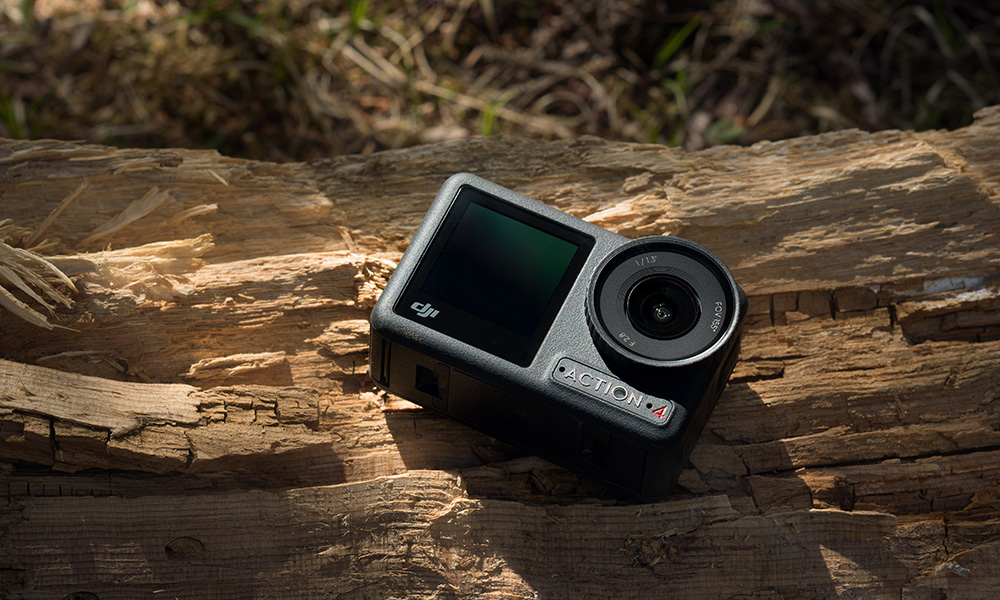 Unleash Stunning Image Quality and Colour Performance
Osmo Action 4 combines striking image quality with unrivalled camera flexibility. Equipped with a powerful 1/1.3″ image sensor, wide f/2.8 aperture, and 2.4μm-equivalent pixel size, it can shoot 4K/120fps and provides a 155° ultra-wide FOV, allowing users to capture shots loaded with exceptional detail, even in low light. With features like 360°HorizonSteady stabilisation modes, including RockSteady 3.0/3.0+ for FPV footage and HorizonBalancing or HorizonSteady for horizontal shots, Osmo Action 4 ensures stable and high-quality imagery in various sports and non-sporty scenarios. The 10-bit D-Log M colour mode provides over one billion colours and a wider dynamic range, offering a multitude of creative possibilities for post-production. An advanced colour temperature sensor ensures true-to-life tones, whether shooting outdoors, indoors, or underwater, resulting in vibrant colours that leap out of the camera.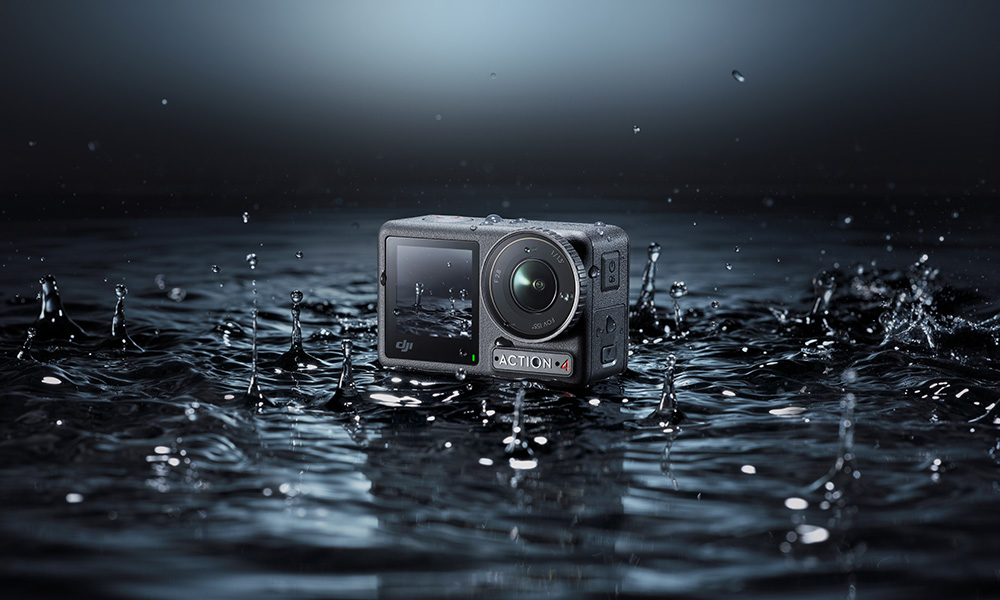 A Robust Battery For Extreme Filming
The Osmo Action 4's battery is designed to keep users powered up and ready for action. With its ultra-long battery life, users can film for over 2.5 hours without missing a beat, ensuring they capture all the important moments. When it's time to recharge, the fast-charging capability ensures the users ready to shoot quickly, taking just 18 minutes to bring the battery up to 80% charged. Additionally, Osmo Action 4's battery is built to withstand low temperatures with a freeze-resistant design. With up to 150 minutes of recording time in temperatures as low as -20°C (-4°F), one can confidently embark on their adventures without worrying about battery performance.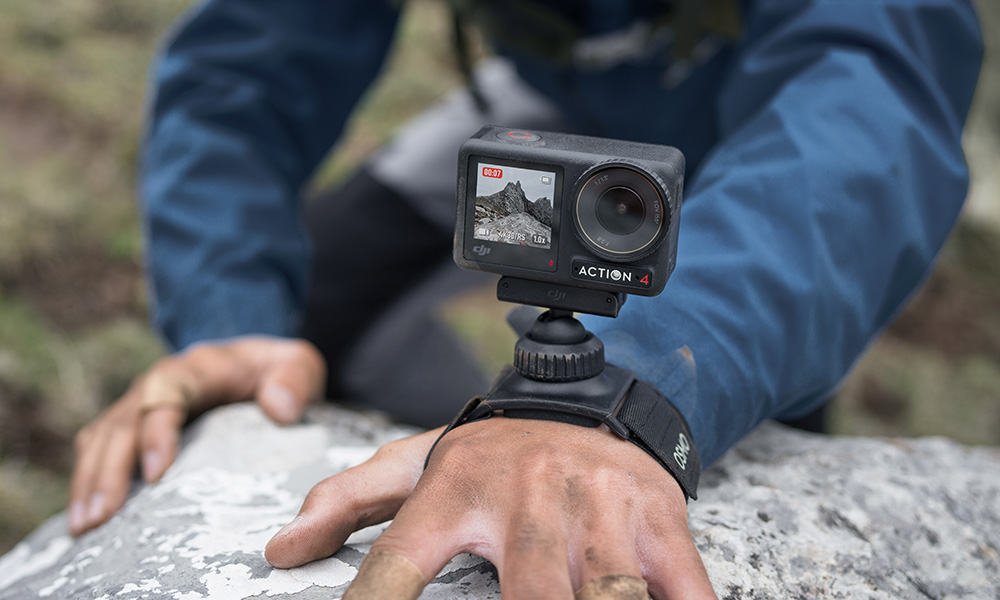 Versatile Features For Effortless Recording
Osmo Action 4 offers a range of intuitive features designed to enhance the users filming experience. With its magnetic quick-release design, users can swiftly switch between setups to capture every moment as the action unfolds. The native vertical shooting capability, enabled by the Horizontal-Vertical Protective Frame, allows the users to effortlessly film vertical footage without cropping or sacrificing quality. The dual water-stain-resistant touchscreens eliminate the need to struggle with the action camera when making parameter adjustments during selfies, mode switching, or video playback. Additionally, Osmo Action 4 offers customizable modes and a Quick Switch button for seamless transitions between shooting modes. Features like SnapShot ensure users never miss a memorable moment, and have the ability to save and access frequently used settings. Not only that, the Osmo Action 4 is designed to withstand depths of up to 18 metres without a case, allowing users to dive in confidently and operate easily even with wet hands.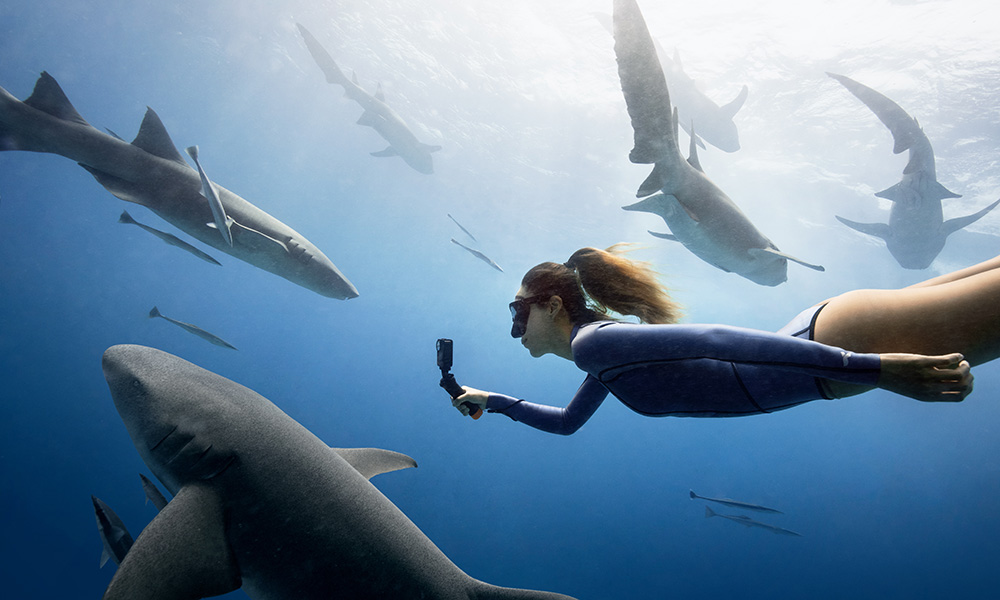 Enhanced Recording Capabilities For Seamless Broadcasts
Osmo Action 4 offers expanded recording options, delivering a comprehensive solution for capturing audio in a variety of environments. With its built-in microphones, stereo recording immerses the user in crisp, clear sound, while external connection support allows for expanded recording options. It has three mics and advanced wind noise reduction software that enables recording with enhanced audio fidelity, even in windy or fast-moving scenarios. With Wi-Fi live streaming capability, users can easily connect with their audience using Wi-Fi or their phone's hotspot connection, ensuring a seamless broadcasting experience. Use an external power supply to keep the action camera charged during longer streams to ensure an uninterrupted broadcast.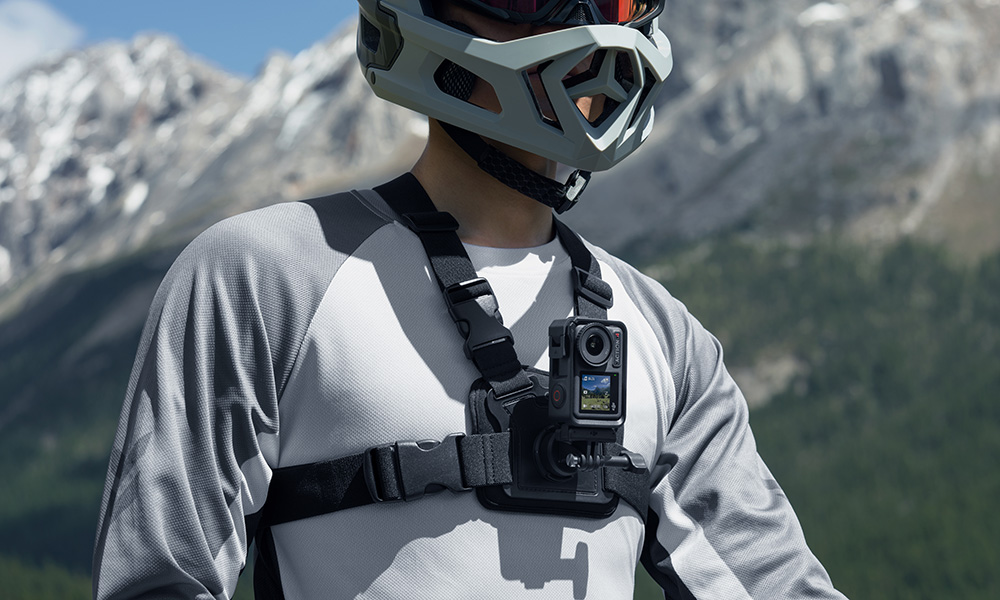 Additional Features
SnapShot Button & Quick Switch Button offer immediate recording and instant mode switching.
Quick Switching Between Five Custom Modes allows users to save their frequently used custom settings and switch between modes on the fly with the Quick Switch button and voice prompts.
Voice Prompt informs users of current modes without needing to unmount the camera.
Voice Control recognises voice commands with a high recognition rate, allowing to control the camera when hands are busy.
Upgraded InvisiStick recognises and digitally hides the selfie stick, eliminating it from the shots in a wider range of scenarios.
Digital Zoom of up to 2x can be adjusted while recording for better image composition.
DJI Mic Compatibility via the Type-C port and external mics via 3.5mm to Type-C cable.
AI Editing With The LightCut App
The LightCut app seamlessly connects wirelessly to the Osmo Action 4 via Wi-Fi, allowing for quick previews and auto-editing without the need for transferring footage from the camera.
The app gives the users access to a live feed from the camera and offers various story templates and accessible in-app editing tools. LightCut can recognise themes in the footage, recommend an ideal shot sequence, and edit content automatically with just one tap, ensuring superb 4K/60fps videos effortlessly. It can intelligently match exclusive templates with various use scenarios, including biking, diving, surfing, skiing or snowboarding, camping, vlogging, travel, and more.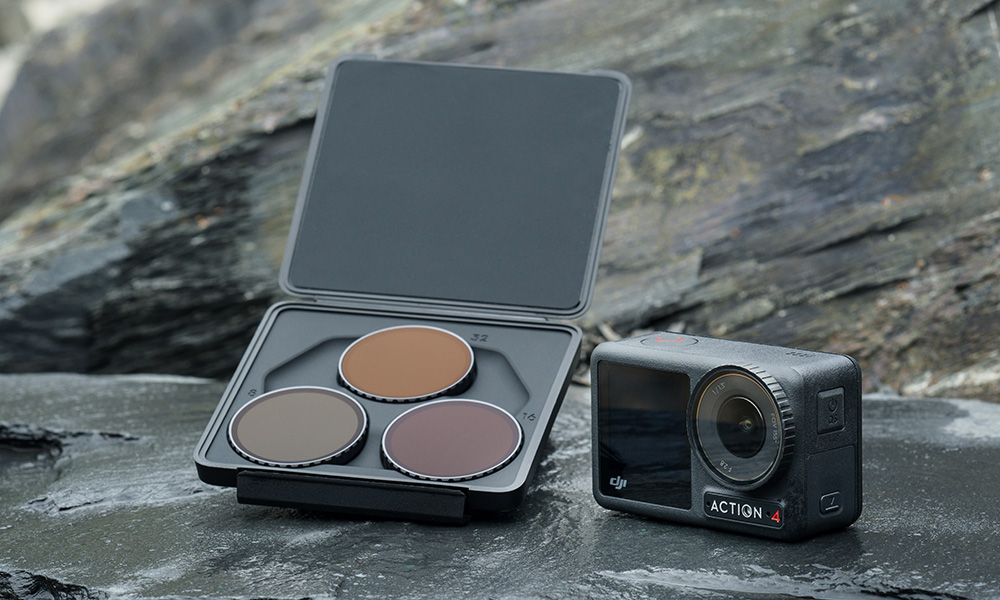 Unleash Your Full Potential with Dedicated Accessories
The Osmo Action 4 is ready to tackle any adventure and capture every moment. Enhance the filming experience with a range of dedicated accessories designed to maximise the potential of this action camera, including:
Osmo Action Chest Strap Mount
Osmo Action Helmet Chin Mount
Osmo Action 60m Waterproof Case
DJI Floating Handle
Osmo Action Adhesive Base Kit
Osmo Action Bike Seat Rail Mount
Osmo Action Mini Handlebar Mount
Osmo Action 360° Wrist Strap
Osmo Action GPS Bluetooth Remote Controller
Osmo Action Mini Extension Rod
Osmo Backpack Strap Mount
Osmo Action Multifunctional Battery Case
Osmo Action Hanging Neck Mount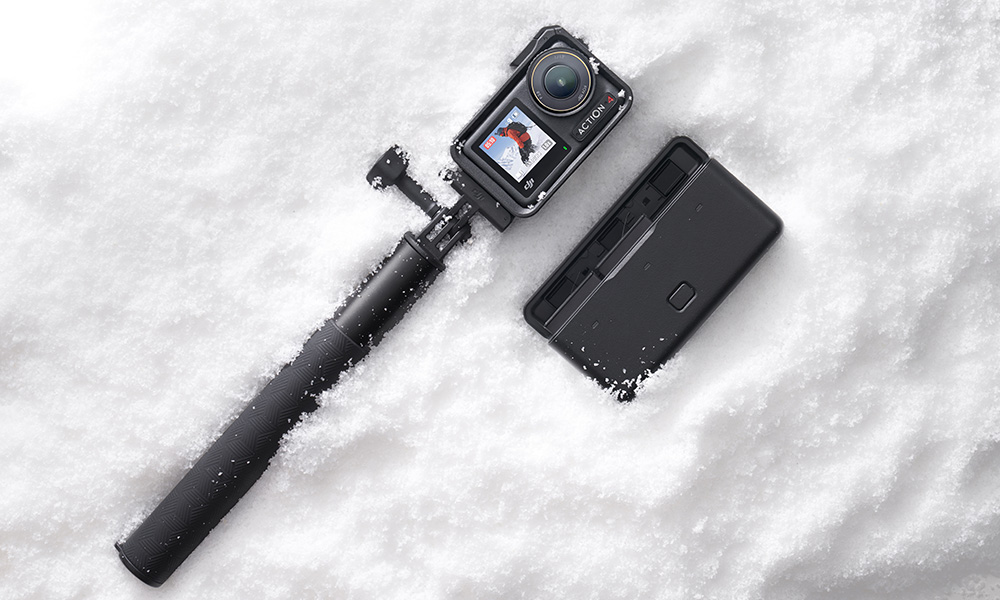 Price and Availability
Osmo Action 4 is available today from DJI Experience Stores, Shopee and Lazada.
The Osmo Action 4 Standard Combo (RM1899)
The Osmo Action 4 Adventure Combo (RM2389)
· Osmo Action 4
· One Osmo Action Extreme Battery
· Osmo Action Horizontal-Vertical Protective Frame
· Osmo Action Quick-Release Adapter Mount
· Osmo Action Curved Adhesive Base
· Osmo Locking Screw
· Type-C to Type-C PD Cable
· Osmo Action Lens Hood
· Osmo Action Anti-Slip Pad
· Osmo Action 4
· Three Osmo Action Extreme Batteries
· Osmo Action Horizontal-Vertical Protective Frame
· Osmo Action Quick-Release Adapter Mount
· One mini Osmo Action Quick-Release Adapter Mount
· One Osmo Action Curved Adhesive Base
· Two Osmo Locking Screws
· Type-C to Type-C PD Cable
· Osmo Action Multifunctional Battery Case
· One Osmo 1.5m Extension Rod
· One Osmo Action Lens Hood
· One Osmo Action Anti-Slip Pad
For more information on all the new features, accessories, and capabilities, please visit www.dji.com/osmo-action-4.