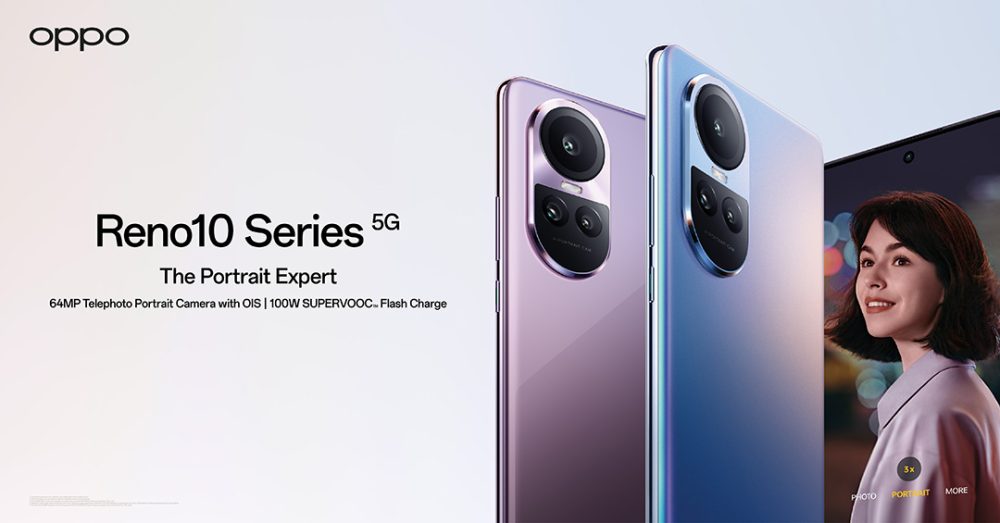 OPPO today announced the launch of its latest Reno10 series, featuring the all-new Reno10 Pro+ 5G, Reno10 Pro 5G, and Reno10 5G. With its Ultra-Clear Portrait Camera System comprising a Telephoto Portrait Camera with a large sensor, an Ultra-Clear Main Camera, an Ultra-Clear Selfie Camera, and a high-quality 112°8MP Ultra-Wide Camera, the Reno10 series provides a pro-level portrait imaging experience housed within the signature slim, lightweight, and trendy design of the OPPO Reno series. Together with up to 100W SUPERVOOCTM flash charging, a powerful SoC, an Ultra-Conductive Cooling System, the Dynamic Computing Engine, ColorOS 13, and a fast-charging, safe and long-lasting battery supported by OPPO's Battery Health Engine and SUPERVOOC S power management chip, the Reno10 series delivers unrivaled all-round performance.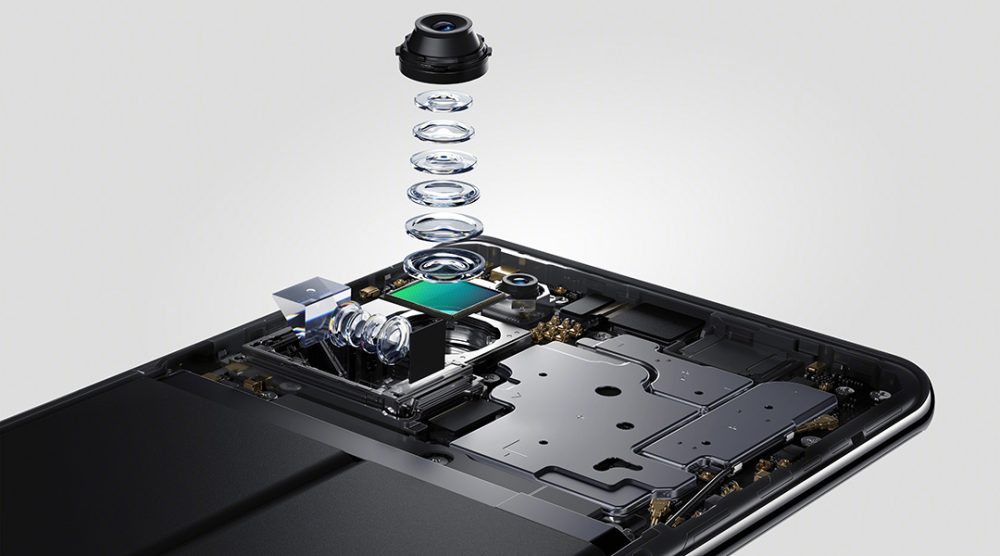 This pro-level portrait imaging experience is brought to the Reno10 series without sacrificing the thickness, lightweight, and stylish design. Measuring 8.28mm in thickness and weighing only 194g, Reno10 Pro+ 5G is the slimmest smartphone on the market with a periscope telephoto camera. For users looking for a high-performance smartphone that is even thinner and lighter, Reno10 Pro 5G and Reno10 5G both weigh 185g and measure 7.89mm and 7.99mm respectively, giving the Reno10 series professional performance in a slim and light design that no other phones can match.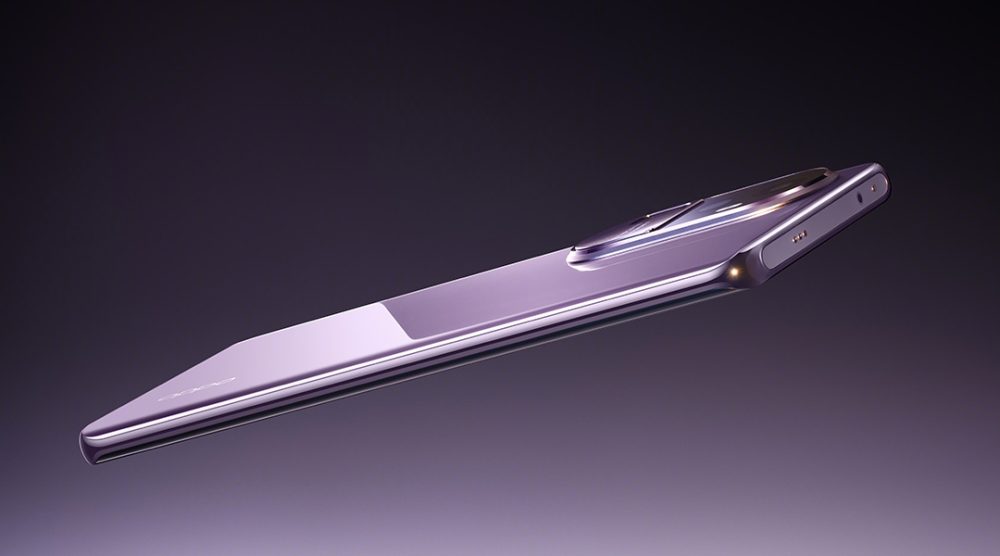 All three Reno10 series handsets feature a finely crafted 3D curved body for greater comfort and an easier grip and a 120Hz 3D Curved Screen with ultra-narrow bezels for immersive and boundless visual experience. The handsets are also available in a variety of sophisticated and stylish color finishes. This includes Silvery Gray on all three models, Glossy Purple on Reno10 Pro+ 5G and Reno10 Pro 5G, and Ice Blue on Reno10 5G.
The Reno10 series introduces a new premium design around the camera module. The lens module decoration is divided into two parts using an advanced splicing process to create a premium two-tone design that adds to the high-tech and pro-aesthetic appearance of the phones. Both Reno10 Pro+ 5G and Reno10 Pro 5G feature an innovative Laser-Centric Camera Matrix that incorporates a radial laser beam-like texture centered around the main camera to manipulate light and shadow in a way that symbolizes the powerful camera capabilities that lie beneath.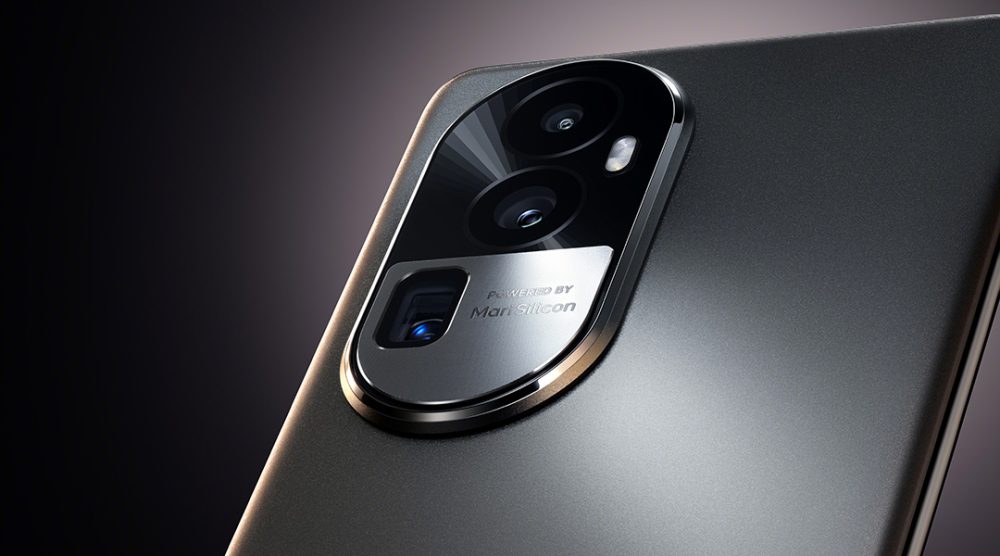 Ultra-Clear Portrait Camera System Gives Pro-level Experiences
Reno10 Pro+ 5G enables users to shoot professional quality portraits with its Ultra-Clear Portrait Camera System. As part of this system, a 64MP telephoto portrait camera on Reno10 Pro+ 5G provides a 71 mm equivalent focal length for professional-looking portrait images. Together with its large f/2.5 aperture, 25cm minimum focus distance, and large 1/2″ camera sensor, the telephoto portrait camera creates an unprecedented portrait shooting experience on Reno10 Pro+ 5G, enabling pro-level portraits to be captured with just a simple click.
The 64MP telephoto portrait camera on Reno10 Pro+ 5G has the highest megapixels than any smartphone with telephoto camera currently on the market and the camera is equipped with cutting-edge prime floating OIS for enhanced image stabilization. Thanks to more pixels, the large sensor, 3-times optical zoom, and OPPO's in-sensor zoom technology, Reno10 Pro+ 5G also offers a second-to-none, ultra-clear 6-times zoom with optical-quality. Together, these features enable users to capture excellent close-up portrait shots.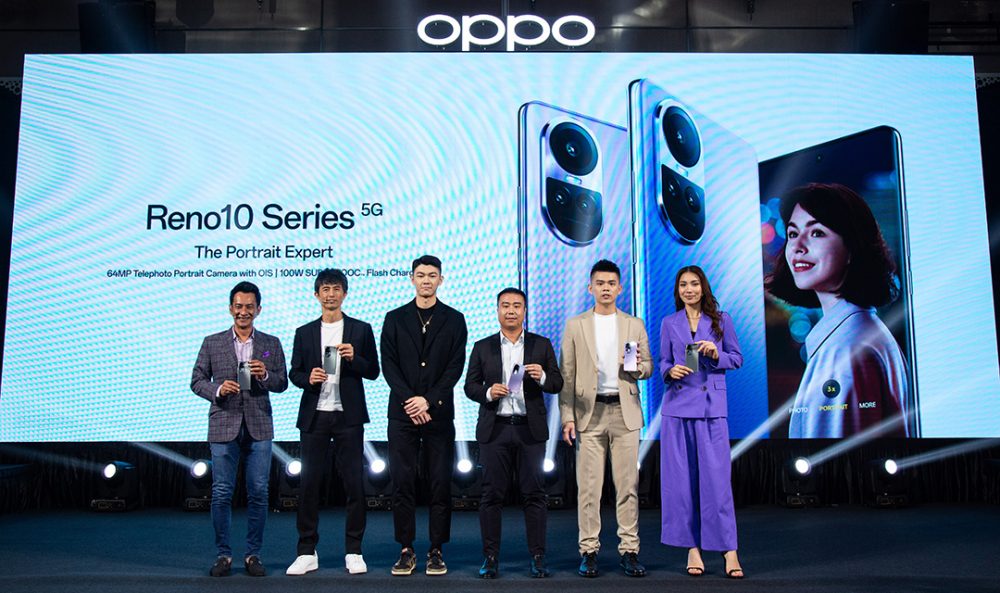 The telephoto portrait camera is available on all three Reno10 series models. In addition to the 64MP version featured on Reno10 Pro+ 5G, both Reno10 Pro 5G and Reno10 5G feature a 32MP telephoto portrait camera powered by an IMX709 RGBW sensor. With its all-new 4-in-1 RGBW pixel array co-designed by OPPO and Sony, the IMX709 has additional white pixels that are more sensitive to light intensity than RGB pixels, improving light capture by 60% and signal-to-noise by 35% compared with a standard RGGB sensor. With its 2-times optical zoom, the telephoto portrait camera on Reno10 Pro 5G and Reno10 5G delivers flawless high-quality portrait images.
Besides the 64MP telephoto camera, the Reno10 Pro+ 5G's rear camera system also includes a 50MP Ultra-Clear Main Camera with OIS and a Sony IMX890 sensor, and a 112° 8MP Ultra-Wide-Angle Camera with a Sony IMX355 sensor. Backed by this incredible three-camera lineup, Reno10 Pro+ 5G provides a series of astounding imaging features that includes Pro-Portrait Mode, Pro-Portrait Video, and 4K Ultra Night Video/4K Ultra HDR Video to deliver pro-level shots.
The Breakthroughs in Professional Portrait Imaging
On Reno10 Pro+ 5G, OPPO has expanded the power of its new image processing architecture and the advanced performance of the Snapdragon® 8+ Gen 1 mobile platform takes portrait imaging power to the next level on smartphone. OPPO's new image processing architecture overcomes traditional limitations in computing power to unleash the full strength of the phone's ISP and GPU and maximize the performance of the sensors on all three of the rear cameras to level-up to a new stage in image clarity, light, shadow, and color. With RAW Domain Multi-frame Synthesis, each frame captured by Reno10 Pro+ 5G is taken from the source at the image sensor and enhanced through advanced image processing algorithms including AI denoising, and deep pixel fusion — all performed in the RAW domain. This delivers vast improvements in image clarity and faithfully restores the relationship between light and shadow to create true-to-life images. This sophisticated computing power also delivers a level of image processing speed and accuracy. Through this, the Reno10 Pro+ 5G can be used to capture the light of real scene and bringing authentic light and shadow effects to every portrait image.
Ensuring a superior portrait photograph experience from end-to-end, the Reno10 series also introduces a series of upgrades to the display. All three devices feature a large display with support for up to 1 billion colors and a 120Hz refresh rate. The Reno10 Pro+ 5G adds to this with a 1.5K Ultra-Clear Borderless Display capable of reaching 1100 nits brightness coupled with industry leading ProXDR Smart Display Control. ProXDR uses a high-precision image recognition algorithm to automatically detect light source information stored in RAW image data. Using this data, Reno10 Pro+ 5G can locally adjust screen brightness in these corresponding areas of the image to provide up to an 8-times improvement in dynamic range, enabling HDR images to finally be reproduced with the most accurate depiction of light and shadow on a smartphone display.
Starting with the Reno10 series, OPPO is also launching the new Portrait Expert Project aimed at catering to different aesthetic and visual preferences and providing more inclusive image styling for its global users. To date, through the Portrait Expert Project, OPPO have brought together 4 professional portrait photographers from different countries to join the Portrait Expert Group, whose expertise and multi-cultural perspectives has been utilized to continuously optimize the technologies of OPPO's Portrait Expert Engine. Recommendations from photographers worldwide have been used to modify functions such as subject recognition and character-scene separation, facial feature and skin tone protection, face clarity optimization and expert-level tunning of light and shadow, and background optimization on the Reno10 series. Through the Portrait Expert Project and Portrait Expert Engine, OPPO will continue to prioritize users' benefits, and to bring them more breathtaking camera features that combine with OPPO's professional internal team and global photographer's eye with local styles and tastes.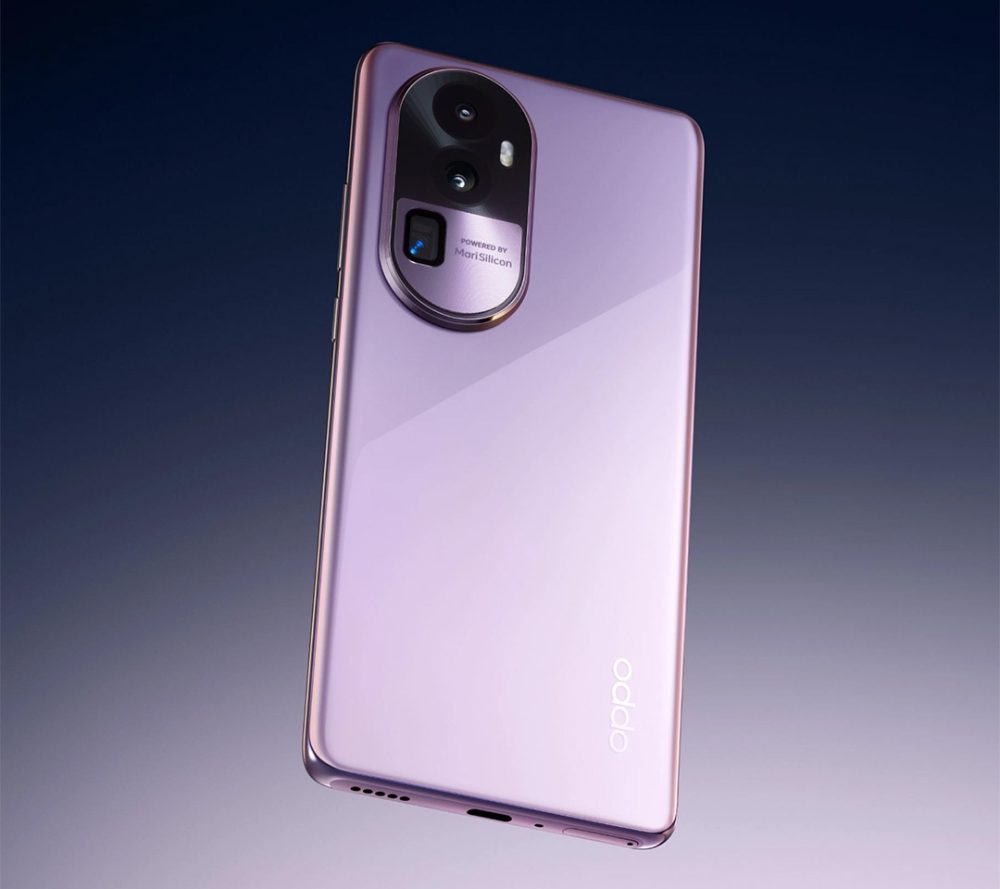 Powerful, Safe, and Long-lasting Battery
OPPO has long been ahead of the game when it comes to providing faster and more reliable charging technology, and on the Reno10 series, a number of features have been introduced to further boost battery and charging performance.
Alongside its line-up of powerful hardware, Reno10 series delivers pro-level charging performance across the board. Through OPPO's 100W SUPERVOOCTM Flash Charge technology, the large 4,700mAh battery of Reno10 Pro+ 5G can charge to 50% in 9 minutes and 30 seconds, and 100% charged in 27 minutes. Whereas the Reno10 Pro 5G is equipped with 80W SUPERVOOCTM Flash Charge, it can be charged to 100% in around 30minutes4. And finally, the Reno10 5G too offers rapid charging at 67W SUPERVOOCTM Flash Charge enabling it to charge the large 5,000mAH battery to 100% in approximately 47 minutes4. 
On top of this, the inclusion of OPPO's exclusive Battery Health Engine helps to keep the battery in good condition for as many as 1,600 charge and discharge cycles — or around four years of average use — while OPPO's proprietary SUPERVOOC S Power Management Chip2 has been brought to the Reno series for the first time to provide improved battery efficiency. SUPERVOOC S combines six functions, including charging, discharging, decoding, reset, battery protection, and circuit-breaker into one single chip, helping to reduce the amount of space taken by fast charging components within the phone by up to 45% and pushing battery discharge efficiency up to 99.5%.
In addition to its speed, efficiency, and longevity, the Reno10 Pro+ 5G also guarantees safer and more reliable charging performance as authorized by the new TÜV Rheinland Safe Fast-Charge System Certification.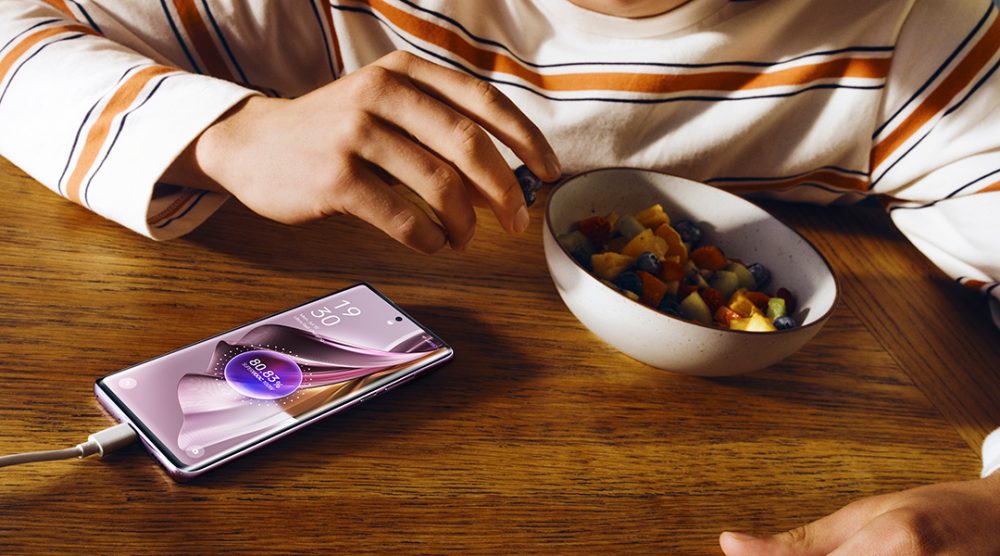 Smart and Efficient ColorOS 13
Installed with OPPO's latest operating system, ColorOS 13, the Reno10 series offers smart and secure experiences throughout every aspect of daily life using.
OPPO's Multi-Screen Connect has been updated to support smart connection between the Reno10 series, OPPO Pad Air, and PCs, enabling seamless productivity across multiple devices. Connection with OPPO Enco Air 3 Pro allows users to maintain their audio connection to two devices at the same time. Through the Smart AOD, Reno10 series users can even control Spotify playback without having to unlock the phone or open the app.
Privacy has always been paramount in OPPO's devices. With a suite of privacy features that includes the Auto Pixelate, in just one click, this smart feature can pixelate profile photos and names in chat screenshots so that they can be easily shared without divulging personal information.
On top of this, the Reno10 series is the first OPPO smartphone series to support infrared remote control for smart devices such as air conditioners, TVs, set-top boxes, and more, bringing more convenience and efficiency to everyday life through smart technology.
ColorOS 13 on the Reno10 series introduces a series of optimizations designed to boost both performance and fluency. Developed between OPPO and Google, the Dynamic Computing Engine on the Reno10 series allows memory access efficiency to be dynamically adjusted by up to 16 times the previous capacity, enabling greater data transmission and smoother operation of multiple heavy-load applications. This advanced technology, which is supported by over 30 global patent applications, enables up to 44 apps to be open at a single time without causing the phone to slow down. Improvements in overall smoothness have led to Reno10 Pro+ 5G and Reno10 Pro 5G both receiving an A Rating in the TÜV SÜD 48-months Fluency Certification and Reno10 5G passing the 48-month fluency test conducted by the OPPO Lab, demonstrating their ability to deliver a long-lasting smooth user experience.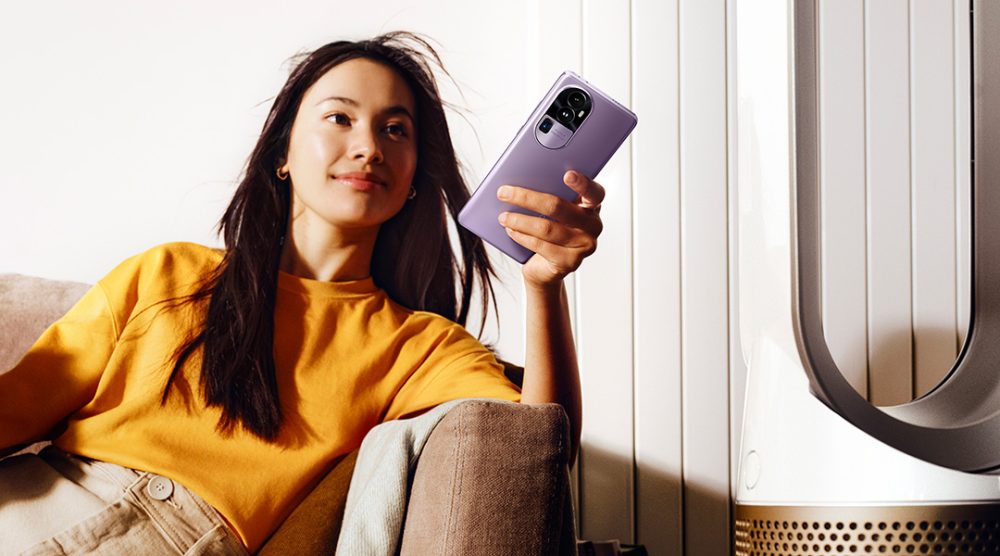 Pricing and Availability
The OPPO Reno10 Series 5G is available for pre-order in Malaysia starting from 6th to 14th July 2023. Customers who pre-order during this period will receive attractive gifts as below:
Model
RRP
Colour Availability
Pre-order Rewards
OPPO Reno10 Pro+ 5G
(12GB + 256GB)
RM3,499
• Glossy Purple
• Silvery Grey
Complimentary rewards worth a total of RM896 inclusive of:
• OPPO Enco Air3 (worth RM249)
• Free access to KLIA Plaza Premium Lounge (worth RM299)
• Free 1-Year Screen Protection Plan (worth RM199)
• Free 1-Year Extended Warranty (worth RM149)
OPPO Reno10 Pro 5G
(12GB + 256GB)
RM2,199
• Glossy Purple
• Silvery Grey
Complimentary rewards worth a total of RM506 inclusive of:
• Bluetooth speaker (worth RM129)
• OPPO Enco Buds2 (worth RM129)
• Free 1-Year Screen Protection Plan (worth RM139)
• Free 1-Year Extended Warranty (worth RM109)
OPPO Reno10 5G
(8GB + 256GB)
RM1,799
• Ice Blue
• Silvery Grey
Complimentary rewards worth a total of RM238 inclusive of:
• Bluetooth speaker (worth RM129)
• Free 1-Year Extended Warranty (worth RM109)
The pre-order promo is available at the stores listed below:
Physical Store
Online Store
1. My OPPO Space
2. OPPO Brand Store
3. OPPO Authorised Dealers
4. Chain Store Partners
1. OPPO Official Online Store
2. OPPO Authorised Online Store
3. E-comm partners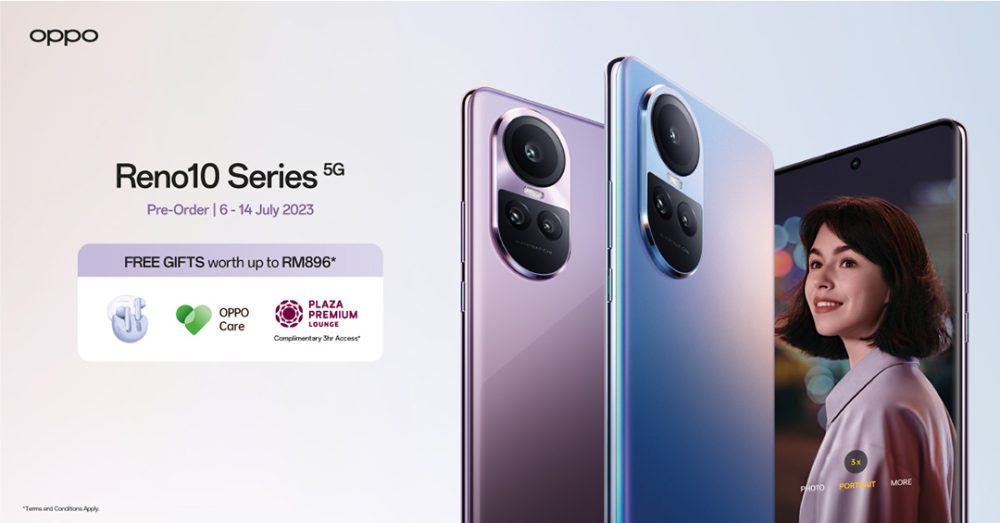 For more information, please visit here.