Clean energy solutions provider Gentari Sdn Bhd (Gentari) has signed a Memorandum of Understanding (MoU) with Keppel's Infrastructure Division to jointly explore the development of specific sustainability-related opportunities. The MoU was executed during the recent Energy Asia conference in Kuala Lumpur, where industry leaders and policymakers gathered to advance Asia's net zero ambitions.
Gentari was represented by its Chief Renewables Officer, Low Kian Min, while Keppel was represented by Tan Boon Leng, Managing Director of Keppel Infrastructure Holdings Pte Ltd. Also present at the signing ceremony were Gentari's Chief Executive Officer (CEO) Sushil Purohit, and CEO of Keppel's Infrastructure Division, Cindy Lim.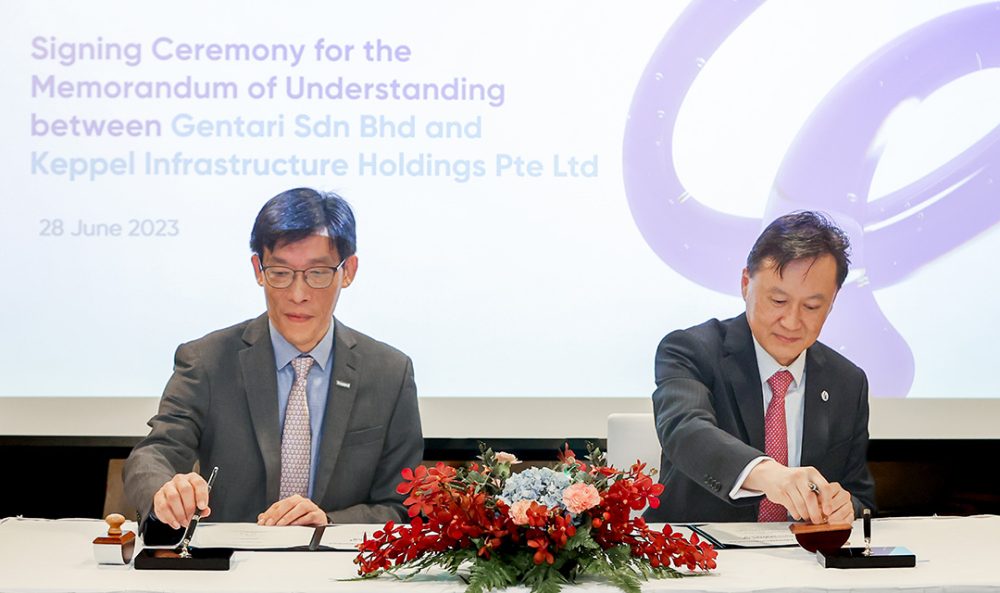 Through the MoU, the parties are looking to unlock synergies in renewable and low-carbon energy projects as well as electric vehicle charging infrastructure and roaming to build economies of scale, facilitate mutual support in market access and enable mutual capability development. In addition, the parties will explore potential collaboration in Energy-as-a-Service opportunities, including energy efficiency and energy management projects.
"We are excited to collaborate with Keppel via this MoU, as it represents a significant step in growing the application of sustainable energy solutions across Southeast Asia. By leveraging our combined capabilities in areas such as renewable energy, electric vehicle charging infrastructure and sustainable energy applications, we aim to deliver innovative solutions that support the region's net zero ambitions. Together, we are committed to reshaping the energy landscape and creating a greener future for Southeast Asia," said Sushil Purohit, CEO of Gentari.
Cindy Lim, CEO of Keppel's Infrastructure Division added, "Keppel is pleased to collaborate with Gentari on a targeted slate of initiatives that will help to address immediate urban and climatic challenges in Southeast Asia. The MoU is a testament to Gentari and Keppel's shared commitment towards helping the region get closer to net zero. Through collaborating on sustainable infrastructure projects and Energy-as-a-Service with Gentari, we aim to leverage each other's strengths to improve urban environments and enhance access to e-mobility."
For more information on Gentari, please visit www.gentari.com.