ASUS Announces the BR1102 series, which are Rugged, reliable starter laptops for the modern classroom and learning anywhere.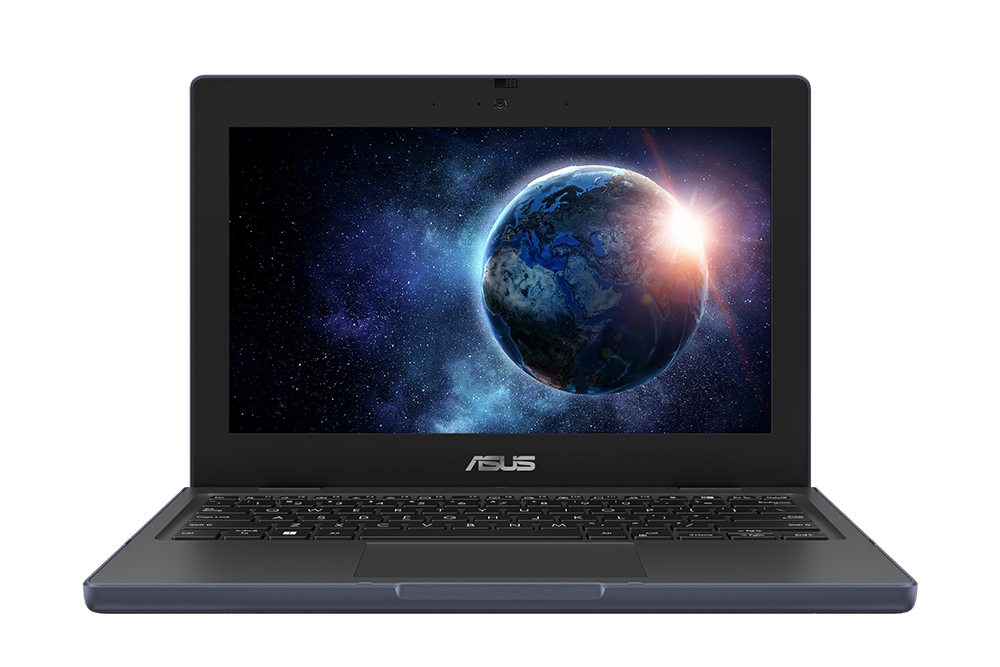 ASUS Malaysia announced BR1102, a series of ruggedized laptops designed for the rigours of everyday use in education environments and beyond — making them the perfect companion for K-12 students. 
Available in both traditional clamshell form (BR1102C) and a convertible design that flips 360° to become a versatile multitouch tablet (BR1102F), the compact, 11.6-inch BR1102 laptops are built to military-grade standards and packed with clever protective features. These include an all-around rubber bumper and a fingerprint-resistant finish to minimize the chance of accidental damage in the classroom. 
BR1102C and BR1102F are also loaded with modern essentials for blended learning. These include a long, up to 12-hour battery life to empower a full day's study, full-function USB 3.2 Gen 2 Type-C for both fast charging and speedy data transfers, and WiFi 5 for reliable, fast connectivity and learning anywhere. 
Modular Designs 
With reliable, rugged designs, a choice of form factors and options that include a fast-charging garaged stylus and a 13 MP world-facing camera, BR1102-series laptops are ideal study buddies for modern, on-the-go students.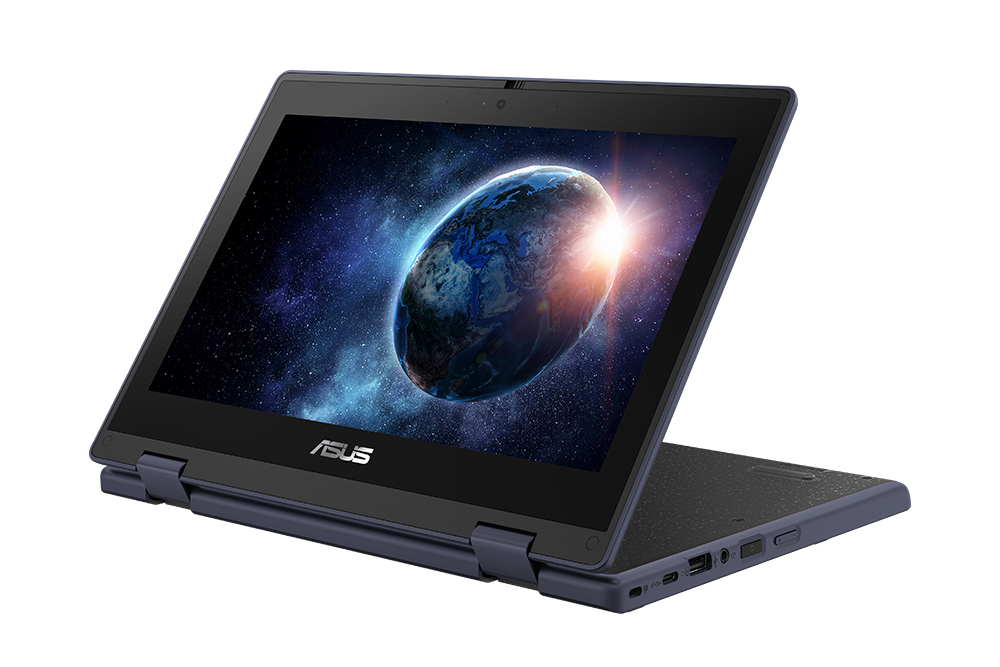 Reliable K-12 buddy 
With a compact design and 11.6-inch display, ASUS BR1102C and BR1102F will slip easily into any backpack, ready for learning anywhere, anytime. And, because classrooms and families with young children are often like battlefields, the new laptops are specially engineered to cope with rough handling and everyday accidents — undergoing extensive torture testing to meet the MIL-STD-810H standard for military-grade durability.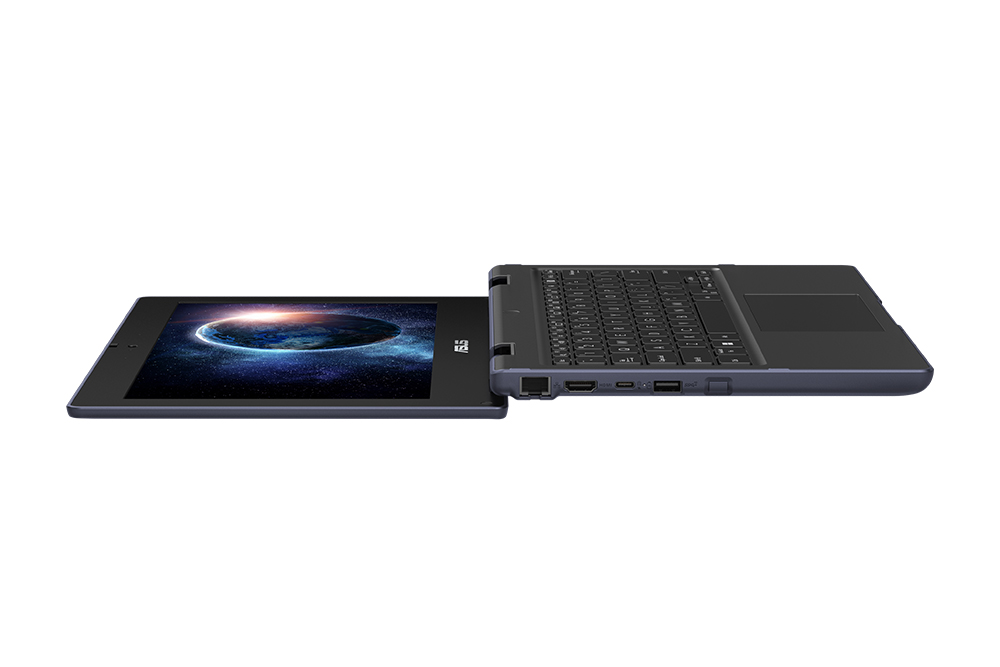 For starters, all four exterior edges and corners are protected by a tough rubber bumper, which reduces the impact of physical shocks to ensure critical components are always safe and sound. Key surfaces are also coated with a smooth, fingerprint-resistant finish. A rubber bar on the base provides sturdy support and also makes it easier to grip. The keyboard is also spill-resistant, and able to cope with up to 400 cc of water, so minor splashes can be easily drained, cleaned and dried. The keys themselves are designed to resist tampering, meaning they cannot be easily pried out. The reinforcements even extend to both the display hinge and I/O ports, which have both been exhaustively tested to ensure they're able to endure the stresses and strains of everyday use.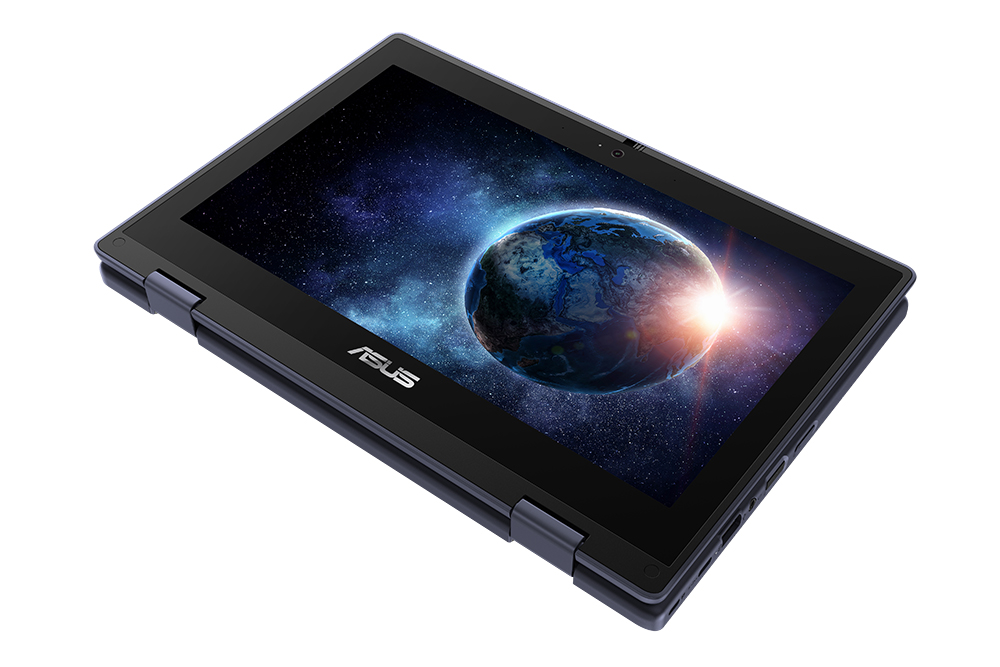 The surface of any laptop harbours thousands of potentially harmful bacteria, and this is especially true of models used by kids and in classrooms. To keep BR1102C and BR1102F hygienic, the keyboard, touchpad, and palm rest are all protected with ASUS Antimicrobial Guard technology. This has been scientifically shown by the internationally recognized ISO 22196 standard to inhibit the growth of bacteria by over 99% over 24 hours.1,2 ASUS Antimicrobial Guard is also made to withstand alcohol-based cleaning products, helping to keep the laptop's surface clean and sanitary for longer.
Blending learning without limits 
The new ASUS BR1102-series laptops benefit from Windows 11 Pro backed by an Intel Processor N100 and deliver up to 12 hours of battery life on a single charge to drive a full day of classes and more — empowering students to enjoy uninterrupted learning. They're also equipped with full-function USB-C for fast transfers and charging, so it is both easy and quick to top up the juice. 
With modern hybrid learning in mind, BR1102C and BR1102F both excel. They offer up to the latest WiFi 5 technology to deliver fast and stable speeds for online learning and super-smooth video chats. Bluetooth 5 is also on tap.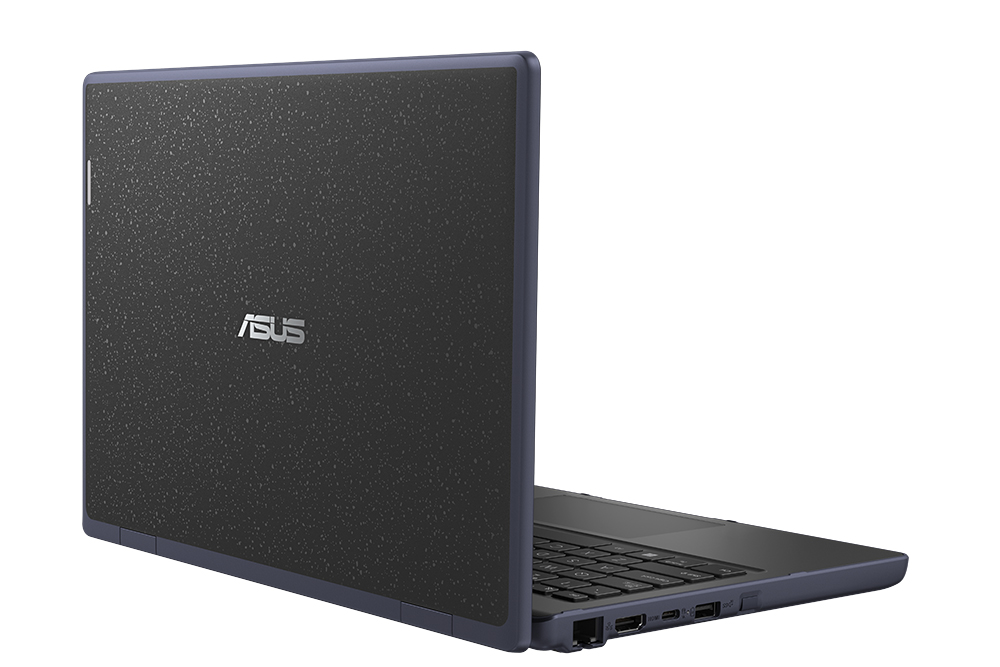 To provide exceptional learning and video-conferencing experiences, the latest BR1102-series laptops also feature innovative ASUS AI noise-cancellation technology that employs machine learning to isolate unwanted noise from human speech — ensuring uninterrupted learning experiences, even in busy environments. They also feature a noise-reducing camera that eliminates up to 94% of the random noise that naturally affects any camera, especially in low-light conditions. A one-touch microphone switch also ensures fast privacy, when needed. And, with privacy in mind, the new BR1102 models also feature a physical webcam shield, so instant seclusion is only ever a quick swipe away.
Easy IT servicing 
ASUS BR1102C and BR1102F are also engineered to be easy to maintain and upgrade, with a modular design that speeds the work of technicians — minimizing downtime to maximize learning opportunities. They also benefit from an expandable dual-storage design, to ensure high-speed operation and large capacity for learning. 
The new laptops also offer access to MyASUS and all the services and support offered by this helpful portal. This includes the download and application of the latest updates, one-click diagnosis and troubleshooting of problems and the ability to contact ASUS support quickly and easily.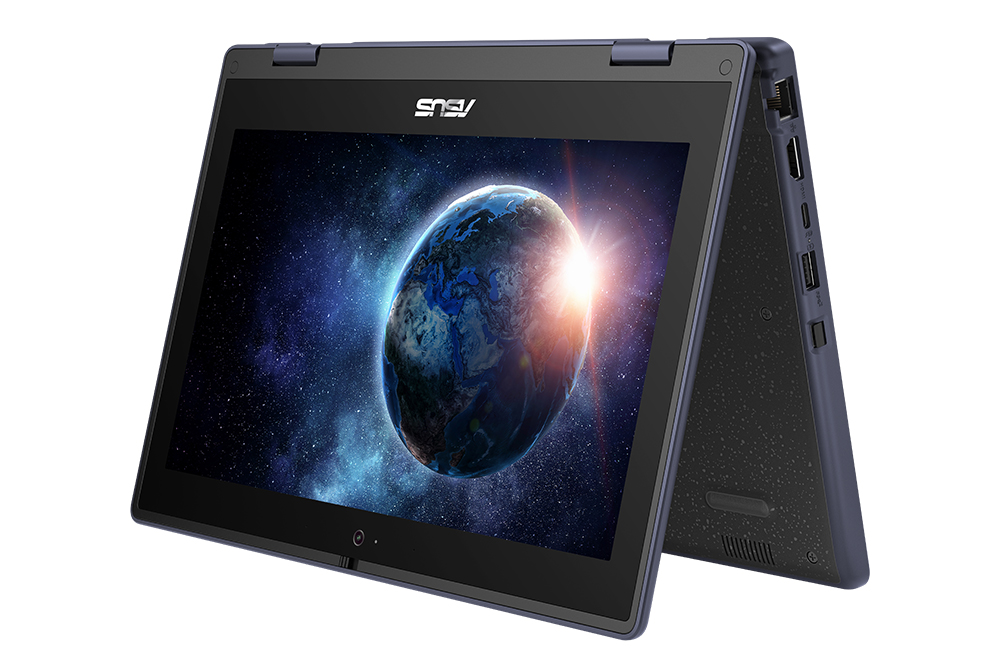 Productivity unleashed 
To cater for diverse learning scenarios, display versatility and practicality are key features of the new BR1102-series laptops. BR1102C, for example, has an 11.6-inch anti-glare display that reduces reflections to provide comfortable viewing for extended learning experiences. It also features a 180° lay-flat design for easy sharing. The 360°-flippable BR1102F has an 11.6-inch IPS multitouch touchscreen, providing intuitive input for modern learning experiences. This model also features 178° wide-view technology to keep colours and contrast vivid and bold, making it the perfect solution for sharing content with friends and colleagues. The displays of both models are certified by TÜV Rheinland for low blue-light emissions, potentially helping to protect children's eyes from damage. 
BR1102F is also equipped with a special 13 MP world-facing camera located, ideally positioned to allow photos and videos to be captured when the device is used in tent mode and tablet mode. BR1102F also has the option of being used with the fast-charging ASUS Pen, further enhancing interaction and learning opportunities.
Fast, ample capacity for productivity comes in the form of 128 GB UFS storage built right in, plus an M.2 PCIe 3.0 slot for optional storage upgrades.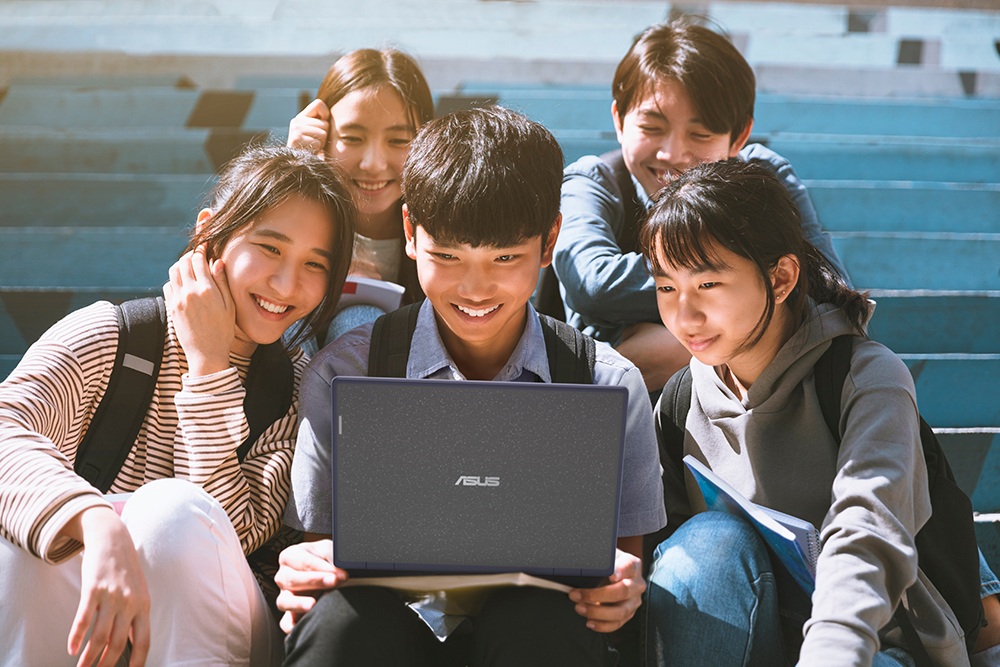 Both BR1102C and BR1102F also benefit from a bright Good-to-Go LED indicator integrated into the top cover. This enables educators to see at a glance if a particular student's laptop is facing internet connectivity or power problems.
ASUS BR1102C and BR1102F will be available nationwide, priced at RM2,099 and RM2,399, respectively. Both laptops come with complimentary 1-year on-site service coverage for reduced downtime. Visit ASUS Malaysia here for more information.