Sime Darby Auto ConneXion (SDAC), the sole distributor for Ford in Malaysia, today launched the Next-Generation Ranger Raptor 2.0L Bi-Turbo Diesel offering another engine selection for Raptor fans in the country.
The 2.0-litre diesel engine variant joins its 3.0-litre twin-turbo EcoBoost V6 petrol engine counterpart in the Next-Gen Ranger Raptor line-up.
"As Asia Pacific's only factory-built performance truck for high-speed off-roading, demand for the Ranger Raptor has exceeded expectations. Response to the Next-Gen Ranger Raptor has been great since we launched the V6 variant. Based on feedback received, we know many Malaysian customers want a choice of engines and the 2.0L Bi-Turbo Diesel engine is a great addition to our line-up," said Turse Zuhair, Managing Director of Sime Darby Auto ConneXion-Ford.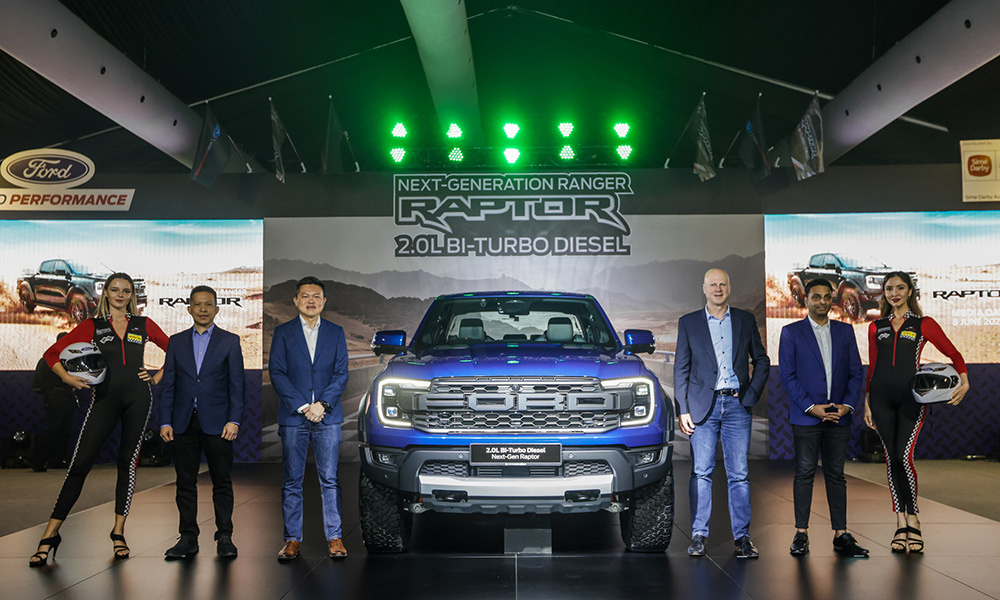 More choice with a proven powertrain and uncompromised fuel efficiency
First introduced in 2018 on the previous generation Ford Ranger Raptor, the 2.0L Bi-Turbo Diesel engine offers another ownership option to meet the strong demand from Malaysian customers.
The tried and tested engine not only delivers the powerful performance that Ford customers know and love, it also ensures uncompromised fuel efficiency thanks to extensive research and development.
Paired with the e-shifter 10-speed automatic transmission, the Next-Gen Ranger Raptor 2.0L Bi-Turbo Diesel delivers up to 210 PS at 3,750 rpm and 500 Nm of torque at 1,750-2,000rpm.
The 2.0L Bi-Turbo Diesel variant also benefits from a range of features to offer a competitive fuel consumption of 8.2L/100km. These features include the stop/start function, battery monitoring system, high-efficiency alternators, LED daytime running lights (DRL), active transmission warmup, ultra-low viscosity transmission fluid, synthetic rear axle fluid to reduce parasitic driveline losses, and a cooling fan with brushless motors to reduce electrical losses.
Designed to match its V6 counterpart, the Next-Gen Ranger Raptor 2.0L Bi-Turbo Diesel features the same reinforced chassis. It includes the C-pillar, load box and spare wheel, as well as unique frames for the jounce bumper, shock tower and rear shock bracket, all combined to ensure the next-gen Ranger Raptor can handle punishing off-road conditions.
It also features the same redesigned suspension with the new FOX 2.5-inch Internal Bypass shock absorbers in front, refined Watt's link at the rear and advanced permanent four-wheel drive system with an all-new electronically controlled on-demand two-speed transfer case, combined with rear locking differentials.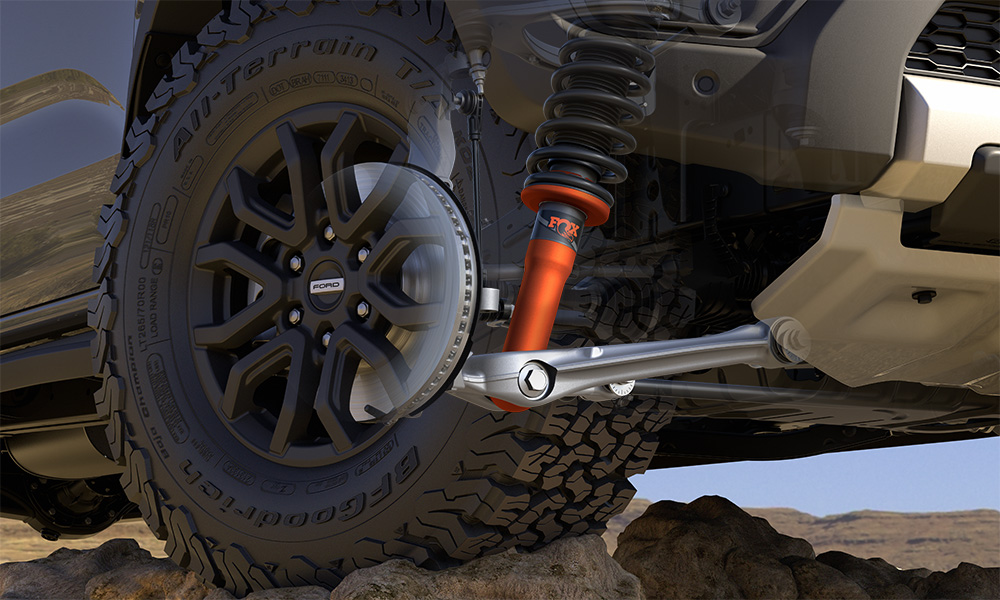 The Ford Performance tuned FOX 2.5-inch Internal Bypass shock absorbers are the most sophisticated ever on a Ranger Raptor and are filled with Teflon™-infused oil that reduces friction by around 50 percent compared to the previous Raptor.
The Next-Gen Ranger Raptor 2.0L Bi-Turbo Diesel is also equipped with FOX's race-proven Bottom-Out Control and the 2.3mm-thick high-strength steel bash plate, along with an under shield and transfer case shield. Also, standard are twin-rated tow hooks at the front and rear for flexible recovery, as well as balance straps for snatch recoveries in deep sand or thick mud.
Similar to the V6 variant, it also offers the updated Terrain Management System now with seven selectable drive modes, but without the active valve exhaust system. The seven drive modes are Normal, Sport, Slippery, Rock Crawl, Sand, Mud/Ruts and Baja.
Each selectable drive mode helps adjust many elements – from engine and transmission to ABS sensitivity and calibration, traction and stability controls, exhaust valve actuation, steering, throttle response, and even the display of the instrument cluster and centre touchscreen – all to match the road conditions.
Additionally, the anti-lag system in Baja mode allows drivers to resume acceleration faster out of corners or between gears by keeping the turbochargers spinning for up to three seconds after they back off the throttle.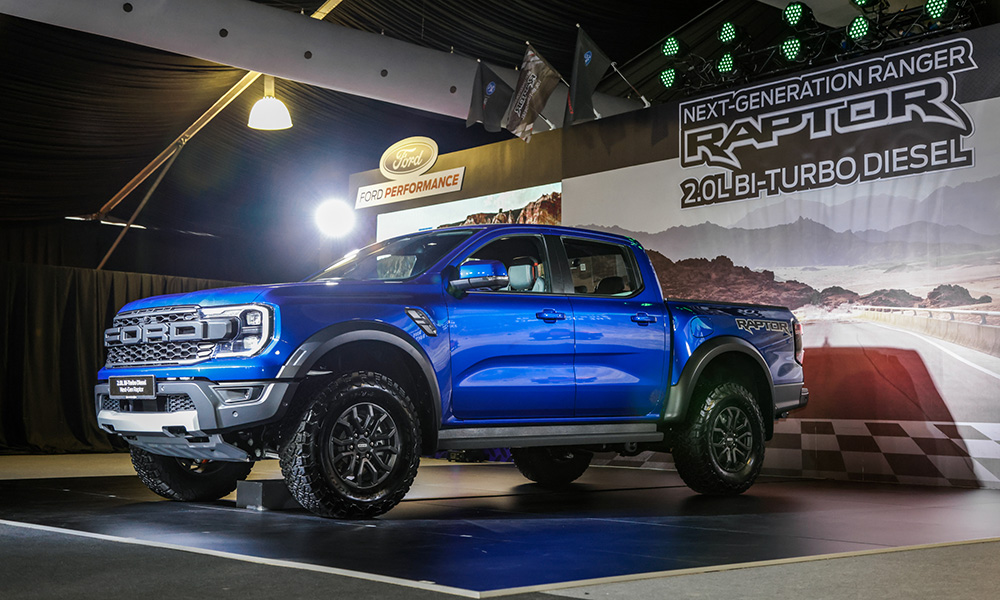 Upgraded next-generation design and technologies
Other than the "Raptor" decal on the Next-Gen Ranger Raptor V6, owners of the Next-Gen Ranger Raptor 2.0L Bi-Turbo Diesel will enjoy the same all-new exterior styling. Key features include flared wheel arches, bold F-O-R-D lettering on the grille, a bumper that is separated from the grille, and Matrix LED headlamps with the signature C-clamp LED daytime running lights (DRL).
The muscular 17-inch alloy wheel design wrapped in BFGoodrich® all-terrain KO2® tyres, Ford Performance scuff plates and tough, new cast aluminium side steps and LED lights all around complete its tough and functional on and off-road presence.
The same high-performance high-energy design theme is carried out in the cabin, including the all-new jet fighter-inspired leather sports seats, coast-to-coast Code Orange accented instrument panel, leather gear knob with e-shifter, premium-grade leather steering wheel and cast magnesium paddle shifters.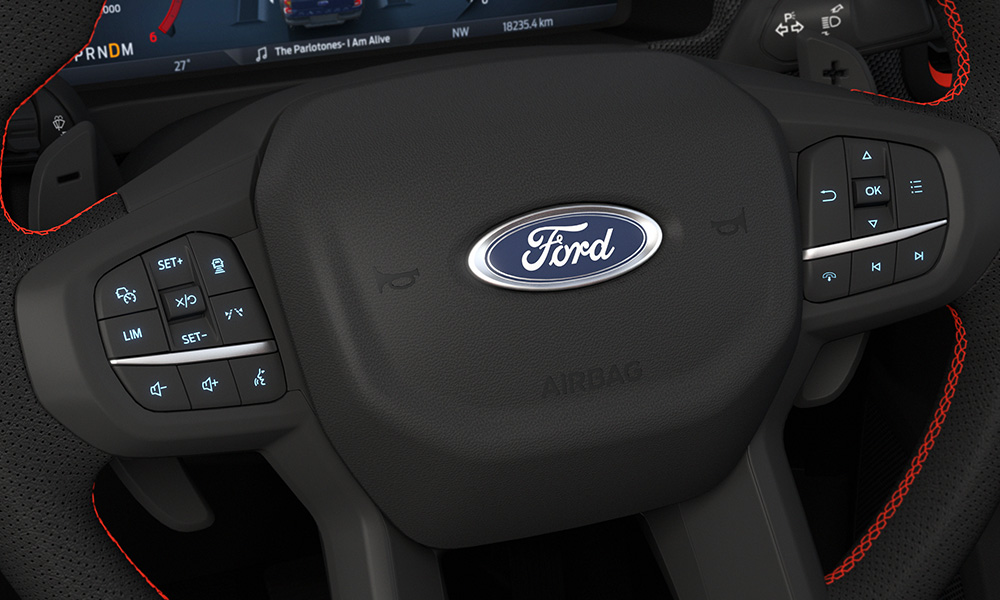 The fully digital cabin of the Next-Gen Ranger Raptor 2.0L Bi-Turbo Diesel is identical to the Raptor V6, including the 12.4-inch digital instrument cluster and 12-inch centre touchscreen with Ford's SYNC® 4Ainfotainment system and wireless Apple CarPlay and Android Auto connectivity.
Other standard interior features include a Bang & Olufsen® sound system with eight speakers, four USB charging ports, a wireless Qi charger, a 12-volt power socket and a 360-degree camera.
The Next-Gen Ranger Raptor 2.0L Bi-Turbo Diesel offers the same suite of active safety features and upgraded advanced driver assistance systems as the V6 variant. These include seven airbags, Adaptive Cruise Control with Stop-and-Go and Lane Centring, Emergency Stop Signal, Blind Spot Information System (BLIS), High Beam Assist, Reverse Brake Assist, Evasive Steer Assist and Rear Cross-Traffic Alert.
Part of the Ford Performance Family and Baja 1000
The roots of the Raptor name lie in North America, where Ford engineers used it on high-performance pickup trucks. It started with the first-generation F-150 SVT Raptor in 2010, which was optimised for high-speed off-road performance. Ford focused on detailed engineering upgrades around suspension, all-terrain tyres and four-wheel drive.
In 2018 a new member of the Ford Performance family was launched. The Ford Ranger Raptor spread the Ford Performance brand to a whole new audience of hardcore truck owners around the world, introducing the Raptor name into dozens of new markets.
"While Ranger Raptor was inspired by desert racers, it is also a supremely capable overlanding vehicle. Out of the box, Ford has created an off-road vehicle that you don't need to modify to get you where you need to go and back again safely," said Dave Burn, Ford Performance Chief Program Engineer for Ranger Raptor.
Case in point, the Next-Gen Ranger Raptor's successful completion of the SCORE International Baja 1000 in Mexico – one of the toughest off-road endurance races in the world. The Raptor used in the race was from the production line of the same factory in Thailand that builds all the Next-Gen Ford Rangers and Raptors seen on the road. As the only entrant in the stock mid-class category, the only modifications made were to meet race safety regulations.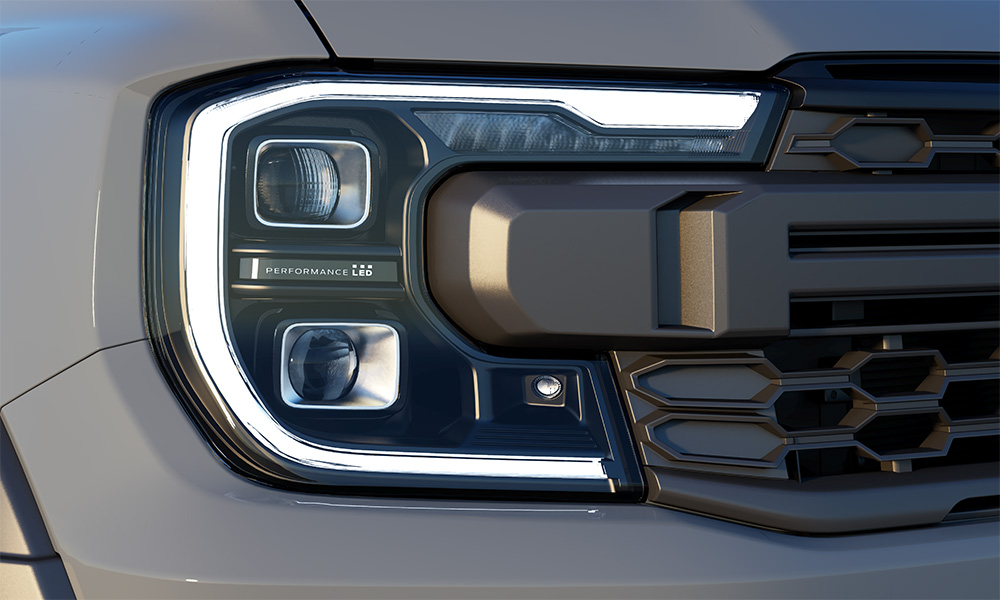 Pricing, availability and early bird booking benefits
The Next-Generation Ranger Raptor 2.0L Bi-Turbo Diesel is priced at RM248,888 for Peninsular Malaysia and RM252,188 for East Malaysia, on the road without insurance and road tax.
Available colours include the new Code Orange, in addition to the Absolute Black, Arctic White, Blue Lightning and Conquer Grey.
The Next-Gen Ranger Raptor 2.0L Bi-Turbo Diesel comes with a five-year manufacturer's warranty, or 160,000 km, whichever comes first. Customers can also opt to extend to a seven-year coverage with the Premium Care extended warranty package.
The first 300 customers nationwide who make a booking for the Next-Gen Ranger Raptor 2.0L Bi-Turbo Diesel will receive early bird benefits including:
A specially fitted Kenwood DRV-A700W dashcam with a 3.7-megapixel Wide-Quad High Definition (WQHD) resolution. Key features include a built-in wireless smartphone link, GPS, three-axis G-Sensor, polarizer filer and smart parking mode. It is also expandable with a rear camera for dual-channel recording and includes a 16GB microSD card.
Special offer of RM500 discount on one Ford Ranger Getaways via a promo code, redeemable upon vehicle delivery
Those interested in the Next-Gen Ranger Raptor 2.0L Bi-Turbo Diesel are welcome to attend its official launch event from 9 to 11 June 2023 at MRANTI Park (open space, west entrance) opposite Pavilion Bukit Jalil.
The Next-Gen Ranger Raptor 2.0L Bi-Turbo Diesel will also be on tour with the Ford Experience Hub roadshow to northern and southern Peninsular Malaysia, Sabah and Sarawak from June – September 2023.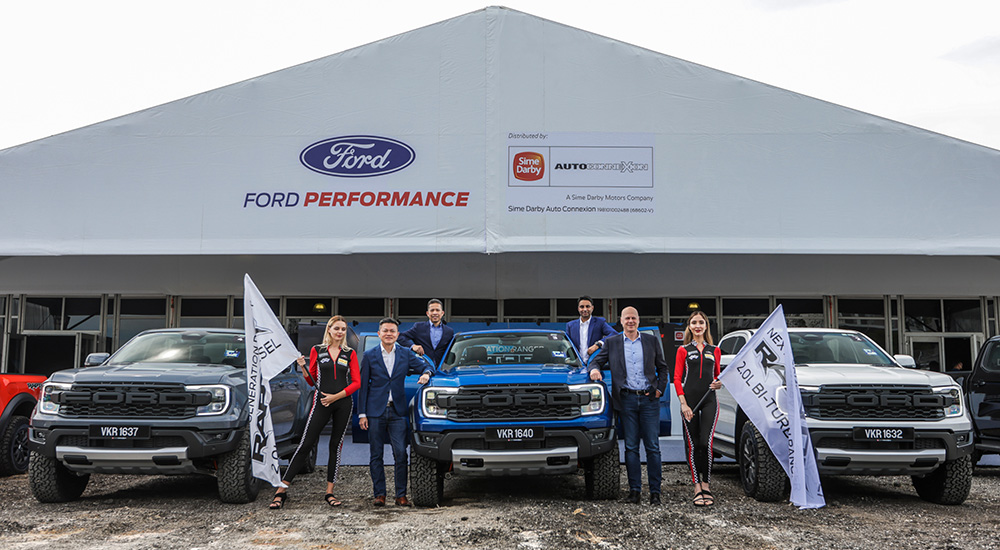 Designed to deliver a more comprehensive and interactive experience, Ford Experience Hub is where customers and prospects can engage with the brand and Ford's family of Next-Generation vehicles.
At each Ford Experience Hub, there will be a Ford Concierge to assist with any inquiries. Visitors to the Hub can learn more about Ford vehicles, book a test drive, learn and understand more about the Ford Ranger Getaways, as well as view and purchase exclusive Ford merchandise.
Additionally, those who make a booking for the Next-Gen Ranger Raptor 2.0L Bi-Turbo Diesel at the Experience Hub, as well as all Ranger and Raptor customers who book their Ford Ranger Getaways there can redeem exclusive merchandise on the spot.
All Next-Gen Ranger Raptor 2.0L Bi-Turbo customers can also take advantage of their Inner Circle privilege card code to enjoy a 30 percent discount on one Ford Ranger Getaways trip.
To keep updated on schedules and locations of the Next-Gen Ranger Raptor 2.0L Bi-Turbo Diesel and Ford Experience Hub tour, visit the SDAC-Ford website.
For more information about the Next-Generation Ranger Raptor 2.0L Bi-Turbo Diesel, WhatsApp Chat with a Ford Ranger Specialist.
For more information about SDAC and Ford, follow the Ford Malaysia Facebook, Instagram, Twitter and YouTube channel or visit www.sdacford.com.my.