This June, Sunway Malls invites you to step into an immersive learning environment at the much anticipated Minecraft Mall Discovery! Minecraft Education is based on Minecraft, the best-selling video game of all time, and through Sunway Malls, we are bringing you discovery and learning through the power of play with a series of workshops, photo walls, activities, playground, dioramas and a chance to make and take home your very own Minecraft souvenirs.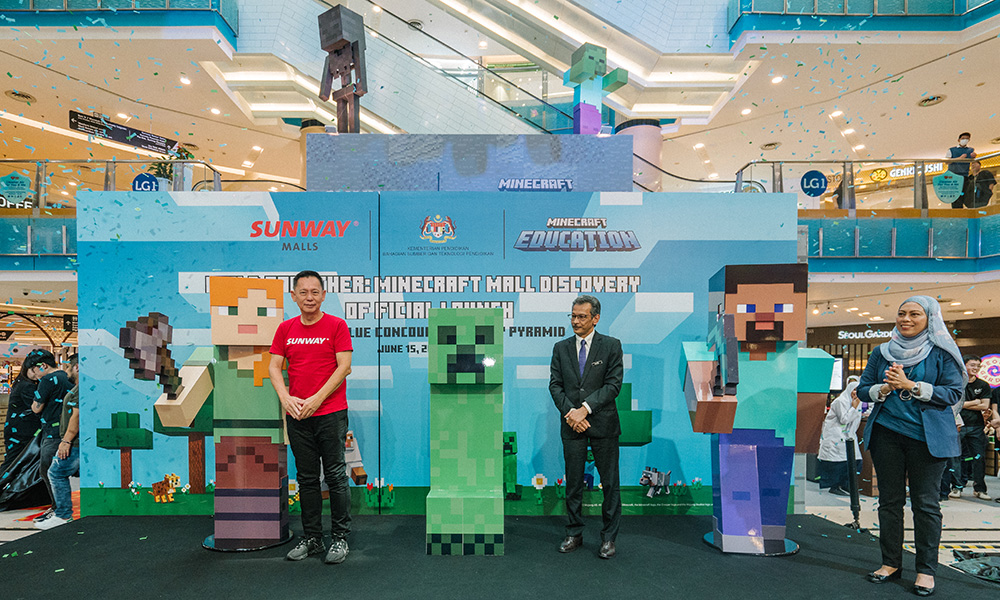 The world of Minecraft Mall Discovery will make its way through Sunway Malls nationwide. The adventure begins on 16 June in Sunway Pyramid followed by other participating malls based on the schedule as follows:
| | |
| --- | --- |
| Date | Venue |
| 16 June – 2 July | Sunway Pyramid |
| 6 July – 23 July | Sunway Putra Mall |
| 11 August – 27 August | Sunway Carnival Mall |
| 8 September – 24 September | Sunway Big Box Retail Park |
| 12 October – 29 October | Sunway Velocity Mall |
Sparking Creativity
The Minecraft Mall Discovery in Sunway Malls will provide an exciting and wholesome play-based learning experience for families to discover and learn through engagement. With the launch in Sunway Pyramid, the mall's Blue Concourse is transformed to provide an immersive Minecraft Education journey from beginning to end where fun awaits in every corner.
The fun begins with life-sized Minecraft Mobs to welcome one and all to be a part of this exciting journey that lies ahead of them. Shoppers will be transported into the world of Minecraft as they immerse themselves in the intricately designed Forest Garden, Nether and Lava setting as well as mining and underground settings that Minecraft players are familiar with.
Shoppers can redeem a special mystery gift from the redemption counter by completing the experiential journey – with each station complemented by items from sponsors Mattel, LEGO and Nerf to bring these activities to life. They simply need to complete four activities at the designated stations to receive a stamp on the pass, and receive a personalised congratulatory message once completed.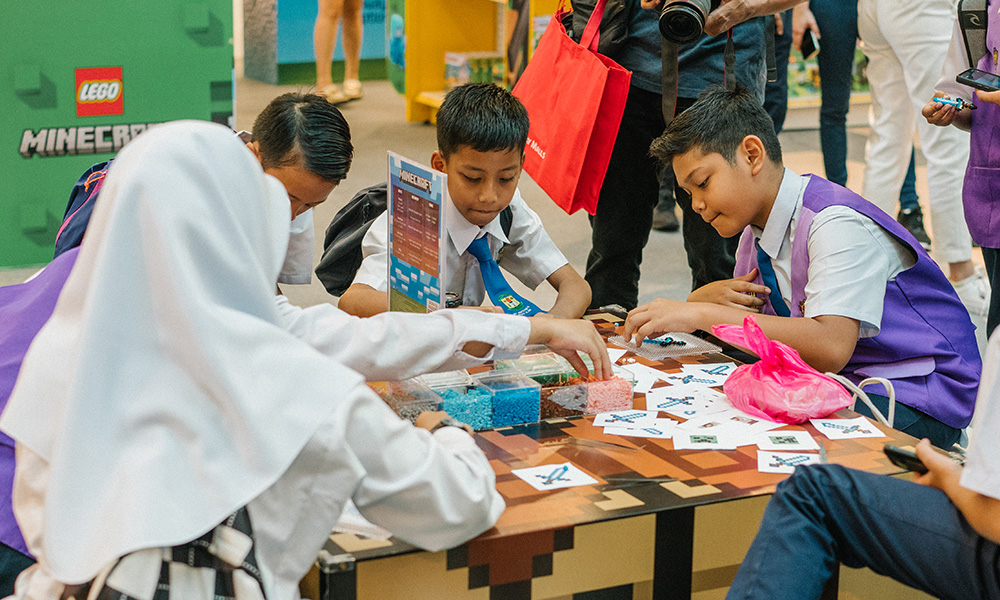 Craft Minecraft tools at the Crafting Station, and get creative with LEGO bricks to build Minecraft mobs at LEGO Stick & Build. Take aim at the Nerf Weapon Range and capture your best Minecraft pose with life-sized Minecraft mobs by Mattel to win exclusive merchandise.
Microsoft Global Training Partners (GTP) and Microsoft Innovative Educator Experts (MIEE) will teach Minecraft Education courses in the Minecraft Education Corner. This includes Hour of Code, where learners will get to explore coding concepts and puzzle solving challenges, as well as other activities that will cover a series of subjects such as science, mathematics, computer science and arts & design. Upon completion, participants will be rewarded with an e-cert.
Through this special collaboration with the Educational Resources and Technology Division, Ministry of Education Malaysia (Bahagian Sumber dan Teknologi Pendidikan, Kementerian Pendidikan Malaysia, BSTP), students from selected schools will also attend classes at this Education Corner to provide them with learning opportunities beyond the conventional classroom. To add to the fun, MoE and Sunway Malls will hold a Minecraft Education Challenge 2023 for school students with the theme, "Sustainable Shopping Mall of the Future". They will have to reimagine and build with this theme in mind on Minecraft itself, and stand to win cash prizes, trophies and a certificate of participation for their efforts.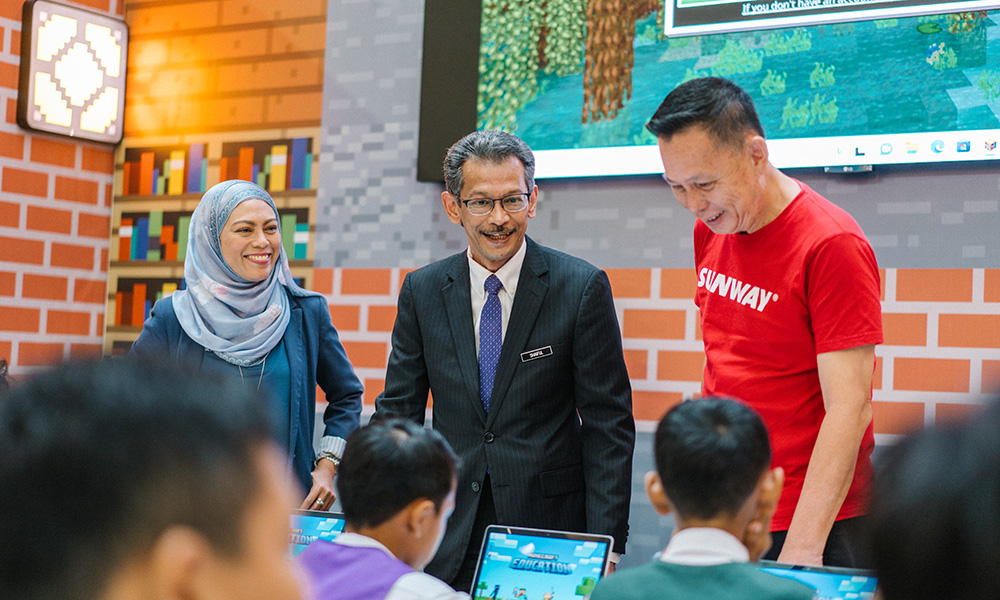 Building future-ready skills with the next generation
Director General of Education Malaysia, Yang Berbahagia Dato' Haji Pkharuddin bin Haji Ghazali lauded the partnership that will allow those young and old alike to come away with a fun learning experience. "The Educational Resources and Technology Division, Ministry of Education Malaysia provides workshops and competitions with the aim of empowering digital education among students. Through Minecraft Education, students can improve their skills and increase their competence in programming and coding language to create a Minecraft World based on the given theme, thus broadening the opportunity for students to explore creativity in the digital world of Minecraft".
"At Microsoft, we believe technology has the power to make education more accessible, inclusive, and enjoyable. Minecraft Education is uniquely suited to do just that, utilising collaborative and immersive gameplay to introduce new ways of learning on a variety of subjects including math, history & culture, computer science, and arts – making lessons more fun. Through this collaboration with Sunway Malls, we hope to bring 'edutainment' to life and inspire more people to learn with Minecraft when visiting Sunway Malls," said Shida Zainal Abidin, Education Director for Microsoft in Malaysia.
HC Chan, CEO of Sunway Malls & Theme Parks adds, "We endeavour to spark the interest of Malaysians towards digital talent development. Ultimately, the aim is to extend the digital development ecosystem to unearth more Malaysian tech talents and groom them to become developers and tech entrepreneurs of international standing."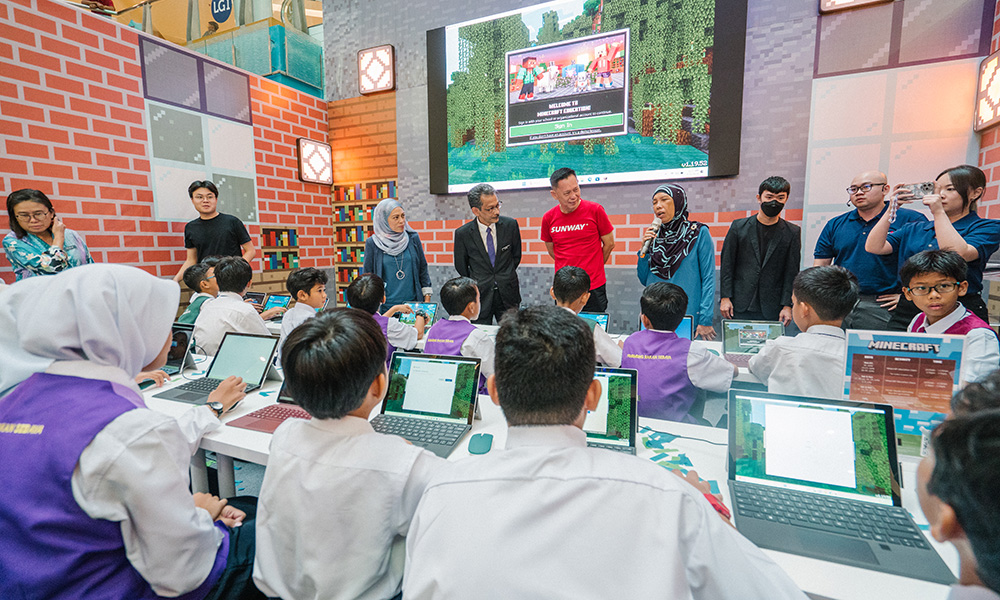 More Than Just a Shopping Experience
Aside from the educational classes and workshops, each mall will also feature a series of fun activities at Alex's Workshop such as a Minecraft-themed perler beads workshop and Minecraft origami box art. To participate, participants will need to pre-register to secure their spots – so stay tuned to Sunway Malls' respective social media platforms for more details! Children can also spend their time at the Minecraft Legends Playground. Sunway Super App will be running a Box Art Workshop, exclusive for Sunway Super App users only.
Shoppers who spend in the malls stand to redeem limited-edition Minecraft goodies with special tier for UOB cardholders.
Shoppers looking to bring home a piece of Minecraft with them can do so via www.sunwayemall.com and at the various onground events across all Sunway Malls. They can choose to pre-order or purchase the merchandise on the website and have it delivered to their doorstep with free delivery, or buy online and collect in-store – according to their own preferences and convenience. Sunway eMall is also giving away vouchers for purchases made on the website which are available on a first come, first served basis – so don't miss out!
To find out more or to join in the fun, head on over to your nearest Sunway Mall today during the respective campaign periods so you don't miss out! There is plenty in store for the whole family, so you can look forward to a memorable day full of enjoyable learning and excitement. A special video reimagining Sunway Malls as Minecraft blocks can be viewed here. Visit the Sunway Malls' official website for the event, minecrafteducation.sunwaymalls.com to explore more information about the activities lined up for each mall, and the malls' social media platforms.