The introduction of the New + Improved Shell FuelSave 95 in February has led Malaysians to push the limit of experiencing up to 15 kilometres (KM) longer per tank. The result? It truly gives consumers better by far fuel economy.
Shell Malaysia unveiled its best maingrade fuel formulation to date with the launch of the New + Improved Shell FuelSave 95, designed to match the evolving customers' needs, as part of our commitment to innovate and continuously develop better mobility solutions.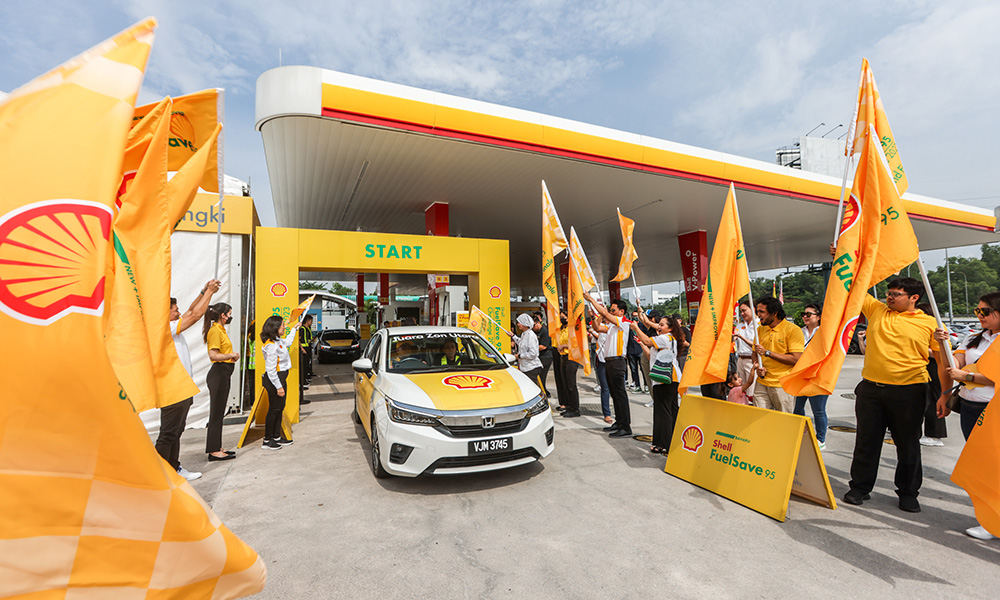 Staying true to our mantra to continue making our customers' life journeys better, Shell actively engaged motorists across the country through the Shell FuelSave 95 Challenge 2023, encouraging them to experience longer uninterrupted drives up to 15KM longer per tank with this new maingrade fuel.
The efforts made to win the hearts of Malaysians from Northern to Southern Peninsular Malaysia to East Malaysia have gathered numerous shared experiences of enjoying extra savings and better fuel mileage, making their RM2.05 per litre spent on the New + Improved Shell FuelSave 95 worth it.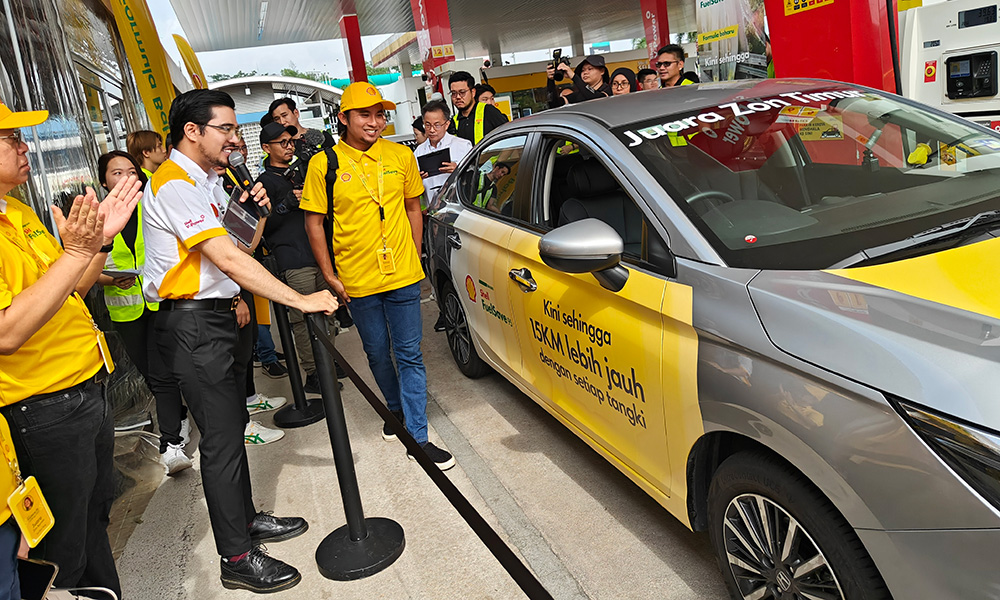 "Now, not only are we able to quantify the fuel economy gained by the customers from a full tank of Shell FuelSave 95, we are also able to witness the unbelievable mileage experienced by our customers, which further proves our New + Improved Shell FuelSave95 to be truly better by far," shared Seow Lee Ming, General Manager of Mobility, Malaysia.
"Through Shell FuelSave 95 Challenge 2023 results, our fuels indeed give more mileage. I hope more Malaysians will jump on the bandwagon to experience our improved fuel economy and share your feedback whether it is Biar Benar, Lebih KM!"
After a month-long search across five regions to find the ONE Malaysian who could push their limit and set the best mileage record, the Shell FuelSave 95 Challenge 2023 has come to an end with Chin Li Qin, (26) from Johor crowned as Malaysia's Most Efficient Driver. Li Qin broke his previous record of 25.45 KM/L by clocking in an astonishing fuel mileage of 28.23 KM/L, making him the Grand Finale of Shell FuelSave 95 Challenge 2023 champion.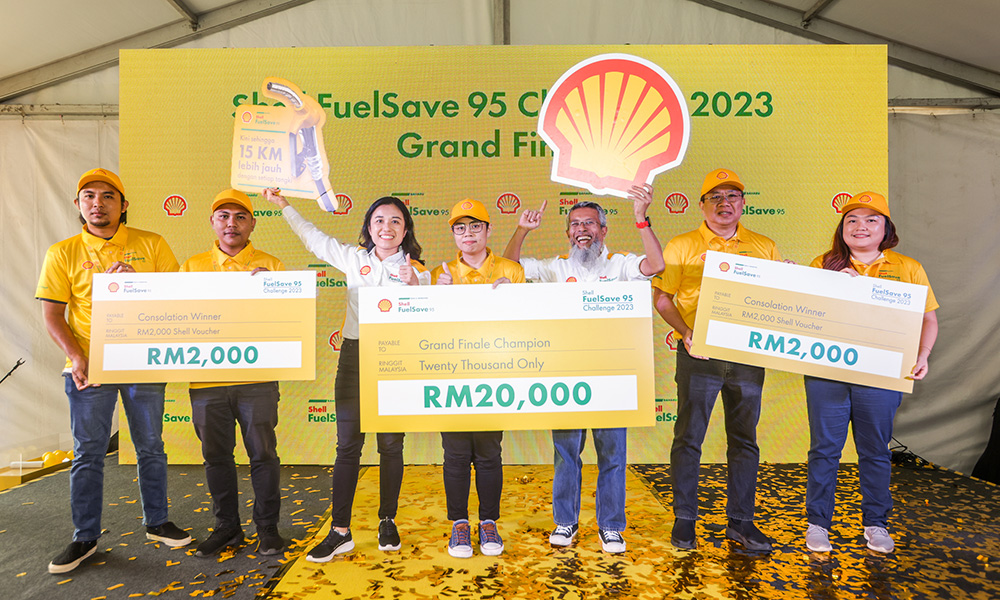 "I'm genuinely excited to win the Grand Finale of Shell FuelSave 95 Challenge 2023, and I was surprised when my name was announced as the champion. It was impressive to see all participants achieving mileage beyond the average benchmark. Some roads were quite challenging, but I tried to keep myself calm and drive like I normally do back in my hometown," commented Li Qin after the prize-giving ceremony, driving home with the grand prize of RM20,000.
The Grand Finale challenge took place at Shell SM Alisha, Shah Alam, driving through Cyberjaya – Bukit Jalil – Cheras – Ampang – Gombak – Sri Hartamas – Kota Damansara – Puncak Alam and returning to the starting point, across various of types of roads totalling up 121KM distance.
Li Qin competed against Jeffrey Tan Teck Seng, (62) from Port Dickson, Ahmad Amirul Runass, (31) from Kuantan, Muhammad Jazli Mahathir, (30) from Ipoh, and Lai Siaw Feng, (38) from Kuching, proud representatives of their respective regions successfully surpassed above the average mileage of 18.5KM/L with Shell FuelSave 95.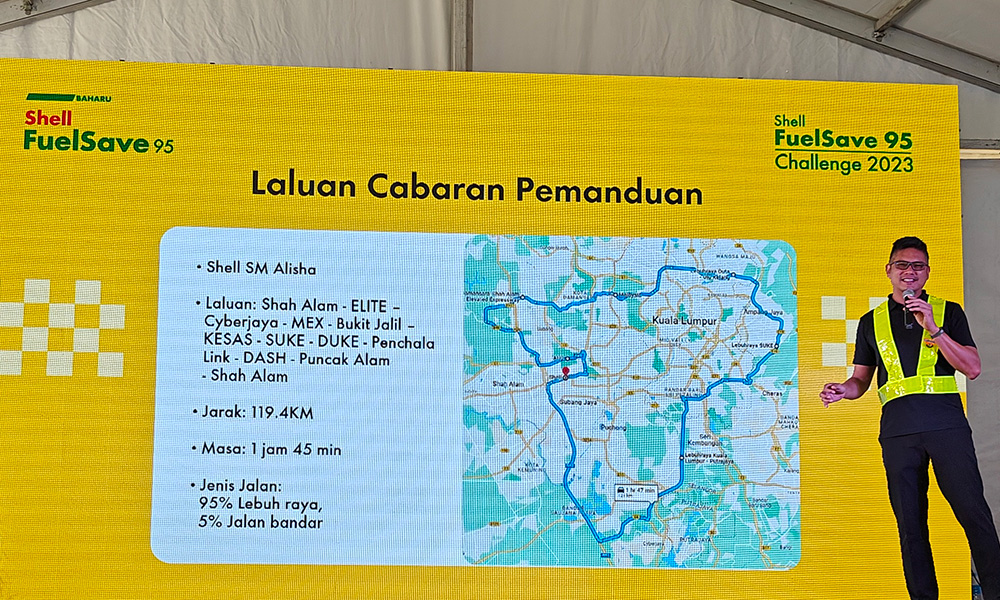 The better by far maingrade fuel with the latest formulation was unveiled after five years of extensive research and tests conducted by 150 passionate fuel scientists across the globe. Besides lasting up to 15KM longer per tank, the New + Improved Shell FuelSave 95 also:
provides deeper clean for a cleaner engine – N+I SFS95 with deposit targeting technology deep cleans like never before
provides improved protection for all engines – N+I SFS95 protects against corrosion and deposit build up
is designed for new & older technologies – N+I SFS95 protects critical engine parts in old, new, & hybrid engines
For more information, please visit: www.shell.com.my.