Today, Lenovo (HKSE: 992) (ADR: LNVGY), the world's leading PC and smart device manufacturer, is introducing its latest 2023 generation devices, including Yoga Book 9i, LOQ, Legion Pro 5i, Tab P11 (2nd Gen) and IdeaPad Duet 5i, in Malaysia.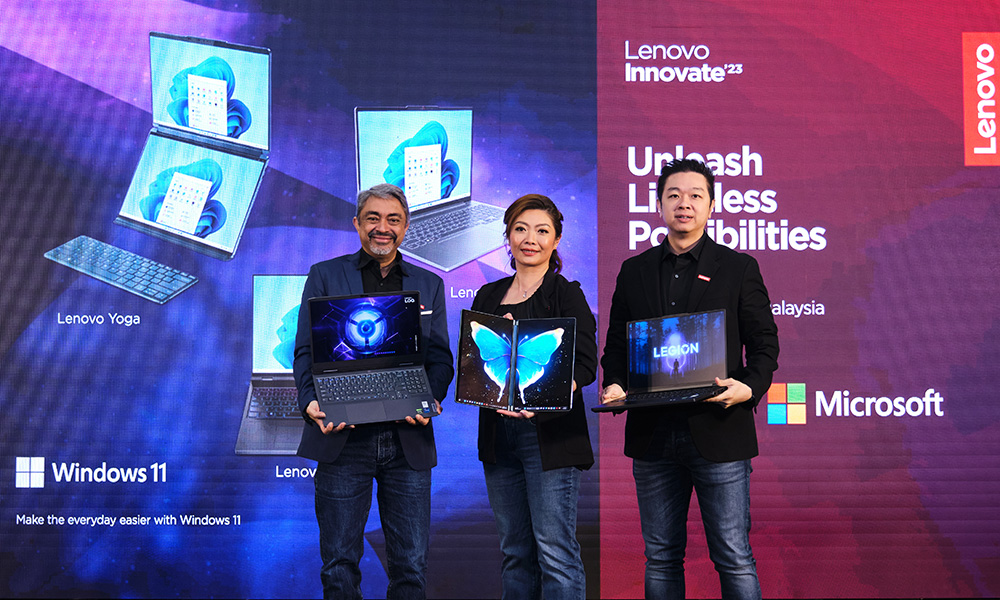 Customers can be one of the first to purchase the new Lenovo devices at Lenovo.com or any Lenovo Exclusive Stores (LES) as well as official stores on Lazada and Shopee. The products are available at a recommended starting price of RM9,499 for the Lenovo Yoga Book 9i, RM3,699 for the Lenovo LOQ, RM7,299 for the Lenovo Legion Pro 5i, RM1,699 for the Lenovo Tab P11 (2nd Gen) bundled with keyboard and pen, and RM3,799 for the Lenovo IdeaPad Duet 5i.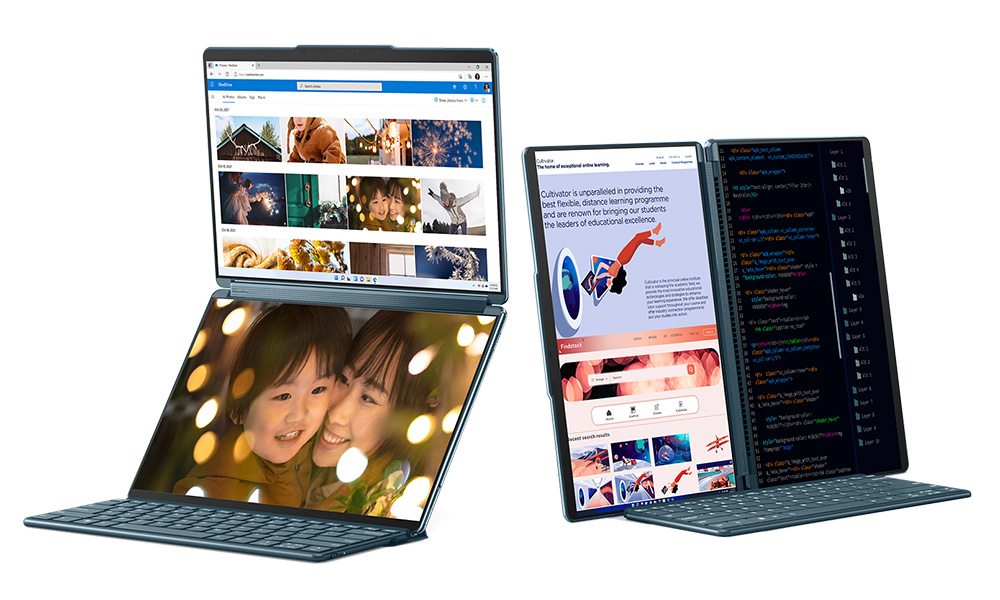 Lenovo Yoga Book 9i: Redefining a Category
The exceptionally flexible Yoga Book 9i (13", Gen 8) is the world's first full-sized OLED dual-screen laptop, with weight starting from 1.34kg and as thin as 15.95mm. First announced at CES 2023 and winning over 50 awards since launch, the highly anticipated convertible laptop hails a new chapter for Yoga, redefining the category with dual-screen versatility, multi-mode functionality, and superior entertainment capabilities. 
Built for a new generation of creators who bring creativity and productivity to a new level, the Yoga Book 9i, which comes in a premium and sophisticated Tidal Teal colourway, empowers their ambitions from working, creating, learning, to entertaining:
With new technology pioneered by Lenovo, Multimode+ enables the Yoga Book 9i to instantly take whatever form, orientation, or mode that a creator needs – from a laptop, tablet, or display to the brand-new Book, Scroll and Tent modes, supported by 360o soundbar hinge.
Easily portable accessories combined with a slim and light design offer unparalleled versatility. Users can take their entire work setup with them literally anywhere, thanks to the foldable Folio Stand, Bluetooth Keyboard and Digital Pen 3.
The dual displays elevate productivity and support the multi-faceted demands of creators, as users looking to multitask can easily view various files on both windows simultaneously without needing to carry around an additional display.
From creative pursuits to endless entertainment possibilities, the dual-screen experience is enhanced by Lenovo PureSight OLED displays that support 100% DCI-P3 colour accuracy, enabling perfect blacks and ultra-wide viewing with minimal colour shift or brightness and contrast loss.
The Yoga Book 9i is Carbon Neutral Certified, and the top cover of the device is made of 100% recycled aluminium, while the packaging is plastic-free, containing 100% recycled paper.
LOQ: Arsenal for New Gamers
Inspired by Lenovo's premium Legion-branded gaming line-up, the new Lenovo LOQ line encompasses design features such as the rear I/O notch on its laptops and the shared stylized 'O' in both brands' logos. New gamers can choose a Lenovo LOQ laptop from their preferred screen size and processors – the 16-inch Lenovo LOQ 16IRH8 (Intel-based)and Lenovo LOQ 16APH8 (AMD-based) orthe 15-inch Lenovo LOQ 15IRH8 (Intel-based)and Lenovo LOQ 15APH8 (AMD-based). Both displays also support NVIDIA G-SYNC, which immerses the gamer into a world with vibrant colors, crisp contrast, and a quick refresh rate that makes every movement and action feel seamless.
The Lenovo LOQ gaming laptop comes with NVIDIA GPUs, featuring a MUX switch that enables the integrated GPU to be bypassed via NVIDIA Advanced Optimus during gaming sessions. This allows the discrete DLSS-enabled NVIDIA graphics cards to interface directly with the display and result in higher frames-per-second with reduced latency, so that games run smoother and look even better. When not gaming, the MUX Switch allows the laptop to use the integrated graphics, optimizing battery life.
The 16-inch Lenovo LOQ gaming laptops have up to an 80Whr battery for up to 7 hours of battery,while the 15-inch Lenovo LOQ laptops have a 60Whr battery for up to 6 hours of battery. All Lenovo LOQ laptops support Super Rapid Charge for faster charging and longer battery life – an advantage for new gamers to focus and play without worrying about running out of battery.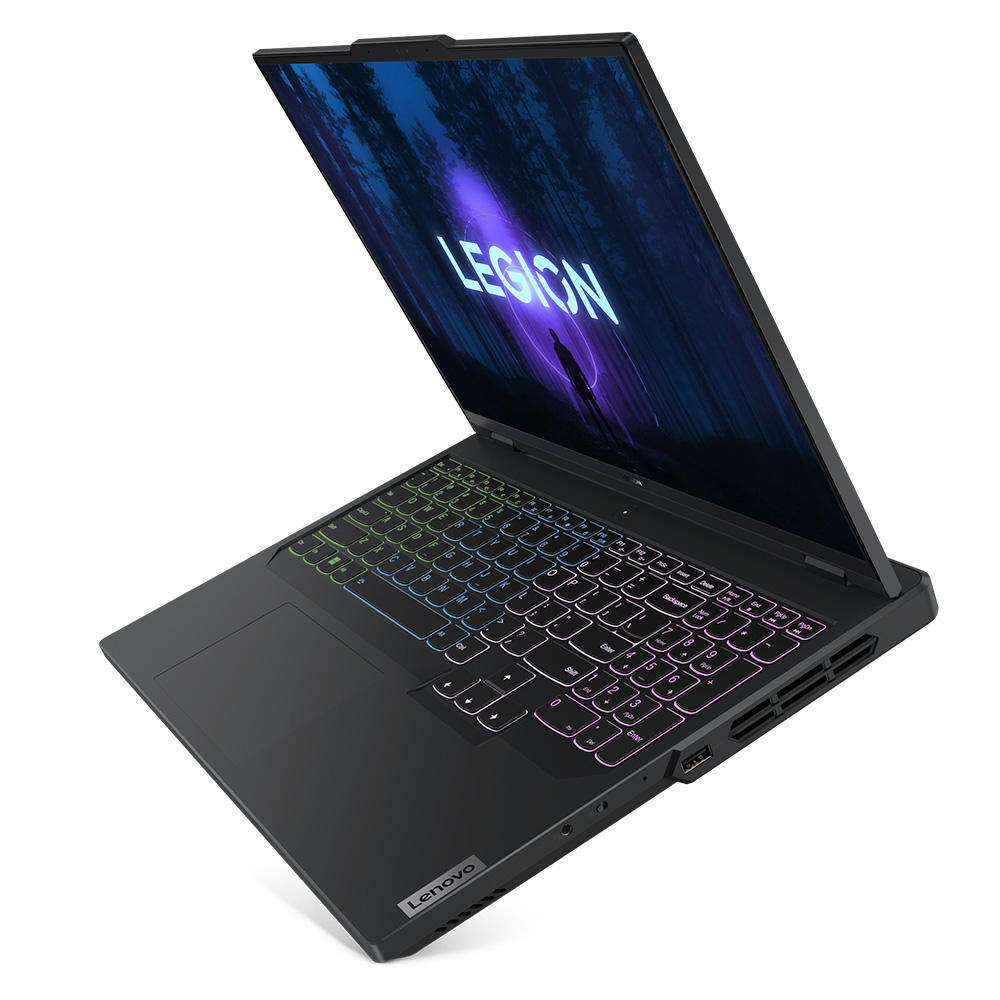 Legion Pro 5i: Ready to Work, Raring to Play
When there can only be one PC to handle all-day work and play, look no further than the 16-inch Lenovo Legion Pro 5i. Its esports styling hints at the gaming powerhouse at its heart, available with a 13th Gen Intel Core and up to an NVIDIA GeForce RTX 4070 Laptop GPU that empowers winners to compete at the highest levels. Internals are kept cool thanks to Lenovo Legion's ColdFront 5.0, which keeps gaming sessions quiet and cool. The Lenovo LA AI chip monitors CPU and GPU load to dynamically adjust heat management and squeeze out even more performance from the internals. The Lenovo LA1 chip settings can be fine-tuned through Lenovo Vantage, providing full control over fans, overclocking controls, and other features needed to take full advantage of the 200W Total Graphics Power (TGP) to mop up the competition on and off the arena floor.
This epic graphical output from under the Lenovo Legion Pro 5i's hood is brought to life on the 16-inch Lenovo PureSight Gaming Display at 16:10 WQXGA with up to 240Hz variable refresh rate, while the Lenovo Legion Spectrum 4-zone RGB TrueStrike keyboard immerses the user even further into the action. For a sleeker look, the TrueStrike keyboard is also available in white backlighting. The Lenovo Legion Pro 5 has a Super Rapid Charge Pro 80Whr batteryto power computing in the classroom or on the commute. This entire loadout is housed in between a metal top cover and a polymer bottom cover available in either Onyx Grey or Abyss Blue.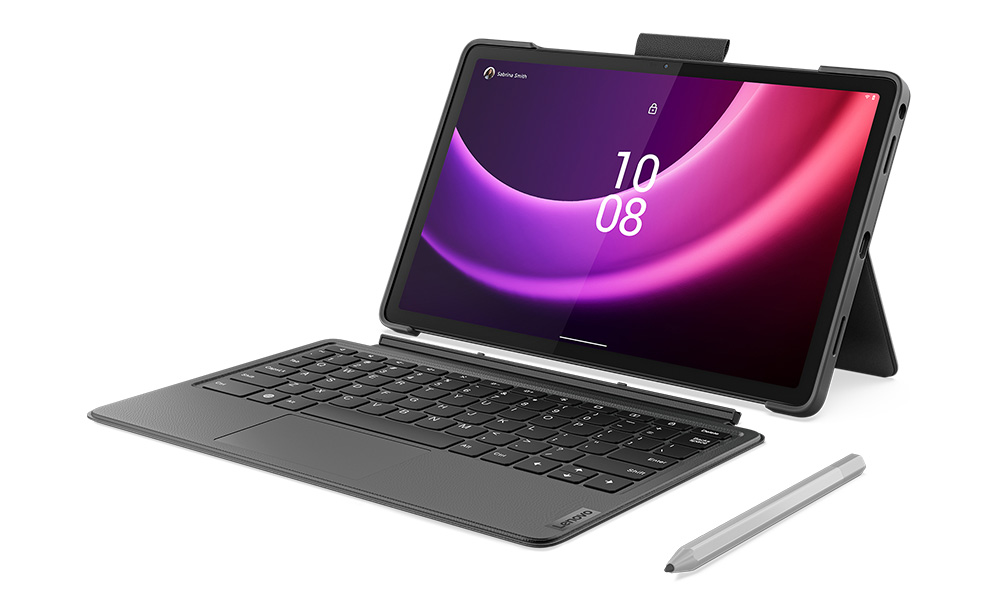 Tab P11 (2nd Gen): Seizing 'Me-Time'
Winding down a day could mean watching a show or movie, listening to music or a podcast, or exercising. No matter how that time is spent, making the most of it is essential – and turning to the new Lenovo Tab P11 (2nd Gen) can be just what's needed.
Lenovo Tab P11 (2nd Gen) with Android 12L offers a four-speaker system with Dolby Atmos, an 11.5-inch LCD display and up to 120Hz refresh rate. Featuring the MediaTek G99 octa-core processor, this tablet is 50% more powerful than the previous generation with up to 6GB RAM and is Wi-Fi 5 enabled for faster wireless speeds and lower latency, offering a better voice and video experience, faster network speeds and stronger security. Accessories are bundled to simplify the experience include the keyboard pack, Lenovo Precision Pen 2 (2023), and Lenovo Folio Case with built-in kickstand and pen holder.
Lenovo Tab P11 (2nd Gen) will also receive at least two major Android OS upgrades, up to Android 14, and three years of security updates from the time of launch.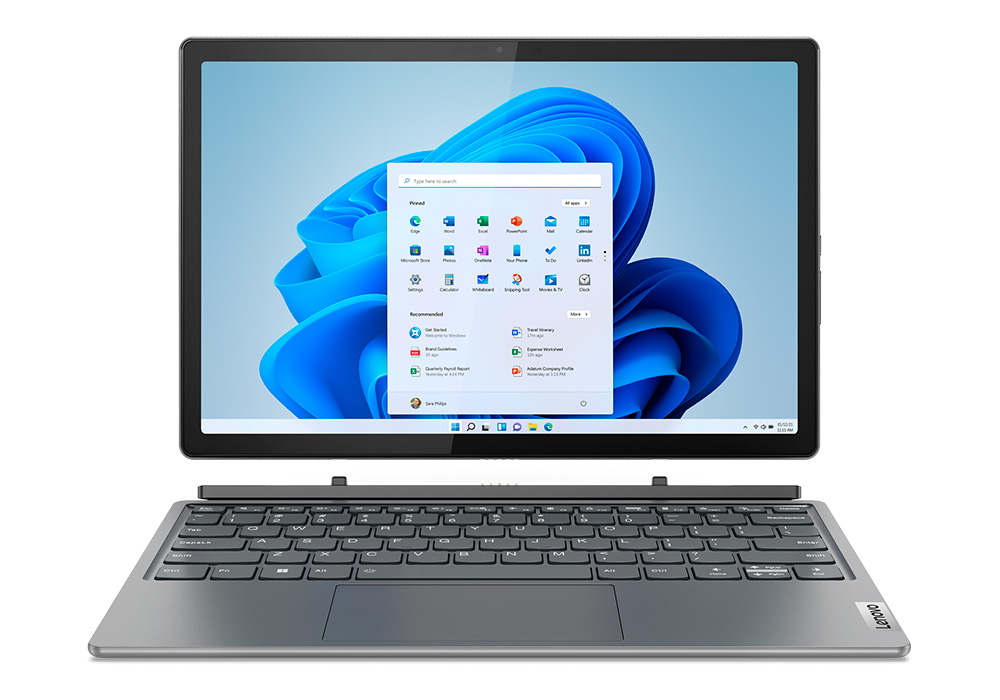 IdeaPad Duet 5i: More Freedom to Create
Stylish and super slim, the IdeaPad Duet 5i debuts popular Windows 11 tablet-centric features on Lenovo's latest 12-inch consumer detachable laptop with bundled Bluetooth® keyboard, an added benefit for all Lenovo consumer detachable Windows laptops. Convert between four usage modes, including laptop mode with accompanying folio kickstand, tablet mode, or doodle in pen mode with the optional Active Pen 3, or simply detach the display to create on-the-go in free mode. It's the Bluetooth detachable keyboard that makes it possible to achieve a happy distance between typing fingers and the screen, which was specially designed to be propped up at eyesight height for more comfort while working or learning from home.
While detachables are known for their portability, the IdeaPad Duet 5i detachable laptop is lightweight and super slim at just 9.45mm and offers a back folio cover design made with recycled material and in Stone Blue and Storm Grey hues. What's more, impressive visuals from a 12-inch 2.5K IPS touchscreen display in taller 16:10 format with 96 percent DCI-P3 colour gamut and 450 nits brightness offer immersive entertainment experiences. This detachable laptop is slated to support Dolby Vision® for ultravivid picture quality coupled with incredibly immersive sound with Dolby Atmos®.
Stay productive with superb performance from 12th Gen Intel Core i7 processors, expanded dual-channel memory and Wi-Fi 6. Two full-function Type-C ports enable power delivery, display output to 4K displays, plus high-speed data transferring for no tradeoffs. The IdeaPad Duet 5i works quickly via Lenovo Smart Login and a 5M infrared (IR) camera – and if in a rush, check out Rapid Charge Express for three hours of video playback from just 15 minutes of charging time to quickly get back to work or play.
For more information, please visit here.
Product Pricing and Availability 
Lenovo Yoga Book 9i (13", 8) with Intel Core processors

The device is now available on Lenovo Exclusive Stores (LES) and official stores on Lazada and Shopee with a starting price of RM9,499.
Lenovo LOQ (15") with Intel Core processors

The device is now available on Lenovo Exclusive Stores (LES) and official stores on Lazada and Shopee with a starting price of RM3,699.
Lenovo Legion Pro 5i (16", 8) with Intel Core processors

The device is now available on Lenovo Exclusive Stores (LES) and official stores on Lazada and Shopee with a starting price of RM7,299.
Lenovo Tab P11 (2nd Gen) (11.5")

The device is now available on Lenovo Exclusive Stores (LES) and official stores on Lazada and Shopee with a starting price of RM1,699 bundled with keyboard and pen.
Lenovo IdeaPad Duet 5i (16", 7) with Intel Core processors

The device is now available on Lenovo Exclusive Stores (LES) and official stores on Lazada and Shopee with a starting price of RM3,799.