The Content Forum and TikTok, a leading destination for short-form mobile video, joined forces to empower Malaysians to be informed, discerning and responsible digital citizens while promoting a safer online environment for all through a digital literacy and online safety summit entitled Surf's Up: Navigating the ebbs and flows of online safety.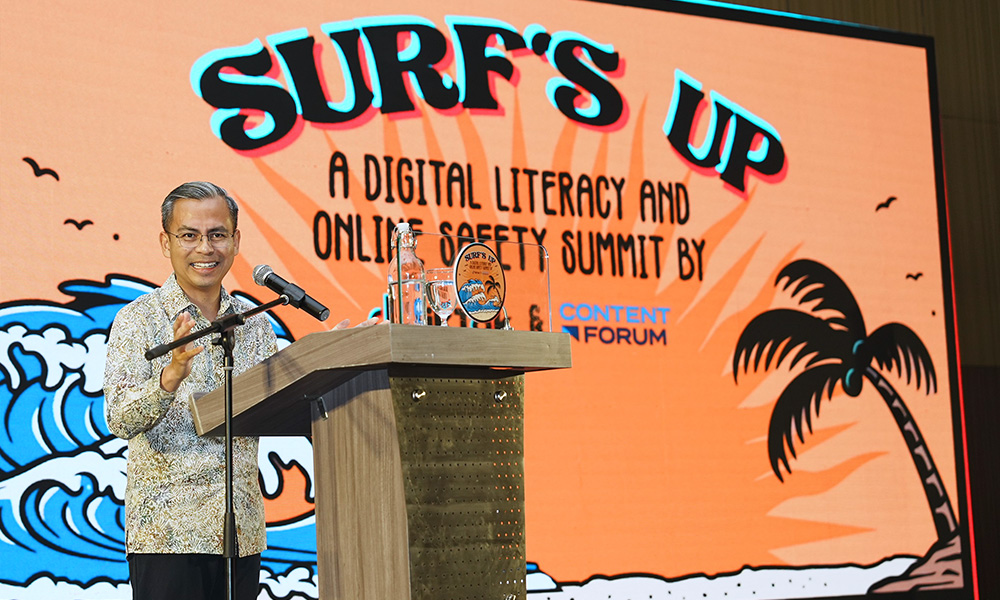 As the internet continues to play an integral role in our lives, online safety is paramount. With the escalating frequency and complexity of cyberthreats as well as the rise in digital misinformation, it is imperative for individuals, businesses and governments to understand how to navigate the ebbs and flows of online safety in Malaysia in a safe and responsible manner. The industry-wide summit saw a line-up of speakers and panellists from diverse sectors such as law, academia, think tanks, and government bodies come together to discuss critical issues faced by internet users at large.
The topics discussed during the summit were designed to ignite conversation surrounding the balance between freedom of expression and moderation as well as uncover the unspoken rules of respectful and appropriate communication and conduct on the internet.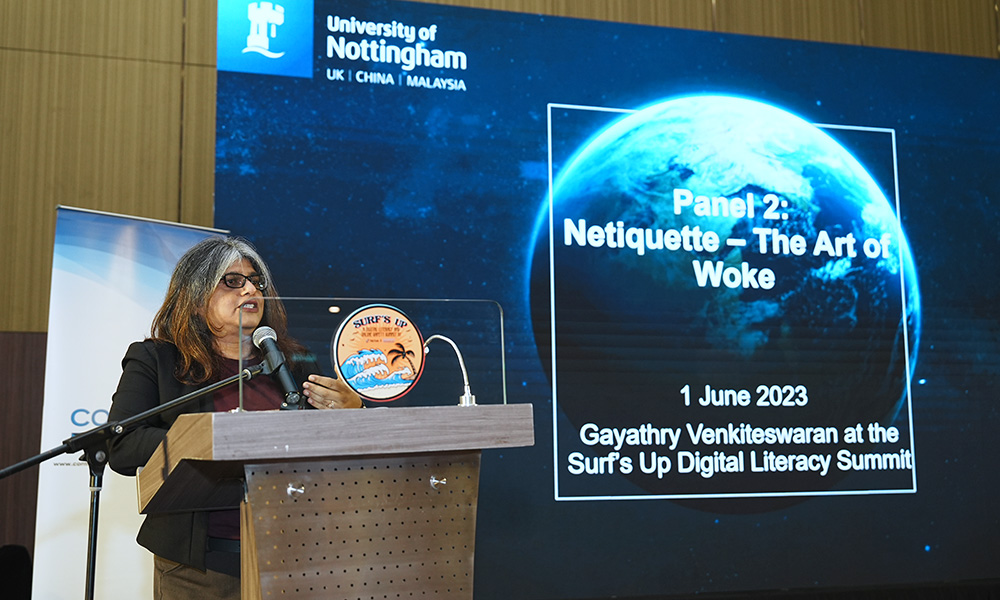 In the first panel, Jerald Joseph, a former Commissioner of Malaysia's Human Rights Commission (SUHAKAM), opened the discussion on the "Great Divide – Free Speech vs Everything Everywhere All At Once" by addressing the "dark side" of the internet and the ongoing debate surrounding freedom of expression. Joseph drew attention to a 2020 report by the United Nations Children's Fund (UNICEF), which ranked Malaysia as the second-highest country in Asia for cyberbullying. This finding underscores the extent to which hate speech affects young people and highlights the urgent need for digital literacy education to begin at an early age.
During the second panel session titled "Netiquette: The Art of Woke," Professor Gayathry S Venkiteswaran, an Assistant Professor at the School of Media, Languages and Cultures, Faculty of Arts and Social Sciences at the University of Nottingham, Malaysia, highlighted the accessibility of information and misinformation at our fingertips and the astonishing speed at which it can spread. Professor Gayathry emphasized that society has not kept pace with technological advancements. She called for the adoption of a "stop and check" approach, where platforms prompt users to consider the suitability of their content before posting. This, she argued, encourages better civic awareness and contributes to creating a safer online community.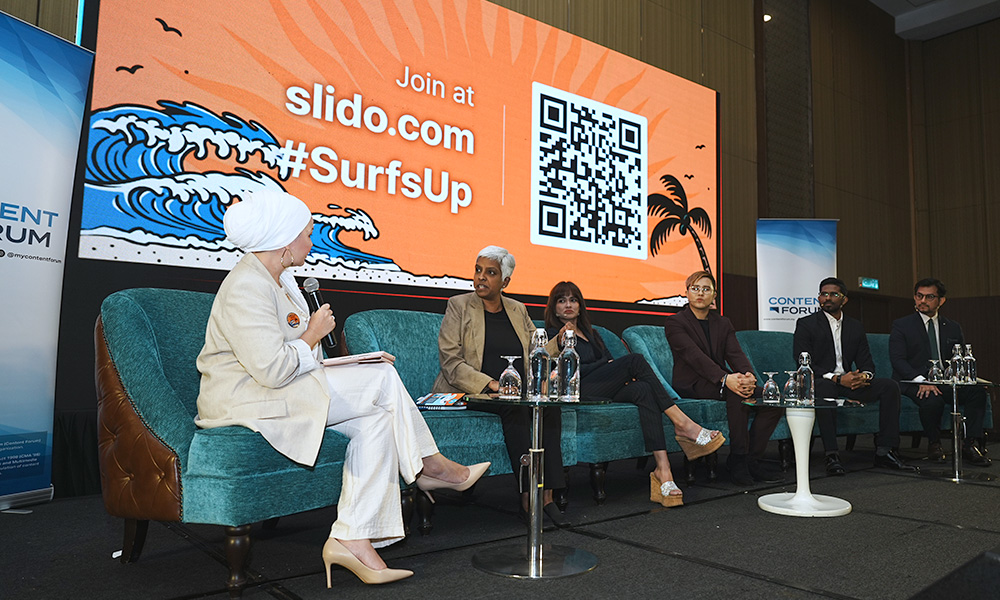 Distinguished panellists who contributed valuable insights to the discussion comprised Harme Mohamed, Head of Division Network Security at MCMC; Karen Cheah, President of the Malaysian Bar Council; Mediha Mahmood, Executive Director of the Content Forum; Wathshlah Naidu, Executive Director of the Centre for Independent Journalism; Sazzy Falak, a parenting influencer, content creator, and actress (@sazzyfalak); Gandhi Palanisamy, a lawyer and TikTok creator (@lawyergandhi); Ceddy Ang, a TikTok creator and entrepreneur (@ceddyornot); Kristoffer Eduard Rada, Head of Public Policy at TikTok, and Hafizin Tajudin, Head of Public Policy at TikTok Malaysia. Their expertise and perspectives enriched the discussions on these important topics.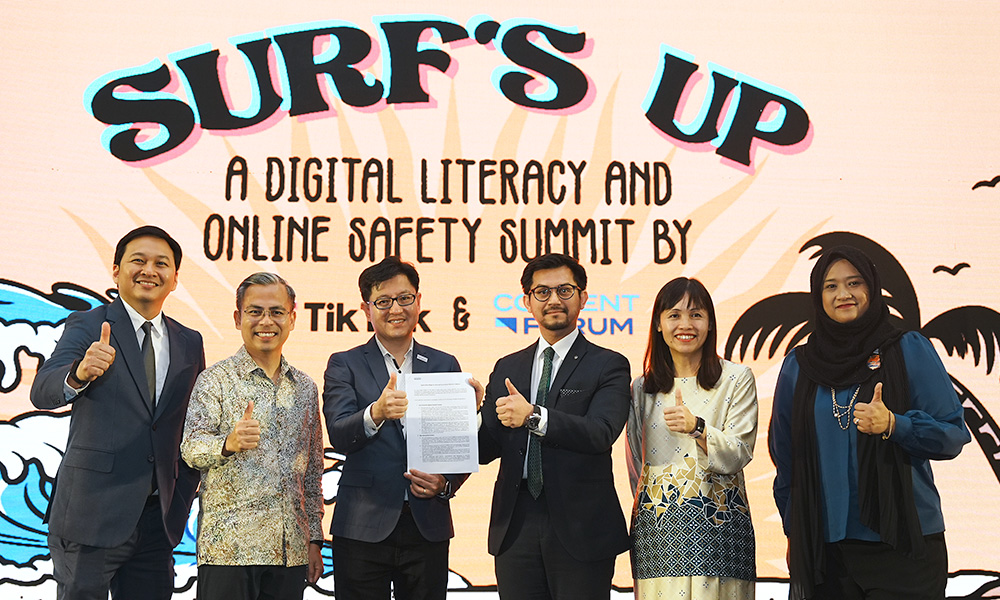 Introduction of #SaferTogether
In addition to the collective discourse, the Surf's Up Digital Literacy Summit and Online Safety witnessed the introduction of TikTok's #SaferTogether movement as part of TikTok's commitment to provide a platform for creative self-expression while remaining safe, diverse, and authentic. Through #SaferTogether, users can learn from the community of creators by exploring ways to prioritise their digital well-being through in-app features such as screen time control, account privacy settings, account security, reporting tools and comment filters. The momentous launch was witnessed by YB Tuan Ahmad Fahmi Bin Mohamed Fadzil, Minister of Communications and Digital and YB Puan Teo Nie Ching, Deputy Minister of Communications and Digital.
"At TikTok, user safety is our utmost priority. We believe that keeping the online space safe is a shared responsibility that requires continuous efforts between TikTok, our users, and external stakeholders. It is our honour to have partners like Content Forum and industry leaders from various sectors that share the same vision to foster a safe, fun, and inclusive online environment where people can create, find community, and be entertained. Through the conversation from the Surf's Up Digital Literacy and Online Safety summit and the introduction of the #SaferTogether movement, we hope that we can continue to uphold the highest standards of digital safety, paving a path that will help protect people online without limiting creativity and self-expression," said Hafizin Tajudin, Head of Public Policy, TikTok Malaysia.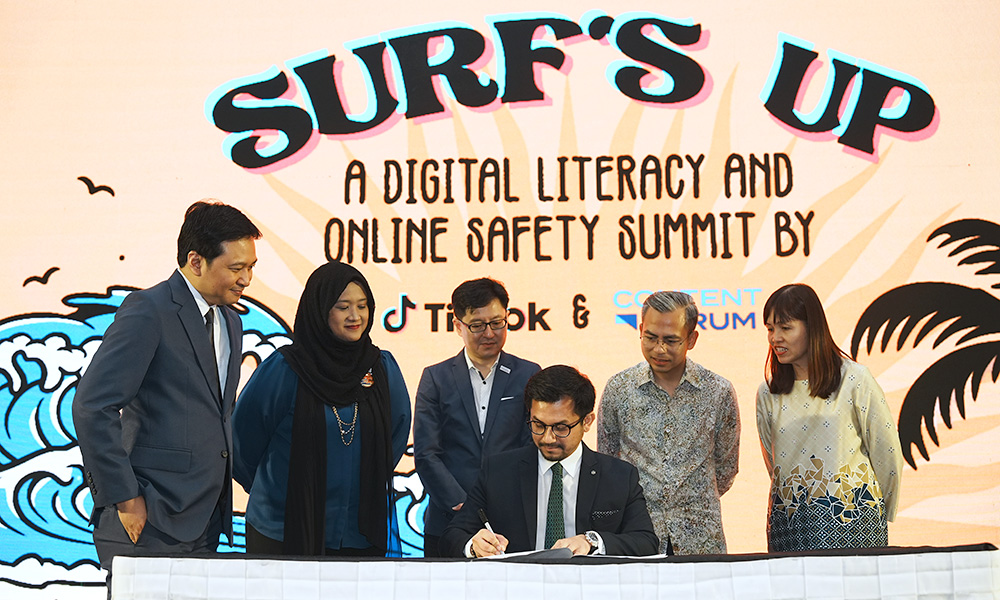 The Digital Safety Pledge Marks a Positive Step Forward for the Industry
Furthermore, the summit witnessed the signing of the Digital Safety Pledge, an initiative led by the Content Forum, which signifies a substantial milestone for the industry in advancing online safety practices and fostering collaboration. The Digital Safety Pledge brings together key stakeholders, including content creators, platforms, government agencies, and industry leaders, to collaborate on enhancing online safety practices. By signing the pledge, organisations commit to prioritising the well-being of users, implementing effective moderation policies, and continuously striving to create a safer digital ecosystem.
The Digital Safety Pledge signifies a collective effort towards a responsible and secure online ecosystem," stated Kenny Ong, chairman of the Content Forum. "We are thrilled to witness industry leaders and stakeholders coming together and commit to meaningful action, with TikTok leading the way in pledging their commitment to online safety. This pledge sets the foundation for collaboration and knowledge-sharing to develop best practices that can effectively address the evolving challenges of the digital landscape."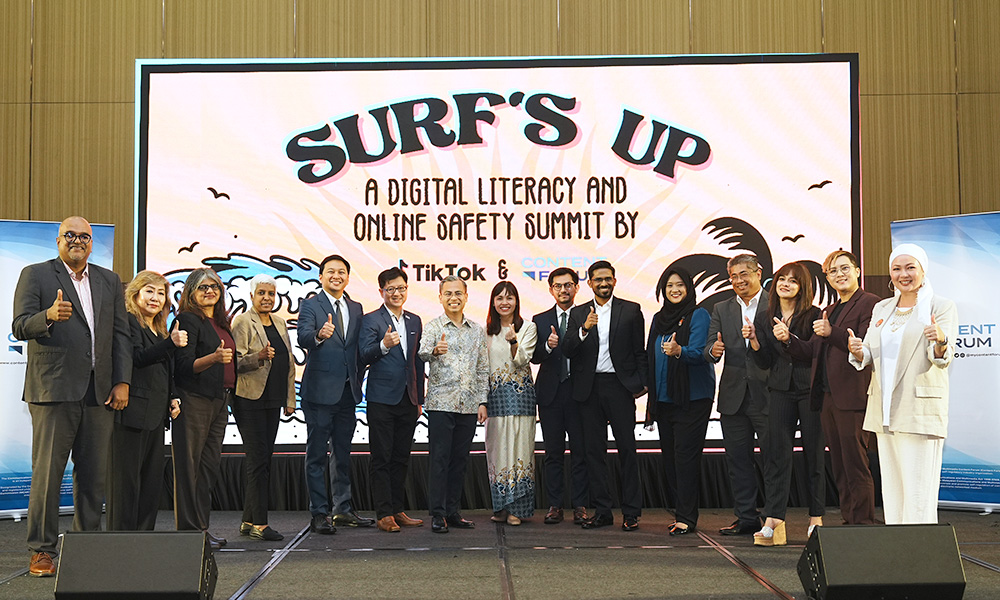 Ensuring a responsible, respectful, and secure digital environment is a collective effort between industries. By prioritising online safety and promoting responsible digital citizenship, this collaborative effort between Content Forum and TikTok through the Surf's Up Digital Literacy and Online Safety Summit sets a positive precedent for the industry and paves the way for a more secure and resilient digital landscape in Malaysia.