Acer today also announced the arrival of the Aspire Vero laptop and Vero CB1 monitors in Malaysia. These devices bear the Vero name, indicating their development on the Acer Earthion platform, where sustainability evaluations play a crucial aspect in their production. These devices provide options for users to make a purchase decision that is aligned with their sustainability goals.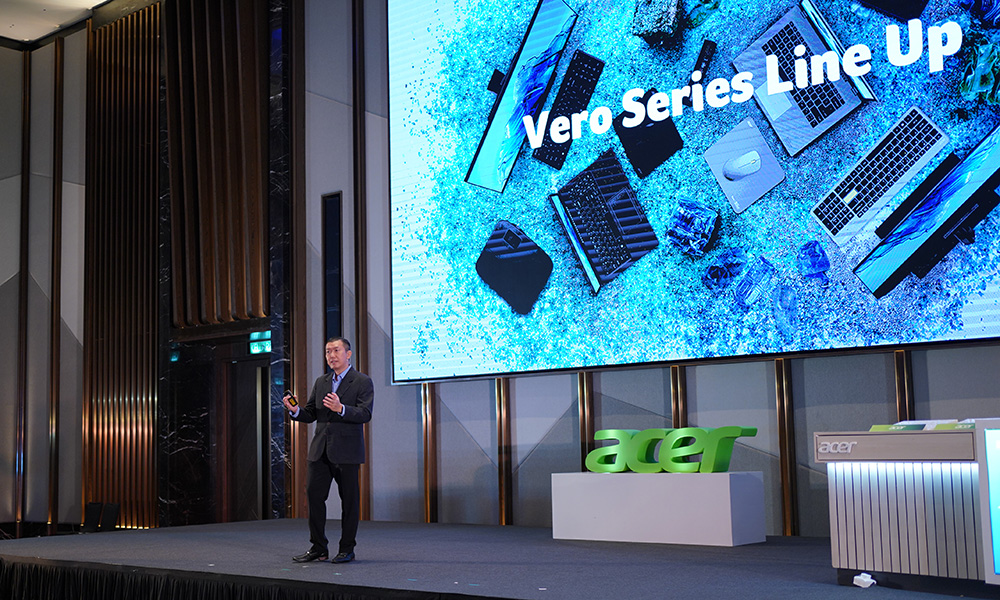 Aspire Vero 14
The Acer Aspire Vero 14 presents a compelling business and sustainability proposition that goes beyond its impressive features. This refreshed model incorporates a higher percentage of Post-Consumer Recycled (PCR) plastic in its chassis, at 40% (its predecessor had 30% PCR). This resulted in 30% reduction in CO2 emissions during chassis material production, showcasing continuous innovation and a commitment to environmental responsibility. Even with this higher PCR content, the device can still withstand everyday wear and tear.
Additionally, the incorporation of recycled Ocean Bound Plastic (OBP) in the trackpad via the use of smooth OceanGlass™ helps reduce plastic waste. The unique paint-free chassis minimises volatile organic compounds in the make and during the use of the device, while creating a stunning and distinctive colour.
Its design also promotes longevity and circularity through the use of standardized screws to make it easy to repair and recycle the device at the product's end-of-life. The laptop is shipped in multi-purpose recyclable packaging made from 100% recycled paper and up to 90% recycled cardboard. Extending use of even the packaging, the box is designed to be easily repurposed into an ergonomic laptop stand.
Meanwhile, the integrated VeroSense™ management apps let users take control of the battery's power consumption and lifespan with four performance modes to choose from. This helps to extend battery life while reducing power usage.
It is equipped with a 14-inch FHD IPS display and offers a choice between 8GB or 16GB of RAM, while ensuring fast loading times with a 512GB SSD, and is powered by up to 13th Gen Intel Core i7 processor.
Pre-installed with Microsoft Office 2021 Home and Student edition, Acer Aspire Vero 14 retails from RM2,599 and is available immediately at Acer eStore and Acer official stores on Shopee and Lazada. In conjunction with the arrival of the Aspire Vero 14, Acer Malaysia also announced a Trade-in and Go Green Programme to encourage users to switch to a green laptop and reduce carbon footprint. From now until 30 September 2023, customers can trade in their old devices for up to RM500 cash rebate for the purchase of an Aspire Vero 14. Eligible devices under Programme include working and non-functioning tablets, laptops, desktops and AIOs.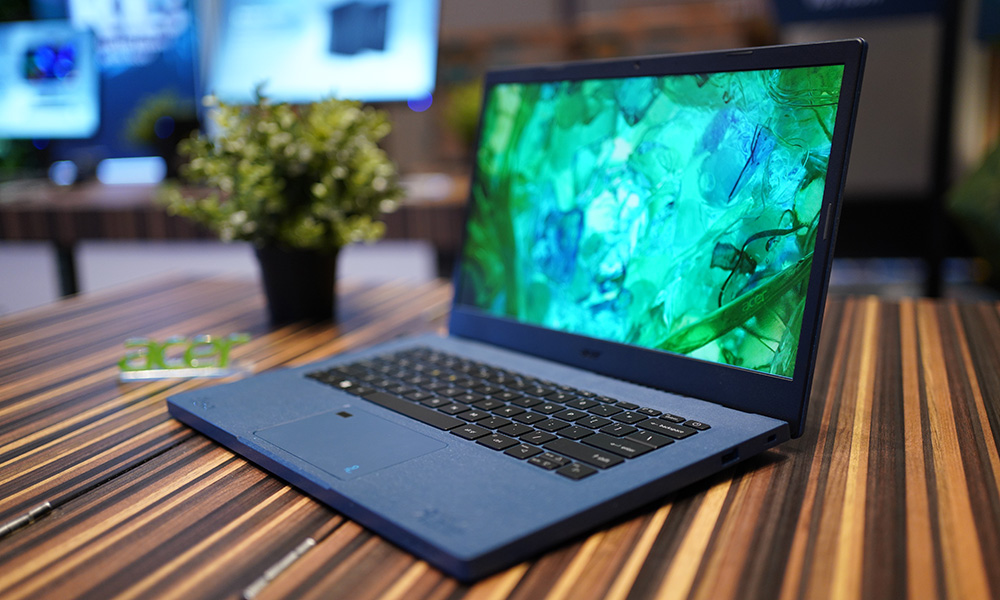 Vero CB1 monitor
The Acer Vero CB1 monitors come in the three variants of CB241Y, CB271 and CB271U and embody sustainability in its make.
Packed in the 100% recyclable green packaging, all three monitors adopt 85% PCR plastic and 5% OBP to reduce environmental impact.
The Acer Vero CB1 monitors come in the options of 24 inches and 27 inches, with up to WQHD to deliver impressive visuals and 99% sRGB colour accuracy. The use of recyclable LCD display panels provide a more environmentally friendly option for users.
The Acer Vero CB241Y and CB271 monitors are 24-inch and 27-inch FHD IPS displays respectively while the 27-inch CB271U monitor is a WQHD IPS display.
The availability of USB Type-C PD 65W with top-speed data transmission in reversible plug orientations enhances productivity and reduces cable clutter, while providing the convenience of charging devices directly. Meanwhile, the Ergo stand allows ergonomic adjustments for height, swivel and pivot to the best angle, promoting a more comfortable viewing and care of the user's posture.
These Acer Vero CB1 monitors are designed to help users embrace sustainability while enjoying versatile and eco-conscious display solution.
Available immediately at Acer authorized reseller, Acer eStore and Acer official stores on Shopee and Lazada, Acer Vero CB241Y, CB271 and CB271U monitors priced at RM749, RM879 and RM1099 respectively.
For more information, please visit Acer Malaysia's Facebook @AcerMalaysia or call Acer's Product Infoline at 1800-88-1288 (9am – 6pm, Mondays to Fridays), or email [email protected].