HP Malaysia unveiled a new range of intelligent printing solutions to cater to home- and office-based hybrid workers, providing a more productive and secure way to work. The new line of budget-friendly Smart Tank printers is designed to increase cost efficiency and productivity for MSMEs and home users. For large enterprises, smart printing solutions extend to the new HP LaserJet Managed E800/E700 series, designed to inspire a productivity-focused, security-conscious hybrid workforce to make workflow faster and ease tension for IT teams.
In Malaysia, 95% of MSMEs face challenges in digitalisation, with 44% citing the need for more IT expertise to digitalise. According to a report by SME Corp Malaysia, many Malaysian businesses have also remained at the basic digitalisation stage, need to catch up to their global peers on productivity measures, and have lower technology adoption rates. Thus, companies must embrace a future-ready business, not only in terms of digital knowledge but smarter technology adoption to increase operational efficiency that can offer a competitive advantage.
"In today's hybrid world, easy-to-use smart printing solutions are crucial for businesses to streamline workflow," says Tee Chin Eng, Director, Printing Systems, HP Inc. "Our new series of HP Smart Tank and HP LaserJet Managed printers were designed to cater to these needs and more, with industry-leading features poised to shape new home and office experiences. Businesses can now Switch To Smart printing solutions and embrace a simpler, more efficient way of working."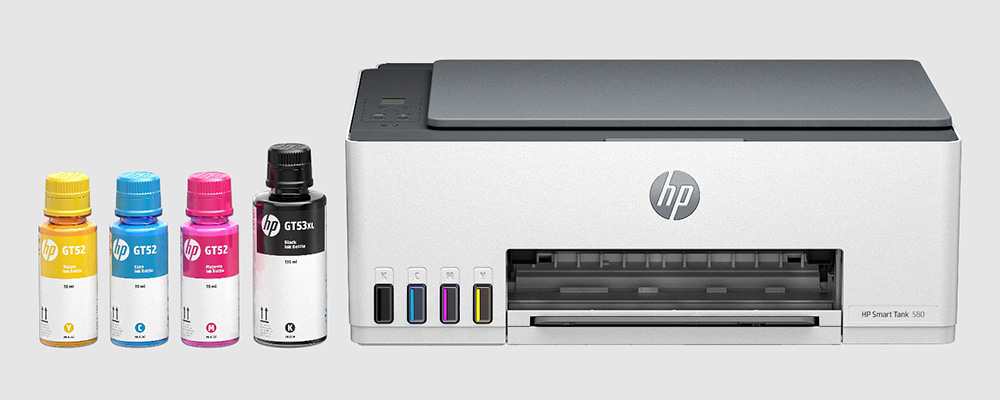 HP Smart Tank delivers Enhanced User Experiences
To support emerging entrepreneurs and SMEs, HP Smart Tank delivers an enhanced user experience with an intuitive and seamless setup, smart features, and better connectivity – including self-healing Wi-Fi® and mobility with Smart App and Smart Advance. HP's new ink tank printers can print up to 6,000 black or colour pages for uninterrupted printing with a pre-filled ink supply. Assuming a small business or entrepreneur prints 150 pages a month, the pre-filled ink with the initial purchase will last nearly three years.
Smart experience 

Best-In-class HP Smart app offers intuitive smart-guided buttons to guide you through everyday print, scan, copy and fax tasks.

Automatically detects IDs and prints with the ID copy button. 

Comes with self-healing Wi-Fi® and better mobility with Smart App and Smart Advance, getting faster and more reliable connections.

The HP Smart Tank is equipped with HP Wolf Essential Security to protect sensitive information as today's families continue to work and learn from the comfort of their homes. 
Affordable cost

Engineered for high-volume printing needs, the Smart Tank range delivers cost-effective colour and mono printing.

Capacity of up to 6,000 pages of black or colour from ink bottles in the box.
Sustainably designed

Sustainably made using 45% post-consumer recycled content.

Boasting EPEAT Silver and Energy Star certifications.

Energy-saving Auto On/Off Technology – with no extra effort needed from users.

No-waste tank and spill-free, recyclable bottles.

Equipped with convenient ink management, the Smart Tank printers easily monitor and maintain ink levels with ink sensors.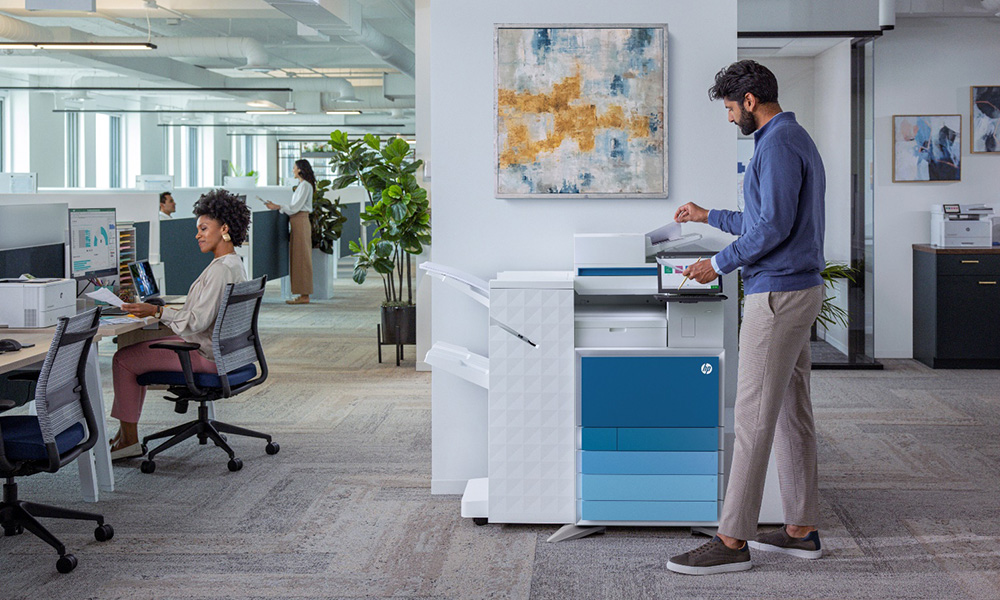 HP LaserJet Managed E800/E700 Transforms Workflows for Businesses
Large enterprises today understand the imperative of meeting the needs of their hybrid workforce; CIOs and IT departments are looking for intelligent solutions that can help to streamline workflows within their organisations. HP's latest printing portfolio comes with advanced features that can aid in this process such as its single pass 120ipm duplex scanning and cloud-connected HP Workpath apps for personalised, integrated digital workflow. The HP LaserJet Managed E800/E700 series offers customers and channel partners centralised control with HP Web Jetadmin, new HP modern design and optional colour panels to meet today's workplace digitisation goals – now and into the future.
Customisable and Sleek Design

Modern designs include five colour panels to match your office decor and HP Speed License for flexible configurations to meet different business needs.
Simplified Workflows & Boosted Productivity

The E800/E700 Flow series offers comprehensive workflow solutions with new Flow 2.0 features, including the ability to make edits directly to your content on the control panel (highlight, redact – even sign) as customised shortcuts. Innovative Reverse and Retry technology detects and resolves double feed issues and paper jams aiding work to flow more smoothly.
Powerful, Fast Performance

Get more done faster; up to 70ppm fast printing speed and 300 ipm duplex scan speed powered by HP's custom-designed quadcore processor. Utilising autosensing technology, customers automatically save time with tone and colour management, two-sided document detection and automatic job separation features.
Built-in Sustainability

Supports zero deforestation and helps save resources with HP's energy-efficient printing.
World's Most Secure Printing

A recent Morning Consult survey commissioned by HP found that 67% of ITDMs believe privacy and security in a flex work environment have become more complex, especially regarding printer security.

With HP Wolf Enterprise Security, the HP LaserJet Managed E800/E700 series protects, detects, and self-recovers. Specifically, these new devices include Memory Shield™, which helps detect malicious attacks on the printer and, if detected, automatically self-heals.  Memory Shield™ uses a hardware-protected solution called Runtime Intrusion Detection to actively scan memory for anomalies and XGuard CFI from Karamba to monitor the execution flow of the printer firmware to help detect and prevent potential zero-day attacks.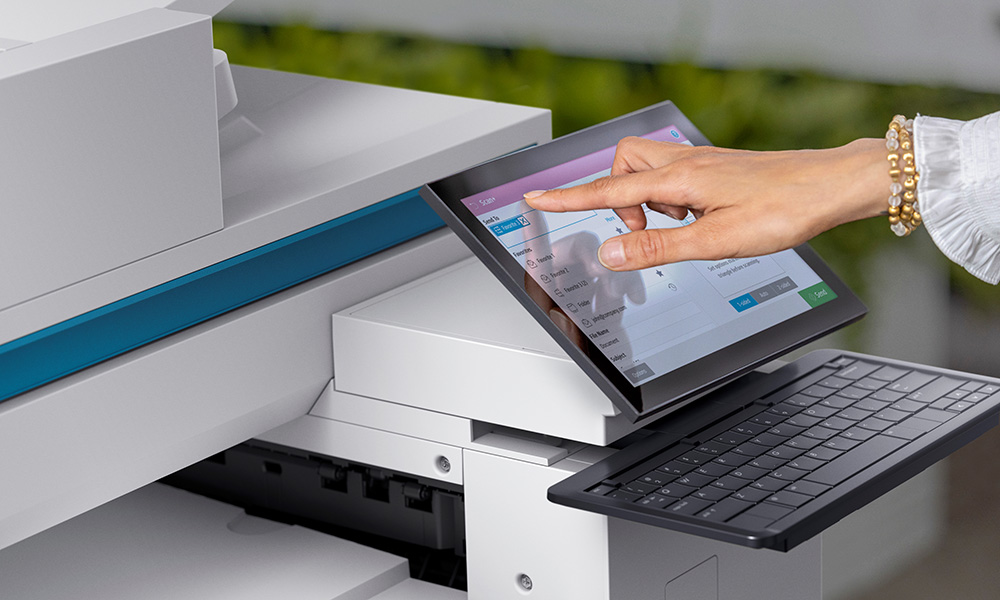 HP Malaysia will also kick off its #CetakSmartwithHP Challenge in early May, where customers can now visit selected HP Concept Stores to test the HP Smart Tank's features and make the Switch To Smart. One HP Smart Tank will be given out bi-weekly to lucky participants in the #CetakSmartwithHP Challenge. Visit HP Malaysia's Facebook page for more information.
Pricing and Availability
• HP Smart Tank 580 is available at RM569 with RM50 e-wallet rebate
• HP Smart Tank 520 is available at RM419 with RM100 e-wallet rebate
• HP LaserJet Managed E800 is available now
• HP LaserJet Managed E700 is available now
Promotions
Introductory Offer for HP Smart Tank 580 (17th April to 30th April)

HP Smart Tank 580 comes with 4 bottles of ink + one free bottle of black ink (GT53XL) to bring your out-of-the-box total to 12,000 black pages.
For more information about HP Smart Tank Portfolio of printers, visit here. For HP LaserJet Managed series, visit this link.