Cyberview Sdn. Bhd. (Cyberview) signed a Memorandum of Understanding (MoU) with Roda Emas Industries Sdn. Bhd. (REISB) on the development of Smart Mobility ecosystem in Cyberjaya which will focus on Electric Vehicles (EV) charging infrastructure and the GO TO-U EV Lifestyle Hub. The signing ceremony which took place at RekaScape in Cyberjaya, was witnessed by Yang Berhormat Tuan Nik Nazmi bin Nik Ahmad, Minister of Natural Resources, Environment and Climate Change.
Smart Mobility is one of the key focus areas of development towards the goal of transforming Cyberjaya into a global tech hub, as outlined in the Cyberjaya master plan. The use of Smart Mobility technologies is critical in reducing the carbon emission of transportation systems and contribute to a more sustainable Cyberjaya.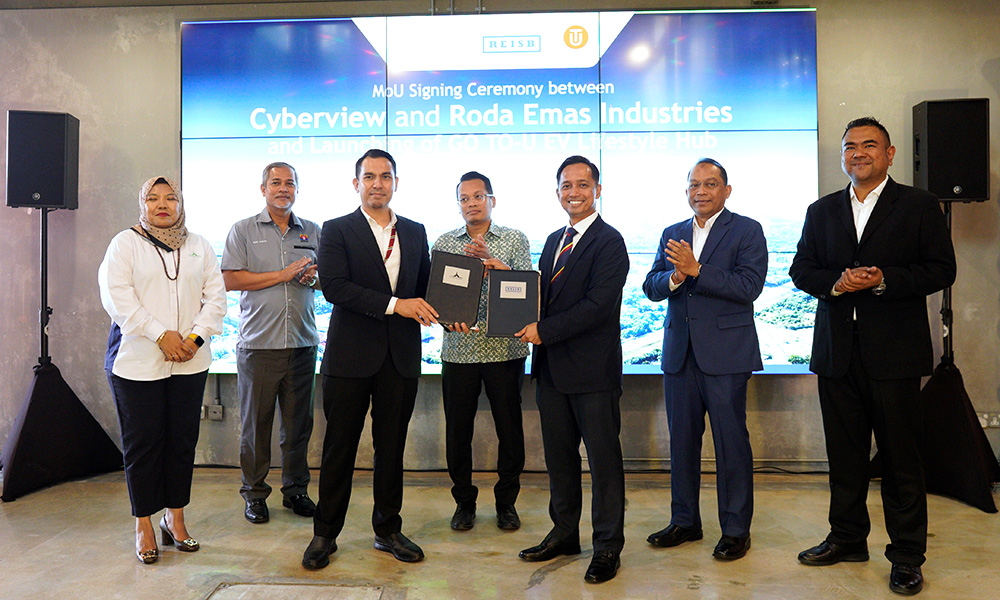 Through this strategic collaboration, Cyberview and REISB will leverage each other's strengths, knowledge, networks, and capabilities in developing a smart mobility ecosystem that is centred on creating and fortifying the EV infrastructure, adoption of electromobility and improving energy management in Cyberjaya.
This partnership will see Cyberview and REISB explore potential collaboration for the expansion of EV charging stations and management system to other strategic locations in Malaysia.
Minister of Natural Resources, Environment and Climate Change, Yang Berhormat Tuan Nik Nazmi bin Nik Ahmad said, "Malaysia is fully committed to being a key part of the global transition to a low-carbon, and eventually a net zero GHG emissions nation at 2050 the earliest. One of the ways to reach this goal is to decarbonize land transport sector through the adoption of Electric Vehicles to achieve a sustainable and low carbon future for Malaysia."
"To support the current and future growth of EVs in terms of charging infrastructure, regulations and standards are being updated to ensure the safety of these premises. The Energy Commission (EC) has developed the EV Charging System (EVCS) License, which recommended for charge point operators involved in developing infrastructure to charge electric vehicles (EVs) in the country to immediately obtain a valid public distribution licence for the installation of EV charging systems — no later than 31st March 2023."
The Minister also said, concerted effort has been put in place where ministries and government agencies are collaborating and working together towards implementing actions that consolidates the role of each stakeholder in the electric mobility ecosystem especially in the rolling out of EV charging infrastructure nationwide to support EVs. All these efforts are driving the aspiration to achieve low carbon mobility – he added.
Cyberview's acting Managing Director, Dr. Mohd Hafiz Ibrahim said, "It is essential that we continue to focus on pushing the needle in decarbonising road transport as part of the sustainability equation. The International Energy Agency (IEA) reported that this segment accounts for 16% of all global emissions. Thus, it is pragmatic as well as necessary for Cyberjaya to support the transition to EV within the smart city. The IEA's Net Zero Emissions by 2050 Scenario further indicated that by 2030, EVs will consist of 60% of all new cars on the road."
"Hence, here in Cyberjaya strategic collaborations like we have with REISB needed to be fostered. Through our combined efforts and expertise, we will make significant strides in meeting our sustainability goals. We hope that this sends a signal that we are certainly open to collaborate with more automotive players – particularly within the smart mobility space in Cyberjaya," he added.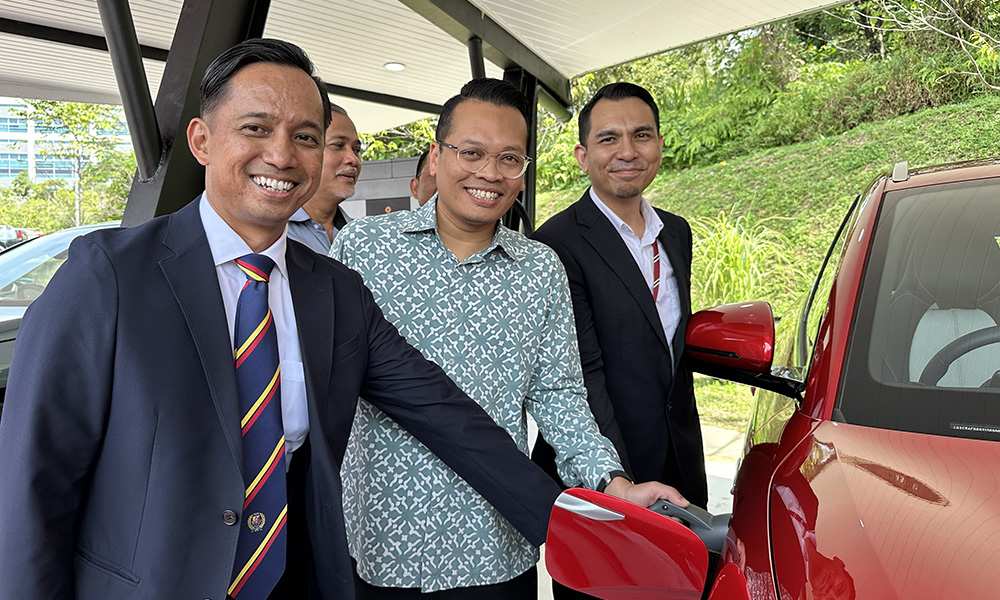 Currently there are 17 charging stations in Cyberjaya, servicing more than 500 EV users with a recorded reduction of more than 54,000 kg CO2 carbon emission.
Izuan Hafiz, Managing Director of REISB said, "REISB has been in the forefront to encourage the adoption of Electric Vehicle (EV) by providing safe and reliable EV Supply Equipment (EVSE) products & services to the market. With the launch of our GO TO-U EV Lifestyle Hub, we are aligning to the governments EV agenda to reach the target of having 10,000 public charging stations across Malaysia by 2025."
Given the increasing consumer awareness of environmental protection and given recent development trends in the electric vehicle industry in Malaysia, REISB and GO TO-U is targeting the huge potential in Malaysia's electric vehicle market.