Following the recent Digital Bank License award from Bank Negara Malaysia (BNM), Boost launched its refreshed brand today, along with an update on future plans for the coming months and 2023. The refreshed brand embodies Boost's aspiration to fuel greater financial inclusion for Malaysia and across the region by paving the way for unstoppable growth through the power of technology and artificial intelligence (AI).
Boost's brand refresh is the next phase of its repositioning exercise that started since last year after unifying Axiata's digital financial services under one roof. Since then, the Boost brand, which was previously only associated with an eWallet business, extended its offerings well beyond cashless payments into alternative lending, insurtech, and cross-border payment services – evolving into a full spectrum fintech company. As the next step in its evolution, the refreshed brand introduces new secondary visual elements that call out its various business verticals while also refining the overall logo with a bolder look.
"Having successfully ignited confidence in Malaysians adopting digital financial solutions for nearly five years now, Boost remains at the forefront of the industry through innovative fintech solutions that leverage AI to fuel winning ambitions and unstoppable growth. Our overall business continued to see strong growth as Boost achieved significant milestones since then, such as securing investment-grade A1 rating from RAM for our lending business and winning the Digital Bank License, to quote a few watershed events. As we chart new frontiers, our refreshed brand reflects our relentless ambition to break boundaries and empower everyone across the region with accessible and simplified digital financial solutions," said Sheyantha Abeykoon, Group Chief Executive Office of Boost.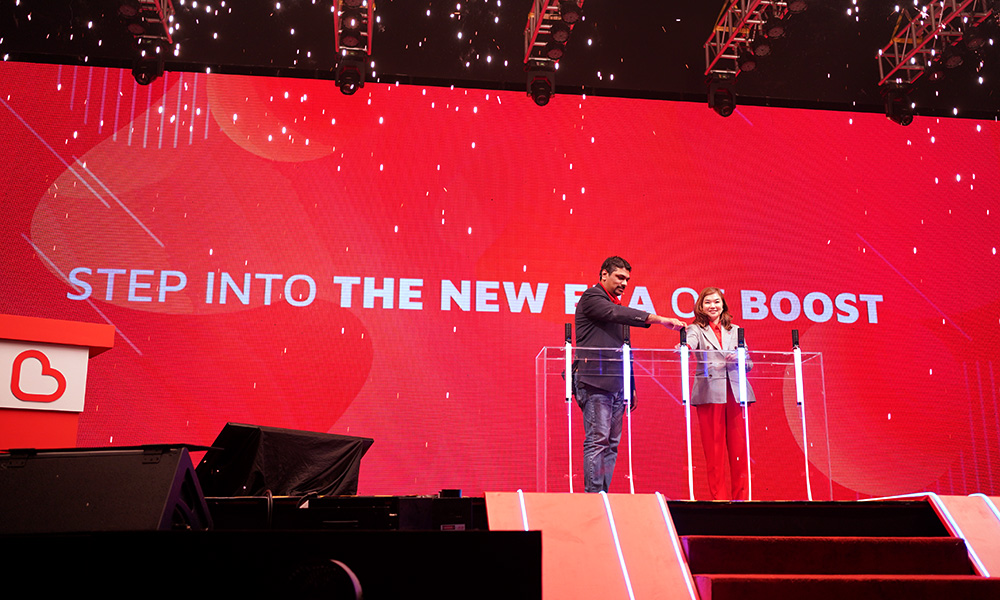 The Journey So Far: Charting a Strong Growth Momentum
Since the start of the year, Boost's holistic fintech ecosystem spanning its consumer fintech app, merchant solutions, AI-based lending business, as well as cross-border payment platform continues to reach new heights. This is evidenced by its overall gross transactional value (GTV) increasing 26.8% year-to-date (YTD) reaching RM2.9 billion in the first half of 2022, with net revenue growing in a similar manner.
Additionally, Boost recorded more than 2x uplift YoY in loan value disbursed regionwide, 43.1% uplift in merchant touchpoints reaching over 500,000 across Malaysia and Indonesia, 10.5% uplift in userbase to over 10 million, and 4-digit growth in usage of BoostBills' innovative features. Today, millions of customers regionwide, comprising both users and merchants, have been empowered by Boost and the regional fintech player expects its unstoppable growth momentum to continue.
Boost's pursuit to innovate and simplify financial solutions led to its venture into the bill payment space in 2018 with BoostBills, Malaysia's unique online bill payment feature that enables users to automate, view, and pay multiple bills at once for over 50 billers. The innovative feature has been a tremendous hit as it saw skyrocketing trends of users leading unstoppable lives with over 5,800% increase in number of automated bill payments and more than 4,000% rise in multiple bill payments on BoostBills YoY.
Sheyantha added that: "All of our users enjoy an unstoppable and rewarding experience that meets all their financial needs because you can access a variety of solutions in one powerful and unstoppable consumer fintech app. Our merchants, on the other hand, get simplified access to the right financing support that is catered to their needs, no matter how small. Our main aim is to inspire users and merchants to go further and lead unstoppable lives to be the best versions of themselves."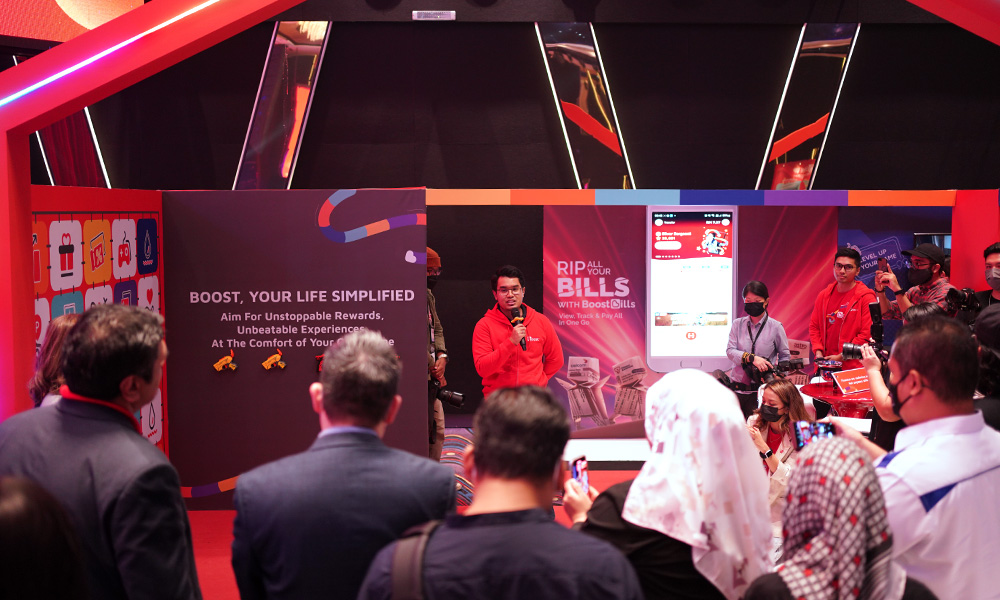 The New Now: An Unstoppable and Bold Brand for All
Corresponding with Boost's continuous growth, the refreshed brand signifies a new unstoppable era of Boost as a leading regional full spectrum fintech brand that financially empowers users and merchants, while also staying true to its strong brand legacy that its customers have grown to love. It brings forth an enhanced logo that's taller and more compact with a deeper red hue, accompanied by a colourful trail, and most importantly, a new bold 'Be Unstoppable' tagline.
Diana Boo, Chief Marketing Officer of Boost, said: "Every aspect of the brand refresh from the logo and typography to the new colourful trail and tagline went through careful considerations to inspire our customers to face any challenge in life, and realise their full potential. In addition, the look and feel has also completely transformed our Boost app and website, designed to be more accessible and friendly for all to encourage digital adoption and greater financial inclusion. We hope to help people feel unburdened by their financial woes, and to have the freedom to explore infinite possibilities – that is what it means to 'Be Unstoppable'."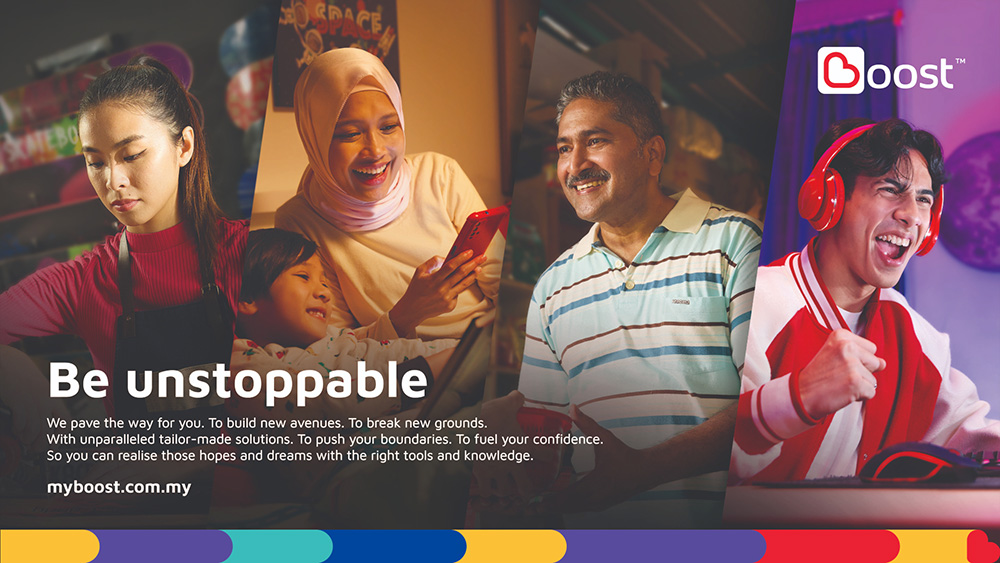 The Future: Explore New Possibilities with Innovative Solutions
In the coming months, Boost customers can expect more enhanced consumer lending propositions, savings and investment solutions along with a venture into a new market, whilst doubling down in Indonesia as building blocks in preparation towards the digital bank. The much-anticipated digital bank is expected to democratise the industry and fuel greater financial inclusion by making financial services more accessible for the underbanked and unbanked with innovative fintech solutions.
"In Indonesia, we are expanding our proposition by partnering with ecosystem players in industries like FMCG, Telco, direct-to-home content and so forth. We are also looking to see how we can transition our very successful fintech lending model into value-added merchant solutions and products, similar to what has taken hold in Malaysia. We will also be entering into landmark partnerships to further mobilise funding for loan book growth via banking and non-conventional sources," added Sheyantha.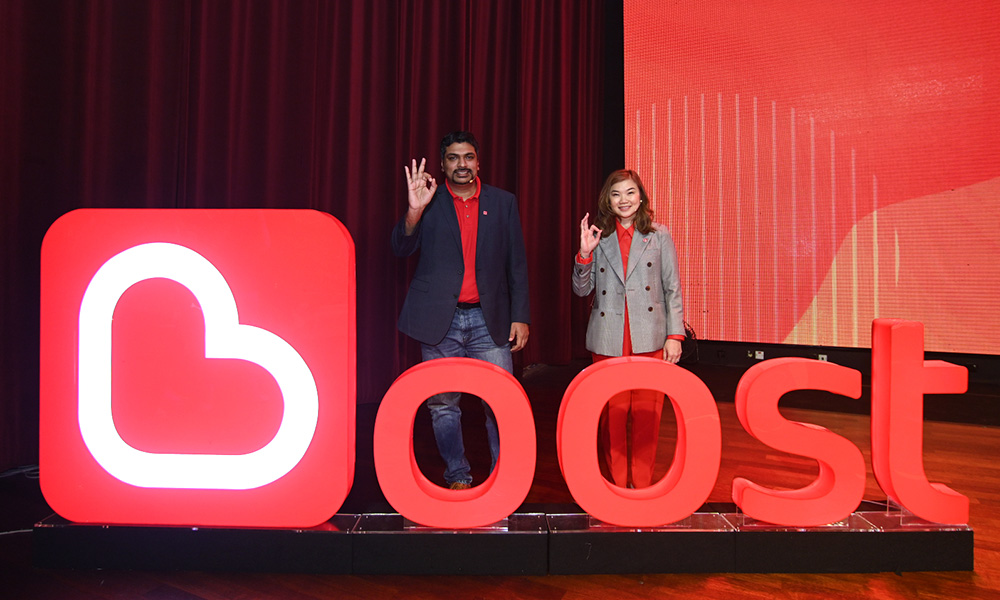 Boost also revealed a slew of new product line-ups for both users and merchants scheduled to be released throughout 2022 and 2023 with rewarding experiences, from the introduction of bigger wallet sizes and more. Among its recent launches is that merchants will be able to leverage on the new premium Biz Booster, a data-as-a-service (DaaS) analytical tool, to push boundaries and expand their business further.
For more info on Boost's brand refresh, please visit: https://bit.ly/3TLHxY0.