realme, the world's fastest-growing smartphone brand, today launched their latest addition to the fan-favourite GT Series, the GT Neo 3. Featured with the first MediaTek Dimensity 8100 5G processor in Malaysia, realme GT Neo 3 also brings the world's first Dedicated Display Chipset to improve the image quality and refreshing rate, offering the best Dual-Chip Gaming Experience.
The realme GT Neo 3 (8 + 256GB) will be priced at RM2,099.00, with a special offer at only RM1,799.00 only from 15 to 17 June on Lazada's realme Flagship Store. As initiative to continue supporting the interests of the global youth, realme provides latest technology for users of all backgrounds by designing devices that are multifunctional and enhances user experience no matter the environment. For gaming enthusiasts, users can enjoy the exceptional features and performance of the GT Neo series that provides eSports-level gaming features and experiences throughout its range:
Trinity of Best Performance: MediaTek Dimensity 8100 5G + IPDRR5 + UFS 3.1, offering ultimate gaming speed
Top Image Solution: Malaysia's first Dedicated Display Chipset with 120Hz AMOLED Display, improving image quality to maximum visual satisfaction
Largest Cooling System: Stainless Steel Vapour Cooling System Max, the same cooling system available in the series' flagship, GT 2 Pro
Upgraded Gaming Features: 5,000mAh with 80W SuperDart Charge, enabling 50% in 12 minutes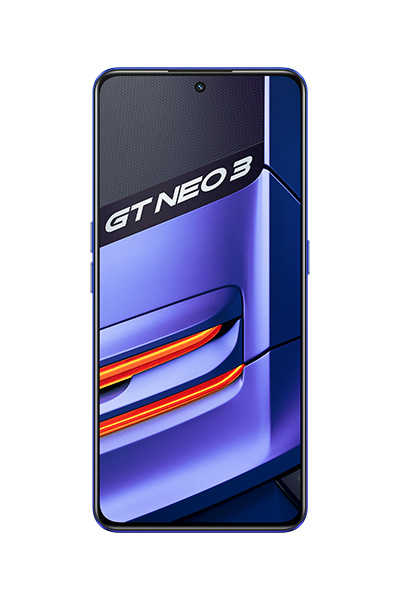 The Beauty of A Powerful Chipset and Display
Emphasizing the busy on-the-go lifestyles of its users, realme acknowledges consumers' needs for a device packed with high-standard power and display to be able to multitask, work actively, and to have a smooth flow in their daily lives. With this in mind, the realme GT Neo 3 was designed with the MediaTek Dimensity 8100 5G processor, a chipset that offers a device with spectacular power-efficiency capabilities. Based on TSMC's 5nm manufacturing process, the GT Neo 3 features four CortexA78 cores ticking at 2.85GHz and four CortezA55 cores going at 2.0Ghz, delivering higher CPU efficiency that achieves an impressive, stable 90 FPS, giving users seamless performance throughout their in-game battles.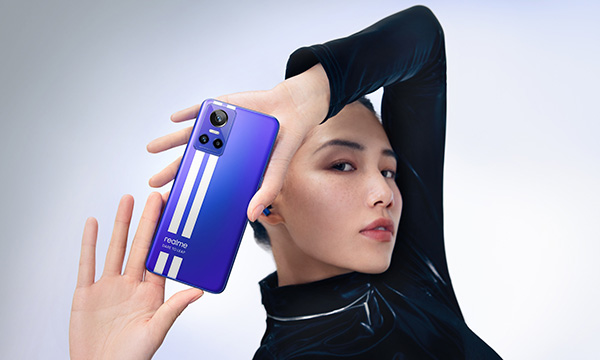 The highlight of the GT Neo 3's crisp visuals is thanks to Malaysia's first Dedicated Display Processor that supports interpolating frames and breaks through high frames. The GT Neo 3 estimated the trajectory of object motion through the chip and algorithm, which adds a motion compensation frame between two frames for and improved smoothness of the visuals. The dedicated display processor also ensures lower power consumption as it modifies the visuals rendered by its GPU and outputs it to the screen, reducing the GPU load and overall power consumption.
The realme GT Neo 3 also provides immersive gaming visuals thanks to its 6.7-inch AMOLED panel with Full HD+ resolution with a 94.2% screen-to-body ratio. Users can enjoy battles at the highest frame rate with no worries of performance drop with its 120Hz Ultra Smooth Display and HDR 10+ certification. The realme GT Neo 3 also promises a satisfying burst of colour easy on the eyes with its 10-bit Colour Display – jumping from the traditional 8-bit, the 10-bit display brings 64 times more richness to its visuals, providing more detailed in-game graphics. With the many focuses on bringing stunning visuals and display to its users, the realme GT Neo 3 is able to become a dedicated device with great usage even outside gaming.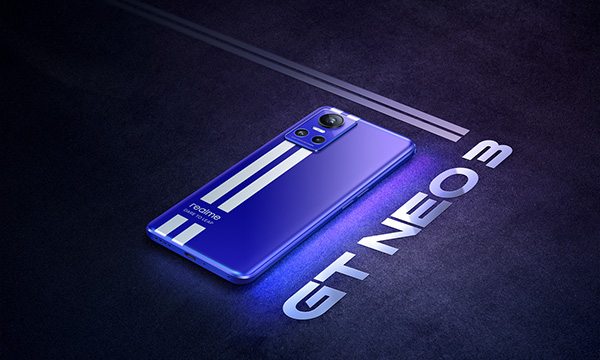 Uncompromised In-game Battles with Unmatched Power
Today's tech enthusiasts have a high demand for long-term usage of their devices. Aside from providing larger battery capacity, realme also takes into account the duration in which this large capacity needs to be charged. From their research on the most modern fast charging technology to optimize usage duration, realme designed the GT Neo 3 with an 80W SuperDart Charge feature that allows the device to charge from 0 to 50% in just 12 minutes. However, with fast charging technology, safety is made a large concern for users. With this, realme assures users a safe charging experience with its TÜV Rheinland Safe Fast Charge System certification, 38 layers of safety protection within the device, and a Smart MCU Current Control Management that instantly disconnects external power source when risk is detected. Paired together with this powerful charging is 5,000mAh massive battery, for more power storage.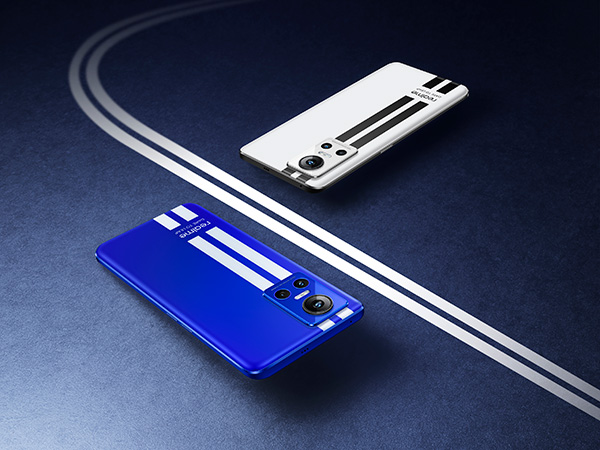 The realme GT Neo 3 also introduces realme's largest cooling area for unstaggered performance for users' undisrupted gaming experience. The powerhouse is built with a 4,129mm² Stainless Steel Vapor Cooling area. Including the use of copper in the build, the combined materials allow higher heat dissipation efficiency in the heat sink, as compared to the traditional pure copper systems. The device adopts the strongest thermal conductivity material in nature, and a nine-layer heat dissipation structure, covering 100% core heat source, an increase in cooling area by 86% when compared to the GT Neo 2, providing users an upgrade in terms of peak performance for long and intensive usage.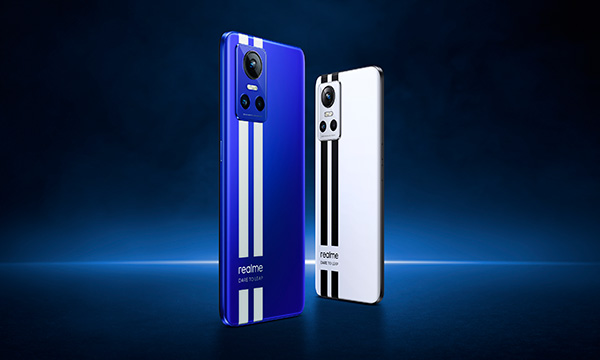 A Tribute to Le Mans '66
Continuing their streak of trendy devices that represents the bold and colourful spirits of their young audience worldwide, realme releases another trendsetting design through the realme GT Neo 3, with its racing stripe design, symbolizing realme's passion in challenging and pursuing the ultimate performance and speed. Visualizing speedy performance, the design is tributed to track legends, inspired by the classic "Le Mans '66 FORD v FERRARI" film that showcases determination to building a powerhouse in the pursuit of speed, which aligns with realme's 'Dare To Leap' philosophy to design powerful devices for its audience. The realme GT Neo 3 comes in two stunning colours – Nitro Blue and Sprint White.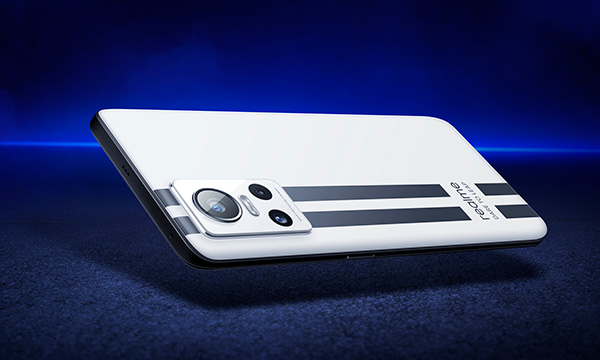 Maximum Photography Satisfaction
Considering the versatile lifestyles of its young users, realme builds the realme GT Neo 3 with a remarkable wide-angle triple-camera setup featuring the Sony IMX766 Sensor for the ultimate flagship experience. Users will enjoy photography of the device thanks to its 119° Ultra Wide-angle Camera, a 4cm Macro Camera, and a 50MP Primary Camera with a F/1.88 Aperture and a 1/1.56-inch Large Sensor Size for crisp, detailed photo and video capturing.
Users will get to express their creativity with the camera's ProLight Imaging Technology – paired together with the Sony IMX766 camera, the GT Neo 3 promises clear and bright photography in dark light settings. The camera is designed with OIS+EIS Dual Stabilization and Full Pixel Omnidirectional Focus, allowing users to capture its subjects with detailed precision to its core. Supporting the youth's visionary creative talent, the realme GT Neo 3 comes with improved imaging speed of night shots by 71.4% when compared to its predecessor. Through the self-developed Nightscape Accelerator, the realme imaging team reconstructed the image architecture, and significantly shortened the shooting time in night mode while still capturing stunning focused shots at just 0.8 seconds.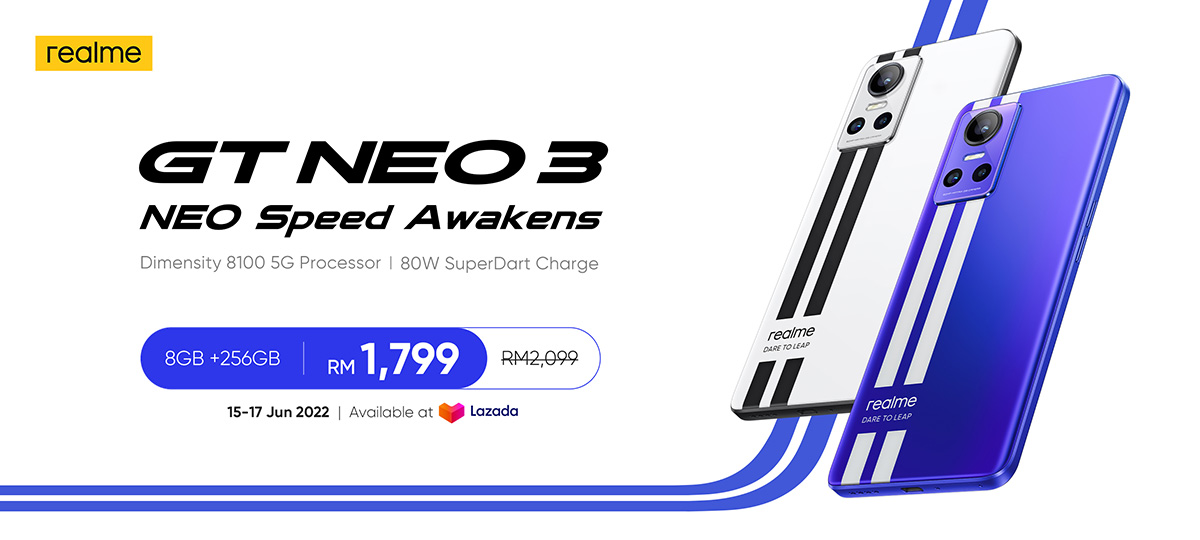 Product Availability
The realme GT Neo 3 will begin official sales on Lazada Global Store from 15 June 2022, followed by its availability on realme Malaysia's Official Online Store on Lazada, as well as offline sales in realme Brand Stores 18 June onwards, with first sale promotions for its fans.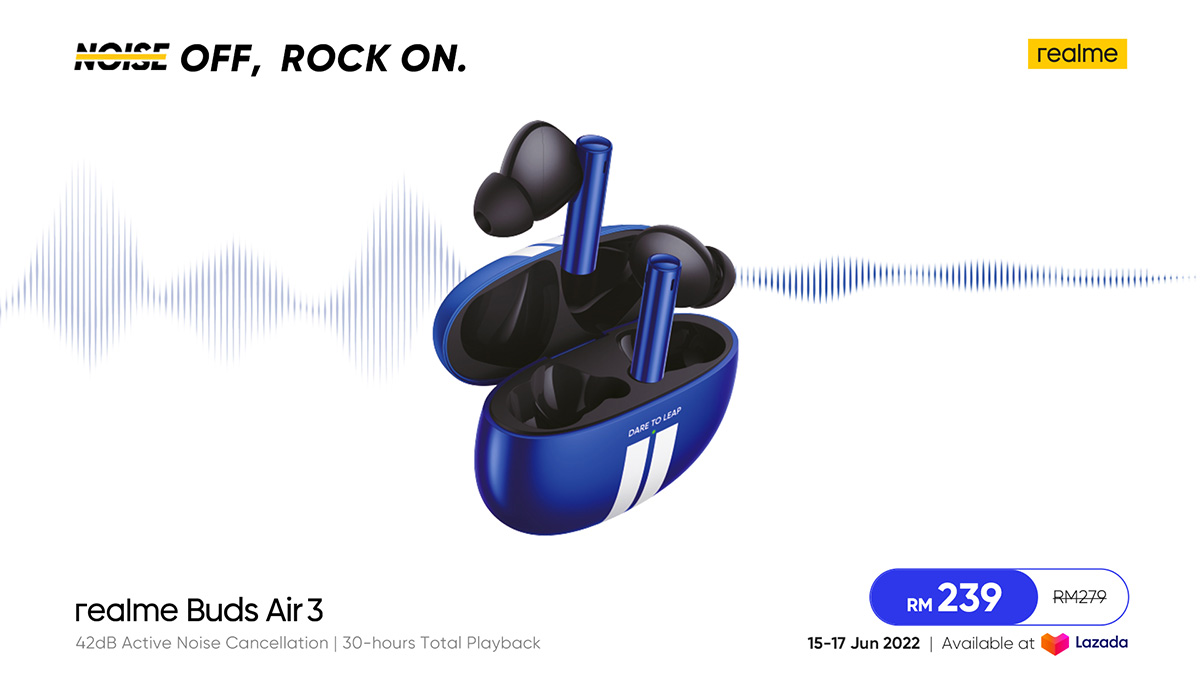 realme also surprises its fans with the limited edition realme Air 3 – Nitro Blue at RM279.00. With only 500 units available, fans can get their hands on this limited colour at promotional prices at Lazada's realme Global Store and realme Malaysia's Flagship Store on Lazada. In conjunction with the launch of these two trendy devices, fans can get the duo at a Special Bundle rate for RM2,028.00.
Product
Colour
Pricing (RRP)
Availability and Promotion
First Sale Promotion – Lazada realme Global Store
realme GT Neo 3 (8 + 256GB)
Nitro BlueSprint White
RM2,099.00
From 15 June to 17 June, opening sales at Lazada realme Global Store with promotional sale at RM1,799.00, where the first 100 customers will receive free realme Q2s Buds (while stocks last).
From 15 June to 17 June, customers purchasing the GT Neo 3 will get further discounts when purchasing the realme Buds Air 3 (promotional price at RM229.00) and realme Q2s Buds (promotional price at RM89.00).  
First Sale Promotion – Lazada realme Flagship Store
realme GT Neo 3 (8 + 256GB)
Nitro BlueSprint White
RM2,099.00
First day online sale on 18 and 19 June at Lazada realme Flagship Store, priced RM2,099.00, where customers purchasing the GT Neo 3 will get to enjoy further discounts of the realme Buds Air 3 (promotional price at RM239.00) and realme Q2s Buds (promotional price at RM99.00).
Offline Store Availability (All realme Brand Stores)
realme GT Neo 3 (8 + 256GB)
Nitro BlueSprint White
RM2,099.00
Offline sale availability from 18 June at all realme Brand Stores priced RM2,099.00.
Online Availability – realme Air 3
realme Air 3 earbuds (limited edition)
Nitro Blue
RM279.00
First day sale from 15 to 17 June on Lazada's realme Global Store, at promotional price of RM229.00.
Available from 18 June at realme Malaysia's Flagship Store on Lazada, with promotional price of RM239.00 till 19 June.
Special Bundle promotion when purchasing the GT Neo 3 and Air 3 at RM2,028.00.
For more information on the realme GT Neo 3 in Malaysia, stay tuned to realme Malaysia's Official Facebook page and don't miss out on all the exciting announcements to come!