HUAWEI Malaysia today announced the launch of the HUAWEI nova Y70, bringing the latest entry-level smartphone to all Malaysian. The new HUAWEI nova Y70 is jam-packed with all the essential smartphone features to create the best and easiest possible experience for users. From the strong battery life to the high-screen ratio, the smartphone boasts a mix of exciting and innovative features that heed to users' needs. It gives the users a practical, high-quality smartphone with room for endless entertainment. While there are many great reasons to get yourself a HUAWEI nova Y70, HUAWEI highlights some of the top reasons to make you consider having one.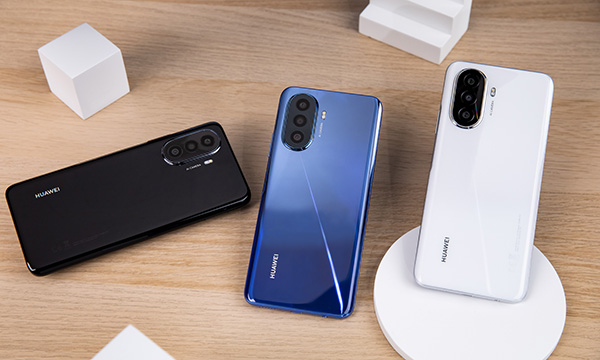 Long-lasting Battery and SuperCharge Capabilities
HUAWEI nova Y70 supports 22.5W HUAWEI SuperCharge, allowing three hours of continuous video playback on just a 10-minute charge. This can save users' time and maximise the usage of the smartphone, keeping them from worrying over their battery life while out of the house. It also affords them ample time for entertainment when travelling, commuting, or just lounging. Additionally, if the smartphone has only 5% battery left, users don't have to panic as they can turn on Low Battery Mode, which allows up to 12 hours on standby before powering down. Users can rely on their smartphones to last in a pinch.
With a massive 6000mAh high-capacity battery, users just have to charge the HUAWEI nova Y70 twice a week – a strong battery life compared to other batteries of the same size. Thanks to HUAWEI's unique AI smart power-saving technology, the strong battery life also allows for eight optimised consumption areas.
HUAWEI FullView Display Provides More Room for Viewing the Screen
The smartphone features a 6.75-inch HUAWEI FullView Display, a larger screen than previous models. With the new display, users can easily watch the content at a larger size, whether video streaming, games playing, or scrolling through images. The design of the display is sleek and simple, with a narrow notch to make the most of the mobile screen. Furthermore, with its 90.26% screen-to-body ratio, HUAWEI nova Y70 gives users a rich and immersive visual experience.
AI Triple Camera Gives Options for Taking Quality Photos
Equipped with a 48MP high-resolution Main Camera, a 120° 5MP Ultra-Wide Angle Camera and a 2MP Depth Camera, the AI Triple Camera allows for powerful yet quality photography straight from the smartphone.
The Main Camera allows for more light in photos, which enhances the quality and setting of the photos. With the camera incorporated in the HUAWEI nova Y70, a ray of light won't mess up the photo – great for capturing portraits and scenery. The Ultra-Wide Angle Camera allows for more content in the frame, perfect for squeezing all of your friends or family members into a group photo. The Depth Camera blurs the background of a picture to focus on the subject with 3D imaging and accurate depth.
With the AI-enabled Triple Camera, users have multiple options of camera features on their smartphone to produce more dynamic, focused, and higher quality photos.
Massive Storage at 128GB
The HUAWEI nova Y70 comes with 128GB of storage, which can hold up to 170 episodes of TV programmes, 13,000 songs, and over 60 movies. If users need more storage for their favourite content, a MicroSD card will allow for up to 512GB of storage. The EROFTS super file compression technology will also help download content quickly and easily. With the massive storage, users don't have to worry about taking too many photos or downloading loads of music albums.
While all of these features are excellent, they add to a great smartphone with a reliable battery, large display screen, impressive camera, and ample storage space. These features create a visually exciting user experience that allows easy, uninterrupted content consumption.
Seamless Digital Living with AppGallery and HUAWEI apps
HUAWEI nova Y70 users can download their favourite apps from AppGallery, the official app market by HUAWEI that is pre-installed on the smartphone. AppGallery offers a comprehensive range of apps such as Booking.com, MAE, Malaysia Airlines, Union Pay and more for users to get the most out of their smartphone.
There are also more HUAWEI native apps to further enhance the mobile experience. For instance, users can search for information, products and nearby deals through Petal Search. HUAWEI nova Y70 users can even take full advantage of its "dual screen" capability to view the route navigation on a larger display while using Petal Maps. While on-the-go entertainment continues to be prevalent, users can discover a vast catalogue of immersive content through HUAWEI Video, Music and Books.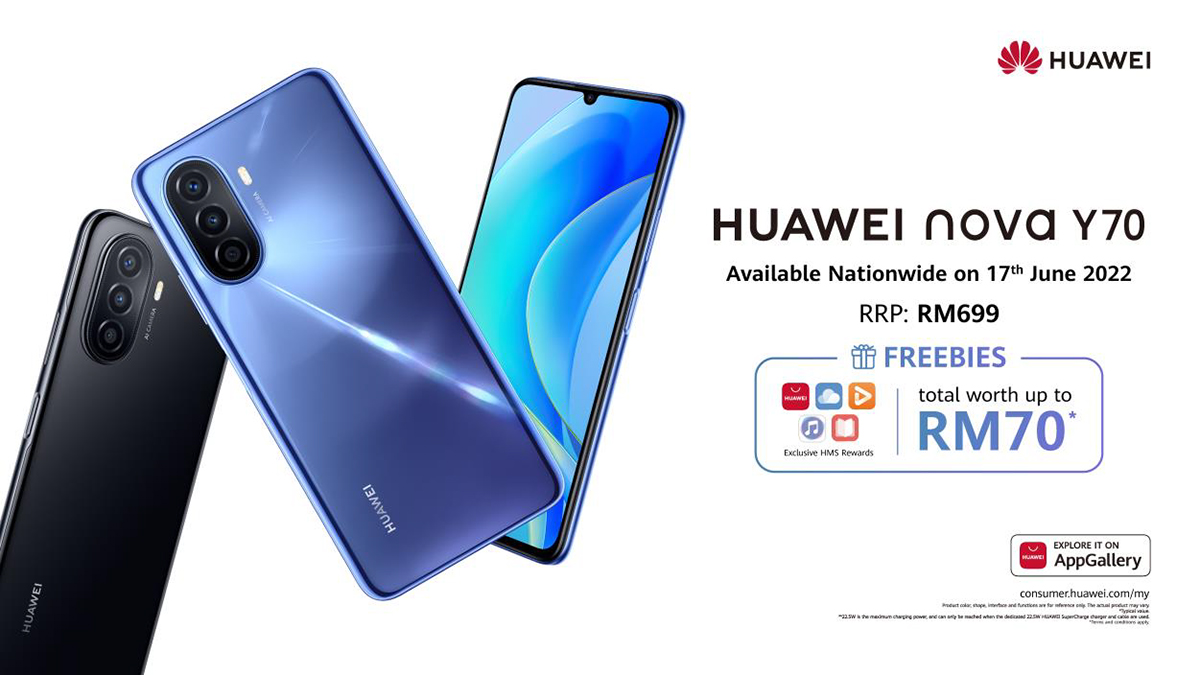 Pricing and Availability
Available in three colours, Pearl White, Crystal Blue and Midnight Black, the brand-new HUAWEI nova Y70 will soon be available nationwide at RM699 from 17 June 2022 onwards. Consumers can learn more about the smartphone on HUAWEI Official Website, HUAWEI Experience Stores and participating HUAWEI Partner Stores such as HUAWEI Flagship Store on Lazada and HUAWEI Official Store on Shopee.
Visit HUAWEI Malaysia Official Website or Facebook Page for more information.