Today, Shopee Malaysia hosted #RayaBersamaShopee Marketplaces: Towards a More Inclusive and Participative Economy, a virtual forum discussing the importance of technology in serving the underserved communities. The panel featured three keynote speakers, YB Senator Datuk Ras Adiba, Chairman of Malaysian National News Agency (BERNAMA) and President of OKU Sentral, Dr. Mohd Afzanizam Abdul Rashid, Chief Economist of Bank Islam Malaysia Berhad, and Kenneth Soh, Head of Marketing Campaigns at Shopee Malaysia.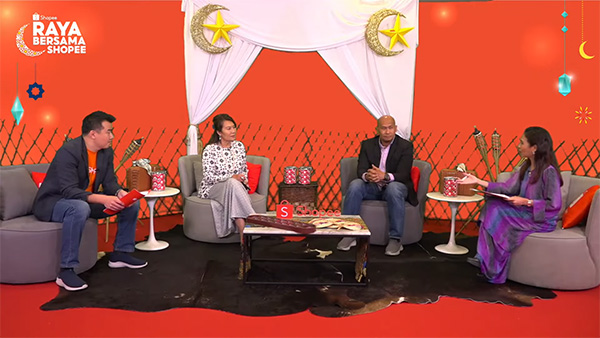 Emphasizing the challenges of the OKU community in participating in the mainstream economy, YB Senator Datuk Ras Adiba said, "The Internet saved our lives. It gave us access to communication. As many of us are home bound, the Internet is a way for us to reach out and learn new skills, trades and survive. Those of us who did not have money, selling things via the Internet really helped us and lifted us up."
"In addition, online business classes allowed us to be economically resourceful and see ourselves like any other business person. For those of us who cannot go out, this allows us to do it from home."
Furthermore, as a country, she said that much needs to be done to help the underserved community. "The government must give grants, loans and coaching. The training Shopee is providing for online sellers is vital. For those of us who cannot go out, these programmes enable us to work and earn a living from home."
Speaking on the impact of e-commerce in driving mainstream economic inclusion, Dr. Mohd Afzanizam said, "The proliferation of e-commerce has allowed small businesses to be more agile in coping with operational challenges brought by the pandemic. Good measures of progress on this front are rising income and expenditure on e-commerce platforms," according to him.
In the #RayaBersamaShopee survey of more than two thousand participating sellers between March 18 to April 18 2022, 70% of whom are female, are empowered to provide for their families, while retaining the flexibility of managing their respective households. Last Raya period, these individual sellers made close to one thousand ringgit each, mostly selling women's fashion and accessories, and/or Health and Beauty products. These female sellers were therefore able to provide for more than three household dependents on average. Most of them live in Klang Valley or Johor, but many represent Malaysian rural areas in Kedah, Kelantan, Perak, Sabah and Terengganu. 48% of these sellers are 30 to 39 years old, and 35% are under 18 to 30 years old.
"Our marketplace survey found that every local seller selling Made in Malaysia products supports on average more than five household dependents across the nation. Through our hyper-localised campaigns like #RayaBersamaShopee, sellers in rural areas can promote their products to consumers more easily. Our key differentiator is our localised strategy in digitalising rural communities and digital upskilling. That's how #ShopeeSapotLokal drives e-commerce growth in a sustainable and inclusive way on behalf of all our sellers and the communities they support," said Kenneth Soh, Head of Marketing Campaigns at Shopee Malaysia.
Overall, Shopee sellers in the survey said that to scale their businesses for growth, their top preparations for this Raya are – in order of priority – increasing stocks of inventory, offering festive discounts, and introducing new types of products according to consumer trends.
Shopee's sellers are very optimistic of e-commerce opportunities: 40% of sellers surveyed expect 50% or more sales growth from their online store this Raya period
70% of Shopee's sellers surveyed are utilizing Shopee's Free Shipping Voucher
Their most liked Shopee Seller Support features are: Shopee Ads (48%) followed by Shopee Feed and Bump Up products features
On 16 June, 2022, #ShopeeSapotLokal initiative continues with Shopee Malaysia's annual Seller Summit 2022, with the theme "Level Up: Driving Growth Together" which brings together sellers nationwide online and in person for the first time to share experiences and learn from each other. Shopee University's e-commerce upskilling on marketing, sales, and operations will be shared in addition to industry expert insights.