Leading home-grown cinema exhibitor, Golden Screen Cinemas (GSC) kicks off its #GSC35 birthday celebration today with #BersamaGSC, a year-long themed celebration of the company's three-and-a-half-decade journey of serving generations of Malaysians. With a slew of festivities lined-up throughout the year, #BersamaGSC aims to evoke the brand's Malaysian pride, rewarding loyal customers who have spent many memories with the cinema, while setting the stage for more exciting initiatives and offerings.
Since the company was founded in 1987, GSC has grown from strength-to-strength over the years with countless innovations and offerings. Now with more than 482 screens in 52 locations in Malaysia, GSC is not only the largest cinema chain in the country, but also one of the most feature-packed with immersive cinematic technologies and offerings like 4DX, ScreenX, IMAX, D-BOX, GSC BIG, Play, and much more. More than that, GSC has also become a brand recognised for more than just state-of-the-art cinemas, as it delivers immersive experiences, lifestyle events, F&B, merchandise, and more that complement its leading out-of-home entertainment offerings for all ages.
"As we continue to grow, we at GSC are grateful and appreciative of all the support that we have received throughout the years. It is our promise to bring joy to Malaysians, as we continue to shape the future of the entertainment industry with enriching cinema experiences. We aim to introduce more innovative and exciting products and services for customers to enjoy in the coming months and look forward to customers engaging #BersamaGSC on all these new campaigns and initiatives," said Ms. Koh Mei Lee, Chief Executive Officer, GSC.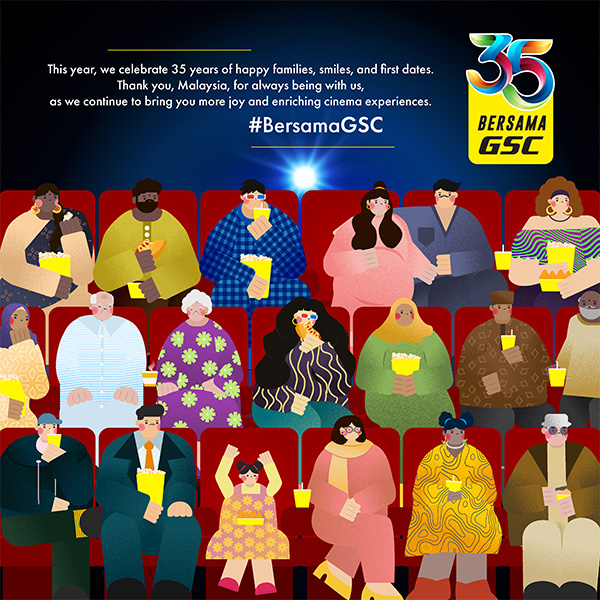 A new café and delicious snacks to take home
This year, GSC is poised to take its journey farther beyond that of the traditional theatre, in line with its evolution over the years into restaurants and F&B, as it launches Happy Food Co. – a brand-new casual dining café. Now open in GSC The Mall, Mid Valley Southkey, Johor Bahru, Happy Food Co. is set to open another 2 locations in the Klang Valley, offering a wide range of hot snacks and delicious mains including sandwiches, pizza, pasta, as well as sweet desserts to satisfy all cravings.
Falling under the Happy Food Co. brand are also all-new ready-to-eat (RTE) products from GSC including Handcrafted Gourmet Popcorn and Crispy Salmon Skin, which can be purchased over-the-counter at GSC theatre concessions. Those who enjoy the taste of cinema popcorn can bring home the mushroom-shaped Gourmet Popcorn comes in Crunchy Caramel (250g), which is served in a resealable bag for enjoyment at the movies or even at home or on-the-go. The Crunchy Caramel Gourmet Popcorn is now available at all concessions counters at an introductory price of RM20 (regular price: RM29). A Sour Cream and Onion (180g) variant will soon be available in cinemas in May 2022.
For savoury snack lovers, there is the Crispy Salmon Skin (60g), which comes in Wasabi and Salted Egg flavours. An addictive treat for the palate with every bite, the Crispy Salmon Skin retails at RM16 for a limited-time (regular price: RM19) and is available for purchase from 1 May 2022 onwards.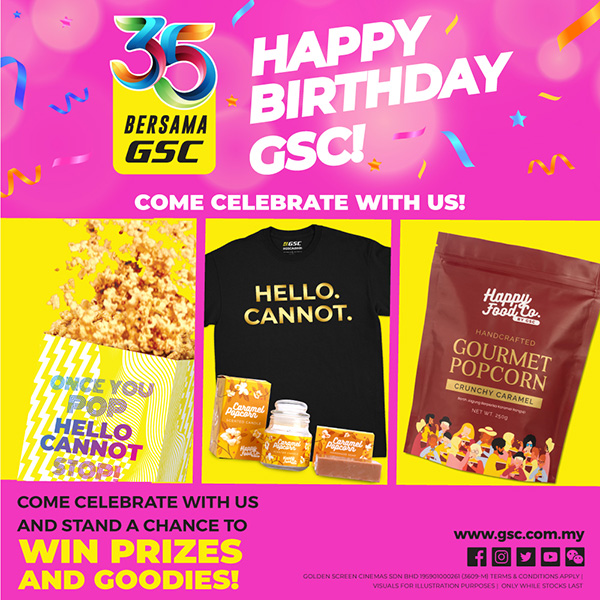 Exciting deals and giveaways from 1 April 2022
In celebration of its 35th birthday, GSC customers can look forward to contests and giveaways of smartphones and other exciting prizes, happening on GSC's social media accounts throughout the month.
For those who enjoy shopping online, Keepsake at shop.gsc.com.my also offers a range of RM35 promotions throughout April. This includes:
| | | | |
| --- | --- | --- | --- |
| Products | GSC Fashion Face Mask | GSC Tote Bag | Caramel Scented Soap & Candle |
| Duration | 1 – 10 April 2022 | 11 – 17 April 2022 | 18 – 24 April 2022 |
| Price | 10 pieces for RM35 | 2 bags for RM35 | Any 2 items for RM35 |
Not only that, all Keepsake purchases above RM35 are also entitled to get a complimentary set of #GSCAdmin stickers.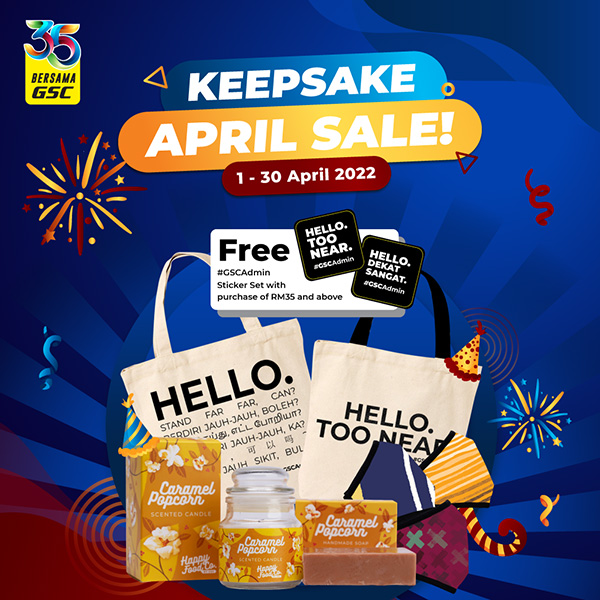 Renewing our commitment to autism awareness
With World Autism Month coinciding with GSC's birthday month in April, GSC is also proud to announce that 2022 will see the organisation championing a larger cause for its autism corporate social responsibility (CSR) with a year-long initiative called "Loving Autism" #BersamaGSC.
In line with the company's autism initiatives over the last six years, April this year will see a re-run of the French film, The Specials (Hors Normes) from 1-13 April 2022, as well as the screening of the English documentary, The Reason I Jump from 14 April-4 May – the first time this film has ever been shown in Malaysian shores. Both films will be shown exclusively in 28 GSC cinemas nationwide including:
GSC Mid Valley Megamall
GSC 1 Utama
GSC MyTown
GSC The Starling Mall
GSC Tropicana Gardens Mall
GSC CITTA Mall
GSC Subang Parade
GSC IOI City Mall
GSC IOI Mall
GSC Quill City Mall
GSC Paradigm PJ
GSC Setia City Mall
GSC Melawati Mall
GSC Setapak Central
GSC Nu Sentral
GSC Ipoh Parade
GSC Gurney Plaza
GSC Sunway Carnival
GSC Aman Central Mall
GSC Palm Mall Seremban
GSC AEON Bandaraya Melaka
GSC Paradigm JB
GSC KSL City Mall
GSC AEON Bandar Dato Onn
GSC The Mall,
Mid Valley Southkey
GSC East Coast Mall
GSC Suria Sabah
GSC CityOne Kuching
The Specials, filmed by renowned French directors, Olivier Nakache and Éric Toledano, is based on a true story about two men who look after autistic children and troubled teenagers and how both communities come together in an enriching partnership that benefits both groups.
The Reason I Jump is based on the best-selling book by Naoki Higashida, and is an immersive cinematic exploration of neurodiversity through the experiences of five remarkable non-speaking autistic people from around the world. A truly sensorial experience, it opens a window for audiences into the world of autistic people as perceived through their senses.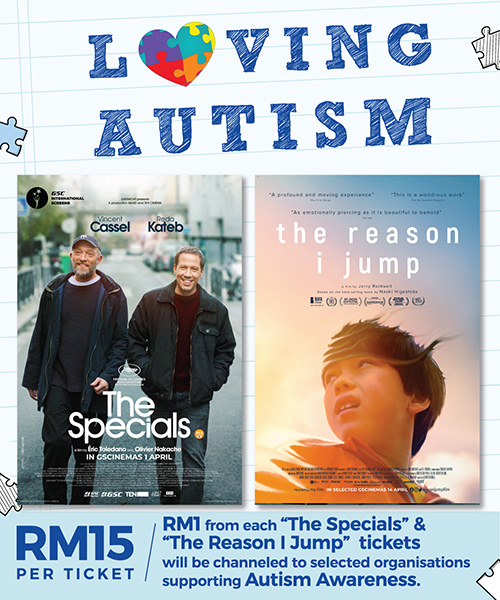 Like previous films, Redha in 2016 and The Wayang Kids in 2018, GSC will be donating RM1 from every ticket sold to selected autism charities and organisations. Tickets to each film are priced at a flat RM15. Companies and organisations that are keen to host private screenings of the film or even host their own fundraiser to give back to an autism charity of their choice – may also book a hall to watch The Specials and The Reason I Jump.
This year's autism efforts, however, will not only see GSC only showing autism-related films but also embarking on sensory-friendly screenings for autistic and neurodivergent groups. These sensory-friendly screenings are designed to make the cinemas more accessible for neurodivergent audiences with a lowered audio volume and dimmed lights throughout the screening. Available every second Sunday of the month from May 2022 until the end of the year, organisations supporting such communities are eligible to apply for the complimentary screening, which will be held in selected GSC theatres in the country.
For more details on the sensory-friendly screenings, please visit www.gsc.com.my.
More information about #BersamaGSC will be made available on GSC's social media and website at www.gsc.com.my in the coming months. Please follow GSC at @gscinemas on Facebook, Instagram, or Twitter to discover more content about the celebrations.