Mention OPPO and the word 'innovation' would very likely come to mind. The brand, which is synonymous with cutting edge technology, as demonstrated recently at the Mobile World Congress 2022 (MWC), continues to explore and inspire in line with its refreshed brand vision of "Inspiration Ahead", providing users' with the most ideal digital experience.
In line with this ethos, OPPO announced its exciting fleet of products, among which includes the 150W SUPERVOOCTM flash charge with Battery Health Engine that doubles battery lifespan and 240W SUPERVOOCTM flash charge that charges 4500mAh in 9 minutes.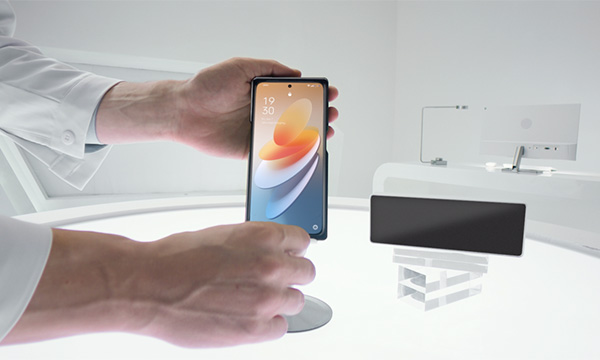 One of the key features of a smartphone is its battery capacity and OPPO's flash charging technology is known to be ahead of its time, ever since the introduction of its 5V/4A flash charging technology in 2014. With its latest SUPERVOOCTM flash charge technology, users are promised lightning fast charging speeds to deliver power at the right amount of voltage and current, minimizing battery degradation issues and ensuring a longer lifespan.
OPPO understands how users require smartphones with batteries that last them the entire day and the SUPERVOOCTM technology enables charging from 0% to maximum capacity in just under half an hour, giving users the convenience to play, work, and seek inspiration with their ever-ready supercharged OPPO device in hand.
In addition, OPPO also launched the OPPO 5G CPE T2 which is set to improve user's 5G experience. The 5G CPE T2, which will be made available to the local market in H2 2022 has the potential to not only encourage more 5G adopters locally but also further the uptake of 5G worldwide. The OPPO 5G CPE T2, a small, portable cylindrical device, was first introduced during MWC 2022 and features a powerful, all-round 5G connectivity. The T2 is designed to be the core hub of a multi-scenario, multi-device connected experience.
CPE works by converting mobile network signals, like 4G and 5G, into Wi-Fi or LAN networks that can be connected by multiple devices. With 5G deployment rapidly expanding at a global level, 5G CPE is taking up a critical position in enabling people to connect to the high-speed internet experience 5G has to offer. Simply plugging in a 5G SIM card, users can connect multiple devices and enjoy the fast speeds offered by 5G. 5G CPE also enables those with limited access to fixed-broadband internet an alternative to enjoy fast internet access.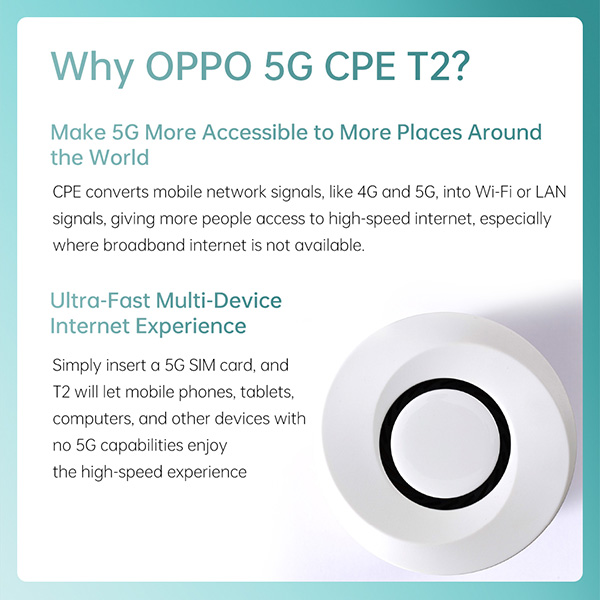 OPPO has been able to achieve these landmark achievements through its efforts in commercializing 5G over the past few years. As of March 2021, OPPO's collection of 5G communication standards-related patents covers more than 20 countries and regions worldwide. In the 3rd Generation Partnership Project (3GPP), OPPO participated in standard-setting for all 5G NR key areas in Releases 15 and 16, producing over 3700 specification documents.
OPPO is now working hard on conducting in-depth research for standards in Releases 17 and 18. As one of the first companies to launch research initiatives into B5G/6G, OPPO's standards team launched the first 5G+AI study in 3GPP's SA1 project, exploring how 5G can be enhanced by AI. With a solid technological foundation, OPPO is also working to popularize 5G devices by offering a diverse range of products for customers worldwide. In addition, OPPO launched its 5G Innovation Lab to elevate 5G standards for its range of smartphones globally.
With Malaysia launching test trials in selected locations across the country, 5G adoption will soon be rising and OPPO is ever ready for this moment, having built a lasting legacy of many industry-first achievements in 5G. In fact, OPPO launched the industry-first 5G voice service technology VoNR based on the SA network on a commercial device.
Functional innovations such as these have enabled OPPO users the opportunity to enjoy an instant connection to clearer sounds from callers with almost no background noise. This enables OPPO to become the brand differentiator, especially when marking special moments such as an ultra-clear video call with a loved one.
Alongside its 5G advancements, OPPO has gone one step further by diving into 6G technology research. This includes the release of the brand's first 6G white paper – "6G AI-Cube Intelligent Networking". It features an in-depth look into how artificial intelligence can empower 6G network architecture. The white paper also proposes a more detailed vision for the design of next-generation communication networks.
At the core of it, OPPO firmly believes in functional technology based on its brand mission of "Technology for Mankind, Kindness for the World". With the upcoming launch of more 5G-enabled devices, OPPO users will be better equipped to adopt 5G and tap into a new world of technology, while being given more options of 5G devices to choose from to partner them through their daily digital lifestyle.
For more info on OPPO's 5G CPE T2, please visit this link.
Meanwhile, to learn more about OPPO's impressive flash charging technology, visit here.