If you are a Malaysian artist working on either traditional or tech mediums (watercolours, oil, collage, sketch, digital, new media, etc) then this is the news you have been waiting for you to digitise your work into a NFT (non-fungible token) with minimal hassle.
NFTapir (nftapir.com), a new Malaysian-born online NFT marketplace curating quality art, is looking to onboard 100 local artists over the next few weeks by adopting a simplified approach to ensure a quick and easy entry process that allows artists to digitise their works by removing as much clutter faced with any typical crypto interactions. This will especially appeal to contemporary artists who are hesitant to enter the digital realm due to the perceived complexities of the NFT space.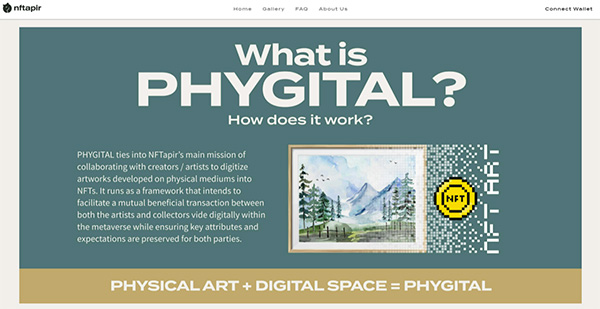 Furthermore, it allows for physical art pieces to be included into the NFT space, making it Malaysia's first curated NFT marketplace with physical art support using the 'PHYGITAL' framework, so it doesn't matter what medium the artists use, almost every art piece can be digitised and listed as an NFT. There are already several PHYGITAL works minted on the nftapir.com gallery by early adopter artists based out of Penang, Ipoh, Malacca & Johor Bahru.
The site compliments the entire arts & culture ecosystem by uniting local artists and global collectors/buyers via a single platform, taking a digital-first approach that is built for resiliency, offering the art community a gateway to a marketplace beyond Malaysia.
"There is a renaissance in the art scene where artists who are ready to embrace digitisation and showcase
their art works online are earning more than they ever have," said nftapir.com co-founder Zang Tan.
"We are excited to empower local artists on their journey into the metaverse and our goal is to decomplex the NFT journey thus allowing both artists and collectors to trade art with minimal prerequisite knowledge of blockchain technology. This further creates new opportunities for artists to continue to display their art digitally regardless of movement restrictions that have kept artists and collectors from physically trading at galleries throughout the pandemic," Zang Tan added.
The NFTapir platform is also unique for several other reasons:
Enabling only curated artists to mint their work and enjoy a true-gas-free experience as opposed to
"lazy minting".
Artist do not have to pay to showcase their work as they will enjoy gas-free access. The fee is
sponsored by NFTapir
Artists have more control and authority over their own NFTs which ensures proper registry of each
work therefore protecting the value of the art piece and record of ownership
Ultra-low gas fee for collectors as the platform sits on Polygon
Stablecoin token transaction for better preservation of art value in light of market volatility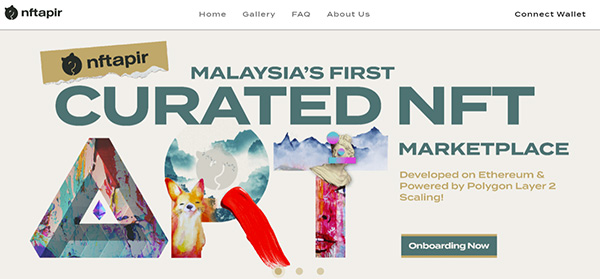 "Our goal is to ignite a movement that is beneficial for the Malaysian arts community by elevating its digital presence. We believe that offering a wider collection digitally will appeal to domestic collectors and attract international collectors who appreciate Malaysia's unique culture and heritage," Zang Tan explained. "Our platform is made for all and we also welcome seasoned Digital Artists to be part of our movement."
The nftapir.com platform is developed on Polygon Blockchain based on feedback gathered from the
Malaysian artist community, which is demanding a marketplace that mitigates volatility whilst providing a
near-zero gas fee experience for both artist and collectors.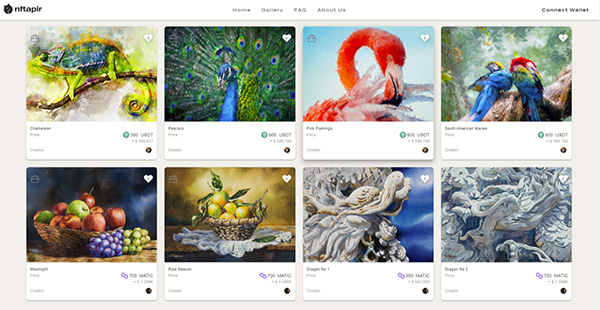 Through NFTapir, artists can mint a digital copy of their pieces on the site, and buyers can purchase its NFT. It also celebrating the vision of PHYGITAL, which enables contemporary artists, in particular, to enjoy the benefits and utilities of NFTs, tapping into widened market access as well as better preservation of value and record of ownership. Artists who mint NFT artworks with PHYGITAL can fulfil delivery of the accompanying physical artwork at the collector's request.
"We aim to enable the marketplace trading function in April 2022 once we have hit our goal of onboarding 100 artists," Zang Tan said. Meanwhile, interested parties can visit nftapir.com and view its collection, which is currently on exhibition mode.