Celebrating four amazing years of being the top mobile game loved by many, PUBG MOBILE is hosting its largest 4th anniversary event and is inviting its fans to join in on the festivities. The 12-day roadshow event is a collaboration between Tencent Games, PUBG MOBILE and Xiaomi, the third largest global smartphone brand as its official sponsor.
PUBG MOBILE has partnered with Xiaomi to launch a roadshow event three weeks ago as part of the celebration to bring the game closer to fans in multiple states nationwide. The roadshow dispatched special PUBG MOBILE trucks, also known as AirDrop trucks to various locations in Johor, Kedah, Kuala Lumpur, Penang and Selangor.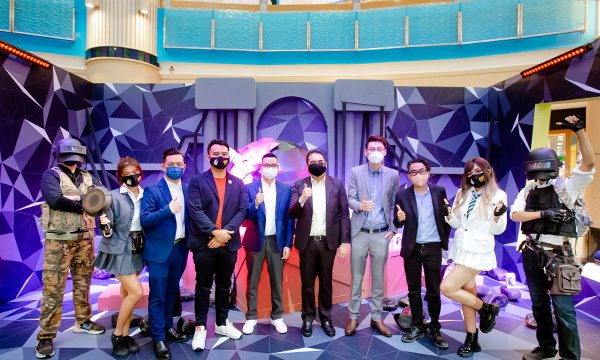 As the climax of its anniversary event, PUBG MOBILE will be hosting its biggest 4th birthday bash from now until 3 April 2022 at LG2, Blue Concourse, Sunway Pyramid, with the mall being an official location sponsor of the celebration.
Fans who drop by the PUBG MOBILE 4th Anniversary event can take photos with the PUBG MOBILE sculptures and cosplayers who will be present at the venue. They can also create amazing memories and take a piece of their experience home by posing at the special decorated photo booths. Visitors can also win exclusive prizes including PUBG MOBILE 4th Anniversary-themed caps and face masks, in-game skins as well as a Redmi Note 11 smartphone from Xiaomi and more through the Claw Machine and Spin to Win games.
On 26 March, PUBG MOBILE fans can get up close and personal with well-known sensational PUBG MOBILE Malaysia icons and watch the recording of the PUBG MOBILE 4th Anniversary variety show. PUBG MOBILE icons who will be present at the event include Master Ramen, J Hunter, OTG, Yakuza, EmiMohamad, Soultann, FattahZie, Raa Suzuran, Miss Rose, Fiera Fendi, MunaXmoci, Nunaa and Sharina Richie. These icons will race each other in a battle of strategy and wit to complete missions around Sunway Pyramid. Fans will get the chance to watch the exclusive premiere of the variety show's pilot episode when they drop by the PUBG MOBILE 4th Anniversary event on 3 April 2022.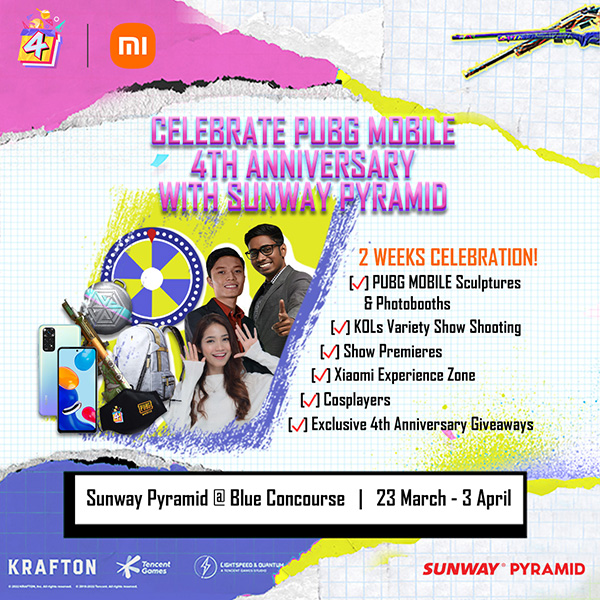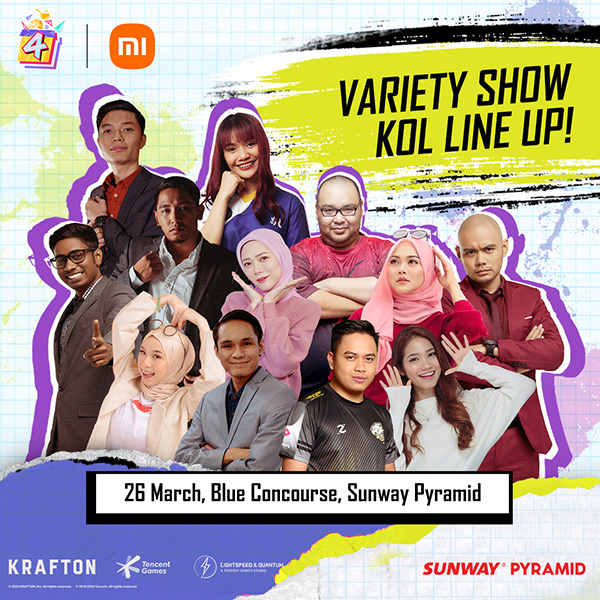 "In the blink of an eye, PUBG MOBILE is now celebrating its 4th anniversary and has evolved so much. We now have our own esports ecosystem and have been rewarding PUBG MOBILE fans with exciting content in collaboration with various prominent brands. We are extremely proud to be chosen as a medalled event for the esports category as part of the Asian Games PUBG MOBILE is honoured to work with the Olympic Council of Malaysia (OCM) once again to create a healthy and inclusive esports ecosystem for all the PUBG MOBILE players out there," said PUBG MOBILE.
"As the official smartphone partner, we are thrilled to celebrate together with PUBG MOBILE for their long-awaited fourth anniversary this year. We hope that those in Malaysia can come together for this special celebration, as there are plenty of exciting activities. We also can't wait to see PUBG MOBILE fans, Xiaomi Fans and avid gamers try casual gaming on the flagship-level capabilities of our latest affordable mid-range king, the Redmi Note 11 series. Xiaomi's innovative technology through our smartphones aims to challenge the boundaries of one's vision, sensation and speed, so don't miss out and experience all the excitement with us," said Xiaomi Malaysia.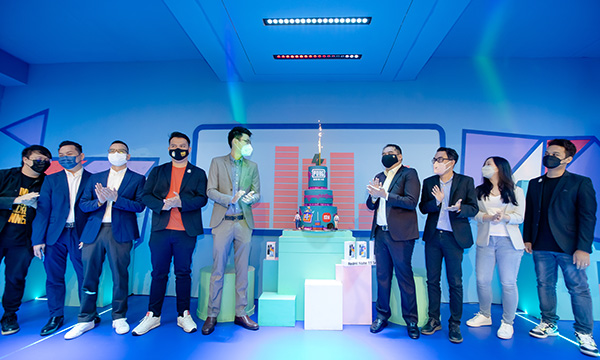 The Olympic Council of Malaysia (OCM) was also present at the event, announcing their collaboration with Tencent Games for the Asian Games 2022 and the upcoming PUBG MOBILE City Tournament.
"Thank you Tencent Games and Xiaomi for inviting us to be a part of the PUBG MOBILE 4th Anniversary Celebration. To commemorate this special occasion, we would like to make a special announcement in regards to The Road to 19th Asian Games (RTAG) Hangzhou 2022 programme, an esports programme jointly created by the Olympic Council of Asia (OCA) and the Asian Electronic Sports Federation (AESF). The Olympic Council of Malaysia (OCM) will be organizing a national selection event in May 2022 as part of the RTAG programme to select the best players to represent Malaysia in the upcoming Asian Games. We hope to encourage more local esports talent to participate in the programme, especially since we have many highly skilled talents among our Malaysian youths who are on par with the world's best players. Additionally, OCM is collaborating with Tencent Games to further develop and nurture the skills
of the PUBG MOBILE community for the upcoming PUBG MOBILE City Tournament. We are excited to discover even more young talents who will be representing Malaysia to compete on the global stage in the near future," said Olympic Council of Malaysia.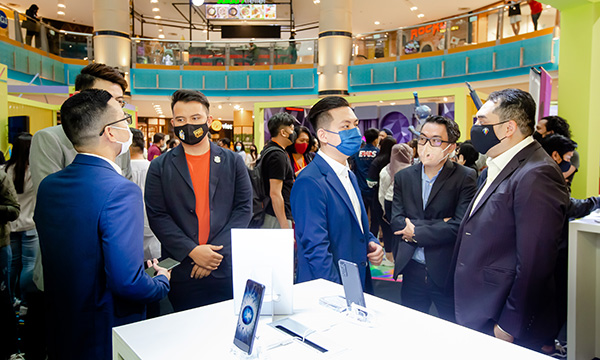 OCM is the National Olympic Committee responsible for Malaysian Olympic athletes. The council is committed to propel Malaysia's Olympic athletes forward while cultivating the spirit of sportsmanship and discipline to enforce the principles of an Olympic athlete through sports and education.
Recently, PUBG MOBILE was announced as a medalled event as part of the Asian Games 2022 esports category, where Malaysia's team of esports athletes are eyeing for gold. Asian Games 2022 is a continental multi-sport event held every four years where the best athletes from all over Asia compete. The Asian Games 2022 is recognised by the International Olympic Committee as the second largest sports event, following the Olympics. Asian Games 2022 will be held at Hangzhou, China from 10 to 25 September 2022.
For more information, visit PUBG MOBILE's official social media pages: