Yoodo – Malaysia's first truly customisable and 100% digital mobile service is empowering users with unlimited possibilities through their revolutionary new unlimited plan. The plan lets users #BuatUnlimitedSendiri with Yoodo's truly customisable unlimited plan.
With unlimited data in Yoodo's new Unlimited Plan, users can now do what they want all day long, without worrying about running out of data. Whether its racking up chicken dinners in PUBG Mobile, binging on every episode of Brooklyn Nine-Nine on Netflix or spamming memes all day to your entire contact list on WhatsApp.
"Yoodo has always been about innovating to give users the very best Telco experience," said Chow Tuck Mun, Head of Yoodo. "Today, we push the boundaries of innovation even further to bring our users more customisation than ever before. Acting on a much-requested product from our users, we are proud to announce Yoodo's Unlimited Plan."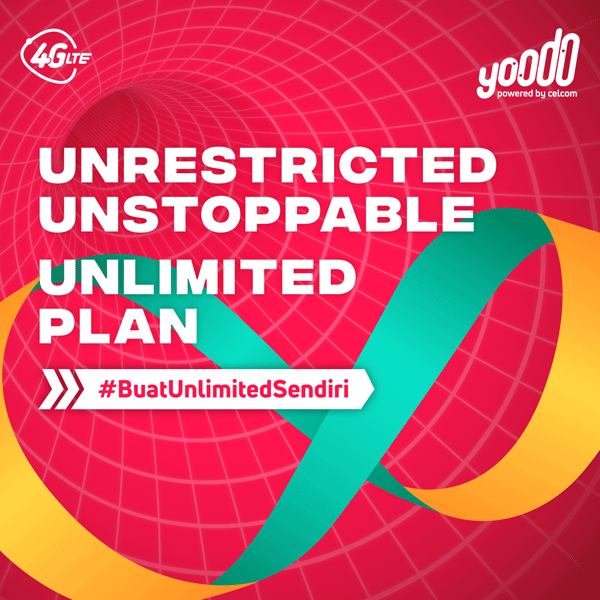 Users can also enjoy ultimate control over their mobile plans – being able to customise the Internet speed, hotspot data quota as well as the amount of voice minutes and SMS within their unlimited data plan. As part of the package, subscribers to Yoodo's Unlimited Plan will receive free voice minutes and free hotspot quota.
"In line with our signature approach, we are doing unlimited our way. Our Unlimited Plan is the only one in the market that offers users true customisation and control. From the details of the plan to additional add-ons for high-speed internet, users have the power to personalise every aspect of the Unlimited Plan," added Tuck Mun.
Yoodo's Unlimited Plan comes in two recommended options – Unlimited Atas (at RM43 per month for 6 Mbps data speed) and Unlimited Bajet (at RM35 per month for 3 Mbps data speed). If these recommended options are not for you, Yoodo also lets you build your own personalised Unlimited Plan.
Yoodo's Unlimited Plan will also allow users to enjoy greater flexibility. With the plan, users will be able to switch back to a high-speed plan at any point with no waiting time or penalties associated with the change.
On top of this, new Yoodo users will also enjoy free 5GB data upon activating their Yoodo SIM card. For Unlimited plan users, that's free 5GB of high-speed data. If you are looking to switch to Yoodo, simply download the Yoodo App to register and order a SIM or head to your nearest 99 Speedmart to purchase a Yoodo SIM at just RM2.