Naza Italia, the official importer and distributor for Ferrari in Malaysia, has unveiled the fresh-faced Ferrari Petaling Jaya showroom. The double-storey showroom, which was revitalized in accordance with Ferrari's new Corporate Identity design, was launched in conjunction with the official arrival of the Ferrari SF90 Stradale, the brand's first plug-in hybrid vehicle.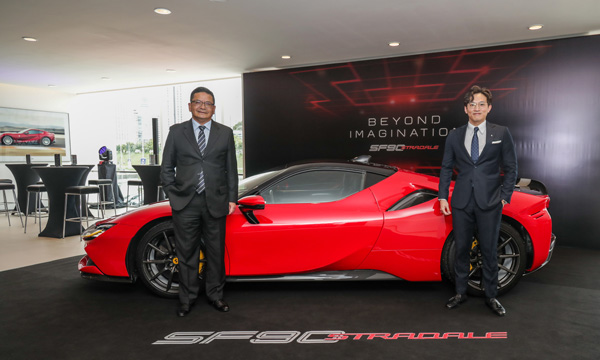 Present to mark the occasion were Dato' Nik Hamdam Nik Hassan, Group CEO, Automotive Group, Naza Corporation Holdings Sdn Bhd and Mr Damien Woo, National Brand Head – Ferrari of Naza Italia Sdn Bhd. In light of the current restrictions on international travel, Mr. Dieter Knechtel, President of Ferrari Far East and Middle East, was unable to be present and instead connected with the guests via pre-recorded video.
"The newly renovated showroom makes each visit a truly immersive experience, enabling the public to have a taste of "la dolce vita", as known by Ferrari owners across the globe. Every detail in this beautifully designed space is an ode to this iconic brand's automotive elegance and the exclusive lifestyle that complements it," said Dato' Nik Hamdam Nik Hassan.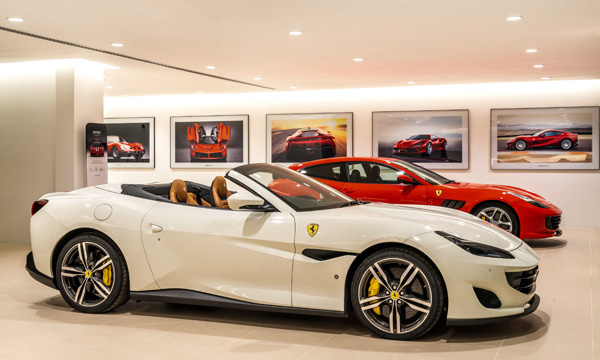 A total of RM3.5 million was invested in the renovation and refurbishment of the showroom. The chic style reflects Ferrari's new Corporate Identity (CI), with Ferrari Petaling Jaya among the first few dealers in South East Asia to implement these design considerations. The showroom is built over two floors, covering a total of 11,900 sq ft, and can accommodate 7 cars at any given time.
The ground floor features the main display area, which showcases the latest Ferrari models available to the local market and includes a stylish community table. Sitting alongside it is a dedicated customer lounge, finely furnished and equipped with a coffee bar to provide clients a luxurious space with a community feel – a place to relax and gather. The experience and ambience of this area gives guests and clients the impression that this is an exclusive club and not just the average car dealership. A heritage wall and library offer a glimpse into Ferrari's history, legacy and the brand's evolution into the automotive power house that it is today. It also includes some of Naza Italia's notable achievements over the last 11 years as the nation's sole authorised dealer of the Ferrari brand.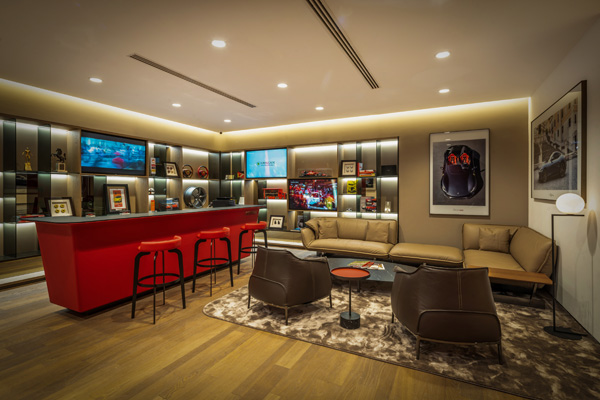 The configuration room is decked out with a broad selection of materials and options as well as the exclusive "atelier" panels, which rotate and allow for the room to be closed off when discerning customers would prefer to design their Ferrari with peace and privacy. This experience provided to Ferrari clientele is akin to that offered at the factory in Maranello, with an array of the most exquisite samples of fabric, paint, leather and livery available for their choosing. Also located on the ground floor is a brand experience video wall and a private consultation room. A delivery area has been thoughtfully designed for new Ferrari owners and their loved ones to celebrate the occasion of being handed the keys to their Prancing Horse and taking that memorable first drive.
The first floor is partially dedicated to Ferrari Approved, the brand's pre-owned certification programme. Here there are a few pre-owned models on display, all of which have been through a meticulous 190-step check and prepared to ensure that their new owners receive a Ferrari in world-class condition. (Note: during the official launch of the showroom, there were no pre-owned vehicles on display) The upstairs area also consists of sleek office spaces and another plush consultation room.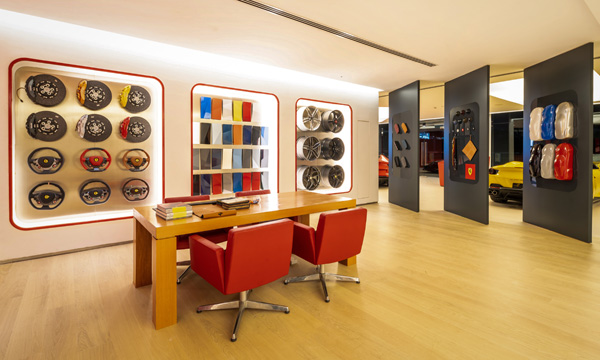 "Throughout the years, we have actively invested in our commitment to developing and nurturing relationships with our customers. This elegantly renovated showroom enables us to build upon those customer connections whilst also offering them a sense of community in a space where they may gather with others who share their passion for the Prancing Horse," shared Dato' Nik Hamdam.
The Ferrari Petaling Jaya showroom is situated at Naza Italia, adjacent to the nation's only authorised service centre for Ferrari. This location has been the main hub for Ferrari in Malaysia since 2009.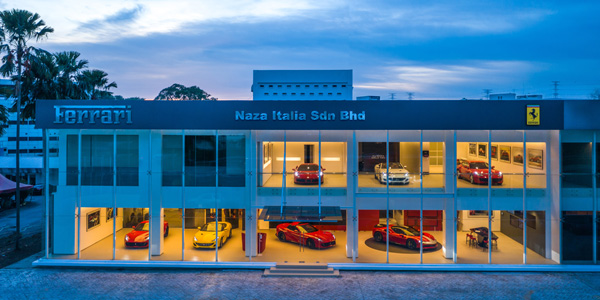 Ferrari Petaling Jaya Showroom
3, Jalan 51A/221, Seksyen 51A, 46100 Petaling Jaya, Selangor
Opening hours:
9.00am to 6.00pm, Monday to Friday
10.00am to 4.00pm, Saturday
By appointment only, Sunday and public holidays
More exciting information about Ferrari Malaysia may be obtained at www.facebook.com/ferrarimalaysia.nazaitalia. Follow @ferrari.malaysia on Instagram for the latest updates and offerings of Ferrari and Naza Italia.