It is time to kickstart the month of August with a bang with crazy-good bargains on HUAWEI products. Giving Malaysians easier access to innovative products at hard-to-resist prices, Malaysians can now stand to walk away with a RM88 accessories voucher on HUAWEI Store, on top of other amazing offers.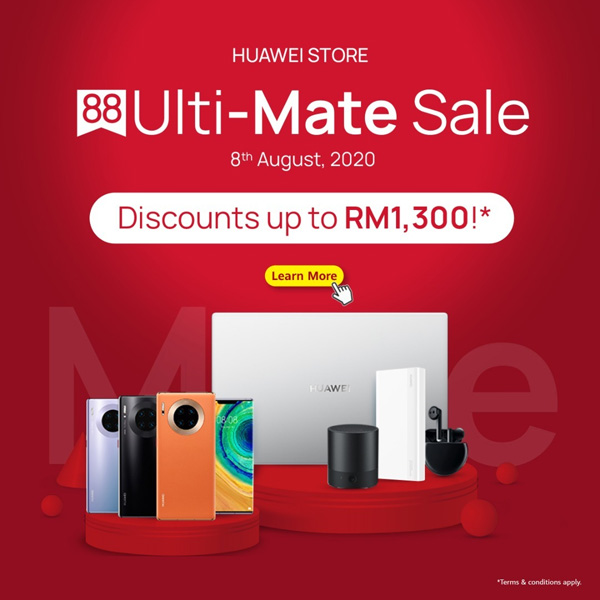 What you can buy with RM88 accessories voucher in HUAWEI Store?
Log into the HUAWEI Store for any three (3) days between 1st to 8th August 2020.
Once you have clocked in for three (3) days, you can redeem a RM88 voucher for accessories on 8th August 2020, applicable only with a minimum purchase of RM200. Bear in mind that you can only use this voucher on 8th August 2020, so be sure to plan out what you want to purchase!
For example, you may use the RM88 voucher to buy the HUAWEI FreeBuds 3i, HUAWEI SuperCharge Wireless Charger Stand, HUAWEI CM70-C FreeLace Earphones and more!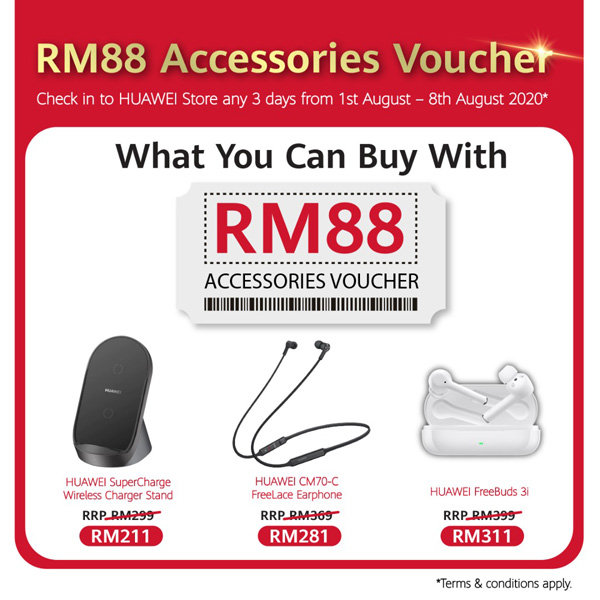 The full list of accessories can be found here.
What benefits you can enjoy from the HUAWEI Store Pick Up service on 8th August? HUAWEI is offering a store pick up service and is commonly known as O2O, which stands for Online-to-Offline service. Through this, consumers can enjoy online rewards while experiencing offline services too.
So, what are the benefits of this O2O Store Pick Up service? In simple terms, the store pick up service can save you money, time and hassle.
The O2O Store Pick Up service includes the following benefits:
Most important thing for every customer is to have great discounts. There are a bunch of great deals for every O2O event.
Purchasing online is more convenient because you don't need to line up at the store. Even if you do, you might be disappointed to find out what you want is out of stock.
As the name suggests, the Store Pick Up service allows you to choose your preferred store to pick up the goods at any time that you are available. You can go during lunch hours or after work. This is applicable to only operational hours of Huawei Stores.
You can save time waiting for delivery and avoid the risk of losing the item or receiving damaged goods during delivery.
At the store itself, you can also consult the knowledge salesperson should you encounter any issues with the product.
Consumers can participate in different activities on the online store and retail store at the same time.
On 8th August 2020, HUAWEI offers you another series of surprises while you enjoy the Store Pick Up service. For one day only, get further discounts on the items listed below:
| | | |
| --- | --- | --- |
| Product | RRP | Store Pick Up Service Price |
| HUAWEI Band 4 Pro | RM 229 | RM 149 |
| HUAWEI Y7p | RM 699 | RM 499 |
| HUAWEI GT2e | RM 599 | RM 499 |
| HUAWEI MateBook 13 i5 | RM 4,499 | RM 3,999 |
| HUAWEI MatePad | RM 1,399 | RM 1,199 |
Other Must Buy Items This 8/8
Besides the RM88 Accessories voucher and Store Pick Up service, HUAWEI also provide you a range of "MUST BUY" items on HUAWEI Store, Lazada and Shopee. Among these items, you can enjoy discounts up to RM1,300.
Want to know which products are a part of these amazing deals? Check out the list below!
| | | | |
| --- | --- | --- | --- |
| Product | RRP | Must Buy Price | Available Platforms |
| HUAWEI Mate 30 Pro 5G | RM 4,199 | RM 2,999 | HUAWEI Store + Lazada + Shopee |
| HUAWEI Mate 30 | RM 2,499 | RM 1,999 | HUAWEI Store + Lazada + Shopee |
| HUAWEI Mate 30 Pro | RM 3,599 | RM 2,299 | HUAWEI Store + Lazada + Shopee |
| HUAWEI MateBook D 15 (8+256) | RM 2,299 | RM 2,099 | HUAWEI Store + Lazada |
| HUAWEI T5 | RM 899 | RM 599 | Lazada |
Time to plan ahead and get rewarded this 8th August 2020 with amazing gifts and deals from HUAWEI! But don't keep this to yourself. Spread the word: tell all your friends and family! While you wait for August to arrive, you can bookmark the links below:
For more information on all these HUAWEI products and more, stay tuned to HUAWEI's Facebook page at www.facebook.com/HUAWEIMobileMY.