Globally renowned Malaysian artiste Yuna will be the headline act in the finale of U Mobile's #GroovesWithU, a series of music performances that are streamed online for free. To mark this festive period, the #GroovesWithU finale is a Raya Special so one can expect Yuna to belt out a couple of her Raya favourites. Audiences will also be in for a rare treat as Yuna will also be performing some of her biggest Malay hits during the finale. The special performance will take place on 30 May 2020, 8.30pm on U Mobile's YouTube account (www.youtube.com/umobile).
To make this performance even more meaningful, Yuna will be donating portion of her artiste fees to The Lost Food Project and KITA Fund, two organisations that have been assisting communities affected by the COVID-19 pandemic.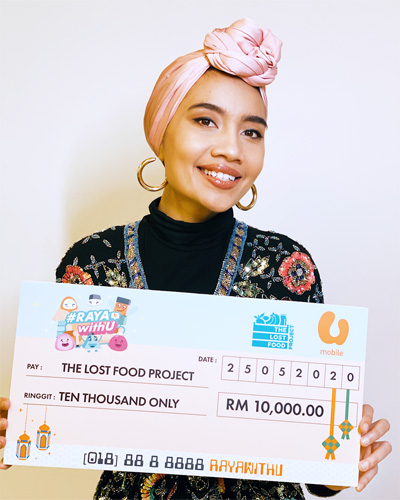 "U Mobile is very excited to be collaborating with Yuna on our #GroovesWithU Raya Special. We created this initiative at the start of MCO with the aim of bringing positivity and joy to the many who are staying safe at home. During the campaign, we have had artistes such as NYK, Airliftz, Mafidz and Aina Abdul performing and streaming for free to our Instagram community. The finale #GroovesWithU Raya Special, which will be streamed via U Mobile's YouTube account, will certainly be very memorable as, aside Yuna, we have a great line-up that includes SonaOne, Pastel Lite and Bil Musa. We hope their performances will add much joy to the festive season," said Tiffany Chew, Head of Corporate Branding and Communications at U Mobile.
Yuna also shared her enthusiasm on the collaboration. "I am delighted to be invited to be part of U Mobile's #GroovesWthU Raya Special! This show is particularly meaningful to me as firstly, I'm excited that I am able to sing for and engage with my fans even in this time of social distancing. Secondly, I am able to perform some of my favourite Hari Raya tunes to make this Raya even more memorable.  I'm also glad to mark this partnership with U Mobile in a meaningful way with a donation to two organisations who are providing COVID-19 relief to those in need, The Lost Food Project and KITA Fund."
#GroovesWithU music streams is part of U  Mobile's #RayaWithU campaign which aims to spread the message of giving and positivity while supporting local businesses and talents at the same time. The #GroovesWithU Raya Special featuring Yuna, SonaOne, Pastel Lite and Bil Musa will stream for free starting 30 May 2020, 8.30pm on www.youtube.com/umobile. More info at www.instagram.com/myumobile.