Signify, the world leader in lighting, has made significant progress in 2019 toward its sustainability targets set for 2020 as part of its Brighter Lives, Better World sustainability program. The company further reduced its carbon footprint by 9.5% and increased the number of markets where it achieved carbon neutrality in 15 out of 19 countries, bringing the brand closer to achieving company-wide carbon neutrality this year.
In 2019, Signify generated 82.5% of its revenues from energy efficient products, systems and services, ahead of its 2020 target of 80%. The brand has also achieved carbon neutrality in markets in Latin America and in ASEAN, Far East, India, Indonesia and Pacific. On top of that, Signify has reduced its waste to landfill by 70%, with 90% of its waste recycled. With a supplier sustainability performance rate of 99%, the brand is well ahead of its 2020 target of 90%. Signify wants to assure a safe and healthy workspace for its employees and are 9% ahead of its 2020 safety target.
Farming for The Future
The lighting brand is also expanding its collaboration with Planet Farms, a leading European operator of vertical farms based in Italy. Thanks to the latest agreement, Europe's largest vertical farm will boost the quality and yield of the crops using the Philips GreenPower LED production module managed by the Philips GrowWise Control System. This enables Planet Farms to produce and deliver the tastiest aromatic herbs and lettuce to its customers in Italy all year round.
Signify has also reached an agreement to provide horticultural LED grow lights to an additional five vertical farms that Planet Farms is planning to build in different European countries in the coming years, including Switzerland and the UK.
The Philips Greenpower LED production module, Signify's latest horticultural LED innovation for vertical farming, helps growers optimize multilayer crop cultivation. By managing the lights with Philips GrowWise Control System, growers can easily create and run custom light recipes on dimmable and color-controllable modules to meet the needs of different crops and growth phases. This gives growers the ability and flexibility to create and control their own time-based light recipes and improve crop results and operational efficiency in closed, climate-controlled cultivation facilities.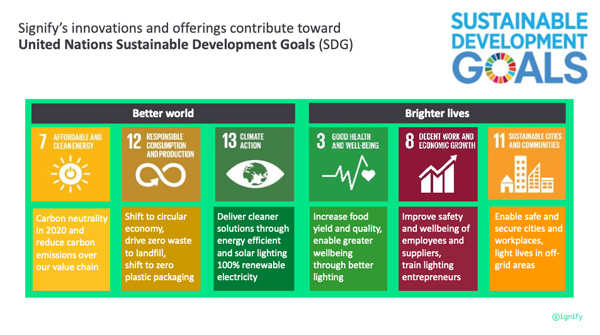 Raising the Bar for Health and Wellbeing in Office through Sustainability
Keeping employees comfortable and healthy in an office is critical. Signify is launching new Philips IoT sensor bundles that collect and deliver data via the Interact Office connected lighting system and Environmental monitoring API's. The new sensors that are being launched enable businesses to monitor their office environment and optimize conditions for employee health and wellbeing.
The new sensor bundles can monitor occupancy, the number of people, temperature (at room and at desk level), noise levels, daylight levels, relative humidity and are Bluetooth enabled, to provide indoor positioning and navigation capabilities. Bundling and delivering these sensing capabilities into one unit eliminates the need for multiple sensors and is also much more cost effective for businesses. The ability to differentiate the office working experience can help to create a healthy place to work, and help organizations reduce absenteeism.
These new sensors are smaller than a match box and are easily upgraded on premise with a simple click and swap via an upgradeable sensor slot, a unique feature across a range of Philips professional office luminaires. There's no need to take the luminaires out of the ceiling as the sensors can be fitted from the front of the luminaire. This future-ready solution means that luminaires can now be upgraded with different sensors at any time. This gives organizations the flexibility to benefit from increased functionality coming along in the future or for example, when a new tenant wants increased functionality. The new Philips sensor bundles for Interact Office will be available by May.
Significant Sustainability Results
As recognition of its progress, Signify was named Industry Leader in the Electrical Components and Equipment category of the Dow Jones Sustainability Index for the third year in a row. In addition, the company was again included in CDP's 'Climate A list' for reducing its own environmental impact, as well as in CDP's 'Supply Chain A list.'
Signify 2019 Sustainability highlights:
Delivered more than 2.3 billion LED lamps and luminaires since we joined the Global Lighting Challenge in 2015, avoiding the release of over 56 megatonnes of CO2 emissions, equivalent to 58 medium-sized coal-fired power stations or the emissions from 21 million cars
Generated 82.5% of our revenues from energy efficient products, systems and services
Reduced our global carbon footprint by 9.5%
Increased our share of renewable electricity to 94%
Sent 70% less waste to landfill and recycled 90% of our total waste
Provided a safe and healthy workplace with a Total Recordable Case rate of 0.32
Achieved a supplier sustainability performance rate of 99%
For more details on Signify's sustainability performance visit the website or download the Signify 2019 integrated Annual Report.