With the aim of elevating customer experience, OYO Malaysia and Telekom Malaysia Berhad (TM) today formalised a commercial and marketing arrangement, extending the companies' existing working relationship to benefit more local as well as foreign travelers.
Under the partnership, TM will be providing its full suite of unifi services including high-speed broadband access, unifi TV and unifi Mobile to enable patrons of OYO Hotels and Homes to experience a seamless broadband and entertainment experience powered by unifi. TM will also provide dedicated customer support and technical teams for round-the-clock support at OYO Hotels and Homes to ensure business and service continuity. Meanwhile, OYO Malaysia will be offering special promos for TM customers for their stay at OYO establishments through TM's loyalty programme, TM Rewards. Besides that, both companies will work together in marketing initiatives including promoting OYO Hotels and Homes to 24,000 TM staff nationwide.
The partnership was officially announced by Vimal Balachandran, Head, OYO Homes, Malaysia and Izlyn Ramli, Vice President, Group Brand and Communication, TM.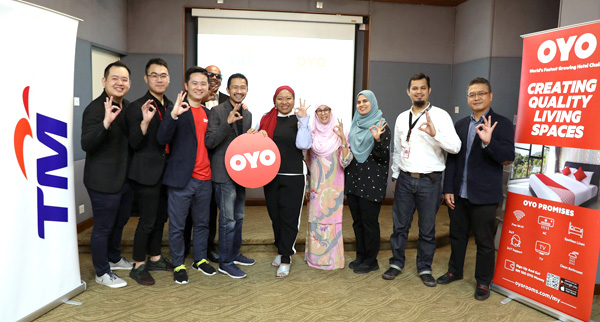 Commenting on the partnership, Izlyn said: "I am very excited with this collaboration and would like to thank OYO Malaysia for choosing us as your communications and ICT solutions partner. With the provisioning of our comprehensive converged solution by TM, OYO Malaysia is set to elevate its guests' digitally connected staying experience at its properties nationwide. Our dedicated support service team will also help to ensure that OYO guests enjoy our seamless broadband and entertainment experience. This will certainly ease OYO management's concerns on continuous operational efficiency so they can focus on their core business, which is providing the best hospitality services to their patrons. TM, as the National Telecommunications Infrastructure Provider has a higher purpose to provide Malaysians with better connectivity via our solid network infrastructure, and power Malaysia as a Digital Nation – enabling Society, Businesses and Government. Today's collaboration reflects our continued support for the Malaysian hospitality and tourism industry. We hope this will spur more Malaysians to explore our beautiful country, while they continue to enjoy internet and entertainment access on unifi!"
Welcoming TM to the extended OYO family, Vimal said that technology is at the core of hospitality at OYO. "OYO is constantly looking at ways to help asset partners transform their properties and enhance the guest experience at every step, thereby significantly increasing occupancy and profitability. The collaboration between two leaders in their respective categories continues to build on OYO's model of combining design, hospitality, and technological expertise and operational capabilities to enable our asset partners to offer good quality customer service and a seamless broadband experience to guests," he said.
"TM has been an invaluable and supportive partner to OYO from the time when we first set foot in Malaysia in 2017. We look forward to a continued working relationship as we scale and extend our leadership position in Malaysia," added Vimal.
OYO has revolutionised the fragmented and legacy-driven budget hospitality space by empowering small and independent asset owners ​with the operational capabilities and technology that enables them ​to compete with big hotel chains ​and achieve high occupancies and, therefore, yields.
OYO Hotels and Homes currently operates over 16,000 rooms in more than 450 properties that it franchises and manages in 50 cities across Malaysia. Globally, OYO is present in over 800 cities across 80 countries. OYO Hotels and Homes has over 2,500 hotels and more than 75,000 exclusive rooms under management in Southeast Asia.
Besides that, in conjunction with the holiday season, TM is also promoting OYO Malaysia at its School Holiday Carnival which is currently taking place until 7 December 2019 at KL Tower, a TM wholly-owned subsidiary and among the main tourism spots in Malaysia. The carnival lines up various activities for visitors to participate including quizzes, crossword puzzles, maze challenge, recycle initiative as well as Visit Malaysia Year 2020 campaign promo by Tourism Malaysia.