Axiata Group Berhad (Axiata) in collaboration with Cities 4.0 and Asia School of Business announced today that more than 200 participants have booked their place to battle it out in Urbanlytics 2019, a datathon for Smart Cities.
The participants will be tasked with using big data to create cashless and low-carbon city solutions with a specific focus on low-carbon mobility planning. In line with this, the champion team will receive their Grand Prize from YAB Tun Dr. Mahathir Bin Mohamad, Prime Minister of Malaysia at the Smart Cities 4.0 conference, which will be held a day after Urbanlytics 2019.
The number of participants this year is double that of the inaugural event in Malaysia, named Data Unchained, held last November.
Interestingly, Urbanlytics 2019 has also attracted a good number of female participants; more than 30% of the total participants are female.
As part of the build-up to Urbanlytics 2019 and to introduce more diversity into the field, Axiata organised a two-day Women of Data workshop which saw the participation of 145 women congregating, to obtain firsthand information and experience on what it takes to venture into the field of data science. The workshop covered the fundamentals of data science, introduced participants to open-sourced and easy to use drag & drop tools, as well as provided hands-on demo on how to perform ETL (extract, transform, load) processes, exploratory data analysis, and data modelling & communication.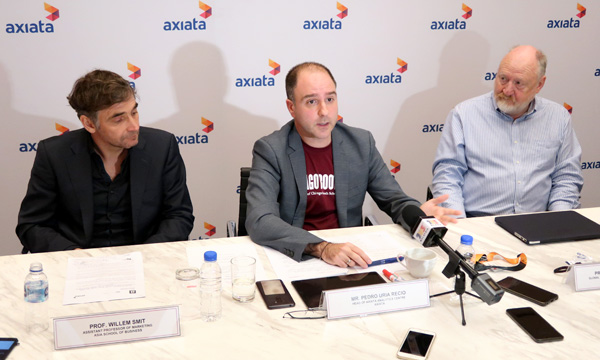 The efforts of Women of Data workshop and Urbanlytics 2019 are particularly important considering that only 18% of today's data science roles are occupied by females.
Urbanlytics 2019 has also attracted participants from countries such as Bangladesh, Cambodia, India, Indonesia, Kazakhstan, Nepal and Sri Lanka and the United States of America, in addition to Malaysia. They are vying for a slice of the over RM40,000 total prize amount as well as bragging rights as a team and individually, with titles such as Best Data Scientist, Best Data Engineer and Best Business Consultant. The prize money is a 10% increase over last year's.
This datathon challenges teams to come up with solutions to real business challenges, in 24 hours. It is expected to be a 'no-sleep' event for the participants. Anonymised datasets modelled after those available in the real world will be provided at the start of the event this weekend of 21-22 September 2019.
Outcomes may include visualizations, insights into specific variables and predictions or analyses involving the complex, external datasets. Judges will be looking for models and insights that lead to practical solutions which can impact real-life business.
With the challenge entirely focused on the open source culture of creating code and algorithms, Urbanlytics 2019 is the perfect platform for individuals to cut their teeth in problem-solving for cities, befitting this year's Smart Cities theme. The participants come from diverse background, ranging from data scientists, data engineers, programmers, graphic and interface designers, data journalists, data community activists, computer engineers, IT professionals to business consultants.
This datathon aims to help inspire engaged and innovative thinking as well as build up capacity and talent among Malaysian data science communities.
Sitting in the judging panel of Urbanlytics 2019 are Pedro Uria Recio, Head of Axiata Analytics Centre, Alexandros Paterakis, Chief Information Officer of Celcom, Paul Morrissey, Ambassador for Big Data Analytics and Customer Experience of TM Forum & Technology Entrepreneur, and Bruno Gagliardo, Global Director of Data Analytics of iflix.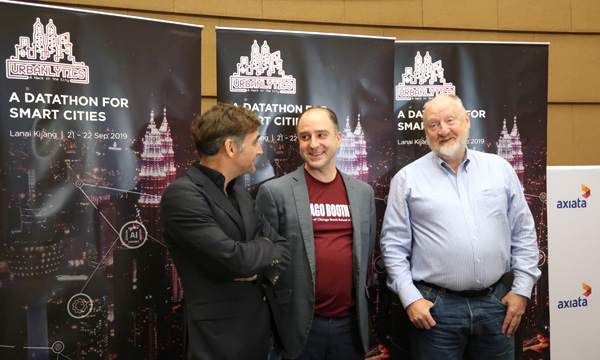 The concept of big data and data analytics is becoming integral as a tool to better understand customer needs and assist in business decision making. Axiata, Asia School of Business and Cities 4.0 are looking to expose, nurture and develop a greater pool of specialists in this fast-emerging area of expertise.
To enhance the learning experience and challenge of Urbanlytics 2019, leading industry professionals in analytics will be at hand to mentor and guide the participants. Among them are experts from leading industry association TM Forum and Axiata's very own Analytical Center.
Following the successful debut of the datathon event in Malaysia last year, similar hackathon for data competitions have been held in Bangladesh and Sri Lanka.
Axiata Analytics Centre Head Pedro Uria Recio said, "This is the fourth datathon organised by Axiata. The successes of previous datathons have unearthed talented individuals, whom we are mentoring and nurturing even after the competitions. Our goal is to develop a pool of world-class data lovers who can hack it out in the real world, providing better solutions. In our increasingly connected environment, making sense of data is a success differentiator in serving customers better. Axiata places emphasis on this aspect more so with our footprint of 350 million subscribers in 11 countries."
Willem Smit, Professor of Marketing at the Asia School of Business and International Faculty Fellow at MIT, "As population and cities grow, infrastructure and policies have to be efficient in meeting public demand. Data interpretation and analyses hold the key to unlocking the true potential of a city. Urbanlytics 2019 resonates deeply with the Asia School of Business' aim of creating champions who challenge conventional thinking to affect change. We are excited to continue our partnership with Axiata in developing talents for tomorrow."
For more information, please email [email protected].