With technological innovation at its core, Konica Minolta strengthens their position in Malaysia as the premier supplier of solutions for the 'Future of Work'. They mark another milestone with the launch of the Konica Minolta Experience Centre in Petaling Jaya, which showcases their dedication to providing end-to-end IT, IoT and other Office Solutions including the state-of-the-art bizhub i-Series of multifunctional printers which also made its debut at the event. Officiating the event included the newly appointed Managing Director of Konica Minolta Business Solutions Malaysia, Mr Koji Yoshida.
Konica Minolta has always had innovation in its DNA, and with their commitment to being the providers of the 'Workplace of the Future', they understand that embracing technology is the key to seamless and productive work environments.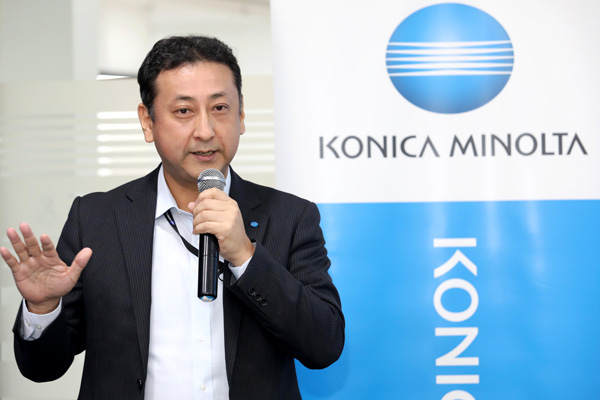 "Finding solutions to workplace problems is more than just creating another machine. It is about taking a creative approach in rethinking ways to empower everyone to excel and ultimately help improve the world around us. We do this by rethinking the way we work with technology thrown into the mix – we are always asking ourselves: "how can we leverage this tech?"," says Managing Director of Konica Minolta Business Solutions Malaysia, Mr Koji Yoshida.
Technology allows for collaboration at any level – for both small or large workgroups, being able to get access to information and resources promotes flexibility and creativity in a way which had not been able to be achieved before. This allows humans to concentrate on what humans do best, and achieve maximum output.
RETHINK! Office Print Solutions
It is without doubt that the multi-functional printer is an office essential. The newly revealed lineup of bizhub i-Series showcases Konica Minolta's approach to rethinking the office space. Creators of the new series challenged themselves to rethink security, interactivity, simplicity and productivity which are reflected clearly in the functions and integration capabilities of these smart printers.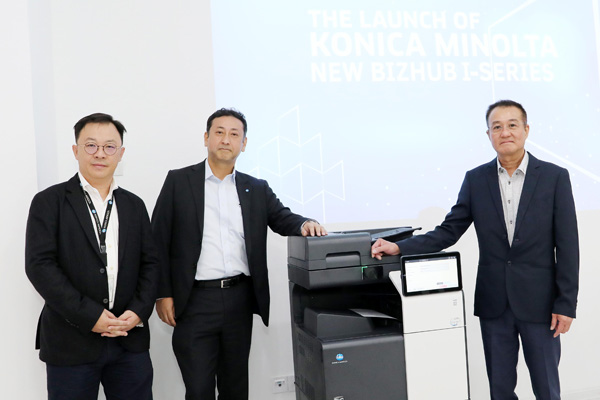 With connectivity and intelligence, printers are often overlooked as a potential security breach point; it is surprising to many that their computers can be infected with viruses through connected printers. With this in mind, and in line with data protection concerns of private citizens, and how companies handle their data, Konica Minolta has developed top-class security packs, real time virus scanning by Bitdefender, self-encrypting SSD and network security managed by bizhub SECURE services – an optional service which permits customers to tailor the level of security they need.
With a large touch screen and a smartphone style interface, navigating the bizhub i-Series feels intuitively simple, especially when users can personalise their experience with apps from the Konica Minolta MarketPlace. These apps provide flexibility and serve as a 'future proof' feature which extends the capabilities and productivity of the bizhub i-Series. Productivity is significantly improved with powerful hardware, and boasts one of the fastest scanning speeds in the market which makes digitisation a breeze. Needless to say, this top-of-the-line series can be added easily to any workflow system.
End-to-End Digital Transformation for SMEs and Enterprises
While printers are their core business unit, Konica Minolta recognises that digital transformation is key for modern businesses, regardless of size. In trend with the government's push to support SMEs, in particular, those that embrace the 4th Industrial Revolution, Konica Minolta is in position to assist as a trusted partner, with capabilities to deliver digital manufacturing solutions.
"Keeping ourselves updated has allowed our business to thrive and ultimately progress into a new era of smart technology. At Konica Minolta, we question traditional thinking and challenge the status quo for the sake of finding better solutions for everyone," continues Yoshida.
"The new Centre allows for key stakeholders to learn and experiment first hand, how Konica Minolta can digitally transform their businesses with a 360 suite of services. These are carefully designed to significantly improve efficiency, while increasing security within their workplaces," Yoshida adds.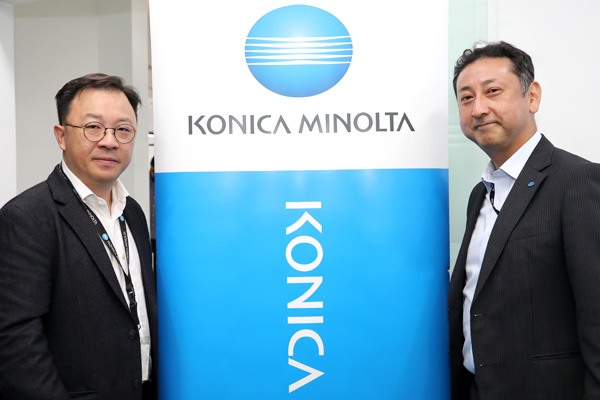 The Konica Minolta Experience Centre consists of three main areas which can work independently, or be integrated into a customised workflow. Firstly, the Digital Office offers outsourced and integrated IT solutions ie. Document Capturing solutions, Document Management Solutions, Enterprise Resource Planning (ERP) modular systems, and state-of-the-art suite of office print and scanning solutions. Secondly, their Professional Printing collection includes production printers (AccurioPress series) and industrial printers (AccurioLabel series and MGI); and Thirdly the IoT hub features autonomous mobile robots, IoT security and monitoring cameras along with a healthy stable of digital manufacturing solutions.
Konica Minolta not only offers digital manufacturing solutions, they have implemented them completely at their factory located in the Melaka Smart Industry Centre which was launched by Tun Dr. Mahathir bin Mohamad just last month. With a substantial amount invested, the entire bizhub i-Series is assembled for worldwide distribution from the location.
With this investment, and more than 38 years in Malaysia, Konica Minolta has a dedicated customer care team to ensure minimal downtime and have consulted thousands of businesses locally. Meanwhile, the new Konica Minolta Experience Centre challenges everyone to rethink today in order to redefine tomorrow.