In Malaysia, every festive season calls for a celebration and locals make the most of the holiday sales through online shopping. More consumers are choosing to shop online as indicated by a 32% boost in traffic to the Shopee app over Chinese New Year in 2018 as compared to an average day.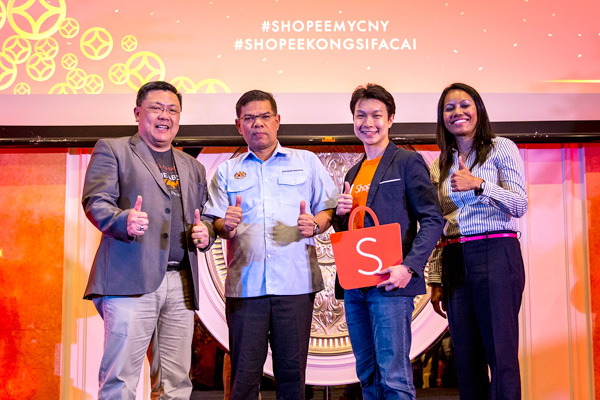 During Chinese New Year 2017, top performing categories on Shopee include home decor, female and children's fashion, and kitchen appliances where users snapped up jug kettles, blenders, oven toasters, and rice cookers. Last year, Shopee also noted consumers moving towards big-ticket items such as refrigerators, smart televisions and home theater system as well as groceries, hampers and even smartphones.
The e-commerce platform expects to see a similar trend of users making major online purchases during this Chinese New Year. As the leading e-commerce platform in Southeast Asia and Taiwan, Shopee promises exciting events, campaigns and more innovations for all Shopee users in Malaysia.
Good Deals aren't Meant to be Hogged
The Shopee Kongsi Fa Cai celebration, which is currently ongoing until 6 February 2019, brings with it attractive giveaways, social media contests, and great deals and discounts from brands like Watsons Malaysia, Samsung, Senheng, Maybelline, VOIR, and Elianware. Shopee ups its ante with crazy savings, especially from 14 to 16 January and 22 to 24 January with festival-themed days such as CNY Essentials Festival, Shocking Sale Festival, Shopee Mall Festival, Cashback Festival and CNY Mega Festival.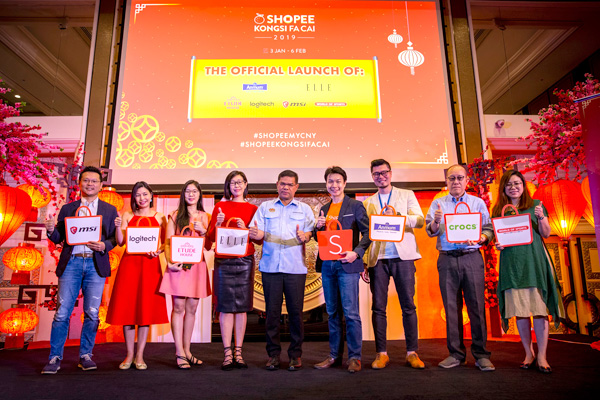 Throughout the duration of the campaign, users can catch these exciting activities:
88% Cashback daily: Users can enjoy 'kaw kaw' the benefits of shopping at Shopee, and stand to receive daily cashback of 88% (capped at RM5.88) when they spend on the platform. Vouchers will be given out at 3pm each day.
Mystery Boxes: Shopee is all about making its users feel good and happy, and what better way than to present them with surprises like unraveling a box of delightful things? Users can look out for 88,888 mystery boxes by brands and sellers across the platform that are at least half than the retail price. It mysteriously gets better when free shipping is applied, no matter the amount.
Shopee Shake to win RM888,888: Shake the prosperity tree with vigour for a chance to win Shopee coins, prizes and vouchers worth a total of RM888,888. The harder it is shaken, the more "fortune" the tree is likely to shed into the Shopee account.
Shopee CNY Live Quiz: Take a break from shopping and join Shopee's inaugural CNY Live Quiz on the Shopee app. Users can get their adrenaline pumped up when they challenge their minds by answering trivia questions on a wide range of topics during the live quiz. Better yet, winners who answer all questions correctly will win from a pool of 888,888 Shopee coins, RM1,000 weekly cash prizes as well as other amazing prizes. The quiz will take place on weekdays at 12pm from 14 to 31 January, with two sessions at 12pm and 8pm from 22 to 24 January.
Shocking Sale: The flash sale will be held across different days; but users can have a big stake out and catch the big ones on 15 and 22 January, with 8 different sales happening throughout the whole day from as low as 88 and up to 88% discounts on products from fashion, electronics, lifestyle, beauty, home, men's and more.
"Shopee believes in creating revolutionary innovations to provide users a seamless shopping experience no matter where they are because everything is now at their fingertips. From a platform that bridges the gap between shoppers, brands and sellers, it is now an ecosystem that responds intuitively to consumers' demands and drives user engagement. We help users stretch their Ringgit through Shocking Sales and daily cashbacks while inspiring them with ideas by bringing more brands and sellers on board," said Zed Li, Business Head, Shopee Malaysia.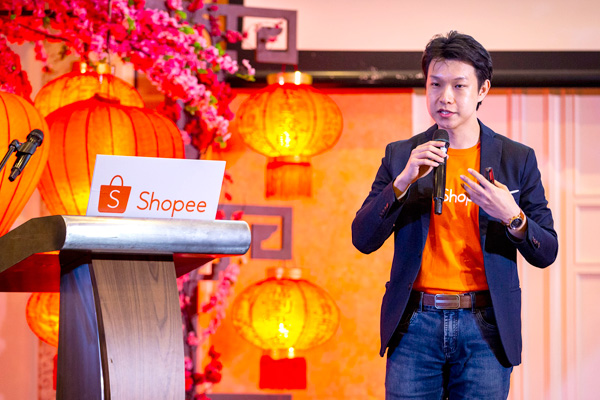 As Shopee continues to drive innovation to deepen engagement with users, it seeks to offer interactive features to value-add to the users' online shopping experience. "E-commerce is changing the way we live and new technologies are causing a paradigm shift in the industry. We believe that Malaysians are spending more time on Shopee than on any other e-commerce platform. In-app games like our Shopee Shake has made online shopping interactive and fun, which contributes to users spending more time on our app. We foresee that our Shopee Live Quiz will continue to bring about change to the e-commerce landscape where Shopee will be an online shopping platform as well as an engaging experience," said Li.
Shopee ushered in the New Year with a Shopee Kongsi Fa Cai celebration at Shangri-La Hotel, Kuala Lumpur. The day's festivities saw a rousing lion dance performance and special appearance by the God of Prosperity, yee sang toss and a scrumptious eight-course lunch. Guests were also treated to a string of exciting activities and learnt what 2019 feng shui has in store for them from Joey Yap Group of Consultants, before heading home with goodies and lucky draw prizes. The event also saw the participation of iPay88, which is the Official Payment Gateway provider for the Shopee Kongsi Fa Cai campaign.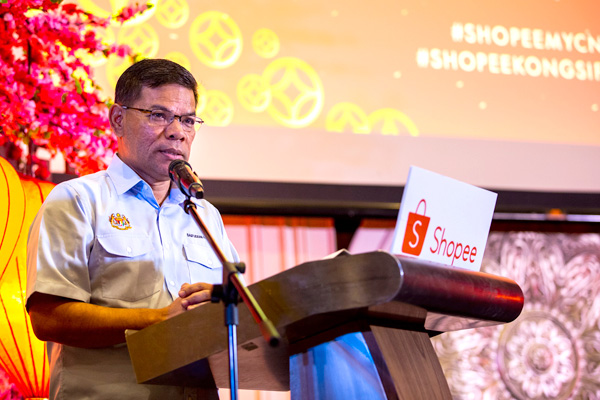 To start the Lunar New Year on a sweet note, a total of seven brands launched their stores during the CNY luncheon. They are MSI, Logitech, Etude House, Crocs, ELLE, Anmum and World of Sports. Through their official stores on Shopee, not only are the brands able to reach Shopee's 16 million customer base, but at the same time connect with customers on a deeper level through online sales, games and initiations.
Gracing the event was Domestic Trade and Consumer Affairs Minister Datuk Seri Saifuddin Nasution Ismail who said that it was very encouraging to see an e-commerce platform like Shopee presenting opportunities not only to the big brands but also small and medium enterprises (SMEs). "These businesses need help digitising and expanding into the retail world online to reach a wider market than before with minimal investment. We look forward to working with Shopee in growing and positioning Malaysia as a leader in e-commerce," he said.