Html code here! Replace this with any non empty text and that's it.
ASUS Republic of Gamers (ROG) Malaysia today announced Zephyrus S (GX531), the latest model in the ROG Zephyrus series, which sets a new milestone for ultrathin gaming laptops.
At a mere 14.95~15.75mm thin, Zephyrus S is 12% slimmer than the original Zephyrus (GX501). It's equipped with the latest Intel® Core™ i7-8750H CPU and up to NVIDIA® GeForce® GTX 1060 graphics, making it ideal for work or play. Super-narrow bezels squeeze a 15.6-inch display, with a 144Hz refresh rate and 3ms response time, into a 14.2-inch chassis. The all-metal chassis is strong enough to meet military-grade durability standards without compromising on design, with sleek lines and a premium finish. An advanced cooling system ensures optimal performance of all components, incorporating the proprietary Active Aerodynamic System (AAS) — a design and engineering hallmark of the Zephyrus series.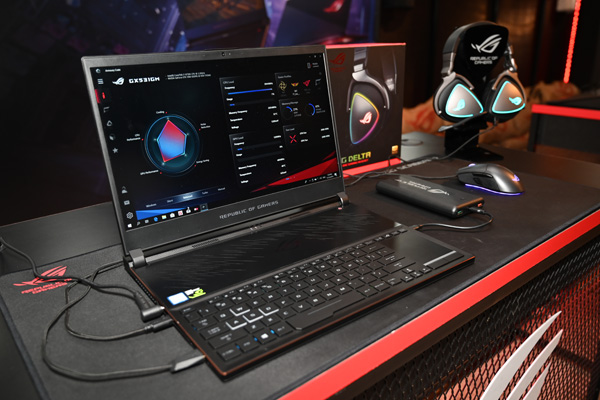 All-metal chassis combines design with function
One of the biggest challenges with creating such a thin laptop is making sure that the chassis strikes the best balance between strength and weight: Zephyrus S uses a mix of aluminum and magnesium alloys in its construction to achieve this balance. Each lid is meticulously machined from a solid block of aluminum. This precise CNC-milling process takes five tooling stages and nearly 72 minutes to carve out all the intricate details that ensure a perfect fit, creating a lid that is remarkably rigid, yet slim. It also helps the Zephyrus S casing remain durable: engineering samples have already met military-grade durability standards for jolts and vibration.
Contrasting finishes accentuate the lid design: two-stage anodizing accents the stealthy surfaces with copper highlights, while a surgical slash separates competing textures. Similar lines cut across the area above the keyboard, giving Zephyrus S a distinctive style. Scissor-door hinges keep a low profile until the laptop is opened, exposing the display and opening Zephyrus' unique air intake.
Powerful visuals achieved with a super-narrow-bezel display
Super-narrow bezels allow the 15.6-inch display to be squeezed into a 14.2-inch chassis. This reduces the entire footprint, allowing the Zephyrus S to fit into tighter spaces than its predecessor. In addition, the slimmer bezels create a more immersive gaming experience.
Since the original Zephyrus, ASUS has worked closely with panel maker AUO to ensure ROG laptops have the very best displays for gaming. The 120Hz panel on the initial version doubled the refresh rate of conventional displays, while Zephyrus S pushes the refresh rate to 144Hz, and reduces blurring and ghosting by lowering the response time to 3ms.
Built for more than just speed, the IPS-type AHVA panel also has excellent image quality. It covers 100% of the sRGB color gamut, ensuring richness of color, and wide viewing angles keep the picture from washing out when viewed in split screen.
Proprietary cooling to ensure optimal performance
Cooling the critical components that comprise Zephyrus S is a difficult engineering feat due to the ultrathin design, but it's imperative to ensure peak performance. Because of this, ASUS and ROG thermal engineers developed the innovative Active Aerodynamic System (AAS) for the original Zephyrus. When the lid of the laptop is lifted, a special vent opens underneath the chassis to let the laptop draw in more cool air. Similarly, the AAS intake measures 5mm on Zephyrus S, stretching across the entire back of the body to improve airflow by 22% compared to traditional designs. Additional airflow comes in from through the keyboard, and the keyboard's forward layout makes more room for additional cooling throughout the system.
Within the chassis, the Zephyrus S contains five heat pipes that pull heat away from the CPU and GPU, and also the VRM circuitry that feeds them power. The CPU and GPU connect to both shared and dedicated heatsinks to ensure efficient cooling for any workload, and the power components stay under 80°C to improve long-term reliability. Thermal energy is channeled along the pipes to four heatsinks and exhaust vents at the rear corners, twice as many as in the first Zephyrus.
Keeping heatsinks free of dust and debris is key to preserving cooling performance, which is why the engineering team added self-cleaning fans to eject particles from the system through anti-dust tunnels. This special feature prevents accumulation on the fins to ensure consistent cooling and improve long-term stability.
With 83 blades each, the dual 12V AeroAccelerator fans have 17% more blades than in the original Zephyrus. Airflow is also improved by the fan's shaped aluminum shroud, which has curved edges and raised guides to help channel more air into the blades. Rotational speeds are determined by an intelligent algorithm tied to three profiles. Keyboard shortcuts allow users to switch between Overboost mode for maximum gaming performance, Silent mode for lower acoustics, and Balanced mode that maintains a level between the two.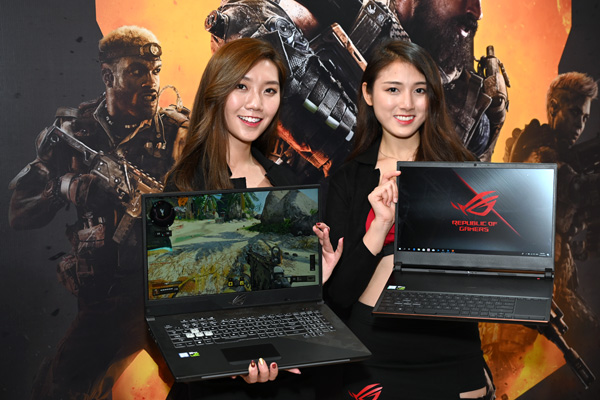 Customization with RGB lighting through Aura Sync
Integrated RGB lighting lets gamers customize Zephyrus S to their preference, or match the mood of the game currently being played. Four independent zones illuminate the keyboard, and additional LEDs create a subtle glow inside the AAS vent. Aura Sync coordinates colors and effects with compatible peripherals like the ROG Delta headset and Gladius II Origin mouse, making it easy to personalize the entire setup with just a few clicks. Third-party applications can harness the lighting through the Aura SDK, and ROG is working with developers to incorporate support in games and applications.
Armoury Crate — the new unified control center
What was previously ROG Game Center is now Armoury Crate, which unifies ROG hardware with a single utility that makes essential functions easily accessible. System settings and Aura Sync lighting are easily adjusted on the fly, or a user can define preferences for both — with up to four profiles — that make adjustments automatically when the selected titles load. Armoury Crate comes with a companion Mobile Dashboard for Android™ and iOS, and more capabilities are due in future updates.
Keyboard-forward layout
Although the keyboard-forward layout on Zephyrus S primarily benefits cooling, it also allows for a more comfortable desktop-like resting position. Overstroke technology fires earlier in the key travel for quicker responsiveness, and the longer post-actuation distance maximizes the 1.2mm of travel to improve the overall typing feel. The durable switches are rated for 20 million presses, so they can withstand heavy use, and N-key rollover ensures each press registers precisely regardless of how many keys are mashed at once.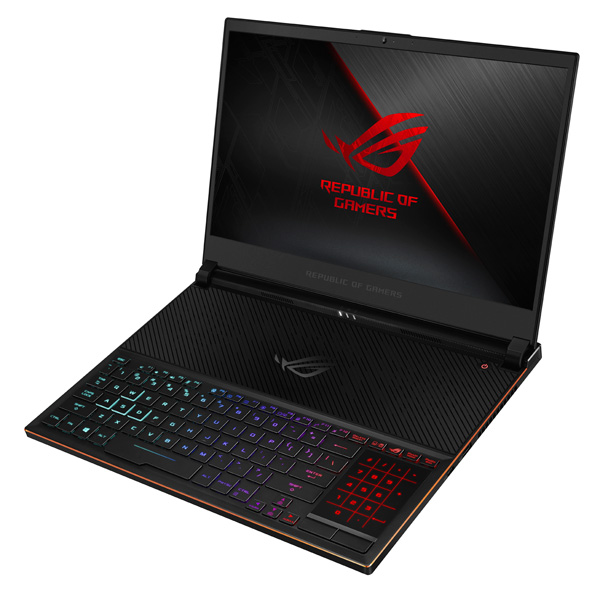 Improved immersive audio
Zephyrus S includes an upgraded sound system. Dual front-facing speakers embedded in the hinge cover are powered by smart-amplifier technology that keeps the speakers within thermal and excursion limits, so volume can reach higher limits without distorting the output or damaging the cones. Sonic Studio III adds virtual surround-sound for deeper immersion with stereo headsets, and it features a new APO injection capability that extends speaker virtualization to a wider range of gear, including standard analog headphones along with USB headsets, external DACs, and VR devices.
Storage and connectivity
The Intel Core i7-8750H CPU in Zephyrus S is backed by fast DDR4 2666MHz memory and NVMe® storage, while 802.11ac Wave 2 Wi-Fi connects to compatible wireless networks at greater-than-gigabit speeds. USB 3.1 Gen 2 Type-C™ (USB-C™) and full-size HDMI 2.0 ports support desktop monitors and big-screen TVs, allowing users to connect dual auxiliary displays. More USB ports are ready for essential gaming peripherals and ubiquitous external storage, and there's a USB 3.1 Gen 2 Type-A port offering additional bandwidth for compatible devices.
A powerful system, ideal for work or play
Zephyrus S is capable of heavy workloads in the same way it handles exhaustive gameplay. The latest 8th Generation Intel Core i7-8750H processor offers six cores and 12 threads of parallel processing power that can easily handle demanding work like compiling, rendering, and content creation. The extra cores also provide headroom for multitasking allowing for a mix of gaming with live-streaming, recording, and other tasks. GeForce 10-series graphics boost performance in apps that support GPU acceleration. More importantly, the discrete graphics chip is capable of pumping out triple-digit frame rates in popular games, allowing for optimal use of the display.
ASUS Republic of Gamers Announces 17.3″ Strix SCAR II (GL704)
ASUS Republic of Gamers (ROG) Malaysia today announced Strix SCAR II (GL704), the latest 17.3-inch addition to the ROG Strix gaming laptop lineup.
Strix SCAR II puts an industry-leading 17.3-inch display — with a 144Hz refresh rate, 3ms response time, and complete sRGB coverage — into a 15.7-inch chassis, delivering immersive visuals while allowing for greater mobility. Strix SCAR II GL704 is equipped with powerful components and innovative features including the latest 8th Generation Intel® processors Core™ i7-8750H  and an NVIDIA® GeForce® GTX 1060 GPU with 6GB of video RAM. Strix SCAR II also includes ROG RangeBoost technology, which intelligently utilizes additional antennas to extend Wi-Fi range. The HyperCool Pro cooling system incorporates three heatsinks and two fans, ensuring optimal system performance. The durable camouflage and Kevlar textures adorning the chassis take their design inspiration from first person shooter (FPS) games.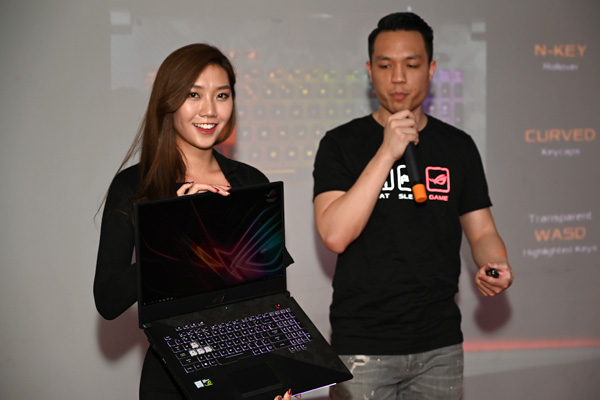 Smaller bezel for more impressive visuals
At Computex 2018, ROG set a new standard for gaming laptops by framing an ultrafast display panel with super-narrow bezels in the 15.6-inch versions of Strix SCAR II and Hero II (GL504). Strix SCAR II (GL704) continues this trend, and is the first 17.3-inch laptop under 400 mm wide, a feat made possible by the super-narrow bezels surrounding the display on three sides. The 7.05mm borders are up to 50% narrower than those found on other 17-inch gaming laptops on the market.
ROG worked closely with panel maker AUO to ensure that ROG gaming laptops consistently offer class-leading displays that balance blazing speed with beautiful picture quality. Utilizing AUO's IPS-type AHVA technology, the 15.6-inch GL504 was able to achieve 144Hz refresh rates and 3ms response time in a thin-bezel format — more than double the speed of conventional laptop displays. And with GL704, ASUS and AUO have achieved the same 144Hz refresh rate and 3ms response time on a 17.3-inch display, allowing for crisp visuals and more immersive gaming. Additionally, the full sRGB color gamut ensures that the screen can show a full range of vivid colors, so games look as good as the developers intended.
Designed for battle, and customizable with AURA Sync RGB lighting
Externally, Strix SCAR II is designed with FPS gaming in mind, with contrasting Kevlar and camouflage textures created with an eight-stage IMR process. A hairline finish brushes across the Gun Metal lid, while the copper cooling fins provide flashes of color through the vents.
Through AURA Sync, RGB lighting can be customized across seven zones: four for the keyboard, two located within the light bar stretching across the front edge, and the last one within the ROG logo on the lid. The lights can then sync to Aura Sync-enabled peripherals such as the Strix Fusion 700 headset and the Gladius II Origin mouse.
The keyboard on Strix SCAR II has a desktop-style layout, with a wider space bar and separated blocks of function keys to make shortcuts easier to execute. The keyboard's switches are rated for 20 million key presses, and Overstroke technology allows them to fire halfway through the 1.8mm key travel for a faster response than traditional designs that actuate lower in the stroke. These features ensure that the Strix SCAR II keyboard retains a comfortable typing feel for years to come.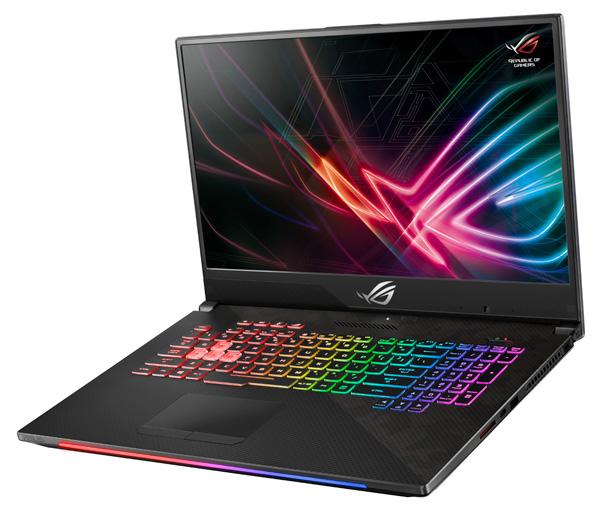 Stacked with features for gaming versatility
In addition to up to six cores and 12 threads in the powerhouse Intel Core i7-8750H and the gaming prowess of the NVIDIA GeForce GTX 1060, Strix SCAR II comes loaded with features that provide a versatile and complete gaming experience. Intel's latest 802.11ac Wave 2 Wi-Fi uses faster frequencies for link speeds up to 1.73Gbps with compatible routers, so now the wireless connection can download games and updates as quickly as a wired one. Strix SCAR II sports four USB Type-A ports, a reversible USB Type-C™ (USB-C™) port, a Mini DisplayPort connection that supports G-SYNC gaming monitors, and an HDMI 2.0 port that can drive 4K UHD monitors and big-screen TVs at 60Hz.
Internal storage is split between a speedy M.2 NVMe® SSD that loads games and applications in the blink of an eye, plus an optional secondary 1TB solid-state hybrid drive (SSHD) for that growing collection of games. The speakers are powered by smart amplifier technology that lets users turn up the volume without fear of blowing the voice coils.
Laptops have limited space to dissipate heat, so ASUS devoted significant effort into cutting-edge cooling. The HyperCool Pro cooling system spreads across three heatsinks and two fans. One heatsink is linked exclusively to the GPU to handle the additional heat produced by typical gaming loads. The other two are shared to ensure optimal cooling performance with a wide range of scenarios, including situations where the CPU is doing most of the work. Each heatsink is lined with incredibly thin copper fins that enables more fins, giving increased surface area for heat dissipation while at the same time reducing resistance to airflow. Patented trapezoid cuts in the lid ensure that the flow of warm air out the exhaust vents at the back is not impeded.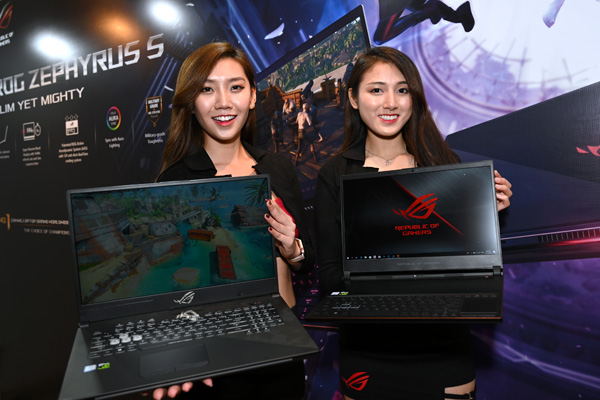 Armoury Crate — the new unified control center
After years of separate utilities for ROG systems and components, ASUS is introducing a unified platform that puts the most important settings at gamers' fingertips. Armoury Crate currently covers system settings and Aura Sync lighting, and users can save changes to one of four profiles that automatically load their preferences for specific games and applications. The companion Mobile Dashboard extends the interface to Android™ and iOS devices, allowing remote monitoring and adjustment without alt-tabbing away from games.
Armoury Crate has five different system profiles with different performance and acoustic targets. Turbo mode is best for serious gaming, Silent mode cuts noise output for watching movies or surfing the web, and Balanced mode occupies a middle ground between the two. There's also a default Windows fan settings mode and a manual mode to allow users to make their own adjustments. Modes can also be toggled on-the-fly without ever leaving the game by hitting Fn + F5 to cycle through the options.
ROG Collection T-shirts and ROG Ranger Backpack Series
ASUS Republic of Gamers (ROG) Malaysia today announced the ROG Collection, a brand-new and exclusive apparel line designed for ROG fans and gamers. The first wave of high-quality T-shirts includes two distinctive designs: Lifestyle, Mechanic with more exciting styles and designs planned for the future.
Ranger Backpack series offers a unique and stylish travel accessory for gamers and which is designed for comfortable and easy transport of any gaming gear. Built with ergonomic shoulder straps and ventilated back-padding — constructed from memory foam Ranger Backpack series are comfortable for all-day use, even when fully loaded.
The ROG Collection and Ranger Backpack series allows gamers to show off their unique gaming flair, with style and attitude. Gamers can now play ROG, wear ROG, and be ROG!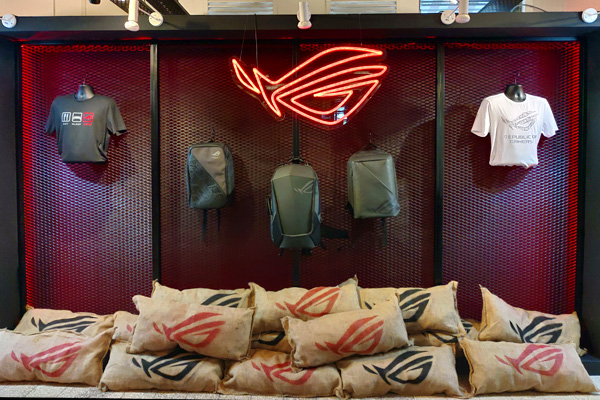 ROG Collection (Lifestyle and Mechanic)
Dare to win with iconic ROG style
The ROG Collection takes its inspiration from cyberpunk, gaming and street culture, and incorporates reflective ROG graphics, so gamers can dare to challenge, dare to compete and dare to win, while showing off their unique gaming flair with ROG style and attitude. The ROG Collection is made for gamers who are willing to tackle obstacles and take action, with ROG backup so they're never defeated.
ROG designers are proud of their innovative and aggressive designs, and this is just the beginning, as more exciting new products will be available in the future, including long-sleeve T-shirts and compression training shirts.
Equipped for battle with high-quality materials
The ROG Collection is fully equipped for battle. The first wave of T-shirts feature classic rib crew-neck design, constructed from high-quality 100% cotton and internally taped for comfort and longevity when worn for gaming or any other activity. The compression training shirts — coming soon — will use a high-tech combination of nylon and spandex which creates a sweat-wicking stretch fabric that dries quickly and is comfortable for long periods — perfect for intense gaming or gym sessions.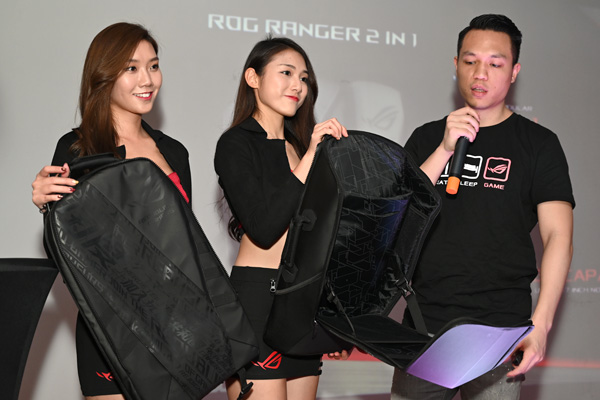 ROG Ranger Backpack Series
Ranger 2-in-1 Backpack
Modular 2-in-1 design with detachable compartments
The Ranger 2-in-1 Backpack is designed to carry a complete range of gaming gear. The rear compartment perfectly fits up to 17-inch gaming laptops and is padded for extra protection. The front compartment has dedicated storage space for a 10-inch tablet, a keyboard, and a headset and mouse, and there are two additional pockets for other accessories and smaller items.
Total protection with a stylish aesthetic
The full-size front EVA panel with its reflective ROG logo provides total protection for any gaming gear, and allows gamers to proudly display their love of ROG. The backpack also has an anti-theft zipper design with iconic ROG zipper pulls, giving added protection and security — plus style!
Comfortable memory foam construction
The Ranger 2-in-1 Backpack has ergonomic shoulder straps and ventilated back-padding constructed from multi-layer, high-density memory foam that absorbs weight and retains its shape for comfortable all-day use, even when the backpack is fully loaded.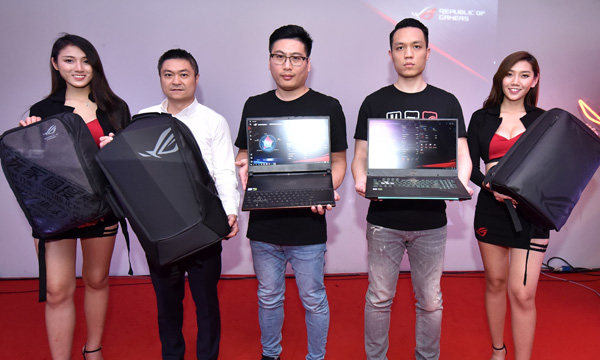 ROG Ranger BP2500 Gaming Backpack
ROG Ranger BP1500 Gaming Backpack is a stylish and functional backpack, with 16L capacity capable to carry up to 15.6'' notebook, plus multiple interior and exterior compartments to carry everything you need.
Durable Style
Show your style and sense with a bold cyber-text pattern, dramatic slash aesthetic. Worry free as ROG Ranger BP2500 Gaming Backpack features waterproof and scratch-resistant 1680D leatherette and polyurethane, and water-repellant zippers, for versatile real-world protection.
FIDLOCK design
This magnetic fastener with the stability of a mechanical snap fastener with the front slash design pocket provides the extra protection to the inside pocket stuffs.
Daily Convenience
Charge-cable zipper, a dedicated short fastener enables quick access to a charging cable attached to your power bank. Built-in luggage straps, the Quick-fix design makes it easy to secure Ranger BP2500 to other travel cases.
ROG Ranger BP1500 Gaming Backpack
ROG Ranger BP1500 Gaming Backpack is a stylish and durable backpack, with 16L capacity capable to carry up to 15.6'' notebook, while providing multiple compartments for your essential accessories.
Stylish, gaming-inspired design
Stand out from the crowd with the cyber-text pattern, military-style triangular base-corner guards, and textured zippers. Its durable exterior materials provide strong, stylish protection for both your notebook and accessories.
Comfortably cool to carry
ROG Ranger BP1500 Gaming Backpack comes with extensive mesh on backrest area creates an air pocket to keep you cooler when carrying.
For more information, visit rog.asus.com.