When home appliance innovator Hitachi launched its Upgrade For Life campaign earlier this year, the brand had one purpose in mind: to inspire consumers to elevate their lifestyles through the assistance of user-friendly, eco-conscious technologies that are made to bring comfort and convenience to the next level. In its continuous mission to enhance home living experiences, Hitachi is introducing two new home appliances purposefully engineered for consumers to enjoy maximum utility and comfort in addition to making a contribution to a cleaner and healthier environment.
Joining its series of appliances are the brand's refreshed two-door refrigerator (R-VG490P8M) and its new eco-choice washing machine (SF-170ZCV) – both of which are designed with the right balance between technology and sustainability to enable consumers to enjoy the best of both worlds.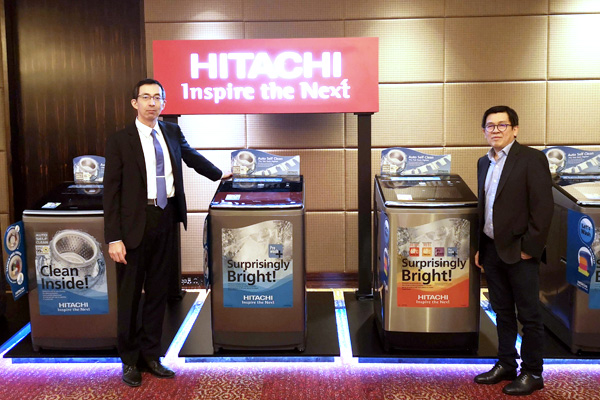 "To upgrade means to raise every aspect of ourselves and the things we do to a higher standard. Whether it is improving our business approach or enhancing how we tackle chores at home, we should all work towards enriching the way we live. We at Hitachi are delivering innovations that not only answer society's challenges but also foster more efficient and sustainable living. As a brand that is here for the long haul, we are building a comfortable tomorrow by upgrading for life today," said Takahiro Ishii, Managing Director, Hitachi Sales (Malaysia) Sdn Berhad.
Style Meets Sustainability With The Refreshed 2-Door Refrigerator (R-VG490P8M)
Beyond the standard workings of a refrigerator, the new feature of Hitachi's refreshed model is the Inverter and Dual Fan Cooling function that makes it a worthwhile option for those looking to save electricity in the long run without compromising on freshness of groceries. With a high power Inverter Compressor and dedicated fans for each compartment, the refrigerator assures powerful refrigeration and exceptional energy saving at the same time.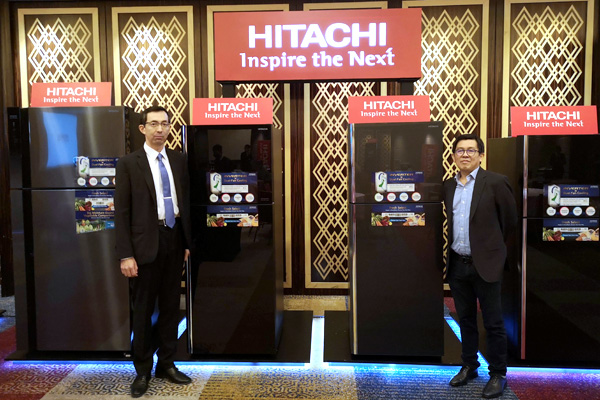 Complementing the inverter and dual fan cooling functions is the refrigerator's Triple Power Filter that removes seven odour components (Methyl Mercaptan, Ammonia, Acetaldehyde, Trimethylamine, Propanal, Hexanal and Acetic Acid) while also sterilising the compartment to inhibit bacteria activity. Combining the properties of Activated Carbon, Zeolite and Manganese Oxide, the filter greatly reduces the percentage of odours present over time.
With odour control in check, users can focus on keeping groceries fresh. The refrigerator compartment is equipped with Fresh Select that allows users to adjust airflow within the compartments by switching between Vegetable Mode and Dairy/Meat Mode to have it optimized for the produce stored. Keep meat and fish fresh at 1℃ or turn the Vegetable Compartment to 5℃ to maintain the freshness of perishable produce. Switching to the Vegetable mode on Fresh Select can greatly increase storage space and neater organisation.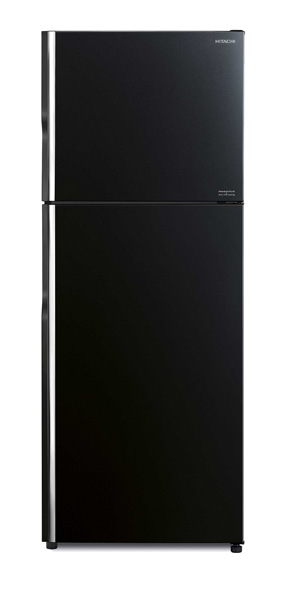 When it comes to storage, the refrigerator is layered with scratch-proof and heat-resistant Tempered Glass Shelves that can hold up to 100kg. In the freezer, the newly developed ice box with a Twist Ice Tray has a big 5.3L capacity which is practical for various hosting occasions. Need more space in the freezer? Just remove the ice box for a more convenient and efficient use of storage.
Hitachi is offering a 10 years compressor warranty for all its refrigerators.
The Ultimate Fabric Care with Eco-Conscious Washing Machine (SF-170ZCV)
Hitachi's new washing machine prioritises fabric care hence the brand is introducing three new wash features to launder delicate materials to heavily soiled clothes. With Hot Wash, the machine's built-in heater produces 40/60℃ hot water and a high temperature steam to help keep clothes fresh and odour-free. Select between 40℃ (Stain Care) to remove yellow stains caused by sweat and oil sebum or crank the heat to 60℃ (Allergy Care) to eliminate 99.99% of bacteria from the fabric. The Easy Refresh function on the other hand removes unpleasant odours such as cigarettes without washing, instead only using high temperature steam generated from the built-in heater.
For heavily soiled clothes, the PreWash+ feature comes in handy as instead of manually scrubbing mud and dirt from the fabric, the machine does the pre-washing for you. The dirty water is then drained and the pre-washed items will join the rest of the clothes for a Powerful Dual Jet Wash. While the clothes are washed with a pulsator, the powerful dual jets reach the wash items at various water levels and circulate them vertically and horizontally for a multi-directional wash.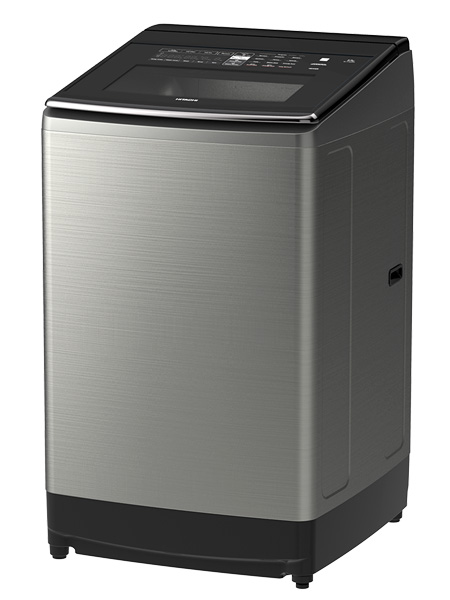 Beyond functional features, Hitachi's new washing machine is well-designed for Easy Operation Control and Easy Handling. The control panel located on top of the cover – very much in the line of sight – displays a series of Direct Program Buttons to let users select a course with a simple one-touch operation. The machine is also built with a sleek and ergonomic glass top for a smoother opening/closing to make loading and unloading of clothes hassle-free. A feature that assists with the unloading of washed clothes is the machine's pulsator that repeatedly moves clockwise and counter-clockwise to untangle the clothes as soon as the spin cycle ends.
Committed to producing quality products, Hitachi offers 2 years general warranty, 3 years warranty on control panel PCB and 10 years motor warranty for this washing machine.
Products Availability
These products are available now at major electrical chain stores and electrical shops throughout Malaysia. For more information on these products and more, do check out www.homeappliances.hitachi.com/my.