NEC Corporation of Malaysia Sdn. Bhd. today highlighted the importance of transforming Malaysian cities with Smart City technology to cope with the growing urban population and to meet the needs of its residents at the NEC Smart City Forum held at Aloft KL Hotel on 6 September 2018.
The Forum was officiated by Japan's Ambassador to Malaysia, H.E. Dr. Makio Miyagawa. In the afternoon, Minister of Territories, YB Tuan Haji Khalid Abdul Samad visited the NEC Smart City exhibition that showcased solutions such as the Artificial Intelligence (AI) Driven Command Centre for Safer Cities, AI for Smooth & Convenient Public Transport, the Mobile Authenticator, and The Future of 3D Hologram, among others.
The forum featured a distinguished line up of speakers who focused their presentations on the transformation of cities with breakthrough technologies that include the Internet of Things (IoT) and AI.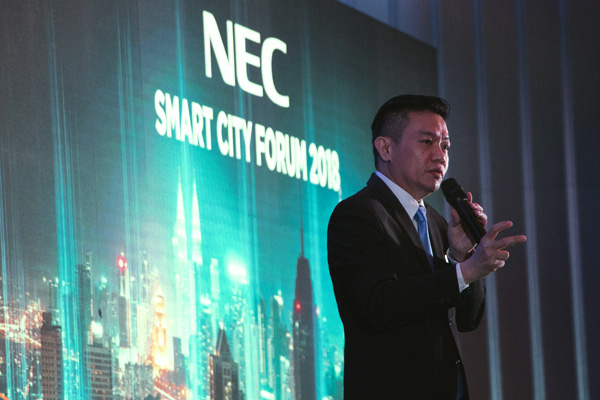 "A study conducted by the United Nations in May 2018 shows that 55% of the world's population lives in urban areas, and the proportion is expected to increase to 68% by 2050. This increase in city population will raise valid concerns like waste management, pollution, public safety problems, traffic woes and more," shared Mr. Chong Kai Wooi, Managing Director of NEC Corporation of Malaysia Sdn. Bhd., during his speech at the event.
Malaysia is no exception to this trend, where cities like Kuala Lumpur, Georgetown and Johor Bahru have experienced rapid population growth. Although current city models are being upgraded in silos, the need to reinvent cities' capabilities at all levels, inclusive of transportation, city management, waste management, retail, industrial operations, government services and public safety, is growing.
Technology is the primary enabler for both economic and administrative efficiency, especially in city settings and with a growing population in mind, making streamlined services, compatibility and quick response essential elements for service delivery.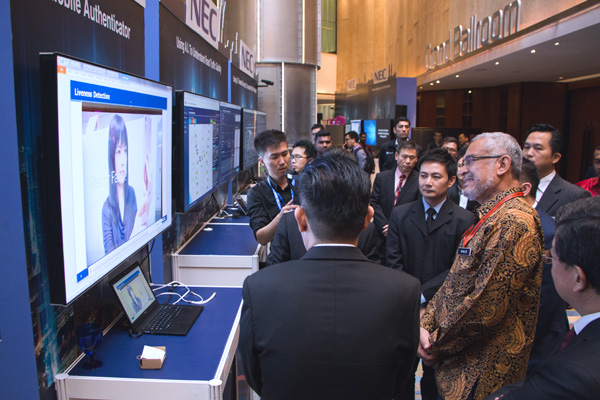 NEC aims to work hand in hand with the local authorities, property developers, township developers, retailers, and transportation providers in Malaysia to deliver and realize the smart cities concept. A key solution for local governments would be NEC's Smart Transportation solutions, which have been deployed in selected states in Malaysia and other countries such as Singapore, Hong Kong and India.
Smart City technologies can be the key driver to reinvent Malaysian cities to cope with growing populations who have increasing needs, including consistent connectivity.
"As a leading Smart City solutions provider, NEC aims to focus on 4 cores of Sensing, Authentication, Monitoring and Control, which orchestrate a city's smart platform," added Mr. Chong.
"In line with Malaysia's call to embrace digitalization for the progress of the nation, NEC is keen to partner with states like Kuala Lumpur, Penang, Selangor and Melaka, which are showing interest in the implementation of Smart City solutions. The blueprints for Smart Cities are crucial to ensure long term benefits for the country's government and its residents," Mr. Chong concluded on NEC's vision for Smart Cities in Malaysia.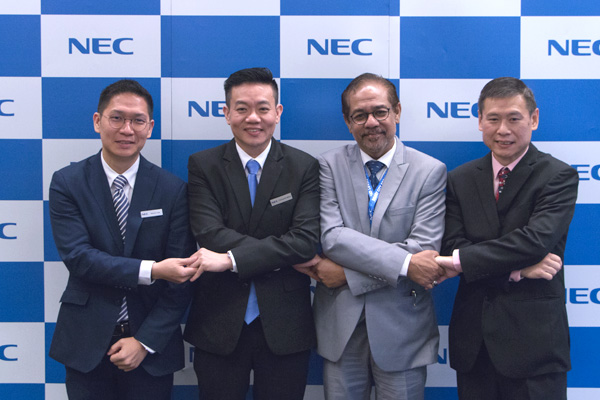 The presentations were followed by a lively panel session moderated by IDC's Dr Christopher Holmes, alongside industry players from Iskandar Regional Development Authority and NEC Corporation.
The forum was attended by more than 300 participants from a myriad of industries, including construction and development, education, healthcare, information technology and more.
In conjunction with the forum, NEC Corporation of Malaysia also announced its collaboration with Wannaser International Green Hub Berhad to supply, setup and implement IT solutions, systems and services for a Digital Hospital System & Digital Autopsy System ("DAS Project") for Hospital DiRaja Bandar Aceh. The smart application deployed for this project is the Digital Autopsy System that enables Non-Invasive Autopsies using digital visualization techniques. The project is expected to complete in 2019.