Epson, the number-one selling projector brand worldwide, has launched newly upgraded portable business projectors with improved lamp life of up to 12,000 hours in eco mode. With this series of projectors, the frequency of lamp replacements is reduced, bringing greater cost savings to businesses. The projectors include EB-980W, EB-970, EB-2142W and EB-2042
Designed to excel in a variety of environments, including rooms with ambient lighting, this new projector series boast white and colour brightness that ranges from 3800lm to 4400lm, and is perfect for higher education, corporates and SME. In addition, the new projectors feature a compact and versatile form factor for portability or installation. Additionally, the   EB-2142W projectors come equipped with built-in enterprise level wireless security.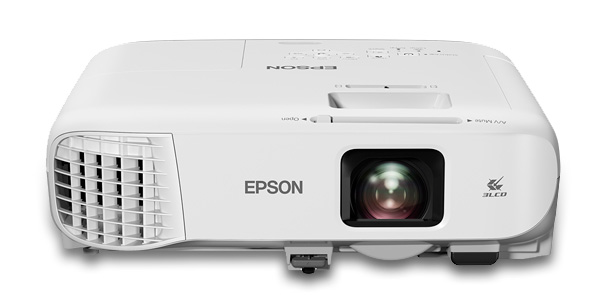 The new projector series deliver innovative features that ensure bright, vibrant images, as well as quick and easy setup across devices. The projectors include the following features:
Quick and easy setup: An easy-to-use horizontal keystone adjuster enables skewed screen images to be automatically corrected quickly and accurately, even in a limited space. Quick corner feature is also available in this range of projectors, enabling keystone correction and lens shift function simultaneously for maximum projection. The split screen function for side-by-side viewing of two screens enables the presentation and the presenter to be shown simultaneously during video conferencing.
Advanced Network Projection: The projectors enable simultaneous projection of up to 4 PCs, smartphones or other devices with the multi-PC projection moderation function, for collaboration and easy sharing of information. With the control of a host PC, up to 50 terminals can be connected to a single projector – A feature suitable for classroom use.
Remarkable Connectivity: This series of projectors come with advanced connectivity features for convenient and hassle-free projections. With a wide-range of interface, users can choose from HDMI, VGA or LAN. Additionally, all models come with 2 HDMI ports, in which one of it is MHL-enabled for greater digital compatibility. Additionally, the miracast feature is also available for EB-2142W.
Wireless Connection: The projectors are equipped with Wi-Fi connectivity capability – inbuilt for EB-2142W. Users can easily share and transmit images and files from their smart devices using the iProjection App. The iProjection app also provides easy connectivity for projecting images and files from smart devices, with a QR code reader making it even easier to connect simply by scanning it with your device to connect. Users can also purchase an optional wireless dongle, the Epson ELPAP10 to upgrade the non-wireless models into a wireless projector.
To find out more about Epson's business projectors, please visit here.