Uber and AirAsia are partnering to help provide a seamless, affordable and convenient door-to-door experience for travellers. This innovative partnership will go beyond offering promo codes and discounted rides and will include joint marketing efforts and technological integration.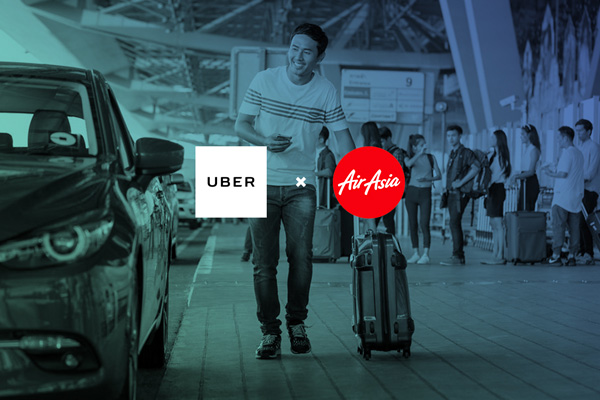 Commenting on the partnership, Brooks Entwistle, Chief Business Officer, Asia Pacific said, "Uber is thrilled to partner with AirAsia to offer customers exactly what they're asking for – a seamless, affordable, and convenient travel experience. By working together, we can provide a service that allows customers to request their Uber ride to the airport in step with their itinerary and have their Uber driver partner waiting for them when their flight lands. So, whether you're trying to get home to see your family, or heading to an important business meeting; your travel experience should be seamless, from door-to-door!"
Tony Fernandes, AirAsia Group Chief Executive Officer, said, "AirAsia is always looking to complement its award-winning inflight experience with services outside the plane that meet our exacting standards. We have found the right ride partner in Uber. Working with Uber allows our guests to plan their entire trip from the moment they step out of their home right until they arrive at their destination, providing amazing travel comfort and peace of mind."
The two companies will work together to help passengers get home or to work, or to the airport and back more seamlessly in the 52 cities in 16 markets across Asia Pacific and the US, where AirAsia operates and the Uber app is available.
AirAsia will incorporate a "deeplink" feature that allows Uber riders to request or schedule rides when confirming, booking or checking in for flights. New users to the Uber network will also enjoy promo codes for free or discounted rides when they register their account and use the promo code "AIRASIA". To ensure the success of this partnership, both companies will also embark on joint marketing efforts.
Both Uber and AirAsia asserted that they were the right partners for each other, as leading brands in their respective categories. AirAsia has been named Skytrax World's Best Low-Cost Airline for nine years in a row from 2009 to 2017 and boasts an annual passenger traffic within Asia Pacific of 60 million while Uber is the only truly international ridesharing app, available in over 500 cities in more than 70 countries worldwide.