Garmin Malaysia today announced the Vector™ 3/3S, a completely redesigned pedal-based power meter. Unlike previous versions of Garmin Vector power meters, the Vector 3/3S does not have a pod and installs like any other pedal, making it easy to transfer from one bike to another without professional assistance. Once installed, the dual-sensing Vector 3 measures total power, left-right balance, cadence and advanced cycling dynamics while the single-sensing Vector 3S reports cadence and total power.
The Vector 3/3S features a sleek new design providing cyclists with greater cornering clearance and improved stack height for smarter ergonomics, while LED lights on the pedals display important setup and maintenance information. The Vector 3/3S is a direct-measurement power meter – the sensors are housed in the pedals – so it delivers reliable, accurate data on every training session.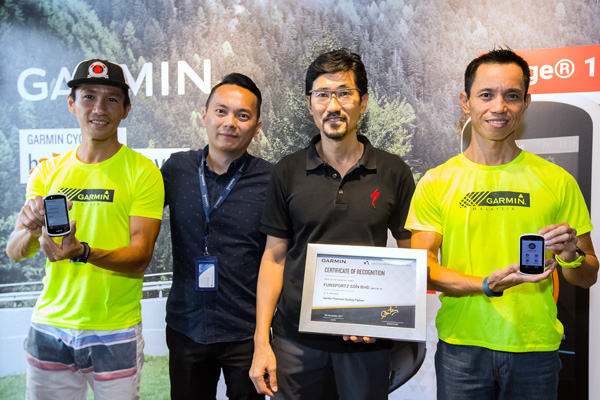 "As cyclists aim to beat their personal best on their next race, the affordable and innovative Vector 3/3S will help them ride farther, stronger and more often," said Dan Bartel, Garmin vice president of worldwide sales. "By redesigning the pedal and eliminating the pod, cyclists have the ability to quickly transfer from bike to bike and still receive advanced performance data that takes their training to the next level."
With the Vector 3 dual-sensing pedal-based power meter, cyclists have the ability to see right and left leg power independently. Measuring cadence, total power, left-right balance and advanced cycling dynamics, the Vector 3 shows cyclists how and where they are producing power and helps them tailor their training around their specific strengths and weaknesses to improve their form. The Vector 3 tracks Seating/Standing Position to determine when and how long cyclists are in each so they can gauge position effectiveness, while Power Phases show how riders are currently producing power with every pedal stroke, and Platform Center Offset helps determine where power is applied on the pedal, ensuring proper cleat position.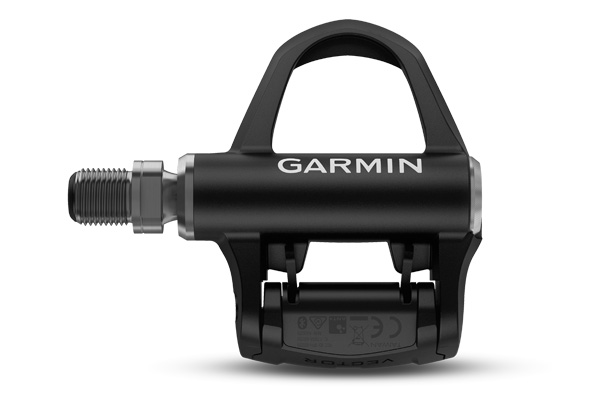 The affordable, single-sensing Vector 3S uses the forces detected on the left pedal to measure cadence and approximate total power, and can easily be upgraded later to the dual-sensing system.
The Vector 3/3S fully integrates with the Garmin cycling ecosystem, including the Varia™ Rearview Radar, the upcoming Varia UT800 Smart Headlight and the new Edge® 1030. ANT+® technology not only lets cyclists receive structured indoor training by pairing their Vector 3/3S with power-based training systems like TrainerRoad, Zwift and more, but they will also gain access to compatible 3rd party training platforms including Strava and TrainingPeaks™. Meanwhile, Bluetooth® technology allows post-ride analysis, data sharing, mapping, route planning and more to be integrated into training through Garmin Connect™ – an online community where people can connect and compete by joining challenges, encourage each other's successes and share their triumphs via social media.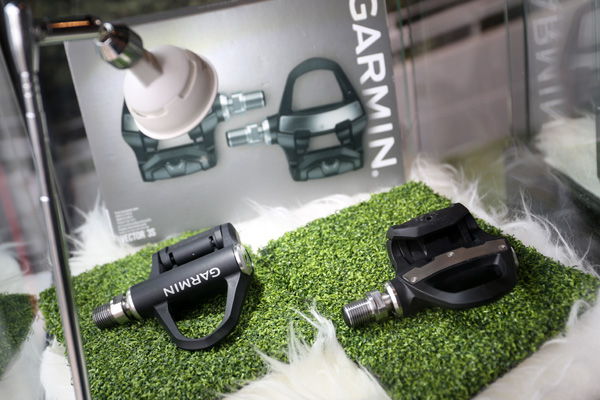 The Vector 3/3S features up to 120 hours of battery life. The Vector 3 has a suggested retail price of RM4799.00 and RM2899.00 for the Vector 3S.
The second member to join the Garmin family today is the Edge 1030, a high-end cycling computer that combines enhanced navigation, performance and cycling awareness into a lightweight design. Using billions of miles of ride data from Garmin Connect™, new Trendline™ popularity routing provides cyclists with the best on and off-road routes possible, allowing them to ride with greater confidence. Whether hitting the trails or streets, cyclists will benefit from the Edge 1030's pre-loaded Garmin Cycle Maps that feature turn-by-turn directions for all terrains, and alerts to sharp curves ahead.
Ideal for riding no matter the weather conditions, the Edge 1030 features a 3.5-inch high-resolution, capacitive touch panel display that is quick and responsive – even when wet or used with gloves. Ambient light sensors automatically adjust the screen's brightness making important key training metrics and advanced performance monitoring tools easier than ever to view day or night.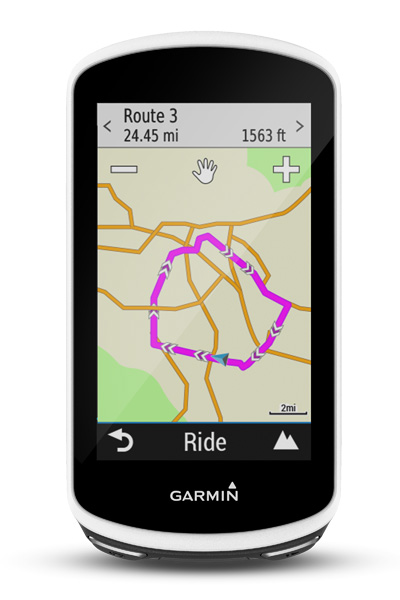 "Whether a competitor, commuter or adventure-seeker, we've found a better ride for all cyclists with the newest addition from Garmin – the Edge 1030," said Dan Bartel, Garmin vice president of global consumer sales. "This innovative GPS cycling computer is compatible with our suite of cycling products, including the new Vector™ 3 and 3S power meter, as well as our Varia™ cycling awareness products like the Varia Rearview Radar and the upcoming Varia UT800 Smart Headlight. This means cyclists can now ride farther and more often thanks to the most advanced, intuitive and motivating ride data to date."
Enhancements in navigation and course planning on the Edge 1030 were made with the cyclist in mind. New Trendline popularity routing uses billions of miles of ride data from Garmin Connect to provide riders with the best road, mountain or gravel routes that are aggregated from those most traveled by fellow cyclists. Using the improved and revamped Course Creator in Garmin Connect allows cyclists to generate even more bike-friendly routes based on popularity data.
Pre-loaded on the Edge 1030, the Garmin Cycle Map includes turn-by-turn navigation and new alerts that notify riders of sharp curves ahead. While riding, cyclists will receive elevation information, see points of interest and be able to search for addresses – all right on their screen. By inputting a distance and starting direction, the Edge 1030 will give riders up to three round-trip routes to choose from and will guide cyclists back to the route if they stray away. Built-in GPS, GLONASS and altimeter sensor capabilities also provide accurate ride data so cyclists know how far, fast and high they ride.
While out for a ride, the Edge 1030's smart connectivity features mean cyclists won't have to reach for their phone. New rider-to-rider messaging lets cyclists send pre-written messages directly from their Edge 1030 to other riders using the Edge 1030. Cyclists can also view and respond to missed calls or texts with pre-written replies. Built-in incident detection will automatically send a cyclist's location to emergency contacts if they run into trouble, while GroupTrack and LiveTrack let friends, family and other cyclists keep track of a rider's location in real time.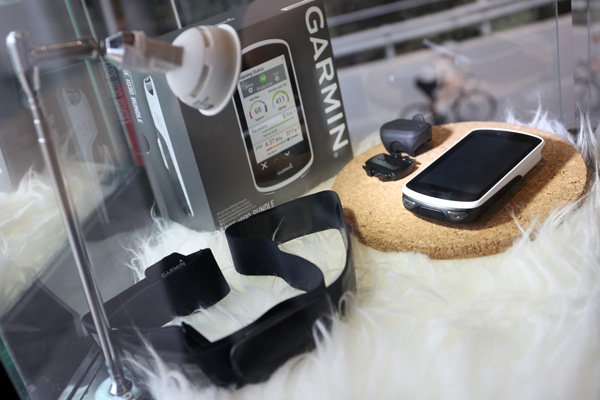 The Edge 1030 comes with the latest version of Strava Live Segments, featuring more competition and better segments. Cyclists who upgrade to Strava Premium will gain access to everything from real-time races against their personal best, to the most popular nearby segments. Cyclists can star their favorite Strava segments, and while riding, will receive an upcoming segment alert as they approach a start. Riders will then receive second-by-second, real-time comparisons of their performance against their most relevant competitor and will race against their actual speeds – not just their average. The new Segment Explore feature lets riders view popular and marquee segments around them directly on their Edge. Pre-loaded with the new Strava Routes Connect IQ app, starred routes can now be wirelessly synced to the Edge 1030 so cyclists can navigate and compete on their favorite Strava segments at the same time.
Installed on the Edge 1030, the new TrainingPeaks Connect IQ app puts daily workouts right on the Edge device. It guides cyclists through a workout in real time – complete with intensity targets and interval durations. After a workout, syncing to TrainingPeaks will provide cyclists with a detailed analysis of their ride, as well as the ability to measure progress toward their goals.
Linking the Best Bike Split Race Sync app with an Edge 1030 means cyclists will have all their current race plans available at their fingertips. Best Bike Split allows riders to see how changes in weight, power and drag affect their goal race time, while helping to create the perfect power plan for race day.
The Edge 1030 works with the new flush mount, keeping the device in line with the handlebars – not above them – giving it a lower profile. Featuring up to 20 hours of battery life, The Edge 1030 bundle version – which includes a premium heart rate monitor as well as cadence and speed sensors, has a suggested retail price of RM3199.00.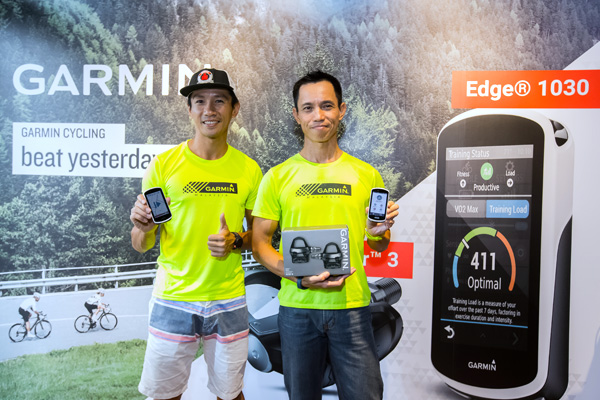 The ever-expanding Garmin fitness segment develops technologies to enhance and promote healthy and active lifestyles. Whether users are runners, cyclists, swimmers, multi-sport athletes, or simply looking to stay active throughout the day, there is a product that can help them reach their health and fitness goals.
The new products and other Garmin products are sold at Garmin's headquarters (AECO Technologies), 43, Jalan Jejaka 2, Taman Maluri, Cheras; and concept stores around Malaysia, namely Mid Valley Megamall, Digital Mall Petaling Jaya, 1 Utama Shopping Centre, Taman Lagenda – Melaka, Juru Autocity – Penang, Bukit Indah – Johor, and Kuantan – Pahang. For more information about Garmin Malaysia and its range of offerings, visit www.garmin.com.my.