Petaling Jaya (27 April 2017) — Western Digital Corp. (NASDAQ: WDC) today announced that it has begun shipping its fourth-generation helium-based hard drive with its 12TB HGST-branded Ultrastar® He12 hard drive. The Ultrastar He12 12TB hard drive is the next generation of the company's award-winning high capacity enterprise-class drive with HelioSeal technology, providing customers with a data storage solution addressing the expansive information management needs and demanding performance requirements of today's enterprise, cloud and hyperscale workloads.
"We have again raised the bar in enterprise storage with the industry's most advanced and cost effective highest capacity helium HDD storage solutions," said Mark Grace, senior vice president of devices at Western Digital. "The Ultrastar He12 hard drive advances Western Digital's portfolio leveraging the HelioSeal platform to deliver industry-leading high capacity HDD storage with exceptional power efficiency. Western Digital has shipped over 15M helium-based high capacity drives to date and continues to support our customers with outstanding reliability and Quality of Service (QoS). Our industry-leading data center portfolio enables customers across the spectrum to meet their evolving and dynamic data center demand."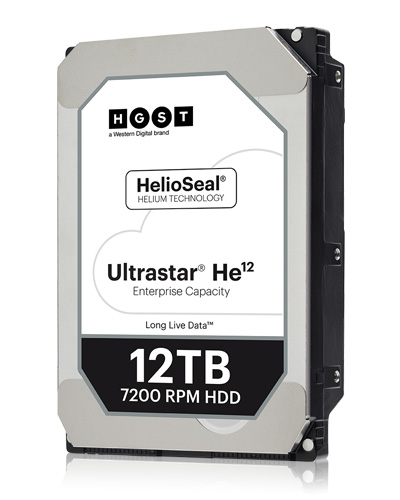 Ultrastar He12 Helium HDD
Known for high quality, the enterprise-class Ultrastar He12 HDD features an industry-first eight-disk design, to deliver 12TB capacity using PMR technology in a standard 3.5-inch form factor. It is the world's highest capacity hard disk drive for active random workloads. Utilizing Western Digital's unique HelioSeal process that seals helium in the drive to help provide the highest capacity HDD and exceptional power efficiency, the Ultrastar He12 HDD comes in a single 12TB capacity point and offers either a SATA or SAS interface both using Advanced Format. HelioSeal technology utilizes helium with 1/7 the density of air, enabling the use of thinner disks, while maintaining a stable recording interface. The unique Ultrastar He12 HDD design adds an eighth disk, two more than the highest capacity air-based enterprise drive, which enabled the capacity increase to 12TB, 50 percent more than the highest air-based enterprise drive. This additional capacity provides for increased storage density, reducing associated data center infrastructure required to store a given amount of data. It also encompasses a low-power design without compromising performance, which helps reduce overall cost of ownership. The Ultrastar He12 HDD is perfect for any application that requires massive amounts of cost-effective storage.
Features and Specifications:
Ultrastar He12 Helium HDD
HelioSeal: Western Digital's fourth generation, based on exclusive HelioSeal technology, bringing the highest capacity HDD to market much sooner than competing technologies
World's first 8-disk design, 12TB capacity, available with either 12Gb/s SAS or 6Gb/s SATA interface
Data Security: Instant Secure Erase, sanitize and safely redeploy HDDs using the Instant Secure Erase feature
SED Features: Help protect end user data with encryption (Self Encrypting Drive)
Reliability: Amongst the industry's highest MTBF rating at 2.5M hours
Availability
The Ultrastar He12 HDD is currently shipping to distribution and comes with a 5-year limited warranty. For more information on the He12 12TB drive, visit www.hgst.com/products/hard-drives/ultrastar-he12.