Kuala Lumpur (9 November 2016) — ViewSonic Corp., a leading global provider of visual solution products, today unveiled its latest additions to the extensive line-up of high-quality monitors. The models include VA19 series, VX76 series, and VX3209-2K QHD monitor for best entertainment viewing; XG2703-GS for realistic gaming experience; and VP2468 for astounding color accuracy, engineered for the professionals. Gone are the days of boxy, bulky monitors as ViewSonic SuperClear® IPS monitors feature sleek, contemporary design for both work and play.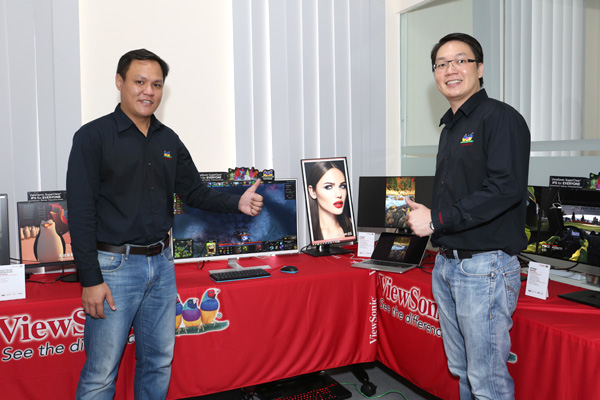 "We are excited to introduce our latest range of SuperClear IPS monitors, each engineered to cater to the different needs and requirements of individuals," said Mr. Chaw Foo Hong, Country Manager for ViewSonic Malaysia. "Be it for home entertainment, office work or even professional photography masterpieces, we have the ideal monitors to deliver the best viewing experience for users," he added.
Outstanding Frameless Screen Performance at Wide Viewing Angles
VA2419-SH and VA2719-SH SuperClear IPS monitors deliver sharp color representation and feature modern, minimalistic and frameless design. A narrow 6.4mm frame makes viewing more effortless, while the convenience of multi-monitor setup capabilities provides flexibility for any viewing setup. VX2476-SMHD and VX2776-SMHD monitors boast 6.6mm* ultra slim design with frameless bezels, offering beautiful eye-pleasing design to cater to stylish, modern, and tech-savvy individuals. Its minimalist and chrome like triangle stand also makes it a work of art.
On the other hand, the 32-inches VX3209-2K with 2560×1440 WQHD resolution lets you enjoy more by delivering amazing visual clarity with stunning details. Featuring 8.9mm slim bezel with narrow frame, VX3209-2K comes with a unique white T stand and white bezel for the discerning ones.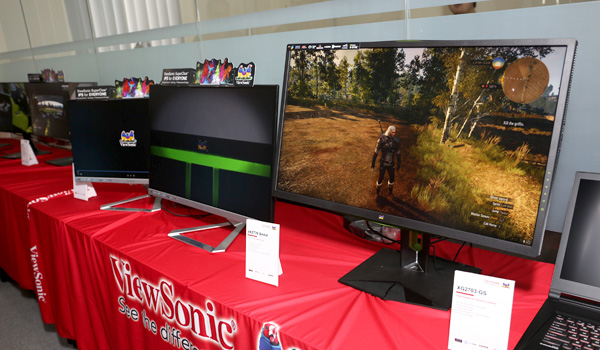 Enjoy accurate and vivid colors with consistent levels of brightness whether you are looking at the screen from above, below, the front or the side. The 1080p Full HD VA19 series and VX76 series come with extensive connectivity including VGA, and HDMI, with VX76 series also features DP built-in stereo speaker, making it the ideal multimedia display to view entertainment like action packed movies, sports and more. All the models are integrated with ViewSonic's unique ViewMode feature, as well as Flicker-Free and Blue Light Filter that eliminate eye strain for maximum viewing comfort over an extended period of time. VA19 series and VX3209 also features VESA-compatible mount design.
The Ultimate Gaming Display with NVIDIA G-Sync Technology
The XG2703-GS is the first in the series to include NVIDIA's G-SYNC** technology that seamlessly synchronizes the frame rate output between the graphics card and monitor. It also features NVIDIA's Ultra-Low Motion Blur (ULMB) technologies that smooths movement and sharp edges, decreasing motion blur and minimizing ghosting.  The 165Hz*** refresh rate and 4ms response time ensure that the display delivers superior visual fluidity and graphics that burst off the screen.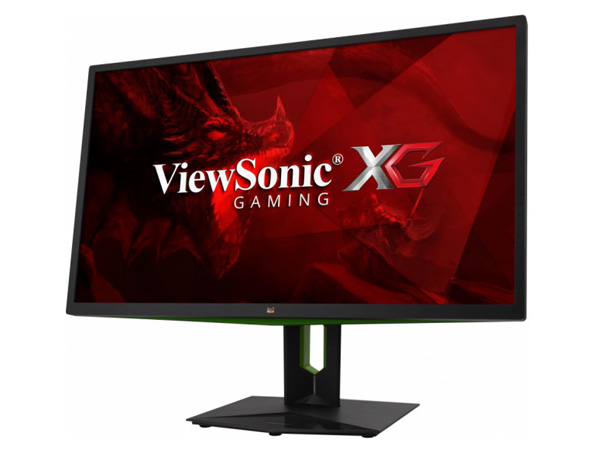 With SuperClear® IPS-type panel and 2560×1440 WQHD resolution, this 27-inch monitor is the perfect display for hardcore gamers looking for enhanced color accuracy, high-graphic details, and unbelievably fluid gameplay. The display comes with dual integrated speakers for an all-around immersive experience. To take gaming to the next level, XG2703-GS features adaptive contrast control, dark boost and customizable "game mode" settings.
XG2703-GS integrates DisplayPort and HDMI inputs to give you the freedom and flexibility to connect to your dedicated graphics card and gaming console. ViewSonic's propriety Flicker-Free™ technology and a Blue Light Filter eliminate eye strain that comes with extended viewing. Featuring fully adjustable ergonomic stand capabilities with swivel pivot, tilt and height adjustment, as well as an integrated headphone hook and cable management ring, gamers will appreciate a gaming space free from extraneous cords.
Professional 24-inch Monitor with Remarkable Color Accuracy and One of the Market's Thinnest Bezels
VP2468 is a 24-inch Full HD 1080p monitor that offers amazing color accuracy for color-critical applications. Built with an edge-to-edge SuperClear® IPS panel, it features a 4 Sided Frameless Design that creates a seamless and pure visual experience in multi-monitor setups without the distraction of boundaries. Its comprehensive color accuracy technologies makes it the standard display for applications where color accuracy is crucial. In addition, the sleek and frameless design is ideal for multiple monitor set-ups to showcase vivid and lifelike colors, making it ideal for professional photographers, graphic artists, as well as content and development designers.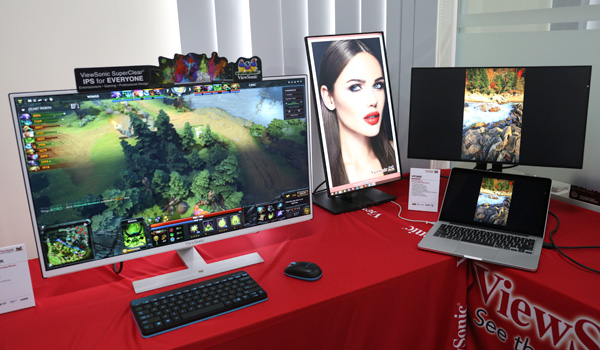 For precise and uniform color, each VP2468 is factory calibrated to a Delta E<2 value for superior accuracy of all the included color spaces, including sRGB, EBU, SMPTE-C, REC709 and DICOM-SIM. The VP2468 is engineered with an integrated color uniformity function that ensures consistent chromaticity across the entire screen, while a 14-bit 3D look-up table generates a palette of 4.39 trillion colors for astoundingly precise and exact image reproduction. A six-axis color enhancement allows users to individually adjust six primary colors: red, green, blue, cyan, magenta and yellow.
VP2468 is equipped with DisplayPort technology, Mini DisplayPort, dual HDMI inputs, and four USB 3.0 ports for maximum flexibility and connectivity to a variety of devices and peripherals.
In addition to the color and connectivity technologies, the VP2468 comes with ergonomic features including tilt, swivel, auto pivot and height adjustments for comfort. With built in G-sensor, the screen image can automatically pivot when positioned vertically. The optional ViewSonic Colorbration Kit allows users to quickly and easily calibrate the monitor to match the user's needs.
All models will be available at major IT retail outlets and ViewSonic Authorised Store in Lazada and 11street
For more information about ViewSonic products, please visit www.ap.viewsonic.com/my.
About ViewSonic
Founded in California in 1987, ViewSonic is a world leading visual solutions provider.  As an innovator and visionary, ViewSonic keeps the world connected with a portfolio of professional level visual solutions that enhance the way we compute, collaborate, communicate and connect. Our products include LED monitors, interactive commercial displays, touch displays, projectors, thin client, zero client and smart displays. To find out more about ViewSonic, visit www.viewsonic.com.