Kuala Lumpur (2 September 2016) — Malaysia adds another feather to her cap with a second place win by Ng Hwa Ee at the 2016 Adobe Certified Associate (ACA) World Championships held in Orlando, Florida on 7 August 2016. The championship results announced on 16 August 2016 saw Ng, a student at Tunku Abdul Rahman University College, clinch the silver medal beating 230,000 competitors from all over the world. He was awarded a scholarship worth US$2,500, a medal of achievement and certificate of recognition, together with an Adobe Creative Cloud software subscription.
This year, under the Championship's theme 'Make Creativity Bloom', participants were given 8 hours to create a digital marketing flyer for the International Child Art Foundation's (ICAF) 6th Arts Olympiad using Adobe Creative Cloud such as Adobe Photoshop CC, Adobe Illustrator CC, and Adobe InDesign CC. Judged based on their creative and technical skills, they were also evaluated on their ability to implement ICAF's vision and message; preparing students for the real world work tasks.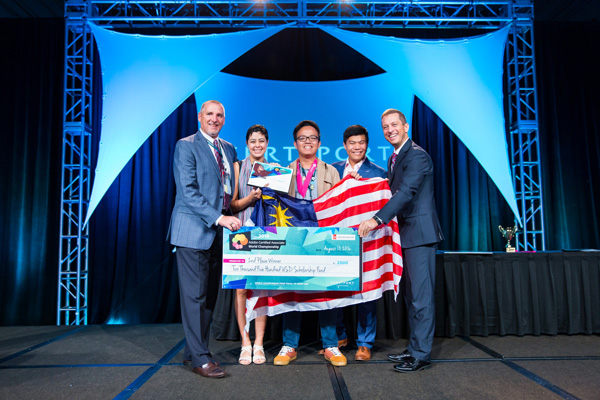 "I had to put myself in the shoes of the ICAF and immerse myself in the vision and messaging they wanted to epitomise. It was challenging to internalize and develop all of these in 8 hours. However, I kept my cool and did the best that I could. Winning second place was definitely the icing on top of the cake and to be able to do this in the midst of such talented individuals is truly humbling," Ng shared.
In his winning artwork, Ng portrayed how children of the future are able to express themselves creatively through arts, sports, or even culture and added elements containing a Malaysian twist such as the Rafflesia. "I decided to try a different approach designing this flyer as the style I chose required a lot of illustration and drawing. I spent a lot of time drawing and redrawing using Adobe Creative Cloud, especially Adobe Photoshop CC and Adobe Illustrator CC," added Ng.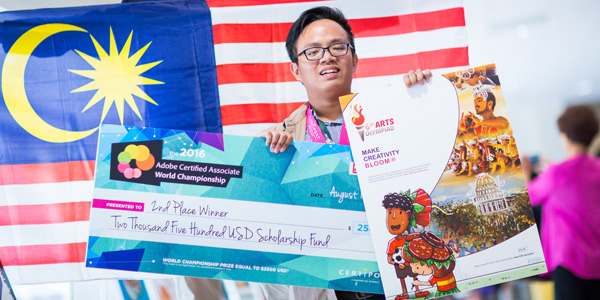 The Adobe Certified Associate (ACA) World Championships, held since 2012, is an annual event that tests students' design skills using Adobe Photoshop, Illustrator and InDesign. Top students from all over the world are invited to represent their respective countries at the World Championships. This is the first year Malaysia has sent a representative to the competition, chosen from over 400 submissions at the national level championship held from April to June 2016.
Here is the complete list of winners from the 2016 World ACA Championships:
1st place: Lourdes Gimena Anquiano Bermudez, Mexico
2nd place: Ng Hwa Ee, Malaysia
3rd place: Cheung Kuok Pan, Macau
4th place: Loh Xin Yi Chrystabelle, Singapore
5th place: Flavio Gabriel Alvarado Valencia, Peru
6th place: Yolanda Barr, Caribbean
7th place: Sataporn Malee, Thailand
8th place: Amanda Galvan, USA
9th place: Marie Bailey, New Zealand
10th place: Un Ting Hau, Macau