Malaysia (11 August 2016) — Sony today announced a powerful addition to its audio line-up, along with a host of the new products dedicated to delivering deep bass. Expanding the existing EXTRA BASS' series of headphones and speakers for when you're on the move and bringing club sounds into your home', dance music lovers can now enjoy the intensity of deep bass notes in a variety of locations using the one box high power audio system.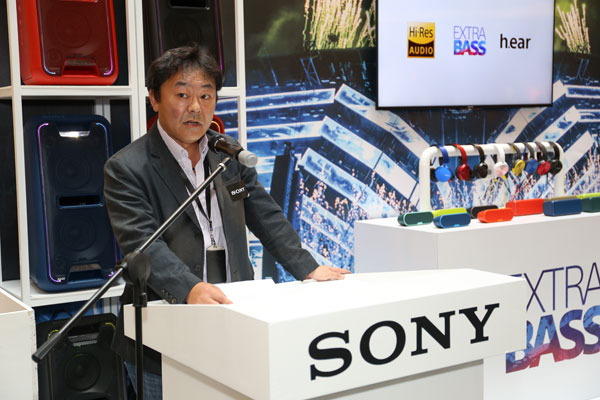 GTK-XB7 One Box High Power Audio System
One box, boombastic bass. With fabulous sound, bags of power and massive low frequency response from two large 16cm woofers, the XB7 turns nights at home into a premium clubbing atmosphere, and creates an EDM experience.
Sony's unique EXTRA BASS sound uses DSP (digital signal processing) technology that cleverly processes frequencies according to the source while maintaining excellent audio quality. Music sounds and feels even more powerful, with punchy and deep bass notes that define today's pulsing electronic dance tracks. Exciting colour changing 3-way line lights, strobe flashes and speaker light effects interact with the music, bringing that festival vibe right into your room.
Play things your way: Multi Layout lets you position the XB7 vertically or on its side, enjoying sensational stereo sound in either orientation. There's also a handy Speaker Add function that allows you to hook up a second XB7 unit via Bluetooth® and instantly doubles your music power.
Stunning sound, no wires: One-touch listening lets you stream your favourite tracks and playlists via Bluetooth® with a single touch of your NFC smartphone or tablet. And if you want to get even more hands on, add cool DJ-style effects controlled with Sony's SongPal app on your mobile. You can charge your phone or tablets battery over USB while you're playing music. There's also an audio input for connecting MP3 players or just about any other sound source.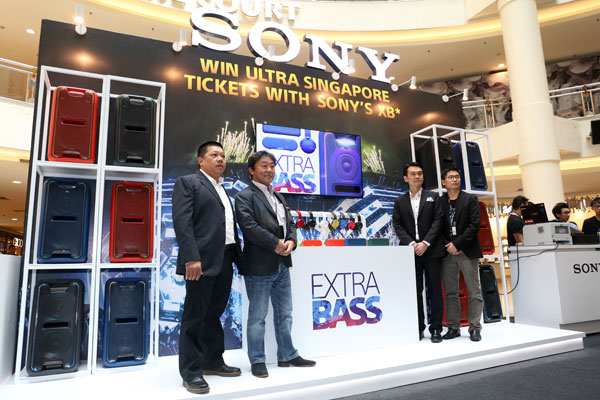 SRS-XB3 / SRS-XB2 Portable Wireless Speakers
Impress your friends when you're out and about with the SRS-XB3 and SRS-XB2 portable wireless speakers, with dedicated EXTRA BASS button to pump up the party. A whole host of big technologies are housed inside the XB3 and XB2 to achieve a hugely punchy bass for its small size. The XB3 is small enough to carry around and with a battery life of 24 hours of continuous wireless use, you can party from dusk till dawn, while the XB2 provides approximately 12 hours of continuous wireless use on a four hours recharge.
Both wireless speakers have multiple usage options. The XB2 and XB3 enable you to wirelessly add two speakers together using the 'Speaker Add' function for even more powerful sound; Forget about spillages if your pool party is pumping as the speakers are water resistant. They're also so simple to use; with NFC one-touch Bluetooth® connection, all you have to do is touch your smartphone or music device to the speaker, and you can start listening to your party tracks instantly.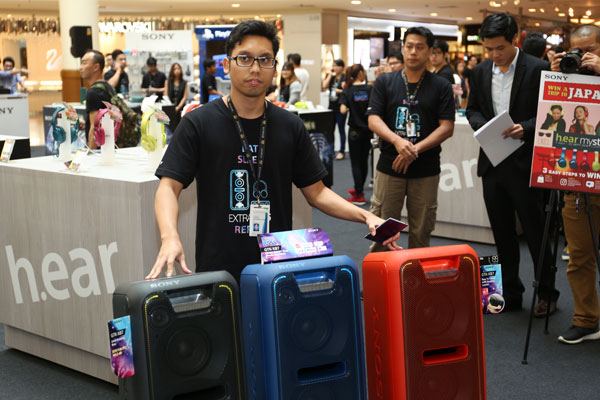 MDR-XB650BT Headphones
MDR-XB650BT is a Bluetooth® compatible, compact addition to the existing EXTRA BASS series of Sony headphones. With a 30mm driver exclusive to this range, together with an incorporated bass booster structure and dedicated EXTRA BASS diaphragm, the headphones achieve highly realistic notes that precisely carves out the rhythm and groove feeling of rich bass. Keeping you wire-free, One-touch Bluetooth® connection and music playback is offered via NFC. Compatible with AAC and aptX® Bluetooth® codecs, it enables a premium audio quality sound even when listening wirelessly. With 30 hours of continuous music playback rechargeable anywhere via USB, your party won't stop even at the break of dawn.