Shah Alam (6 June 2016) — Digi Telecommunications Sdn Bhd (Digi) today calls for Malaysian youth leaders active in social change to apply for its annual Telenor Youth Forum (TYF).  The company is searching for two inspiring youths to join young opinion leaders from 13 of Telenor's markets across Asia and Europe including Digi – to tackle social challenges through the use of digital solutions under this year's theme, "Digitalisation for Peace".
Run in partnership with the Nobel Peace Center, the Telenor Youth Forum is a year-long commitment that begins in Oslo, Norway from December 8 to 11, 2016, and is timed to coincide with the Nobel Peace Prize festivities. The 26 young delegates will work in teams on their assigned challenges, aiming to create engagement, awareness, understanding and ultimately peace. They will meet again in May 2017, in Bangkok, to continue their journey. The culmination of their commitment to the program will be the unveiling of a digital exhibition in collaboration with the Nobel Peace Center in 2017.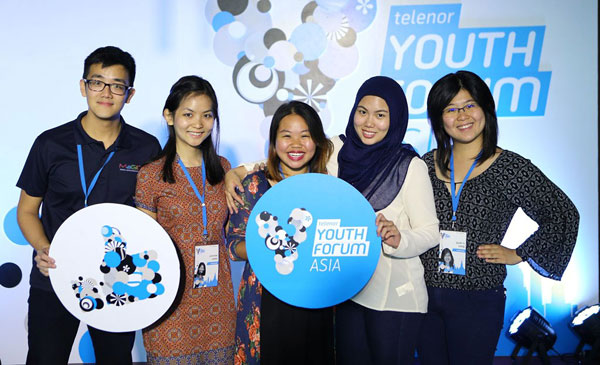 Philip Ling, Digi's Programme Manager for Sustainability said, "Telenor Youth Forum provides our youth the opportunity to create change that can bring positive impact to the world. Coming from a generation of digital natives, I believe our youth have the advantage of understanding how the mobile internet can work best in our aspiration for a better world for all. This year, we are challenging Malaysian youths to use the technology as the key ingredient in the recipe for peace. If you are a youth, passionate about world peace and believe that you are able to create dialogue and engagement around a social issue and to make an impact with the use of digital solutions, we encourage you to apply."
This year's TYF is open to Malaysian youths aged 20 to 28 years old, who is fluent in English, passionate about driving social, economic and/or environmental change as well as having fresh perspectives on how to make a difference within their own respective communities. The TYF delegates will spend one year working with their teams to deliver on the project plans and will meet twice physically and collaborate virtually when back in their home countries.
Apply to be a part of TYF2016 and make the world a better place at https://new.digi.com.my/promotion/telenor-youth-forum-2016 by 5 August 2016. The two winners will be selected and announced in October 2016.
TYFA – addressing key issues faced by Asian youth
The call for participation for this year's TYF follows the conclusion of the Telenor Youth Forum Asia (TYFA), a two-day forum that was held recently in Bangkok, Thailand attended by the Asian alumni of the Forum from the past three years. Also organised by the Telenor Group, the forum saw 29 delegates explore, discuss and develop solutions to some of the most daunting challenges facing Asia's youth including how to fight youth joblessness, get more girls into schools, educate young laborers, break the taboo of mental health, and engage youth in national dialogue.
A multinational team consisted of six delegates including a Malaysian youth, Yong Wei Shian was recognised for its winning solution to address joblessness among youth. Youth unemployment is more than double the rate of the total working population and working poverty is significantly higher for workers in young age brackets across Asia.
The team proposed the development of an online portal that partner with industries and the government to leverage on macroeconomics to forecast future job trends and opportunities in order to address both current joblessness and prevent future unemployment by helping young people make informed career choices and explore future occupations. The portal also aims to assess the young people's existing competencies and provide relevant capacity building resources and online learning courses to close the skill gaps.  Yong with his team members will be going to Oslo, Norway, as mentors in the upcoming global Telenor Youth Forum 2016.
The youth delegates were guided by world-class mentors and speakers from organisations such as the United Nations Development Programme, UNICEF Global Innovation Centre and the Nobel Peace Center, who provided expert resources for strategy building, design planning and solution delivery.
Karianne Melleby, Telenor's Head of Global Partnerships said, "The creative, inspiring solutions presented by the delegates are testament to the incredible potential that is available amongst youth all across Asia. We look forward to continuing the dialogue with these participants in order to support the possibility of bringing these solutions to life as real, scalable programmes to benefit their peers."
For more information visit: www.telenor.com/youthforum.