Kuala Lumpur (20 May 2016) — Transcend Information, Inc. (Transcend
), a leading manufacturer of storage and multimedia products, is proud to announce the availability of its JetDrive Go series of USB flash drives featuring dual connectors: support for Lightning and USB3.1 interfaces for excellent and uncompromising transfer speeds. The JetDrive Go 500 and JetDrive Go 300 can easily expand your Apple device storage via its Lightning connector whilst offering compatibility to any USB-compatible device with its native USB interface.
JetDrive Go 500
The JetDrive Go 500 provides a stylish, unibody design made with high-quality alloy construction but comes in a small size featuring dual connectors to connector your JetDrive directly to your Apple device via Lightning connector and then transfer files directly to any device with a USB interface. The JetDrive Go 500 supports the JetDrive Go app featuring Shoot and Save function allowing photos and videos to be captured and saved directly to the JetDrive Go 500 flash drive without manual intervention saving you internal storage. The drive comes in both Silver and Gold to match popular Apple device colors.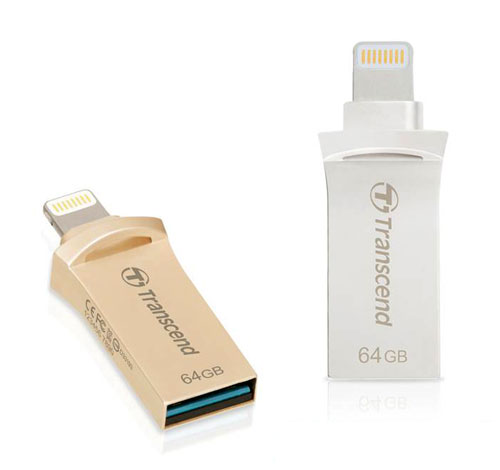 JetDrive Go 300
The JetDrive Go 300 flash drive also offers dual connector for convenient transfers between Apple devices with Lightning connectors and any device with a USB interface. The JetDrive Go is perfect for storing photos, videos and audio but will store anything you need including business documents for work. Featuring support for the JetDrive Go App, instantly save photos and videos to your JetDrive Go 300 and backup easily with a touch of a button with no Internet connection required. Save up on precious internal storage with the Transcend JetDrive Go 300.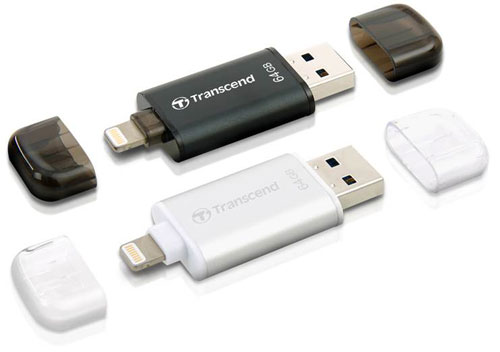 Lightning/USB 3.1 Interface for Unparalleled Transfer Speeds
The Transcend JetDrive Go series of mobile storage solutions combine a Lightning connector and a regular USB3.1 (Gen 1) interface in a single product. These technologies allow data transfer up to 20MB/s speeds for Lightning and 130MB/s with USB3.1 Gen 1 which is like transferring a full 4GB HD video in only 28 seconds. Incredible speeds for faster transfer so you do more and transfer less.
Exclusive JetDrive Go App
Transcend's exclusive JetDrive Go App is free to download from the App Store, and features an easy to use and intuitive user interface. The App allows for everything from a quick backup of the Camera Roll to your JetDrive Go mobile storage, to simple transfer of files from your iOS device to another computer. Transcend's JetDrive Go App supports a wide range of file formats, including image, audio, video, and document files. The JetDrive Go App also features a Shoot and Save function that allows users to shoot and save photos and videos directly to the JetDrive Go mobile storage, without having to worry about insufficient storage space. In addition, the App automatically organizes files into folders, photos, videos, and documents, simplifying file search and management for users.
Apple MFi Certified to Guarantee Compatibility
MFi (Made for iPod/iPhone/iPad) certification, Apple's licensing program for third-party hardware accessories that are intended for iOS devices, ensures accessories are both compatible and safe to use. Transcend's JetDrive Go mobile storage has gone through a rigorous approval process to be Apple MFi certified to not only guarantee compatibility and safety, but also quality that meets Apple's stringent performance and manufacturing requirements.
Transcend's JetDrive Go 500 is available in both gold and silver colors with both 32GB and 64GB capacities in each color. The Transcend JetDrive Go 300 comes in white and silver and comes in 32GB, 64GB and 128GB capacities.  Transcend's JetDrive Go mobile storage series is backed by Transcend's Two-year Limited Warranty.
Read more about the Transcend JetDrive Go 500 at: http://my.transcend-info.com/Products/No-718
Read more about the Transcend JetDrive Go 300 at: http://my.transcend-info.com/Products/No-717