Malaysia (25 September 2015) — With its new range of personal audio products, Sony reignites the fire in its audio line-up, bringing you stylish headphones and a Walkman® with a distinct finish in a vast array of colours that lets you match your own style. Revel in your music like never before as High-Resolution Audio brings your favourite tunes so much closer to the true sound that the artist originally intended. This combination of quality and design elevates both Sony's new "h.ear on™" headband-type headphones, "h.ear in NC™1" Noise Cancelling (NC) in-ear headphones, "h.ear in™1" in-ear headphones, and Walkman® to become a true statement of musical style and personality.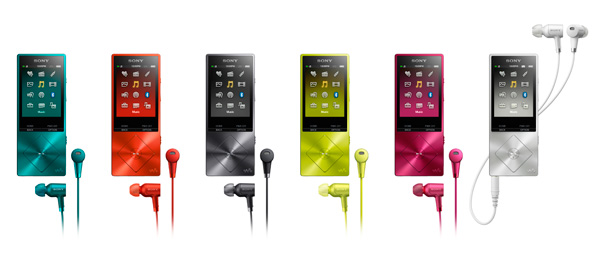 Live your style
Whether you portray laid-back elegance or radiant cheerfulness, Sony's sleek h.ear™1 (pronounced hear) series and Walkman® range are available in deep shades ranging from viridian blue, cinnabar red, charcoal black, lime yellow to bordeaux pink for every type of personality. Focusing on the beauty of simplicity, the headphones feature a single-shape design that emphasises their glossy brilliance. It is this simple expression of style that makes these devices not only great sounding products, but a true expression of character that will guarantee to turn heads.
"h.ear on™" Headphones
Sony's "h.ear on™" headband-type headphones ooze style combined with a comfortable fit. High-Resolution Audio compatibility and accurate bass responses are complemented by the 40mm HD driver unit that reproduces sounds of up to 60kHz, while lightweight CCAW voice coils yield high-linearity responses in high-pitched sounds. Aimed at providing the best sound experience, the diaphragms have been titanium-coated to minimise unwanted vibrations, resulting in crystal clear tunes. This is the ultimate listening experience. Should you want to take your headphones on the move with you, the foldable mechanism and a detachable, cross-talk reducing cable in matching colour will allow for the "h.ear on™" headphones to be securely packed in the handy supplied carrying pouch.
"h.ear in NC™" Noise Cancelling In-Ear Headphones
The "h.ear in NC™" Noise Cancelling in-ear headphones is a great example of Sony's focus on functional design and iconic aesthetics. Thanks to Sony's newly developed compact 9mm high sensitivity driver unit, this slim and compact in-ear headphones can reproduce frequencies of up to 40kHz, delivering the sweetest and clearest High-Resolution Audio sound qualities.
To ensure an immersive musical experience even in the noisiest of places, these compact in-ear headphones feature battery-powered, state of the art dual noise sensor technology and the Automatic AI Noise Cancelling technologies that filter out any unwanted noise for up to 16 hours – making them the world's first Digital Noise Cancelling High-Resolution Audio compatible in-ear headphones. Should the built-in lithium-ion battery run out of juice, you can easily recharge it via micro USB while you continue your sonic adventures – noise cancelling included.
"h.ear in™" Headphones
The third product in the h.ear series is the "h.ear in™" headphones. Designed with an aluminum housing that suppresses vibrations and reproduces high quality sounds, the "h.ear in™" headphones feature a 9mm high-sensitivity driver unit that supports High-Resolution Audio. Beat Response Control helps improve the transient characteristics in the bass and delivers the rhythm accurately. The acoustic port on the hosing further controls air flow for a more solid bass range and optimises diaphragm movements.
Similar to both the "h.ear on™" headphones, the "h.ear in™" headphones come with 4-wire configuration and a separated ground cross-talk reducing cable for expanded sound and tight bass. The compact size of the "h.ear in™" headphones is also designed for a tight, comfortable and stable fit.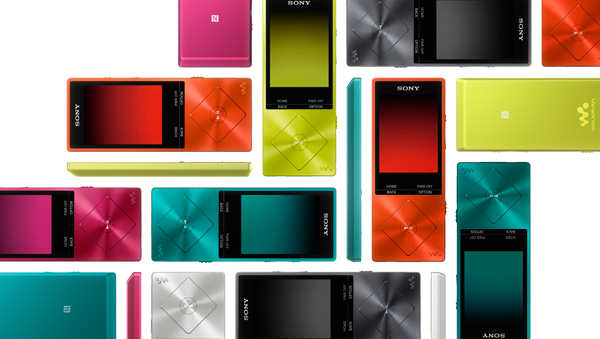 NW-A25 & NW-A26HN Walkman®
The new NW-A25 and NW-A26HN Walkman® feature everything you have come to expect from a High-Resolution Audio powerhouse and more. The NW-A26HN Walkman® comes bundled with High-Resolution Audio compatible Digital Noise Cancelling headphones allowing you to enjoy your music away from all distractions. With advancements to Sony's S-Master HX™ full digital amplifier, music is played with more delicate and dynamic sound than ever before. Meanwhile, DSEE HX™, Sony's unique upscaling technology, enhances compressed music files like MP3 formats to near High-Resolution Audio quality.
High quality wireless listening is also enabled via LDAC™ (low latency codec), a new audio technology from Sony that allows you to enjoy high quality wireless audio via Bluetooth®. With three times more data transmitted, LDAC™ provides an enhanced wireless listening experience for all your music.
Available in two capacities, 16GB (NW-A25) and 32GB (NW-A26HN), as well as with an added microSD card slot for expanded memory, both Walkman® players allow you to enjoy your favourite tunes and extensive High-Resolution Audio libraries. With a 50-hour battery life, you are free to listen to your favourite tunes for hours on the go. The NW-A25 is available in Charcoal Black/Silver/Viridian Blue/ Bordeaux Pink/Cinnabar Red/Lime Yellow colours, while the NW-A26HN is only available in Charcoal Black & Silver colours.
Sony's new range of h.ear headphones (h.ear on – RM699.00, h.ear in NC – RM499.00, h.ear in – RM399.00) and Walkman® (NW-A25 – RM799.00, NW-A26HN – RM1,099.00) will be available in Malaysia from October 2015 onwards. For more information, log on to www.sony.com.my.