Selangor (18 April 2015) — First established in 1987 in Malaysia, Courts has grown throughout the years to become one of the leading electrical, IT and furniture retailers and a must-visit place for home necessities. In celebration of its 28 years in Malaysia, Courts today launched a nationwide brand campaign, Senang Sahaja, Courts Ada  (Living Easy with Courts) supported by a new Courts Price Promise, which aims to strengthen its value commitment whilst connecting emotionally with customers in a down-to-earth way.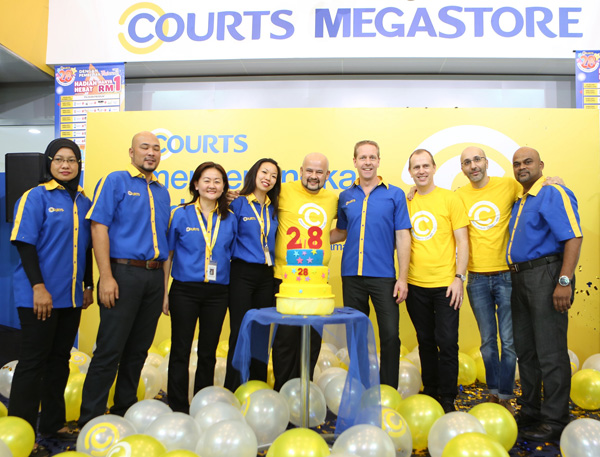 With the insight of local consumers' concerns about the increased costs of living, the campaign tagline was created based on Hidup Senang dengan Courts (Live Easy with Courts). It aims to reassure customers that Courts continues to stand for affordability in making aspirational home products easily attainable with various payment options to suit different customers' needs.
Courts invested in excess of RM20 million for the new Courts, which includes the following:
Marketing
Appointing the Godfather of Stand-Up Comedy in Malaysia, Harith Iskander, as the first Courts Brand Ambassador in 20 years.
Rolling out a 360° brand campaign, which includes TV, radio, print, outdoor, online, below-the-line and events.
Two 30-seconds TVC, Senang Kahwin (Marry Easy) and Senang Sejak Dulu (Always Easy) were also produced and will be aired on major TV stations as part of the brand campaign launch.
Enhancing the Courts Price Promise, which includes tripling the price difference if customers can find a lower price from other retailers (Please refer to Appendix 1 for the full Courts Price Promise).
Introducing new Courts Flexicredit plans for new homeowners, newlyweds and fresh graduates.
Product range
With the launch of Senang Sahaja, Courts Ada, customers will be able to look forward to a wide variety of upgrades in-store and a 50% increase in SKUs, which includes a larger array of new electrical, IT and furniture products, showcased through rejuvenated in-store concepts:
Enhancing its Ultimate Screens category with 300% more choices of large screen TVs
Upsizing the Cool Zone concept to Cool Zone Plus with a wider range of air conditioners, air purifiers and air coolers.
Launch of World of Wellness, an entire category dedicated to health products and wearables with popular brands such as Fitbit, Garmin, TomTom and Braun
New furniture range, Your Furniture and Your Bedding, with two new concepts, 'Classic' and 'Modern', which allows customers to add their own personal touch – showcased in stylish lifestyle furniture galleries to inspire design ideas for the home.
New Courts look
The new Courts will be brought to life in 15 stores, from May 2015 to March 2016, starting with the store in Setapak.
More customer-centric focused training to enable staff to make shopping at Courts a pleasure.
Cheery blue and yellow Courts shirt to replace the existing blue polo T-shirts for a smarter look.
In response to consumers' changing shopping habits, a comprehensive online store will also be rolled out, together with e-kiosks and Click & Collect counters in-store, making the shopping experience at Courts fully multi-channel in phase two of the brand campaign, which is targeted for the end of the year.
Mr Tim Luce, CEO of Courts Malaysia said, "We are extremely proud of our 28-year heritage of turning houses into homes, and becoming a trusted one-stop shopping destination for generations of value-conscious Malaysians. The emphasis on value and affordability is the cornerstone of this brand campaign. While we wanted to connect with customers by showcasing real-life experiences that they face day-to-day, we were also mindful not to lose the focus on the price messaging given that our industry is very price-competitive."
He continued, "The new Courts goes beyond a simple rebranding exercise. Much more than that, it is in everything we do – from the improved product range we are now carrying to our renewed Courts Price Promise, our commitment to customer service and ultimately, to the improved look when you step into a new Courts store. We will only be successful when our customers are able to feel the difference when they interact with our brand."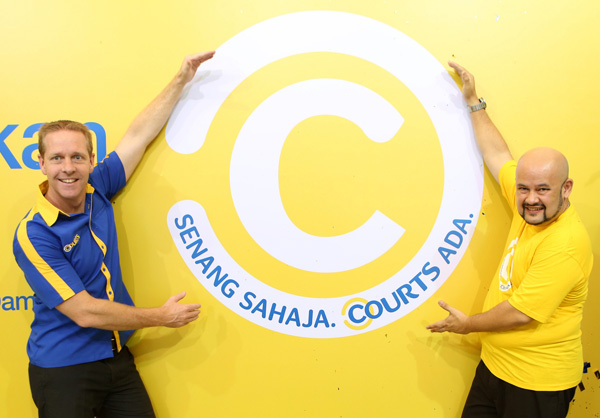 A new face; first Brand Ambassador in 20 years
The new campaign is led by a familiar and well-loved face: comedian Harith Iskander, who has been appointed Brand Ambassador to Courts for a year. The funny man will not only appear in promotional materials and meet customers and fans in Courts stores, but also participate in Courts' community outreach programme, Rumah Amal Courts, which seeks to provide household necessities to 28 charity homes and families.
On the appointment of Harith, Mr Luce added, "We are delighted to welcome Harith to the Courts family. With his down-to-earth, warm and bubbly personality, he is a local favourite who resonates and connects well with Malaysians, and imbues our brand promise and shopping experience with his appealing humour loved by all."
On his appointment, Harith commented, "My father used to shop in Courts, and as a family man now myself, Courts has become to go-to place for everything I need for my home under one roof. I recently bought a 70-inch flat screen television from Courts and was very taken by the vast selection of products and their prices. I am excited to collaborate with Courts, as I believe the affordability agenda is close to the hearts of locals and this campaign is a heart-warming reassurance that a retailer continues to stay committed to delivering the best value and experience to their customers."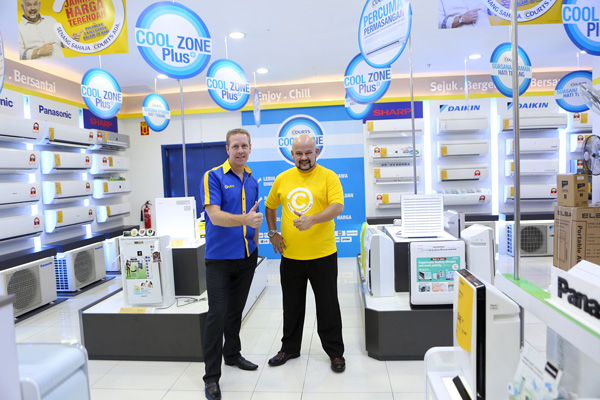 Experience Senang Sahaja, Courts Ada by stepping into any of the Courts stores nationwide, and also catch the new campaign ads on television, as well as on print, digital and outdoor mediums. For the latest updates and promotions, customers can join Courts' new Facebook page (www.facebook.com/CourtsMsia).
For more information on the new Courts, please visit www.courts.com.my.