Multi-brand premium automotive group SISMA Auto has opened the largest BYD 3S Centre in the heart of Glenmarie, Shah Alam, Klang Valley's main automotive hub.
Set up at a cost of RM5 million, the Glenmarie centre is a Class-A BYD facility and features a nine-car display showroom and 16 service bays to accommodate the growing number of BYD customers.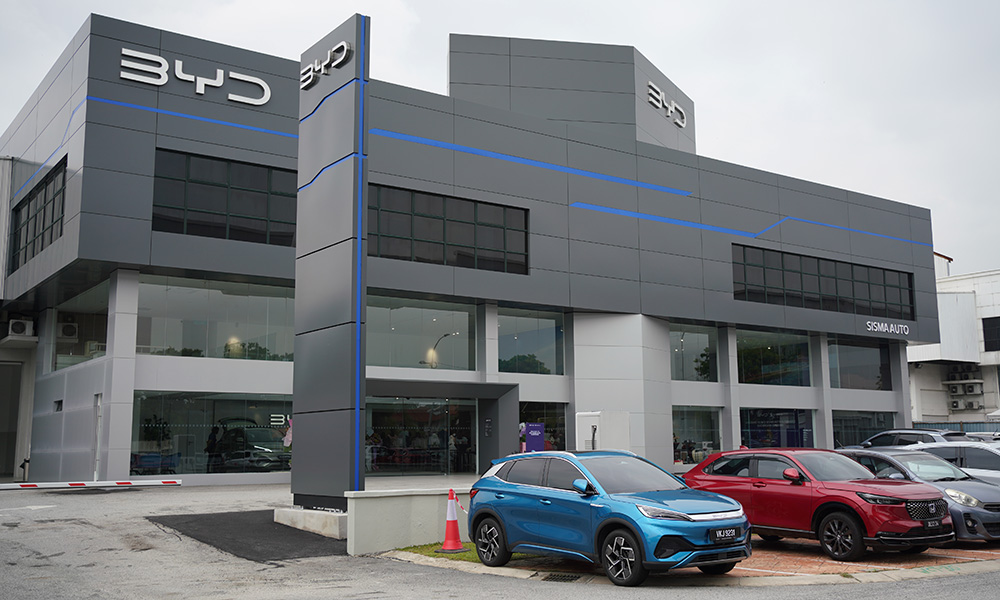 The spacious showroom is designed to showcase all the new models that will soon be launched in the Malaysian market. The 16-work bay service centre has the capacity to service over 1,000 customers a month. The state-of-the art service centre is equipped with the latest diagnostic equipment, specialised tools and jigs and also climate-controlled storage areas for sensitive power battery components. There is also a New Energy Vehicle room for repairing all high voltage components.
The BYD SISMA Auto 3S Centre has already received the seal of approval from BYD Founder and Chairman Wang Chuanfu during his visit to Malaysia on 4 May 2023.
SISMA Auto Group Managing Director Syed Khalil bin Syed Ibrahim said that the company, with its 30 years of experience in partnering with premium automotive brands, was well positioned to offer a premium 3S experience to BYD owners in Malaysia.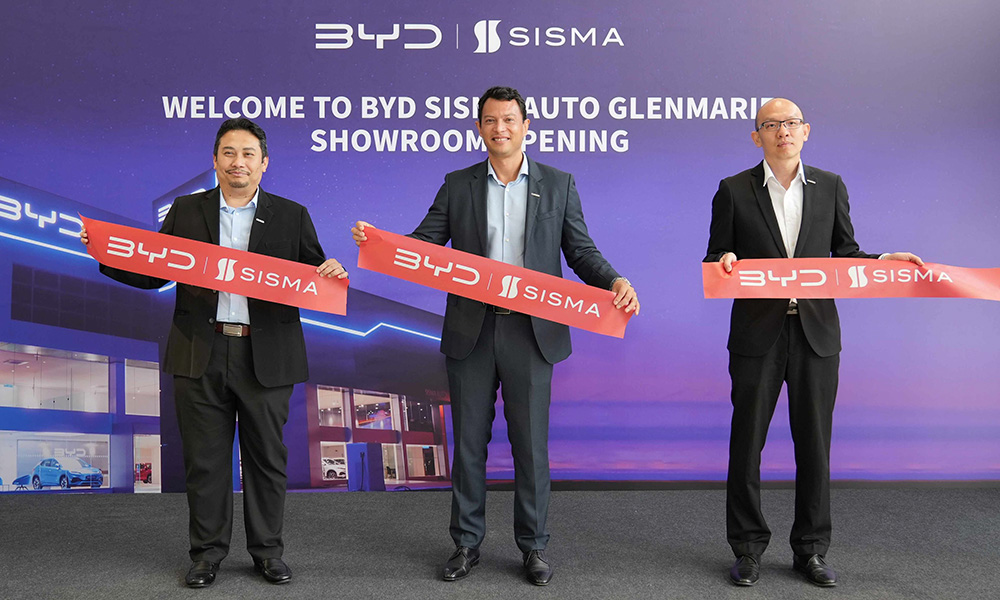 "We are honoured to partner with BYD and its Malaysian distributor, Sime Darby Motors. We believe the future of the automotive industry is electric and as the number one New Energy Vehicle (NEV) manufacturer in the world, BYD is well positioned to be a leader in this electrified future. The design and features of our 3S Centre reflect the brand's premium positioning and the quality of its products. We are very encouraged by the Malaysian market's response to the BYD Atto 3 and eagerly looking forward to the introduction of more BYD models in the coming months," he said.
BYD Malaysia Sdn Bhd Managing Director Eagle Zhao expressed confidence in the market potential for BYD in Malaysia and said, "The demand for new energy vehicles in Malaysia has been growing tremendously. We aim to introduce the latest technology and offer more choices to Malaysian consumers."
Managing Director of Sime Darby Motors Retail & Distribution Southeast Asia, Hong Kong and Macau, Jeffrey Gan was looking forward to working with committed dealer partners to grow the BYD brand in Malaysia.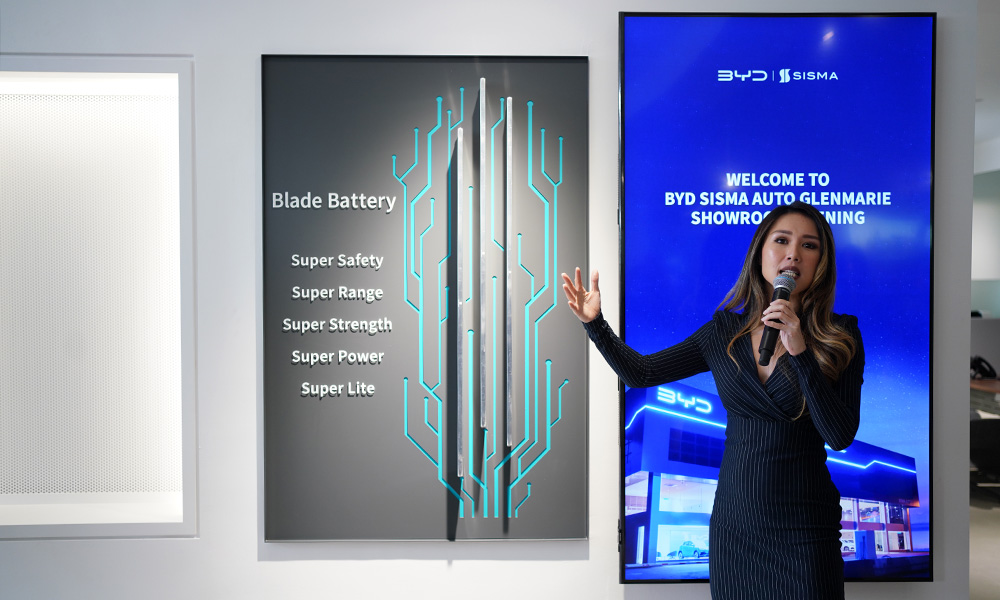 "We take great pride in the robust partnership between Sime Darby Motors and SISMA Auto, as we bring together our collective industry experience and a shared vision of propelling Malaysia's low carbon mobility future with revolutionary EV products from BYD. This 3S center represents a significant milestone in our journey, as it will undoubtedly foster trust and confidence in the BYD brand among discerning motorists in Malaysia. We are committed to delivering world-class automotive solutions and are excited about the transformative impact this partnership will have on the Malaysian market," he said.
In conjunction with the opening, the BYD SISMA Auto 3S Centre will be hosting a special carnival for the entire family from 2 till 11 of June 2023. The BYD SISMA Auto Electric Dreams Carnival will be held daily from 10.00 am till 5.00 pm. Customers and visitors who register for test drives are entitled to door gifts, snacks and lucky draws.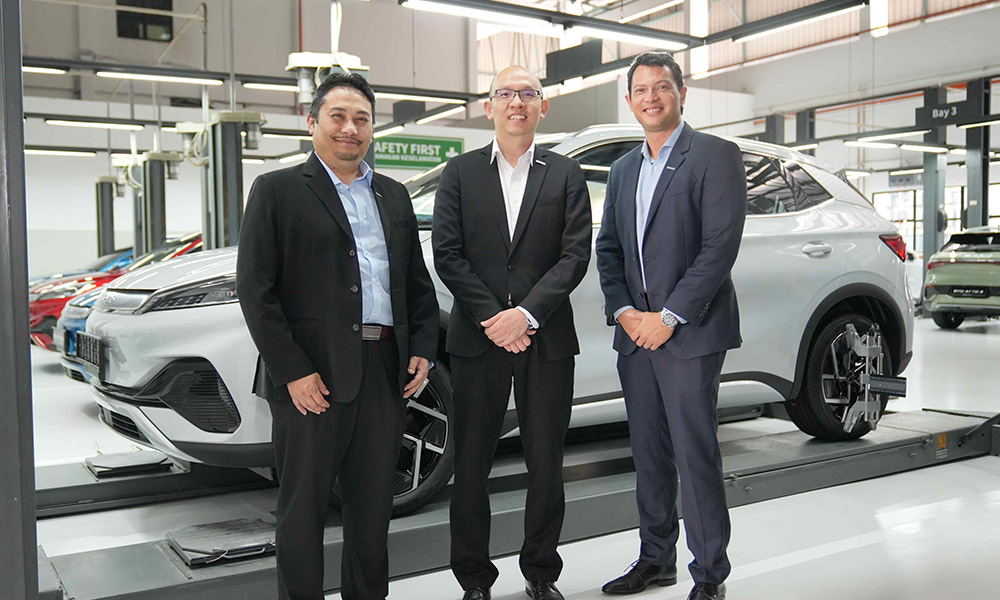 The opening of the BYD SISMA Auto 3S Centre means that the SISMA Auto Hub pre-owned luxury car centre will move next door to the premises previously occupied by the company's Volvo Service and Selekt Centre. SISMA Auto's Volvo business will now be relocated to its new flagship Volvo 3S facility in Sungai Besi, which is set to open soon.
The BYD SISMA Auto 3S Centre's Showroom opens from 9.00 am till 6.00 pm from Monday to Saturday and from 10.00 am till 5.00 pm on Sunday and public holidays. The Service Centre operates from 8.30 am till 5.30 pm on Monday to Friday and 8.30 am till 12.30 pm on Saturday. Customer Care can be reached by Tel: 03-55692260 and Email: [email protected]. For further information, please go to www.byd.sismaauto.com.