The 22/23 season of Astro Arena's Emas Anuar Sepak Takraw League (STL) is set to begin from 26 May. The most exciting local sports league will be played over 8-weeks and will treat fans with high-flying action in Perak, Penang, Negeri Sembilan and Kuala Lumpur.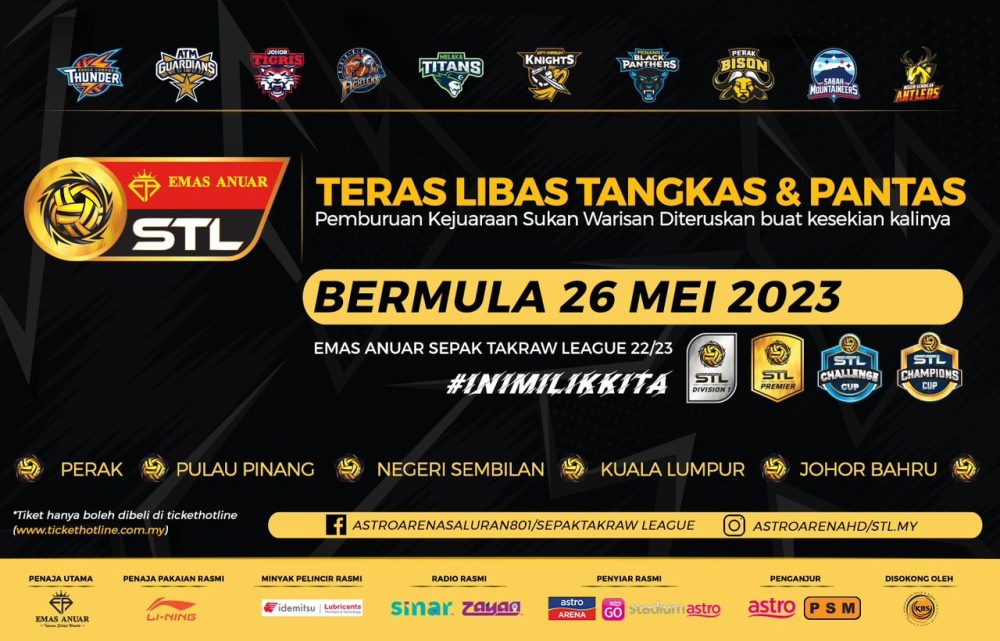 Hannah Yeoh, Minister of Youth and Sport said that Emas Anuar STL has uncovered new talents among the younger generation, with majority of the sepak takraw athletes who made Malaysia proud at the Cambodia SEA Games are from STL.
"The national squad successfully brought home 4 silver and 4 bronze medals. Their spirit and improvement in their game proved that they are a formidable opponent. I am confident that a quality league like STL is the best platform for player exposure before competing at the national level.
I hope that Astro's collaboration and the new leadership of Persatuan Sepak Takraw Malaysia (PSM) continues to elevate this local sport, empowering and inspiring the next generation who will continue Malaysia's legacy at regional and international arenas."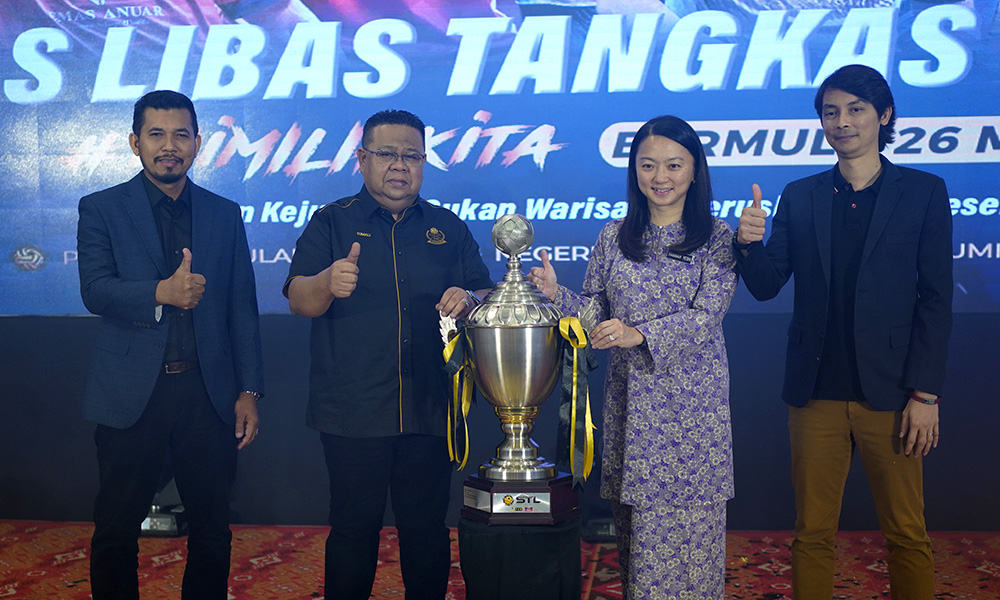 Nicholas John, Head of Sports, Astro said Astro remains committed to develop local sports and to bring the STL brand to the global arena; and is in discussion with international broadcasters to air STL in regional countries including Thailand and Indonesia. The uniqueness of Sepak Takraw and the STL phenomenon have made many local and regional fans to eagerly await this competitive league every year.
"STL's viewership increased to nearly 5 million viewers on TV and achieved new heights on digital platforms through Astro GO with 2.6 million viewers, and 800K viewers on Sooka. Moving in line with global digital trends, Emas Anuar STL enhanced its social media content and recorded 24.6 million views across its platforms. The increased rating proves that the STL brand is not only growing locally but increasing its presence regionally and internationally through content that have gone viral due to the high-flying acrobats that these athletes are capable of."
He added, "Fans can also look forward for a new season of STL Fantasy League, with hopes to outgrow the participation from 7K fans during its introduction last year. Prizes from Emas Anuar will further encourage more fans to join this year. Fans can register and get more details on the STL Fantasy League on stadiumastro.com from 22 May 2023.
Nicholas also thanked sponsors for their continued support, especially Emas Anuar as the Official Main Sponsor of STL for two consecutive years. Other sponsors who remain committed to STL include Li-Ning, entering its sixth season as the Official STL Clothing Sponsor, and Idemitsu as the Official STL Lubricant Sponsor for four consecutive seasons. In addition, Zayan FM remains as the Official Radio with a first-time collaboration with Sinar FM for this season.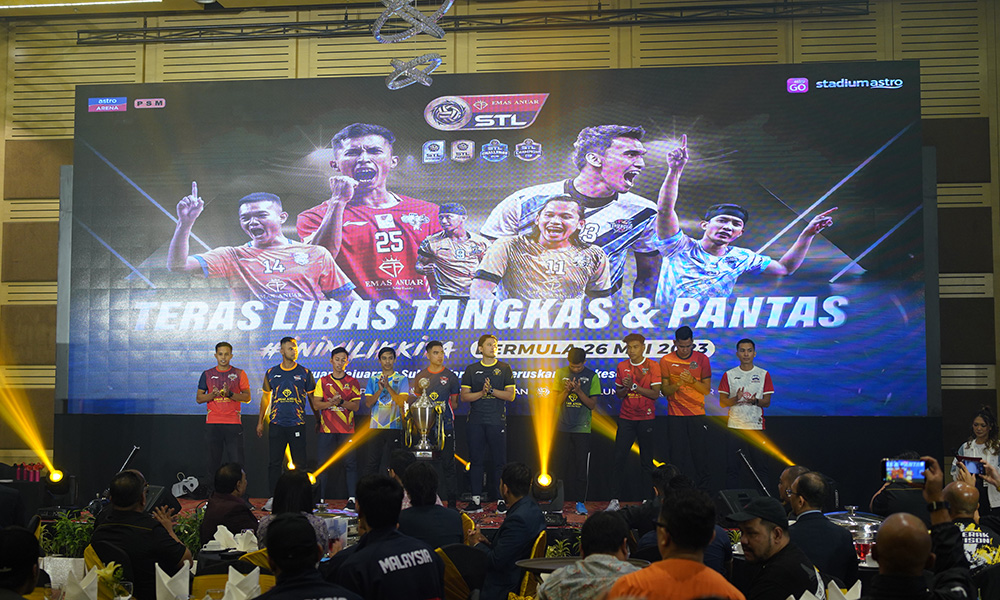 President of PSM, Datuk Mohd Sumali Reduan said that in addition to the presence of imported players, STL will be more interesting and dramatic for 10 competing teams at newly introduced the STL Challenge Cup this season.
"Action of the STL Premier League is liken no other, but we're raising the stakes for teams and entertainment factor for fans with the introduction of the STL Challenge Cup. It is an additional challenge for the top 4 teams after STL Premier who will compete in a knockout round with additional prizes on the line for the champions.
STL was enlivened by the presence of imported players from Thailand, but this season will include players from Indonesia to further challenge teams. Meanwhile, the STL Champion Cup will feature international teams from Thailand, Korea Indonesia and the Philippines," he said.
Last season saw ATM Guardian emerge as champions by snatching the championship from defending champions Kuala Lumpur Thunder, but the capital city team successfully defended their championship at the STL Champion Cup. Meanwhile Melaka Titans emerged as champions of STL division 1.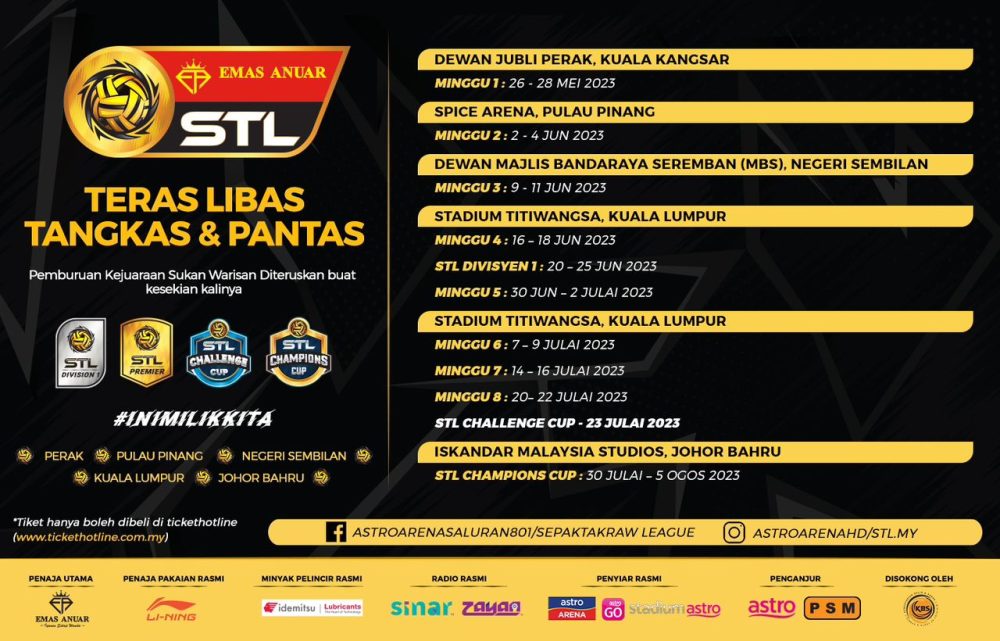 Emas Anuar STL 22/23 comprises of 4 competitions: STL Premier, STL Challenge Cup, STL Division One and STL Champions Cup, with 10 teams competing in each of the STL Premier and STL Division 1, while STL Champions Cup will see the 4 top teams from Premier compete with 4 international teams.
For the first time in the competition's history, the STL season will begin at Dewan Jubli Perak, Kuala Kangsar, Perak. Emas Anuar STL then travels to Spice Arena, Penang for its second week, followed by a new venue at Seremban City Council (MBS) Hall for the competition's third week. The remaining 5 weeks will see STL return to Titiwangsa Stadium, KL.
Meanwhile, Iskandar Malaysia Studio, Johor Bharu remains an international competition stage for the STL Champion Cup which will start on 30 July.
Fans can catch the best action of STL at stadiums across Tickets will be sold online only at www.tickethotline.com.my starting May 19, 2023.
Watch Emas Anuar STL 2021/22 every Friday, Saturday and Sunday and PM with AM every Wednesday at 10.30pm on Astro Arena channel 801 or visit Astro Go app.