Lotus Cars Malaysia, the sole franchise holder for Lotus in Malaysia, today launched the highly-anticipated all-new Eletre – the fully-electric high-performance SUV (Hyper-SUV) that continues the UK sports car company's transformation to a global performance car business and brand.

Adding a bold new dimension to the Lotus performance car portfolio, the Eletre takes the core principles and Lotus DNA from almost 75 years of sports car design and engineering, evolving them into a desirable all-new lifestyle model for the next generation of Lotus customers.
The first of a new breed of pure electric SUVs, the Eletre also delivers several firsts for Lotus –the first model outside sports car segments, the first lifestyle electric vehicle (EV) and the most 'connected' Lotus ever.
Packed with performance-focused technology, including the most advanced active aerodynamics package on any product SUV, the Lotus Eletre delivers outstanding ride and handling, highly communicative steering and exceptional driver engagement.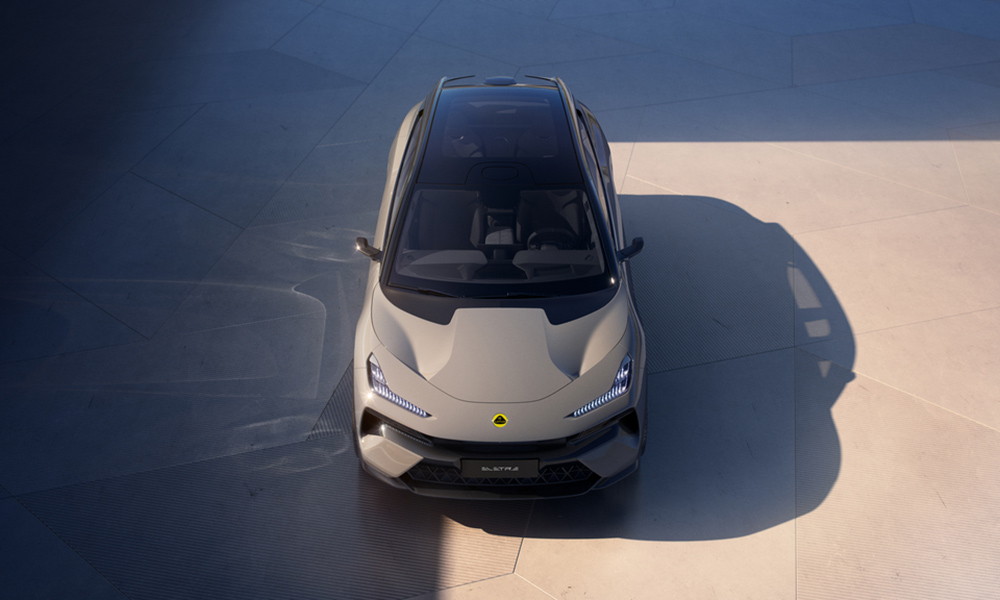 All three variants will be available for the Malaysian market – Eletre, Eletre S and the range-topping Eletre R. As of today's launch, the Hyper-SUV has collected 140 bookings with a total of only 200 units available for the whole of 2023.
"This is a momentous point in the history of Lotus Cars. The Eletre is a bold and revolutionary new car, delivering on our commitment to move the brand into completely new automotive segments as we widen our global appeal and accessibility. It is a true Lotus and we're confident it will delight performance car customers and offer a distinct alternative to the segment. The Eletre has the soul of a Lotus and the usability of an SUV. Alongside the Emira sports car, this is the perfect two-car garage from Lotus," said Daniel Balmer, Regional Director, Asia Pacific and Middle East, Lotus Cars.
"The Eletre is a progressive and exotic all-electric performance vehicle from an iconic performance car brand that will appeal to independent-minded and adventurous driving enthusiasts. A unique combination of exquisite design, exceptional dynamic performance and everyday usability, it is a compelling alternative for those who desire a true driver's car but whose lifestyle demands something more practical than a traditional sports car," said Tengku Ezan Ley, General Manager of Lotus Cars Malaysia.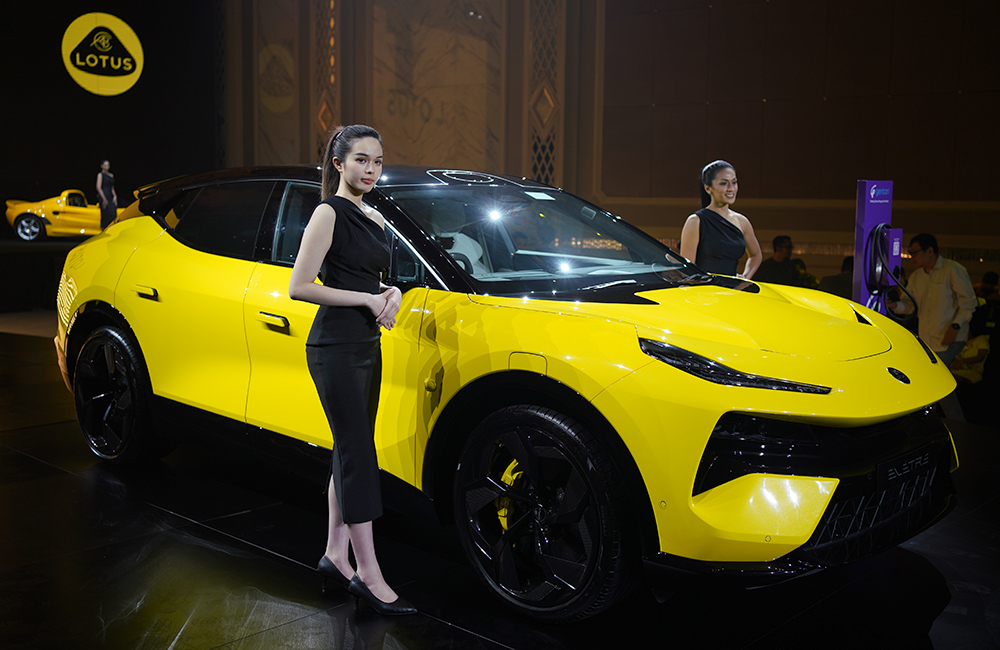 A dedicated all-new EV platform delivering outstanding performance
The Eletre is built on Lotus' all-new and highly versatile 800v Electric Premium Architecture (EPA) with an integrated, high-voltage power distribution system. This architecture uses aluminium and high-tensile steel for optimum structural rigidity.
The flat 'skateboard-style' battery pack and electric motors are close to the ground to create a low centre of gravity that delivers on the core Lotus commitment of outstanding dynamic performance.
The versatile EPA can also easily adapt to accommodate C+ to E+ vehicle class battery sizes, motors, component layouts and intelligent driving technologies. The platform will be the basis for future premium lifestyle performance electric vehicles from Lotus.
Powering into the exclusive "Two-Second Club"
The Lotus Eletre comes with a choice of two powertrains, each with two electric motors, one driving the front wheels and another driving the rear wheels to deliver all-wheel-drive (AWD) capabilities.
The Eletre and Eletre S are powered by a single-speed system to deliver 603 hp and 710 Nm of torque with 0-100 km/h performance of 4.5 seconds and 80-120 km/h in less than 2.2 seconds. Both variants are capable of achieving top speeds of 258 km/h and a maximum WLTP driving range of 600 km.
The flagship Eletre R comes with a dual-speed system that offers an impressive output of 905 hp and 985 Nm of torque. Capable of delivering a century sprint time of just 2.95 seconds and an acceleration of 80-120 km/h in less than 1.9 seconds with a top speed of 265 km/h, it is currently the world's fastest dual-motor pure electric SUV. Maximum WLTP driving for the Eletre R is 490 km.
All three variants feature a 112 kWh battery and a 350 kW charger that enables a rapid charging time of 10-80 percent in just 20 minutes. It also comes with the ability as standard to accept 22kW AC charging.
The high energy density of the battery pack provides the best possible balance of performance and driving range. A three-in-one electric drive system integrates each motor with a controller and reducer, an efficient design which makes the unit smaller and lighter – a very Lotus solution.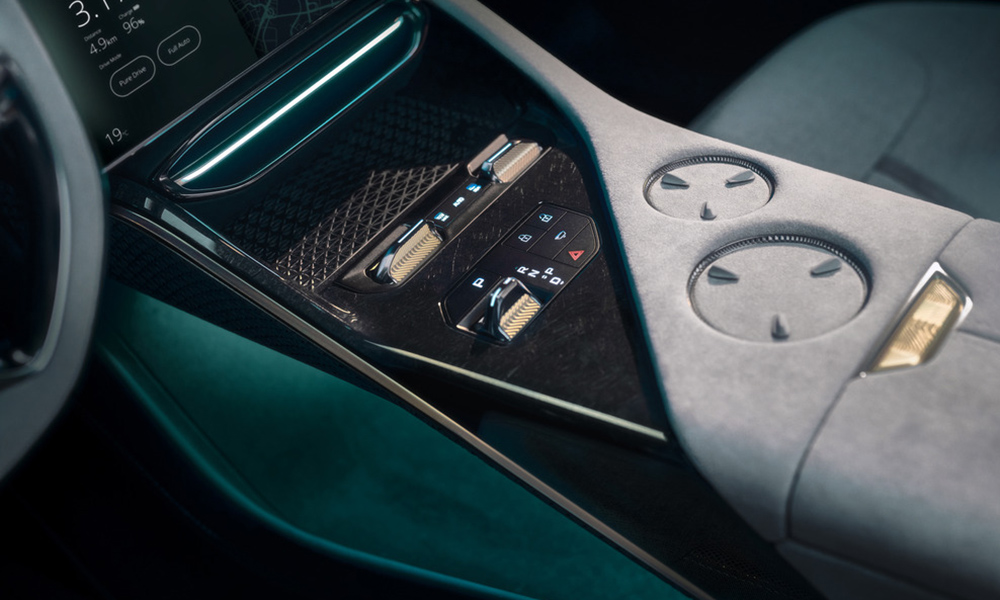 Driving dynamics
Every Eletre comes with exceptional dynamics, outstanding comfort and true Lotus performance. A front and rear multi-link suspension with air suspension, Continuous Damping Control (CDC), torque vectoring by braking, an active front grille and a 'floating' split roof spoiler all combine to deliver optimal aerodynamics, ride and handling.
Eletre's active front grille is a network of interconnecting triangular petals offering aerodynamic benefits. Intricately designed, they remain closed when the car is at rest or when there's a need to reduce drag during driving and open in a distinctive pattern to feed air into the radiator, allowing the Eletre to 'breathe' when cooling of the electric motors, battery pack and front brakes is required.
Meanwhile, the carbon fibre roof spoiler that evokes race car winglets channels airflow down the glass and into the active tailgate spoiler which is deployed automatically at speed. It has three distinct deployment angles, depending on the drive mode selected. The Eletre S and Eletre R add on an active rear spoiler that automatically unfolds to two levels at high speeds.
The Lotus Eletre comes with five drive modes, which adjust the steering, damper settings, powertrain and accelerator pedal response. The modes are Range, Tour, Sport, Off-Road and Individual, and are standard on all three variants.
The Eletre R gets an additional Track mode, developed based on extensive testing at the Nürburgring circuit. It provides a lowered ride height and more performance-oriented settings. These include active rear-wheel steering, adaptive dampers, and active anti-roll control to deliver a higher level of dynamic performance. Track mode also includes a fully open active grille and launch control with instant access to the car's full power.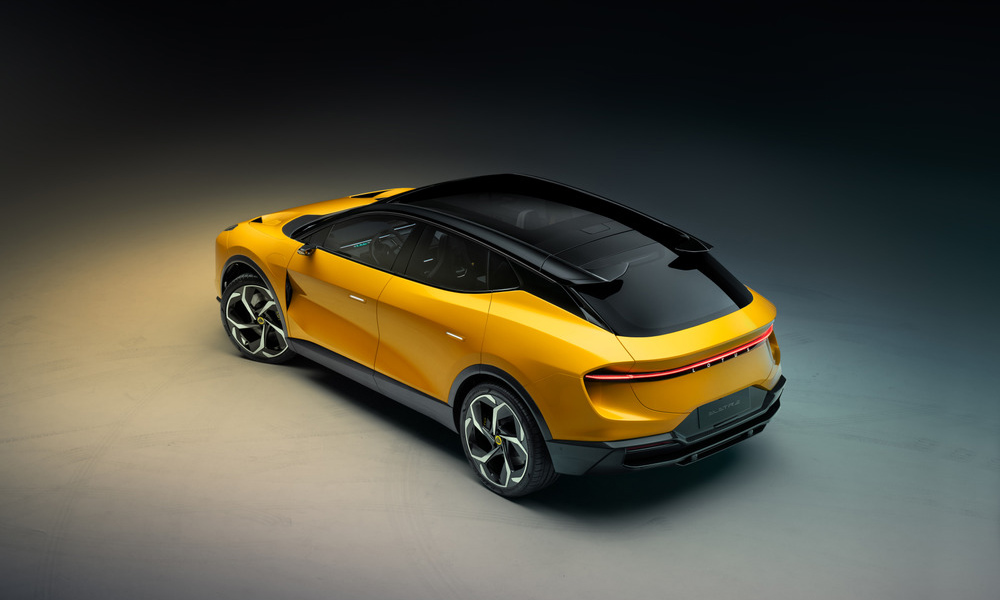 Exterior design: daring, dramatic and 'carved by air'
Styling-wise, the Lotus design team created a cab-forward stance with a long wheelbase and short overhangs front and rear. Overall, there is a visual lightness to the car, creating the impression of a high-riding sports car rather than an SUV.
A signature element of the Eletre's design is its 'porosity' – the aerodynamic principle of air flowing through the car as well as under, over and around it. Most obvious are two exit vents on the bonnet that channel air from under the car's leading edge. Other examples can be found ahead of and behind the front wheel arches, behind the rear wheels, and even at the top of the D-pillar. Together, they enable less resistance in cutting through the air while delivering more efficiency in terms of improved vehicle range, speed and performance.
Apart from aerodynamics, these vents and ducts also contribute to the Eletre's striking chiselled look. Muscular haunches, the aggressive rake of the windscreen with a relatively narrow, glass area, a couple-like roofline and the black cantrail complete the Hyper-SUV's distinctive sculpted shape.
The Eletre's front end features a very sharp and crisp leading edge that reveals a clear lineage with the Emira and Evija. The rear features a unique floating D-pillar engraved with the Eletre wordmark and an innovative 'air blade' which aids drag reduction. A full-width LED light strip that can appear in four colours not only indicates battery charge status but plays a role in the car's theatrical unlocking – the exterior lights run through a short sequence, the active front grille breathes and the flush door handles deploy.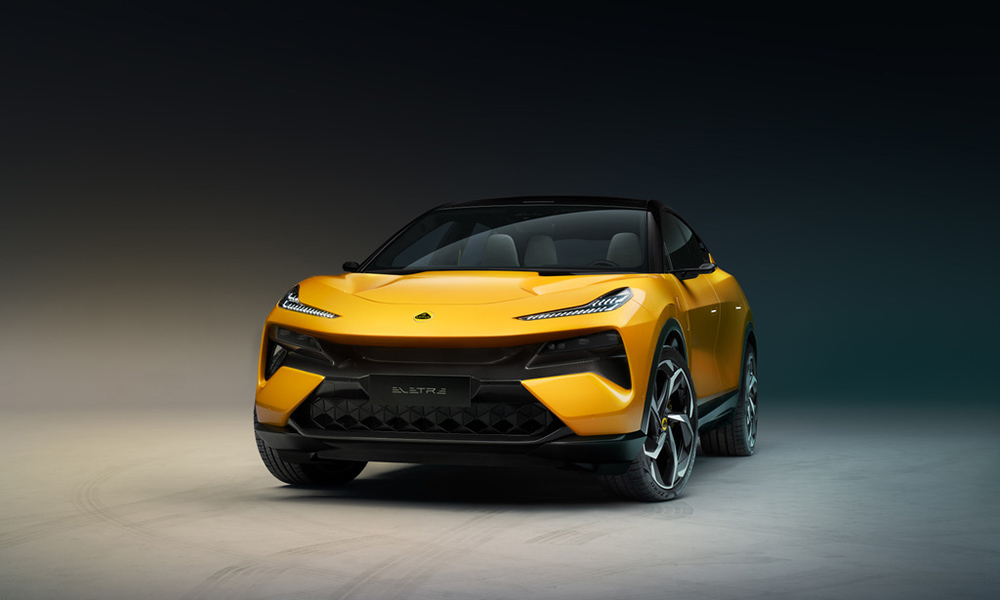 Other standard exterior features include Matrix LED headlamps with high beam spot, LED daytime running lights, LED side lights, LED fog lights, an LED reverse light, welcome home lighting, powered hands-free tailgate with opening height memory, heated washer jets and a fixed gloss black aluminium roof. The Eletre S and Eletre R add on auto-dimming side mirrors, rear privacy glass and soft door close. The Eletre R also gets a Carbon Pack as standard.
The Eletre rides on Pirelli P-Zero tyres with 22-inch 10-spoke silver diamond forged alloy wheels. The Eletre S comes standard with Pirelli P-Zero tyres and 22-inch 10-spoke grey diamond forged alloy wheels. The Eletre R is fitted with the Pirelli P-Zero CORSA performance tyres and 22-inch 10-spoke gloss black forged alloy wheels. For more personalisation, customers can opt for different wheels with five designs to choose from.
All variants come standard with lightweight brake discs and six-piston callipers – in standard black colour for the Eletre and with a choice of colours for the Eletre S and Eletre R.
The standard exterior colour for Eletre and Eletre S is Kaimu Grey, while the Eletre R comes in stunning Solar Yellow. At launch, there are six exterior colours to choose from – Natron Red, Galloway Green, Stellar Black, Kaimu Grey, Blossom Grey and Solar Yellow.
Lotus Eletre Dimensions (mm):
| | |
| --- | --- |
| Length | 5,103 |
| Width with door mirrors | 2,231 |
| Height | 1,630 (20-inch wheel) 1,636 (22/23-inch wheel) |
| Wheelbase | 3,019 |
| Ground clearance | 187 (20-inch wheel) 194 (22/23-inch wheel) |
| Weight | 2,490 kg |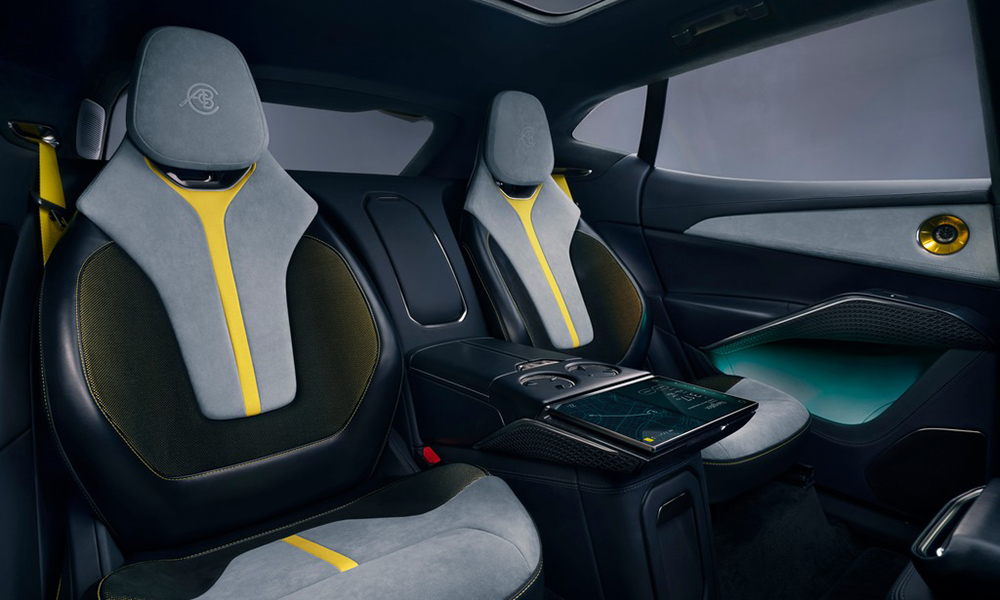 Interior design: a new level of premium for Lotus
The Eletre takes Lotus interiors to an unprecedented new level. The performance-oriented and technical design is visually lightweight, using ultra-premium materials to deliver an exceptional customer experience.
Sustainability has been a core focus of the design team. Materials used include premium feel and highly durable man-made microfibres that are 100% recycled and 100% recyclable, in addition to a state-of-the-art alternative to leather that is environmentally friendly, odour-free and lasts longer than genuine leather. The hard materials are recycled edge trimmings from carbon fibre production that is compressed in resin for a premium marble-like finish.
All three variants come with a five-seat configuration, which makes for a rear boot capacity of 688 litres and 1.532 litres with the rear seats folded. A four-seat configuration is available as part of the optional Executive Seat Pack.
There is a wealth of practical storage space in the Eletre, including a storage tray with wireless charging for mobile phones, cup holders that sit flush to the surface until they're needed and door bins that will take a litre bottle, as well as under the boot floor.
All variants also come standard with an auto-dimming frameless rear-view mirror, four-way electrically adjustable steering column and heated multi-function steering wheel, front and rear USB-C ports, four-zone automatic climate control system, 12-way electrically adjustable front seats with memory, electrically adjustable front and rear air vents, and i-Size child seat anchor points on the outboard rear seats.
The Eletre S and Eletre R get illuminated side sills (metal for the Eletre), configurable ambient lighting and an air quality system. The Eletre R also comes standard with stainless steel pedals.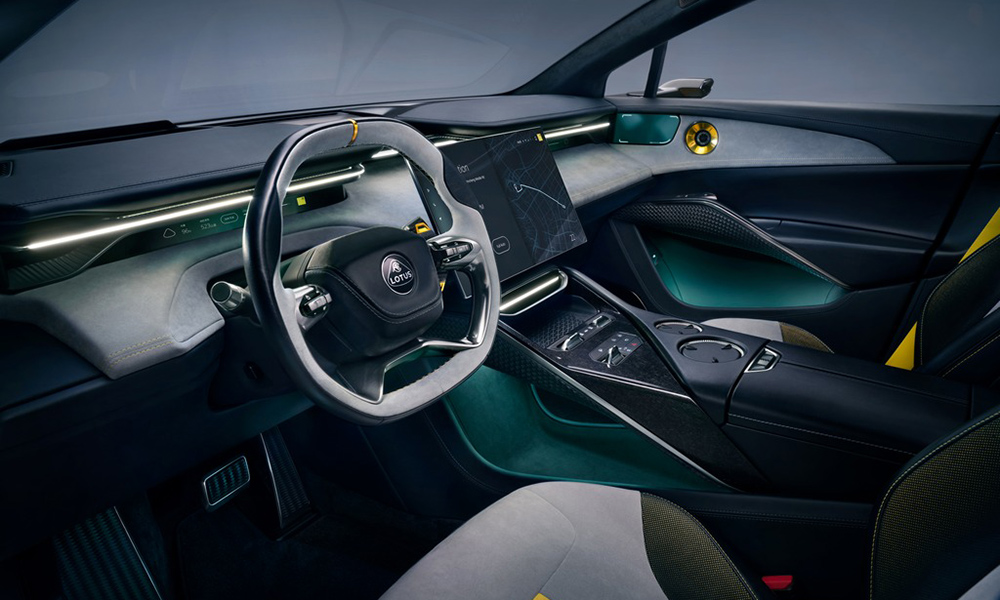 Infotainment and technology: a world-class digital experience
The infotainment experience in the Eletre sets new standards in delivering an intuitive and seamless connected experience with best-in-class performance in terms of visual effects and interactive feedback. It is a collaboration between the design team in Warwickshire and the Lotus team in China, who have huge experience in the fields of User Interface (UI) and User Experience (UX).
It is powered by a new Operating System – Lotus Hyper OS – with state-of-the-art server-level processing power from two Qualcomm 8155 System-On-Chips. Next-generation real-time 3D content and experiences are made possible using 'Unreal Engine' technology from the gaming industry.
The Eletre also comes standard with 5G compatibility, which enables continuous connection via a smartphone app, over-the-air (OTA) updates and the purchase of new software-enabled features. Customers can also lock and unlock the car using the smartphone app.
Lotus Eletre's infotainment system is accessed through a centrally-mounted 'floating' 15.1-inch full HD OLED display, which automatically folds flat when not required. The ultra-slim one-billion-colour OLED display unit from ECARX offers fully customisable displays via an advanced Driver Information Module (DIM), which can be continuously improved during the lifetime of the car via OTA updates.
Forming part of the Eletre's human-machine interface (HMI) is a blade of light below the standard eight-inch TFT instrument panel that runs across the cabin. The light changes colour to communicate with occupants, for example, if a phone call is received, if the cabin temperature is changed, or to reflect the vehicle's battery charge status.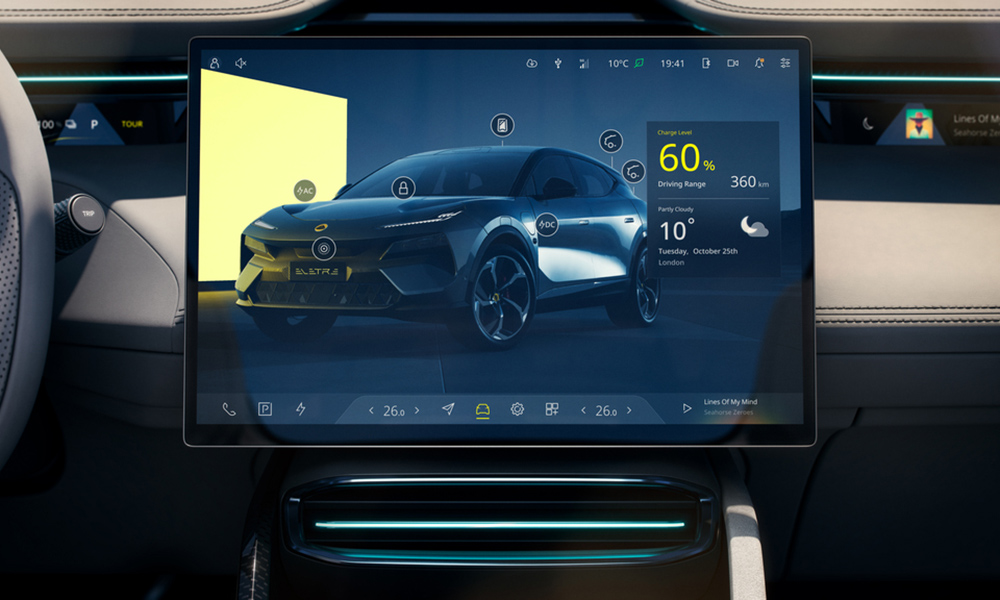 Below the light is a 'ribbon of technology' comprising two slim strips less than 30mm high – one for the driver and another for the passenger that can display different information such as vehicle and journey information, music selection or nearby points of interest.
Information can also be displayed to the driver via a head-up display featuring augmented reality (AR) technology, which is standard for all variants.
Every element of the Eletre can be controlled digitally with 95 percent of functionality available within three touches of the main screen. Voice control through advanced speech recognition technology is also available.
Lotus is also partnering with HERE Technologies to deliver integrated navigation services for the Eletre. The service includes EV Routing, EV Range Assistant and Predictive Routing, and can be updated via OTA updates.
In terms of audio system, the Eletre and Eletre R come standard with a 1,380-watt, 15-speaker KEF Premium setup with Uni-QTM and surround sound technology that delivers a more coherent and hyper-realistic sound experience. For more fun driving, the Eletre R also offers drivers the option of switching to sports motor sound.
The Eletre S is equipped with a 2,160-watt, 23-speaker KEF Reference system with Uni-Q, Uni-Core and surround sound technology that enables high-level performance while reducing the subwoofer or speaker volume significantly.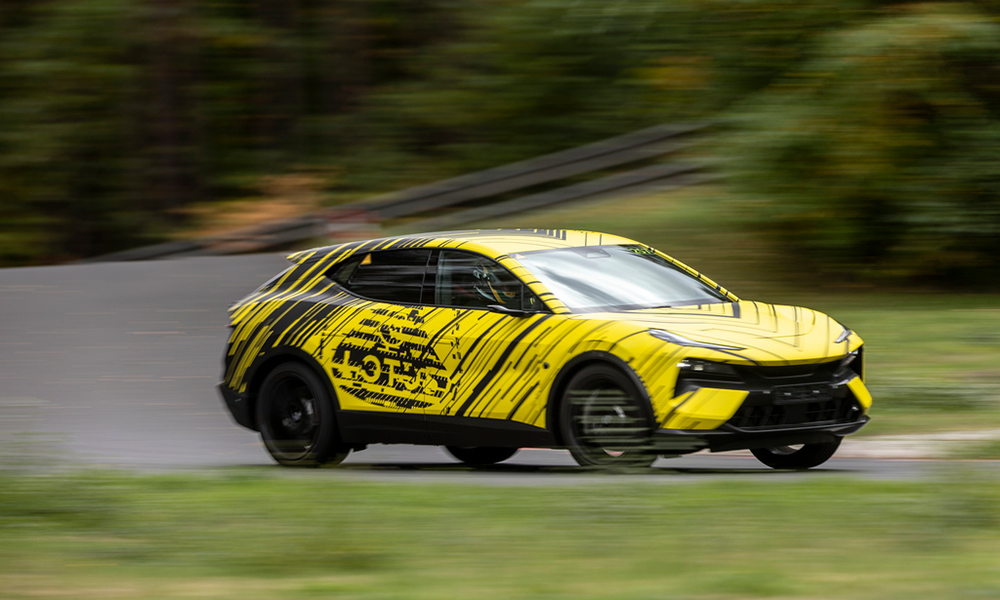 Advanced safety features; designed for the future
The Lotus Eletre is equipped with a comprehensive suite of intelligent Advanced Driver Assistance Systems (ADAS), many of which are designed to be future-proofed so new features can be enabled via OTA updates.
All variants are available with Intelligent Adaptive Cruise Control (ACC), a driver monitoring system, Rear Collision Warning, Rear Cross Traffic Alert (RCTA), Front Cross Traffic Alert (FCTA), Lane Keep Assist with Lane Departure Warning / Prevention (LKA+), Blind Spot Detection, Traffic Sign Information (TSI), Front and Rear Park Assist, Visual Park Assist and Lotus Intelligent Dynamic Chassis Control.
The Eletre is also equipped with the world's first deployable LIDAR system to support end-to-end autonomous driving technology and is future-proofed for further development, achievable because of the hardware that's already integrated. Further capability can be added via OTA software updates, as and when it is allowed by local market regulation.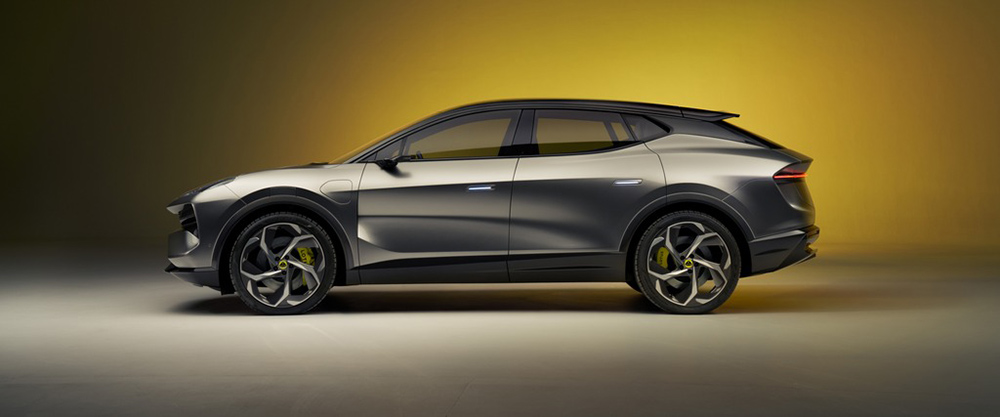 Pricing and availability
Prices for the Lotus Eletre are as below. All prices are on-the-road, without insurance and road tax, for Peninsular Malaysia only.
Lotus Eletre – from RM578,000
Lotus Eletre S – from RM648,000
Lotus Eletre R – from RM798,000
Lotus Eletre comes with a five-year / 150,000 km manufacturer's warranty, while the battery comes with an eight-year / 200,000 km warranty.
All Eletre customers have further opportunities to customise and personalise their cars to their requirements using option packs. Those available at launch include the Lotus Dynamic Handling Pack, Ceramic Brake Pack, Executive Seat Pack, Comfort Seat Pack, Carbon Fibre Pack, Extended Carbon Fibre Pack and Interior Carbon Fibre Pack. Many options from the packs are also available individually. Two Advanced Driver Assistance Systems (ADAS) Packs are also available – the Parking Pack and a Highway Assist Pack.
For more information about the all-new Lotus Eletre Hyper-SUV, visit www.lotuscars.com or follow Lotus Cars Malaysia Facebook, Instagram and YouTube channels.