realme, the world's fastest-growing smartphone brand, has just released the realme 10 Pro 5G Coca-Cola Edition. realme 10 Pro 5G brings out an eye-catching display and flagship-level performance – featuring the 120Hz Boundless Display, the same premium 108MP ProLight Camera experience and design as the 10 Pro+ 5G, with extraordinary power in the Snapdragon 695 5G Chipset, 5,000mAh massive battery, 33V SUPERVOOC Charge and realme UI 4.0 preinstalled.
Malaysia is proudly to be selected as one of the five countries across the world. The five countries include Malaysia, Thailand, Indonesia, Philippines and India.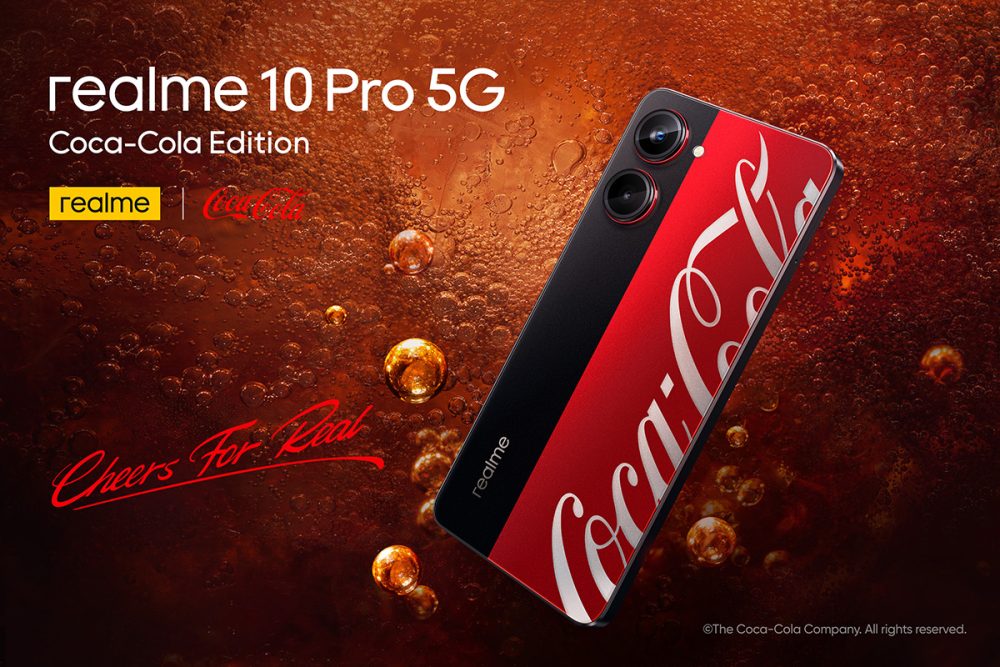 Leaping into Trend Innovation
Design and innovation have always been part of realme's brand DNA. Trendy designs have also always been incorporated into realme devices, as it brings the latest trends favoured by young adults into the tech industry, merging trend and tech seamlessly. From co-branding with Dragon Ball and Naruto to a smartphone designed by world-renowned Japanese designer, Naoto Fukusawa, realme's unique phone designs have been at the forefront of impressive smartphone designs that complement the users' everyday lifestyle.
Coca-Cola Design
realme 10 Pro 5G Coca-Cola Edition comes with the matte imitation metal process. This is a phone that really feels like a real Coke. The Metal-like Coating Process provides the elegant touch of brushed aluminium while remaining resistant to scratches and fingerprints. The red and black collision of the 70/30 Asymmetrical Back Design, cropped Coca-Cola logo brings new energy to the smartphone experience and the camera lens halo is sure to be a head-turner.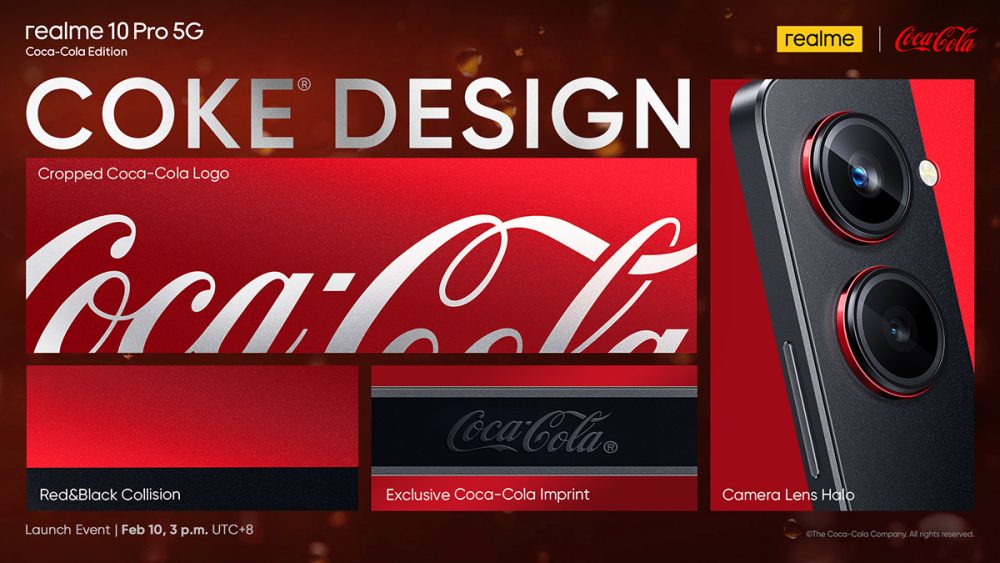 Customise Coca-Cola Version realme UI 4.0
The customised UI is designed based on Coca-Cola's bubble element. From the lock screen to the dynamic charging effect, there are little bits of fun sprinkled all throughout the smartphone experience, bringing extra cheer to each moment.
No more boring ringtones, in sound and vibration, you can choose the special ringtone and notification sound now. Hear the tssSS-kr-POP! When you snap a photo, the sound of fizzing liquid bubbles for your notifications, and even the Coca-Cola ringtone.
The colour of customised system application icons, is based on Coca-Cola's red. The shape of the icons is designed according to real goods.
Camera 108MP with special edition's 80s Cola Filter
When you use realme street photography mode, you can try the customised 80s Cola Filter, it's a true blast from the past. Moreover, there is an option for users to choose the special edition shutter sound in the settings, the bottle opening sound effect makes you feel like opening a real coke. realme 10 Pro 5G also offers the exclusive realme street photography mode 3.0 with watermark and super group portrait mode.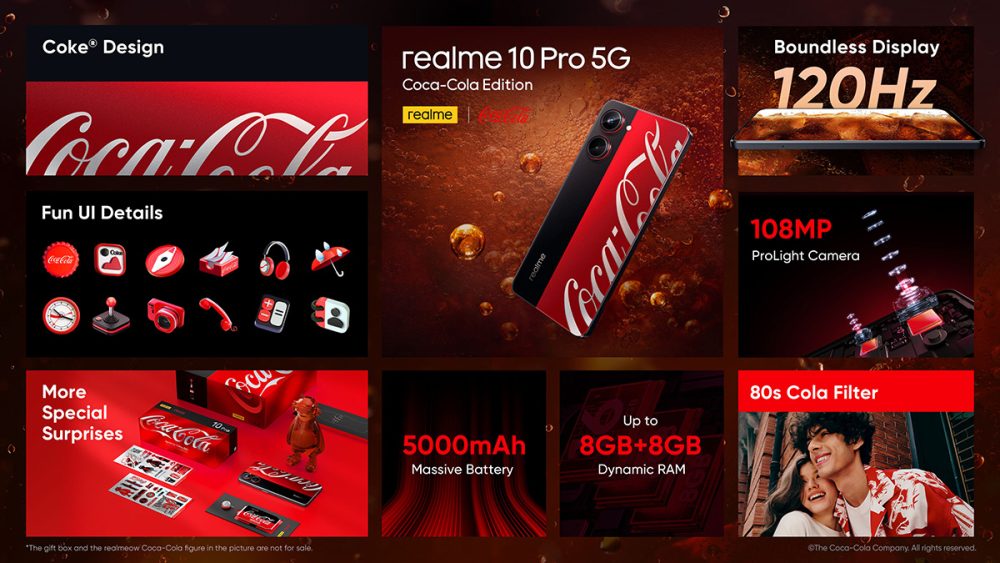 Deluxe Box Set
A special surprise with more special surprises. The ultimate collector's item. Feel the youthful energy of realme and Coca-Cola combine, for an enormous boost of fun. The Deluxe Box Set includes a customised SIM card needle, Coca-Cola edition packaging, a DIY sticker, and a limited number card.
realme 10 Pro 5G: Segment-leading Processor, Massive Battery, Double Storage
The realme 10 Pro 5G brings out the segment leading power Snapdragon 695 5G processor chipset, 5,000mAh massive battery, and it also provides 8GB+8GB dynamic RAM and up to 1TB of external memory, so consumers can hold on to more memories.
Availability and Promotion
| | | | | |
| --- | --- | --- | --- | --- |
| Product | Variant | RRP (RM) | Sales Platform | Availability Date |
| realme 10 Pro 5G Coca-Cola Edition | 8+256GB | RM1,399 | realme TikTok Official Store | 13 April 2023 |
| | | | realme Official Authorised Brand Store | 14 April 2023 |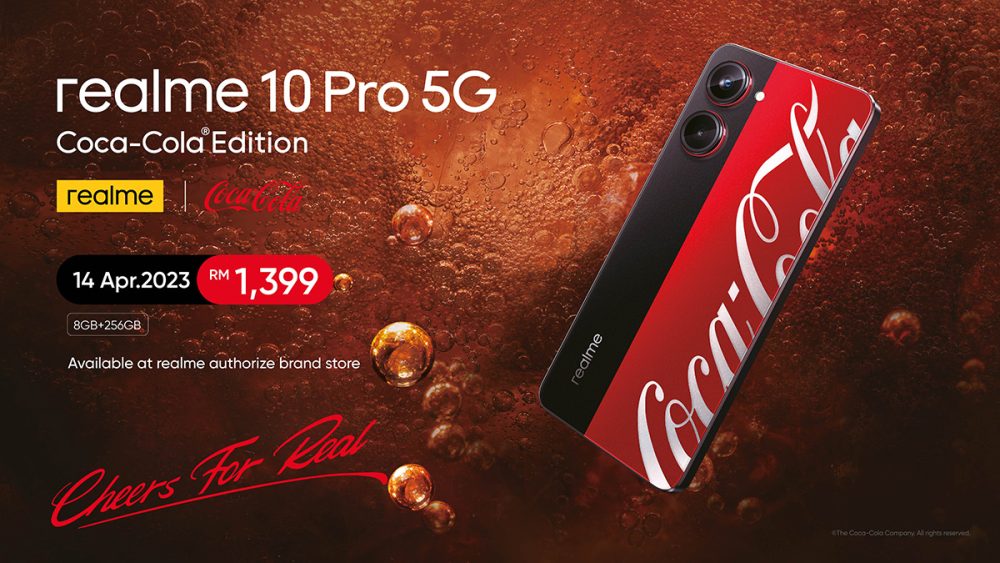 For more information, please visit realme Malaysia's official Facebook page – www.facebook.com/realmeMalaysia, for more info and latest news.