TC Acoustic is introducing a lineup of Bower & Wilkins' next gen wearables including in-ear noise cancelling headphones, Pi7 and Pi5, Px8 McLaren Edition headphones and Px8 007 Edition headphones at their flagship concept store at The Starhill, Kuala Lumpur.
All models will be available from 30 March 2023 at my.tcacoustic.asia or the TC Acoustic Flagship Store at The Starhill, Kuala Lumpur.
Bowers & Wilkins New Pi7 S2 & Pi5 S2 In-Ear True Wireless Headphones Upgrade with Enhanced Connectivity, Battery Life and New Premium Finishes
First introduced in April 2021, these in-ear headphones redefined expectations in the True Wireless category and marked the renowned British audio brand's first entry into the TWS market. Now the brand has built upon the universal acclaim for its first-generation in-ear True Wireless headphones, with the introduction of two new upgraded models; Pi7 S2 and Pi5 S2. Replacing the first-generation models, the two new designs reaffirm their status as the best-sounding True Wireless earbuds in the category.
Pi7 S2 maintains the industry-leading hi-resolution sound of its predecessor, while making valuable upgrades to connectivity, battery life, user experience, and introducing three new premium finishes. Both Pi7 S2 and Pi5 S2 feature upgraded wireless connectivity via a re-engineered antenna design with increased Bluetooth range of up to 25m ensuring an even more stable, high-quality listening experience.
The Pi7 S2 (RM 2,499) is available in Satin Black, Canvas White and Midnight Blue while the Pi5 S2 (RM 1,699) comes in Cloud Grey, Storm Grey, Spring Lilac, and Sage Green.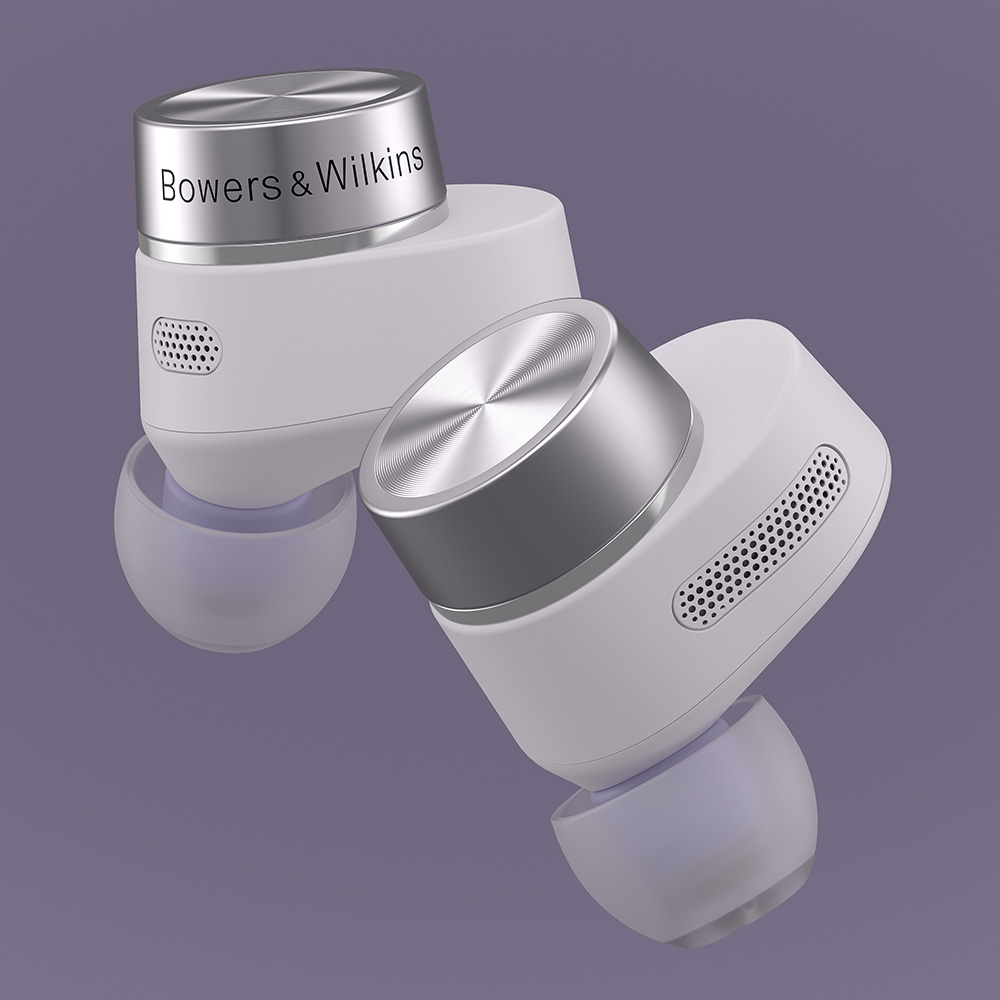 Enhanced Battery Life
Both new models feature an improved earbud battery life, now offering five hours of listening time before a recharge is required. They continue to offer a quick charge function delivering an additional two hours listening time from just a 15-minute charge. Of course, the charging cases for each model provide additional battery life, with additional 16 hours of battery life for Pi7 S2 and 19 hours for Pi5 S2.
Seamless User Experience from The Music App
Pi7 S2 and Pi5 S2 are the latest headphone models to be fully integrated with the Bowers & Wilkins Music App. Offering a seamless user experience, complete with set-up, configuration of noise cancellation modes, and wear sensor adjustment. The Music App also supports hi-res streaming capability direct from your mobile device to your earbuds via services such as TIDAL and Deezer.
Smart, Intuitive Features
The Pi7 S2 continues to offer Wireless Audio Retransmission, a breakthrough feature originally introduced in the first-generation model, enabling users to connect to an external audio source – such as in-flight entertainment system – and wirelessly retransmit audio from that source to the earbuds, via the Smart charging case, all in outstanding sound quality.
Both models can be controlled via a simple one-button user interface – a single capacitive button on each earbud that can perform multiple tasks seamlessly and elegantly – coupled to voice assistant support via either Siri or Google Assistant, depending on the connected device. The Bowers & Wilkins Music App also offers a range of user adjustments for customers who wish to fine tune their earbuds to their preferences.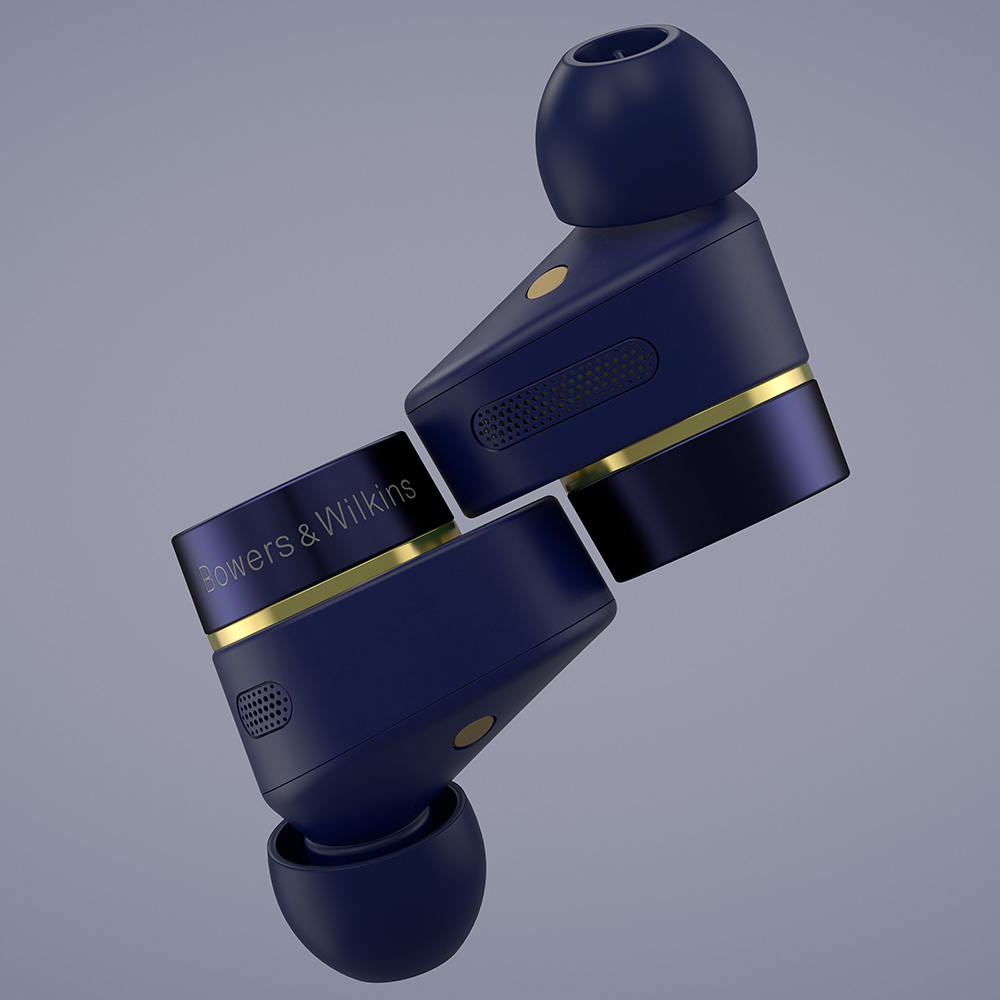 True Wireless Sound, Redefined
As the flagship True Wireless model, the Pi7 S2 continues to offer support for Qualcomm® aptX™ Adaptive allowing high-resolution music transmission from compatible streaming services and devices, enabled by 24-bit/48kHz wireless transmission between each earbud. Together, these two technologies continue to make the Pi7 S2 one of very few True Wireless earbuds able to support high-resolution audio all the way from your music source to your ears.
Pi7 S2 features 9.2mm bespoke Bowers & Wilkins drive units, joined by a high-frequency 'balanced armature' driver, with each of the four drive units in the system actively driven by its own amplifier. Pi7 S2 also offers Adaptive Noise Cancellation to automatically monitor, analyse and adapt to its surroundings in order to produce the best possible, uninterrupted listening experience. That ANC system is paired with six microphones – three in each earbud – for crystal-clear sound quality with phone calls.
Class-leading, True Wireless sound
The new Pi5 S2 also continues to offer the best audio performance in its class, with TWS technology for robust, high-quality earbud-to-earbud synchronisation, coupled to a single 9.2mm bespoke drive unit in each earbud. The Pi5 S2 supports CD-quality playback thanks to the inclusion of high-quality aptX wireless transmission of music from an aptX-compatible mobile device. Pi5 S2 also offers seamless access to user-selectable noise-cancelling plus an ambient pass-through mode, and it features twin built-in microphones per earbud for high-quality phone calls.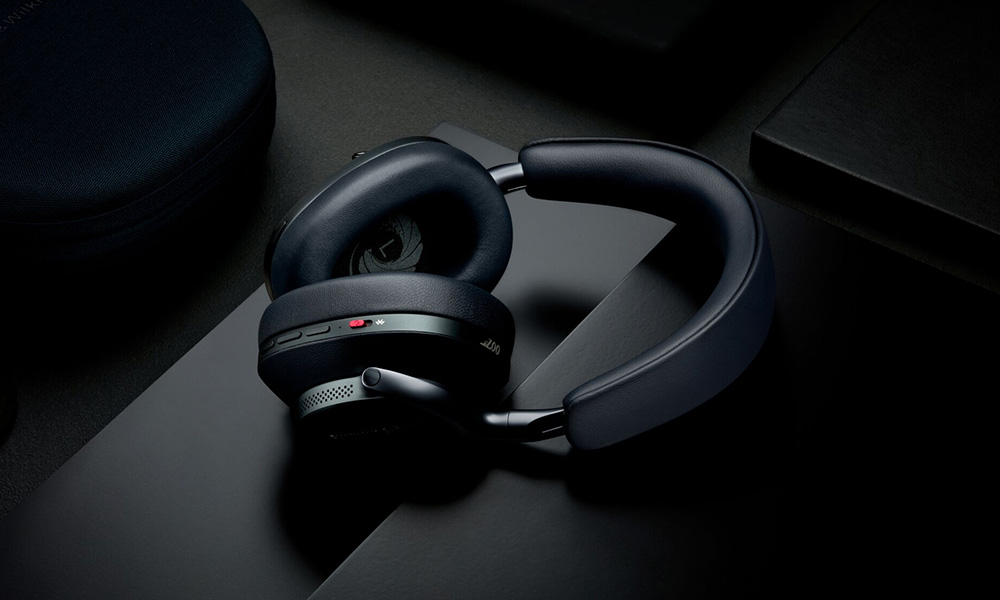 Px8 Headphones Series Provides Unparalleled High-Resolution Sound and Noise Cancellation
The Px8 provides stellar performance with outstanding detail, resolution and spaciousness thanks to all-new bespoke 40mm Carbon Cone drive units, inspired by technology used in Bowers & Wilkins reference-quality loudspeakers. The Carbon Cone drive units in the Px8 are carefully angled inside each ear cup to ensure a consistent distance relative to the listener's ears from every point across the surface of each driver, to produce a more immersive and highly accurate soundstage. The result is the best sound quality Bowers & Wilkins has ever delivered from a pair of wireless headphones.
The Px8 uses Qualcomm's aptX™ Adaptive wireless technology to ensure the best possible sound quality from compatible phones, tablets and computers. USB-C and 3.5mm analogue cable connections are also supported with both cable types included in the specially matching carry case that accompanies the product. Whether using wireless or wired connections, the Px8 combines its ultra-high-performance drive unit configuration with powerful Bowers & Wilkins-developed Digital Signal Processing (DSP) to deliver outstanding, 24-bit high-resolution sound quality from leading streaming services.
The Px8 uses proprietary Bowers & Wilkins-optimised noise cancellation technology to effectively shut out unwanted noise – crucially, without harming musicality in the process.Six high-performance microphones work together to deliver the best results: two measure the output of each drive unit, two react to ambient noise from the outside world and two provide outstanding voice clarity with enhanced noise suppression.
A Breakthrough in User Experience
The Px8 uses the recently upgraded Bowers & Wilkins Music App for set-up and use. The Music App allows Px8 users to stream their chosen music directly from their mobile device to their headphones, through Deezer and TIDAL.As before, the Music App also simplifies connection of the Px8 to a mobile device, supports fine-tuning of the sound through adjustable EQ, and allows owners to configure their preferred noise-cancelling mode, all while monitoring the headphone's charge level.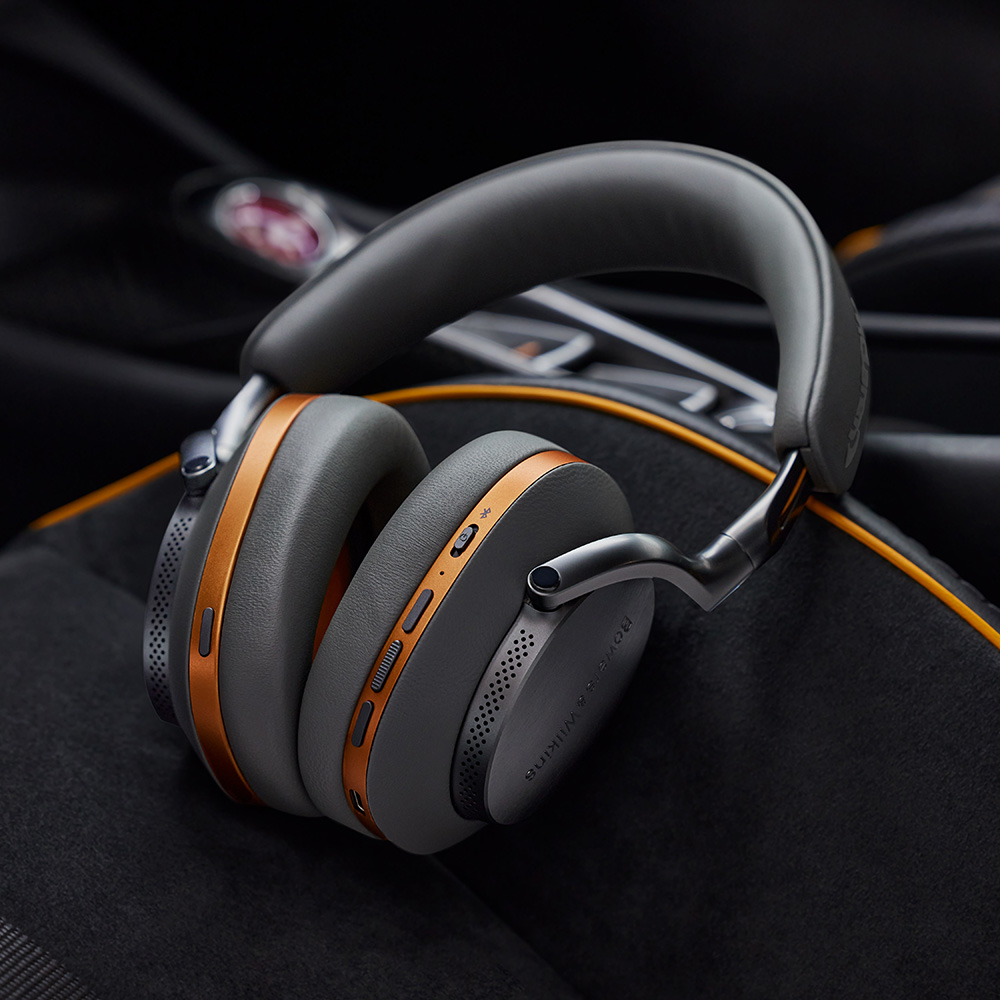 Bowers & Wilkins and McLaren Automotive Launch the Px8 McLaren EDITION HEADPHONE
To celebrate the McLaren and Bowers & Wilkins partnership and the high-performance hybrid McLaren Artura supercar in which the two companies' award-winning collaboration features, Bowers & Wilkins has created a specially-designed version of its Px8 wireless headphones, the Px8 McLaren Edition.
The Px8 McLaren Edition features a Galvanic grey finish and Papaya orange highlights, the latter inspired by the famous Papaya orange which originated on founder Bruce McLaren's early racing cars.Sharing McLaren's obsession with technical and performance-led aesthetics, the Px8 McLaren Edition headphones offer wireless sound quality synonymous with Bowers & Wilkins.
The partnership is built on firm technical foundations which has already been recognized for three iF design awards for the system integrations of Bowers & Wilkins in the McLaren Speedtail, McLaren GT, and most recently, the McLaren Artura.Bowers & Wilkins has worked closely with McLaren's design and engineering teams to create and optimise the audio system found in the company's first series production high-performance hybrid supercar – the McLaren Artura.
Retailing at RM 4,299, the Px8 McLaren Edition will be available from 30 March 2023 at my.tcacoustic.asia or TC Acoustic Flagship Store at The Starhill, Kuala Lumpur.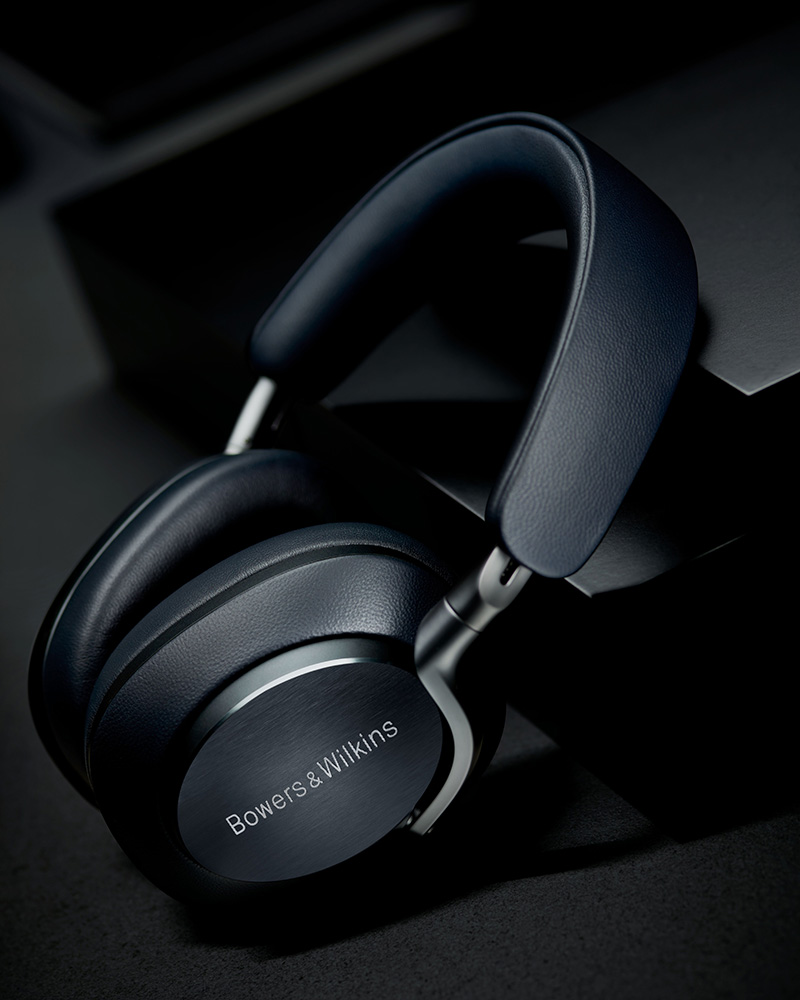 Bowers & Wilkins and James Bond Unite to Celebrate 60 Years of British Style, Performance and Music by Introducing the Px8 007 Edition
To celebrate the new partnership and the 60th anniversary of the release of Dr. No, Bowers & Wilkins has created a bespoke version of its Px8 wireless headphones, the Px8 007 Edition, featuring a Midnight Blue finish inspired by the dinner jacket worn by Bond in his first on-screen appearance. As elegant and timeless as James Bond himself, these special-edition headphones deliver all the high-performance wireless sound synonymous with Bowers & Wilkins, coupled with detailing that offers a subtle nod to the style of 007.
Bowers & Wilkins, Abbey Road Studios and The Music of Bond
Bowers & Wilkins' relationship with the James Bond film franchise is intertwined with its 40-year relationship with Abbey Road Studios, where its flagship 800 Series loudspeakers have been used to monitor the recording of countless film scores, including Skyfall (2012) and Spectre (2015). And more recently, in celebration of the 60th anniversary of the James Bond film franchise, Abbey Road Studios engineers used Bowers & Wilkins loudspeakers to help create Bond 25, an album featuring all 25 iconic Bond themes with brand new arrangements recorded by the Royal Philharmonic Orchestra in Abbey Road Studio One.
Retailing at RM 4,299, the Px8 007 Edition will be available from 30 March 2023 at my.tcacoustic.asia or the TC Acoustic Flagship Store at The Starhill, Kuala Lumpur.