Leading technology company OnePlus today launched two flagship products: the OnePlus 11 5G smartphone and the OnePlus Buds Pro 2 Series earbuds at GMR Grounds, Aerocity, in New Delhi. Embodying OnePlus's 'Never Settle' motto, the latest products are distinguished by purposeful designs, industry-leading technology, and advanced interconnectivity with the brand's ecosystem.
"OnePlus's expanding portfolio reflects the company's unique 1+4+X strategy," explains Pete Lau, founder of OnePlus, senior vice president and chief of product at OPPO and OnePlus. "'1' represents the flagship smartphone, while '4' signifies supporting ecosystem devices such as TVs, earbuds, watches, and tablets. 'X' represents a whole world of products which connect to the OnePlus ecosystem to build a superior digital life. The launch of these latest products reinforces OnePlus's position as a pioneer in digital devices and technology."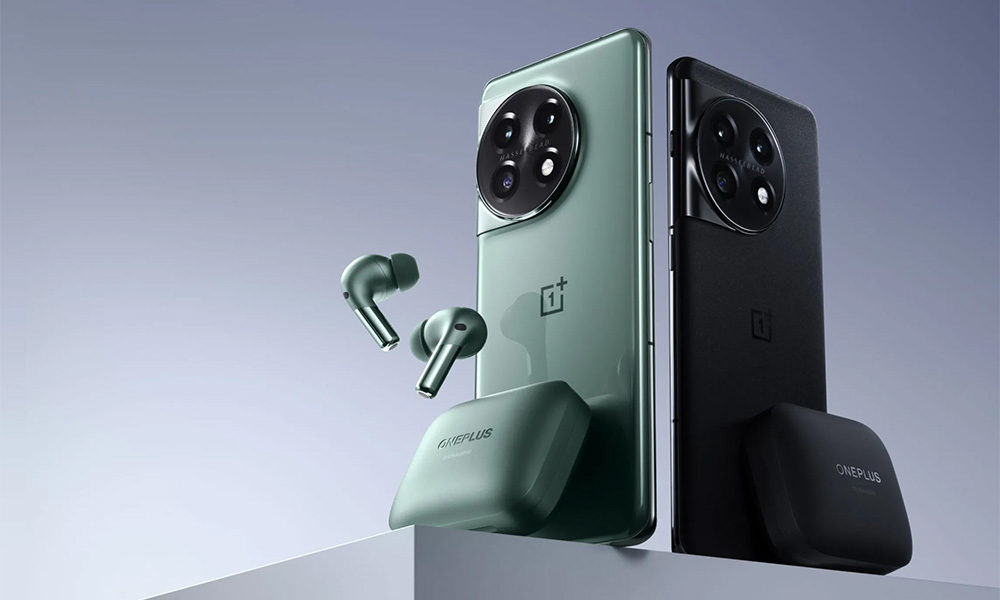 The OnePlus 11 5G
Combining extremely fast and smooth experience, effortless imaging and modern elegance design, the latest OnePlus 11 5G is definitely a well-rounded flagship.
Extreme Fast and Smooth Experience That Lasts
The OnePlus 11 5G provides an extremely fast and smooth experience through its powerful Snapdragon® 8 Gen 2 Mobile Platform, delivering increased CPU and GPU speeds (35% and 25% respectively), along with improved power efficiency. This mobile platform also supports Realtime Hardware-enabled Ray Tracing. A 3D dynamic live wallpaper named PhysRay Wallpaper developed by OPPO open-source PhysRay SDK was introduced on the OnePlus 11 5G. Users can slide, swipe or click on the phone to experience the vivid and realistic shadow, reflection, and refraction effects. The OnePlus 11 5G also comes with up to 16GB LPDDR5X RAM memory and RAM-Vita technology to allow for as many as 44 applications active in the background. A 100W SUPERVOOC fast-charging system, coupled with a 5000 mAh dual-cell battery, prolongs the battery lifespan and provides peace of mind during extended use. The OnePlus 11 5G takes only 25 minutes from 1% to 100% battery capacity courtesy of its 100W SUPERVOOC fast-charging function.
The OnePlus 11 5G can provide a long-term fast and smooth experience. It is certified by TÜV SÜD 48-month Fluency Rating A, TÜV SÜD Precise Touching S Rating, SGS Perceived Fluency A+, and TÜV Rheinland for Safe Charging and Usage. The OnePlus 11 5G is also the first OnePlus device that will be eligible for four major OxygenOS updates and five years of security updates.
In addition, The OnePlus 11 5G is the first Snapdragon® 8 Gen 2 device to be approved as Snapdragon Spaces™ Ready. It is the entrance for developers to bring their XR ideas to life and explore the full potential of head-worn AR.
Excellence in Display and Audio
The OnePlus 11 5G invites users to see the world in its full vibrancy and colour, thanks to its 6.7-inch 2K 120Hz Super Fluid AMOLED Display with LTPO 3.0. LTPO 3.0 is a self-developed technology that saves energy and adapts refresh rates according to the specific use, ensuring consistency and clarity regardless of the content. The display of the OnePlus 11 5G is certified by SGS Low Blue Light Ex.
The OnePlus 11 5G is one of the first Android smartphones to be transformed by Dolby Vision to elevate every mobile experience with a stunning picture that brings your on-the-go entertainment to life. The OnePlus 11 5G is also equipped with Dual "Reality" Speakers and supports Dolby Atmos, which takes the audio experience to a new level, both via onboard speakers or via Bluetooth headphones.
Additionally, with the support of Dolby Head Tracking on the OnePlus 11 5G you will be able to enjoy a new level of lifelike realism and experience a better sense of space when using compatible wireless earbuds – as you turn your head left and right when listening to your favourite surround sound or Dolby Atmos content, the audio recalibrates the soundstage to create a more natural and more immersive audio experience, keeping you in the middle of the story.
Effortless Imaging
The OnePlus 11 5G's triple-camera system accurately records each moment and naturally enhances images. Equipped with an IMX890 50MP main sensor, IMX709 32MP portrait lens, and IMX581 48MP ultra-wide camera, the device meets the needs of every aspiring photographer. The 3rd Generation Hasselblad Camera for Mobile on the OnePlus 11 5G marks a new Natural Color Calibration with Hasselblad supported by a 13-channel multi-spectral sensor for light-colour identification and the Hasselblad Portrait Mode to provide almost DSLR-like depth-tracking, natural bokeh, and light flare effects. The OnePlus 11 5G is also equipped with the latest iteration of our in-house algorithm, TurboRAW HDR, to capture scenes with "pristine HDR clarity" of a wide dynamic range.
Modern Elegance Design
Embodying modern elegance, the sleek OnePlus 11 5G strikes a careful balance between purposeful design and creative individuality.
Users can choose between Titan Black or Eternal Green. Evoking a refined rawness, the Titan Black edition uses Matte Frosted Glass to create an irresistibly smooth, but sturdy, hand-held feeling. Inspired by the shades of the rainforest dusk, the Eternal Green version brings a vibrancy to the sleek-smooth exterior while an internal layering treatment works to reduce fingerprint stains.
To improve the phone's ergonomics, OnePlus engineers focused on the overall curvature to ensure all surfaces are on a similar plane and greatly improved the in-hand feel by almost eliminating any bumps.
---
The OnePlus Buds Pro 2
Designed in collaboration with industry-renowned partners, the One Plus Buds Pro 2 take audio quality to new heights with cinema-worthy sound, intuitive features and premium design.
Spatial Audio for Android Users
Setting a new industry standard, the OnePlus Buds Pro 2 is the first earbuds to offer spatial audio stability and compatibility for Android users. Spatial audio technology simulates the surround-sound experience of a cinema, fully immersing users in the entertainment.
The OnePlus Buds Pro 2 holds the distinction of being one of the first True Wireless Stereo earbuds to adopt Google's signature spatial audio function developed for Android 13. Under the Android 13 framework, OnePlus Buds Pro 2 also unlocks the immersive multi-dimensional experience for multi-channel audio sources on YouTube and Disney+.
Sound Partnerships
The OnePlus Buds Pro 2 also boast an equalizer EQ tuned by Oscar®-winning composer Hans Zimmer, allowing users to adjust the balance of frequency components to match Hans' signature taste and musical styles. Named "Soundscape", the customized EQ invites audiophiles to enjoy the full orchestral sound of a classical symphony or the multi-layered reverberations of an action film.
OnePlus also entered an exclusive partnership with Danish loudspeaker manufacturer Dynaudio to co-create the MelodyBoost™ Dual Drivers. The 11mm+6mm dual driver technology steadily delivers low frequency for a deeper, fuller, and more texture dynamic bass, as well as pristine vocal. The earbuds also feature one Dynaudio default EQ and three customized EQs namely Bold, Serenade and Bass, enabling users to listen to every song with its original pure sounds.
A Quiet Revolution
The OnePlus Buds Pro 2 features the industry-leading TUV-certified Smart Adaptive Noise Cancellation (ANC) function, eliminating ambient noise up to 48 dB. For added flexibility, the OnePlus Buds Pro 2 boasts a transparency mode that, once active, allows users to engage in a clear conversation with people around them, even with the earbuds on.
Designed for worry-free listening, the OnePlus Buds Pro 2 delivers up to 39 hours of music playback with multiple additional charges in the case. To maintain a fast and smooth streaming experience, the next-generation earbuds feature LHDC 4.0, Bluetooth 5.3 LE audio and dual connection.
The OnePlus Featuring Keyboard 81 Pro
The OnePlus Featuring Keyboard 81 Pro is the first commercial product to be globally released from the co-creation platform OnePlus Featuring and it is a fully customizable mechanical keyboard engineered with Keychron technology. This high-performing mechanical keyboard delivers overall comfort, functionality, and durability.
For OnePlus fans in Malaysia, the OnePlus 11 5G and the OnePlus Buds Pro 2 is set to be revealed at a local launch event on 14 February 2023 while the OnePlus Featuring Keyboard 81 Pro will be available soon, so stay tuned to OnePlus' official website, OnePlus Community, or check out @oneplus.msia and @oneplusmys.
You can watch the official live stream here: